2017 NISSAN GT-R -The High-Tech Dynamo
Call it Nissan GT-R or more precisely the Godzilla, this jaw-dropping, breath-taking and eyeball grabbing supercar is a DYNAMO, a high-tech super-stomping dynamo that can actually take your breath away with its intricate design and ravishing beauty. The 2017 Nissan GT-R has got a rigid structure, perfectly crafted outline, and quick steering will make anyone feel heroic when they are behind the wheels. The 2017 Nissan GT-R is not just a car; it's a CAAAAAAAAAAAA……R!
Oh believe us, this is purely divine creation. The price of Nissan GT-R is as whopping as its features are. The seventh generation of Nissan coupe is about to face the roads and is all set to rule the industry. Nissan has clearly revealed its intention by creating this; they are going to be the Hero! This race car has a comfortable space, riches, and luxury; you can actually live comfortably with it on the road. The vehicle is power-packed with a 3.8-liter twin-turbo V-6 delivers 565 horsepower at the speed of 6800 rpm and it weighs about 467 lb-ft of torque at 3300 rpm.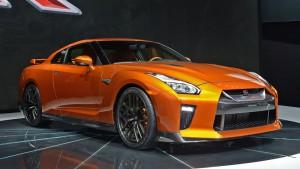 Specification of Nissan GT-R
Talking about NISSAN GT-R Specs, the exterior has been given a brilliant design and perfect function. A new grille has been added to it which now helps in delivering additional cooling air to the engine. There's a hood too that is stiffer and thus avoid deflecting when driving at a high speed and there is a more effective chin spoiler too. The wheels are of aluminum and are 20 inch with a cockpit-controlled valve.
The Most Lavish Interior
The interior is lavish as ever with shift paddles which move from the column to the steering wheel. The dashboard has got an 8-inch touchscreen that has triple control redundancy; there is touch point on the screen along with buttons adjacent to the screen, and then there is a console-mounted controller too embedded on it.
The Perfect value for Money Thing!
The switch count has been reduced from 27 to 11 despite the new functions that have been added. There is dual-clutch automatic transmission which will never miss a shift. GT-R is sure to win hearts, for it not going to beat you when you are on a long, hard drive. The soundtrack is good too-pure engine music-lesser howling and more growling. The noise cancellation and enhancement technology has been used for this. The Nissan GT-R price is stated to be of $111,585. With an outstanding design, intriguing and lavish interiors, this model is sure to be the king of the industry. And if you have got a pile of cash, Invest in it!