2017 Mazda MA 5 RF – The Highlighted Retractable Hardtop
Since the launch of the fourth generation Mazda MX-5 Miata, our expectations get highly escalated with Mazda. The wild mix body styles crafted by Mazda are gorgeous. Mazda represents great lines of brilliant artwork through Miata coupe, Miata retractable hardtop, and Miata shooting brake as well. And, the brand new 2017 Mazda MX 5 RF is another gorgeous creation by Mazda. It packs a power-retractable top and an incredibly alluring fastback roofline as well. It's one hell of a smart car you are waiting.
The Roof Concept of 2017 Mazda MX 5 RF
The roof concept adapted in Mazda MX5 Hardtop is very complicated and operates like the Porsche 911 Targa, though it is somewhat simpler to work when compared with Porshe. The roof-opening process takes about 12 seconds. The roof top panel over the passenger's head gets folded, and the rear window lowers down behind the seats. The previous model of this line was the slightly shorter length, so there is no spare space for the hardtop. 2017 Mazda MX 5 RF is larger and user-friendly with a fantastic roofline that has won the hearts already.
2017 Mazda MX 5 RF at it's Best
It looks like a real Miata fastback coupe, because of the gentle sloping of flying support that resembles the car to the Jaguar F-type coupe. The new roofline in MX-5 Hardtop has got additional rear-three-quarter windows which appear blacked out. The MX-5 RF is there as well to carry an extra 130 to 150 pounds weight. The engine has four cylinders of 1.5 litres each. There is six-speed manual, and six automatic speed variants studded on the menu.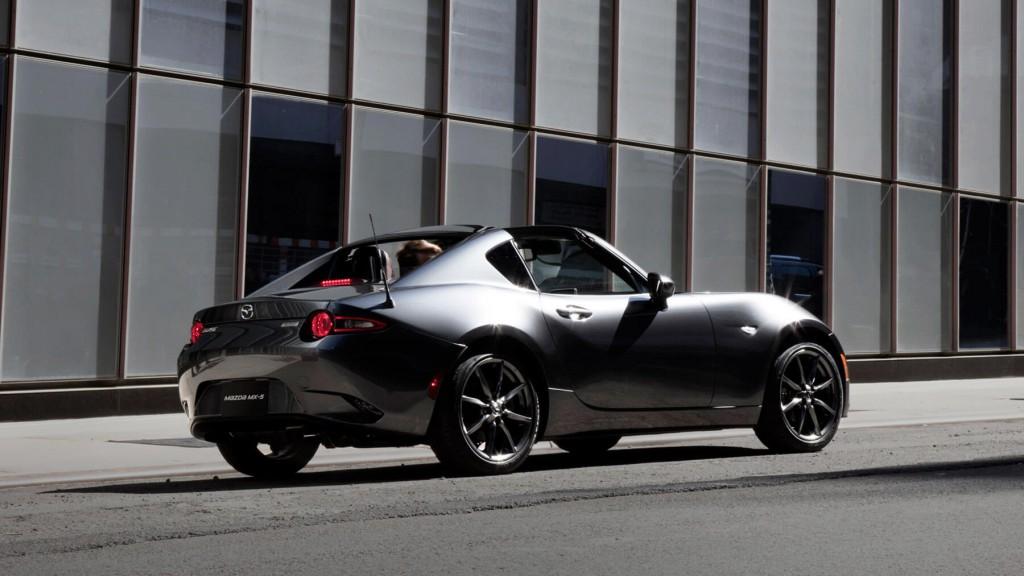 Colours and Shades for Classy Look
Different colours and shades are used for both the interiors and the exteriors. The red colour is used for the very first time in the interior of any Mazda. The exterior houses with the classy grey paint with red outlined. The red Nappa has been used for the leathers in the interior as well. The RF roofline of 2017 Mazda MX five RF is half an inch higher than its soft top. This one is going to be available in the Miata's top grand touring for sure, with several other variants lined up beside it.
Miata shall add around $2000 more for the bottom line. But the fascinating rooftop, foldable hardtop is an indication that it's not going to be an easy deal, for this one is going to be among the top best cars and Miata is going to nail driving dynamics intact in the industry.