2017 Ford Fusion Review: The Americans Get It Right
Americans are overwhelmed about 2017 Ford Fusion. They go in all praise modes while talking about it. Good news is that they have every reason for it. 2017 is a treat for the eyes. Take a look at the exterior or interior, the ford fusion makes it evident that it's a vehicle for the style enthusiasts. Besides its stunning look, the car is brilliant through some absolutely praiseworthy features like driver-assist technologies and voice activated controls. Go through any of the 2017 Ford Fusion review, it's certainly going to be packed with supreme features.
 Smart and stylish:
The first thing that one can find common with all Ford Fusion reviews is the stunner look. Revamped grill along enhanced LED headlamps turns it fascinating.  Moreover, the specs like rotary gear shift replacing the conventional gear shifter make many happy. Especially, the professionals who have to accomplish many of their morning formalities within the car will certainly find this replacement interesting.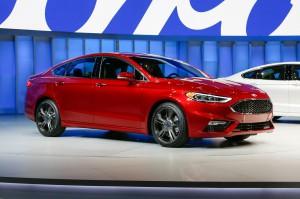 Super performer:
Ford vehicles have been always in news for their superior performance. Undoubtedly, Ford Fusion 2017 spec for performance takes it to a new high. Credit goes to the EcoBoost engine that combines three distinct technologies to ensure better performance. Those are turbocharging, direct injection, and twin independent variable cam timing (Ti-VCT). In the attempt of turning things economic, the Auto Start-Stop technology is there, which is now standard with the 1.5L EcoBoost engine, minimizing fuel consumption and emission during city drives. Well, the highlighting part of the 2017 ford fusions is going to be the 2.7 L EcoBoost V6 engines that power the Fusion V6 Sport.
Well, each of the 1.5L, 2.0 L and 2.7L all go beyond the experience in terms of power and technology. Talking about 1.5L, being packed with Fusion SE, it delivers exciting performance at minimal power consumption. The Auto Start-Stop technology has been mated with the standard six-speed automatic transmission.
Coming to 2.0L, which is standard on Titanium, Platinum, and SE, is a perfect recommendation for those who prefer more powerful vehicles. The 2.0L also comes along with a standard six-speed automatic transmission.
Finally, putting lights on 2.7 L, the super power EcoBoost engine is going to be available only with the new Fusion Sports in the 2017 Fusion segment. In terms of performance, it reaches an altogether different level under the aegis of V6 power encouraging the rigorous driving enthusiasts. The 2.7 L version also comes with six-speed automatic transmission along steering wheel-mounted paddle shifter. In addition, there remains the standard all-wheel drive option intact as well.
Technically superior with impressive safety feature:
Technologically, the 2017 Ford Fusion is going to be the trendsetter. Up notch hardware mated with most upgraded software, along with super sleek touch screen is obvious to be delightful. The likes of Pre-Collision Assist with Pedestrian Detection take the safety arrangements or accident prevention features to the next level.
Finally, going through the entire compilation of features, it can be claimed that Ford Fusion 2017 price list for each segment looks absolutely justified.