Tech Genius Incubation 1.0 – CFJ Tech Academy
Are you a junior techie with "work hard play hard" attitude and wants to be the next tech genius? If this sounds like you, you must join CFJ Tech Academy! "

What is CFJ Tech Genius Incubation?
A tech training program led by current tech genius, to make genius techies out of you in 2 months:
Have tech genius as your mentor

Climb fast into Car From Japan's senior techie level (your age or experience does not matter. We care about what you can do)

Get job offer after 2 months with a package that matches your skills.
What is Car From Japan?
CAR FROM JAPAN is the second largest car exporting E-Commerce site in Japan. It has 1,500,000+ online visitors from 50+ countries every month, 60-70% using mobile. Up to 2020, we exported cars to more than 60 countries. We are a fast-growing internet company, designing tomorrow's e-commerce across borders.
With us you will find an exciting blend of a international, vibrant startup environment and professional operations from experienced executives. We seek an innovative and highly motivated Junior/Fresh Developer to reinvent E-Commerce experiences.
Why joining CFJ Tech Genius Incubation?
Opportunity to receive

direct coaching from Top Leaders
Just focus on self-studying / mentoring during the program.

Skilled up super fast through

optimized learning with 70:20:10 principles

(on-the-job training / assignments / coaching / training programs respectively) during the internship as a junior developer.

Clear acceleration roadmap: Opportunity to expose yourself to

strategic projects

that

contribute directly to business results
Competitive rewards

: Receive highly competitive benefits and compensation package (after joining as an official member and especially climb to higher positions).
Roadmap
Who are we looking for?
Junior techies with maximum 2 year of working experience OR fresh graduates with GPA above 3.0/4.0 or equivalent

At least 1 year of programming experience in any language

Strong passion in making successful technology impacts to business
Selection process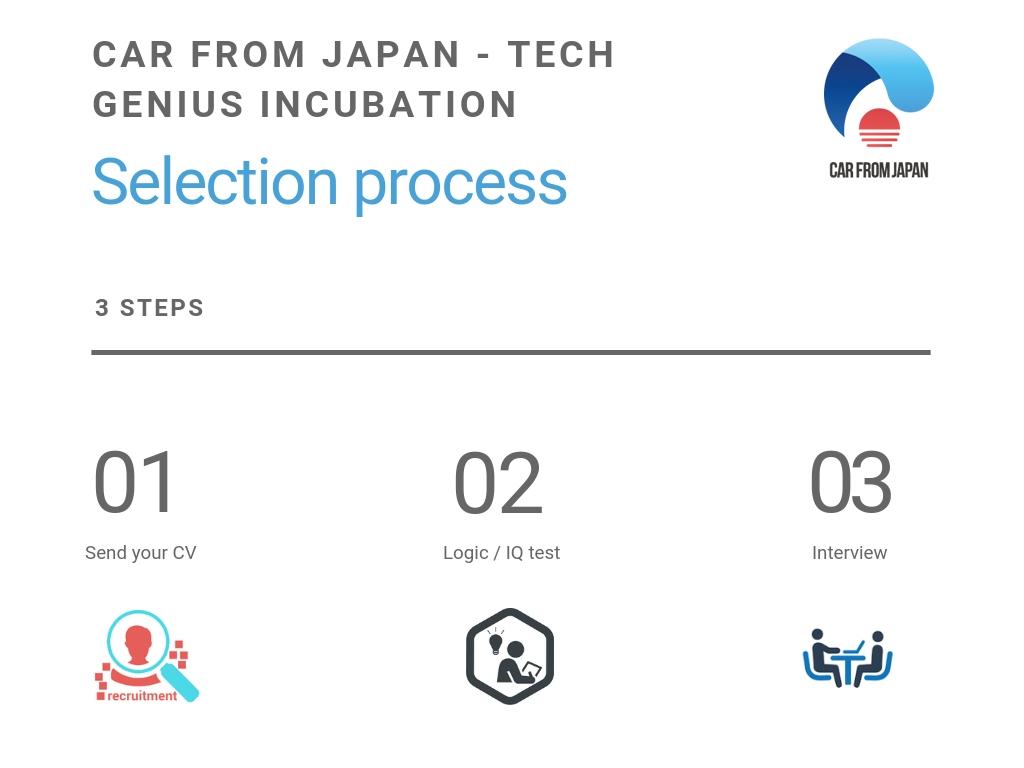 How to apply?
Send your application (resume, code sample,….) to jobs@carfromjapan.com