Toyota Yaris Vs Corolla: Let's Pick the Better Car from Toyota
Last updated
Jan 25, 2021
0 comments
Toyota cars have built a strong reputation in automobile market for their longevity and durability. Launched with the same idea, the two small cars – Toyota Corolla and Yaris have caught people's attention this year. With great features and price, these cars have given a tough competition to each other. However, a closer look at the Yaris vs Corolla comparisons will help you decide, which one is your best suiting hatchbacks.
Yaris Vs Corolla: An Overview
Since 1967, Toyota Corolla has been running successfully in the automobiles market. Holding a reliable, well-built, and good value, this car has improved significantly in the last 50 years. On the contrary, Toyota Yaris (some may call it Toyota Vitz) has earned a good name among different age groups, such as youngsters, old parents, and even those people, who don't drive often. And, with no surprise, this car has found its place in 220,000 homes approximately.
Toyota Yaris Vs Corolla: Which is the Better Choice?
Now, without any further ado, let's compare Toyota Yaris vs Toyota Corolla, and find the best hatchback model.
1. Exterior and Interior Design
Commencing with the exterior, one can easily distinguish between the Yaris and Corolla model. This is because, the Corolla car looks more substantial and offers a 4-door feature while the Yaris is available as a three or five-door hatchback. However, both the cars manufactured after 2015 offer same front-end design.
Shifting towards the interior, the Corolla and Yaris offer an almost same interior look. But, the difference lies in the quality of the material used to design the interior of both the cars. With Corolla providing upscale interior, the cargo space is also more in it than its competitor Yaris.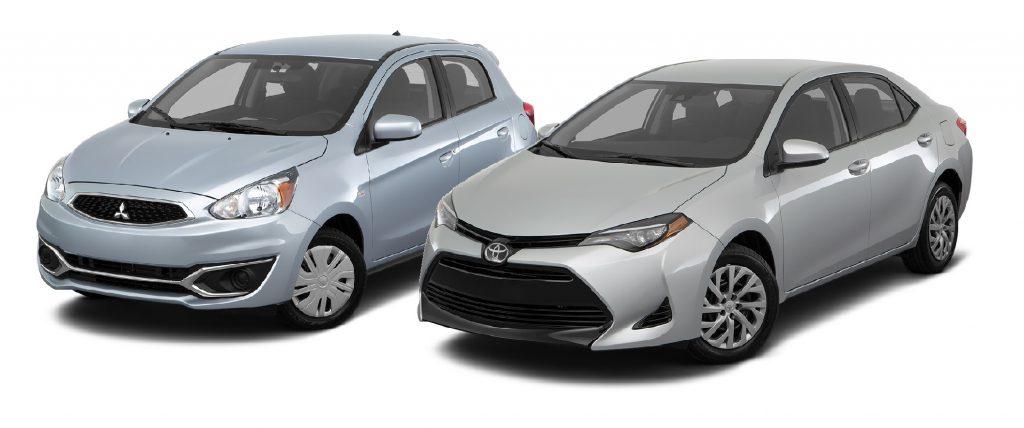 2. Engine Transmission and Performance
Here, also the Corolla is more potent than its hatchback cousin-Yaris. To draw car comparison of Yaris vs Corolla based on horsepower, engine capacities, and other mechanical features, refer the table below:
| | | |
| --- | --- | --- |
|   | Toyota Corolla | Toyota Yaris |
| Fuel Tank Capacity | 13.2 gal | 11.1 gal |
| Engine Displacement | 1.8L/110 | 1.5L/91 |
| Fuel Mileage (hwy) | 36mpg | 36mpg |
| Fuel Mileage (city) | 28mpg | 30mpg |
| Horsepower | 132hp | 106hp |
| Torque | 128 | 103 |
3. Accessories
Given the basic difference between the design and engine of Toyota Yaris Vs Corolla, the latter hatchback has more equipment than the former one. For instance, Corolla provides heated seats, 17-inches wheels, factory navigation system, paddle shifters, and a sport-driving mode.
However, this doesn't mean that the Yaris has nothing to offer. With 16-inch wheels, the car Yaris includes 6.1-inch touch screen, audio system with the Bluetooth, and a voice recognition system.
      SEE MORE:
4. Safety Features
Covering all the standard safety features, the Corolla and Yaris provide anti-lock brakes, traction control, and side-curtain airbags. However, if you're looking for a camera, it's only available with Corolla hatchback.
5. Verdict
Overall, the Corolla has scored 5-star ratings in all the above-mentioned categories while the Yaris has earned 4-star. However, based on price, the battle – Yaris vs Corolla, is won by the Toyota Yaris. So, if you aren't able to afford Corolla, Yaris is still an efficient and competent option to go for.