The Secrets Of Choosing The Best Convertible Car Seat
Last updated
May 27, 2022
0 comments
Parents who have to drive with their baby in the car know the pain of looking at the staggering pile of car seats that are no longer functional. It seems that babies need different seats at every stage of growing up but a convertible seat can save much of the hassle and a load of money. If you can score one of the best convertible car seat units, it will save money and cut down on the stack of plastic.
However, what's the secret of picking up the right one out of so many options? Should you read convertible car seat reviews or simply go for the most expensive ones in the market? Is an all-in-one convertible car seat just a gimmick or better than the regular ones? Let's find out how to choose the best car seats for babies.
Top Tips For Choosing The Best Convertible Car Seat
You can use the infant convertible car seats in the rear-facing position for small babies and then switch it to the forward-facing when the child grows older. The all-in-one units have the booster function for older (school-age) children. It seems that the best car seats for toddlers can get you through from the baby's days of infancy through the preschool years and even beyond.
Many parents start with a rear-facing car seat for their newborns and then resort to a convertible model ultimately – which seems to be a practical and frugal choice. As one of our many driving tips, here are some tips and hacks to choose the best convertible car seat.
Ease Of Installation
You might be expecting to hear of the safest convertible car seat but proper installation is actually a bigger issue than the safety rating. Surprising but true, any parents will love a car seat that does not take much time for installation and provides an owner's manual that has clear instructions for the process. While intuitive installation system is the most coveted, any parents frequently using a rental car can vouch for that.
The best convertible car seat should have a LATCH (Lower Anchors and Tethers for Children) – a system that makes easier the correct installation of a car seat without using seat belts. A push-button LATCH system is easier to operate than a hook-style LATCH, especially when unfastening the latter is a bit difficult.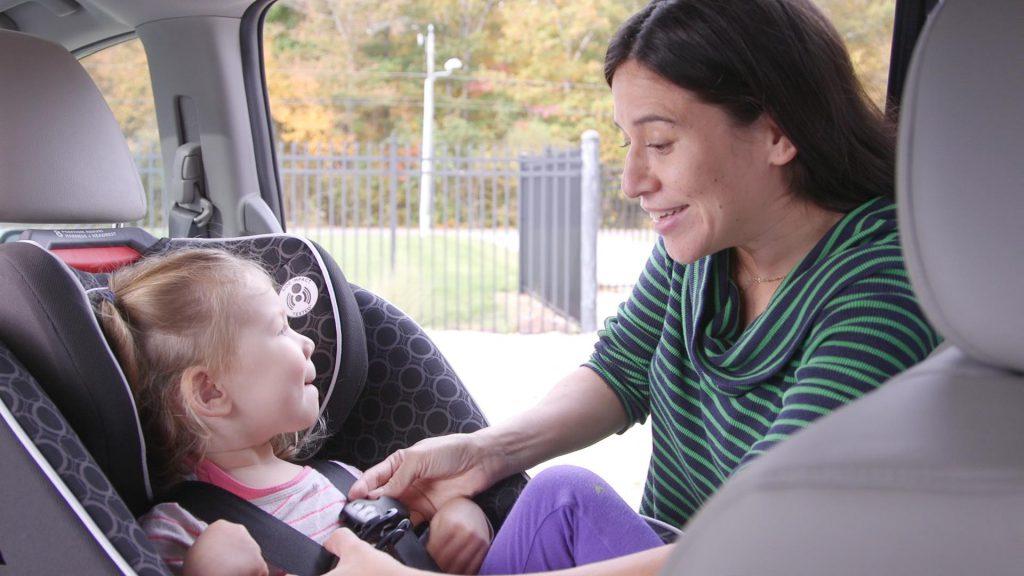 The convertible seat must have a seat belt installation system too because the LATCH is not sufficiently strong to hold a child weighing more than 40 pounds.
      SEE MORE
Center Or Side Installation?
Researches show that the risk of injury lowers 43% when the car seat is installed in the center. But, more than 80% of products don't properly get secured in the center position. Although a side installation is more convenient for getting the baby in and out of the vehicle, a center installation is safer and the only option for families with more than one child.
You should thoroughly read convertible car seat reviews to find out whether it offers a center-seat installation option. Some vehicles don't have a LATCH connection points for the center seat but it won't be a problem if the convertible has a system for seat belt installation.
Extended Rear-Facing Use
The American Academy of Pediatrics and the National Highway Traffic Safety Administration (NHTSA) recommend children to keep in the rear-facing position until they are two years old. The weight limit in most rear facing convertible seat units is 35, 40, or 50 pounds but some models extend it to 65 pounds or more. You should choose a seat that offers higher height and weight limits for the rear-facing position.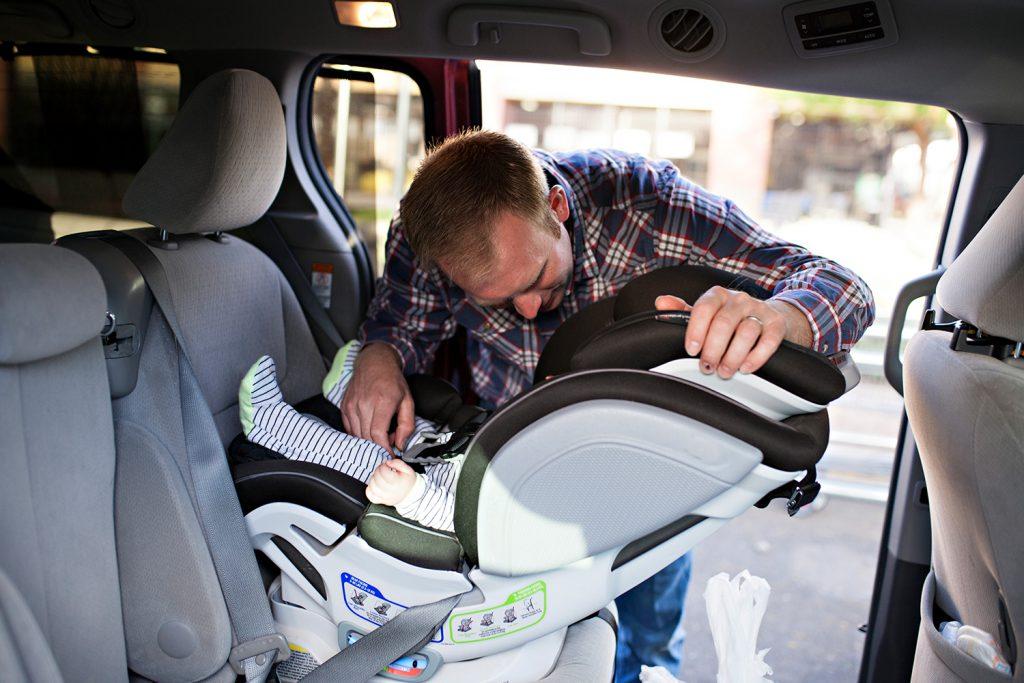 Easy Of Use
Just like the ease of installation, the operation of the convertible seat should be convenient and user-friendly. Strapping and releasing the harness and getting the baby into and out of the car are something that the parents have to do on a daily basis. The best convertible car seat units should have the right designs that make these activities easier.
Can you quickly buckle up and release the belts when required? Does the harness offer a snug fit? How simple is it to adjust the straps? These things determine how easy it is to use a convertible car seat.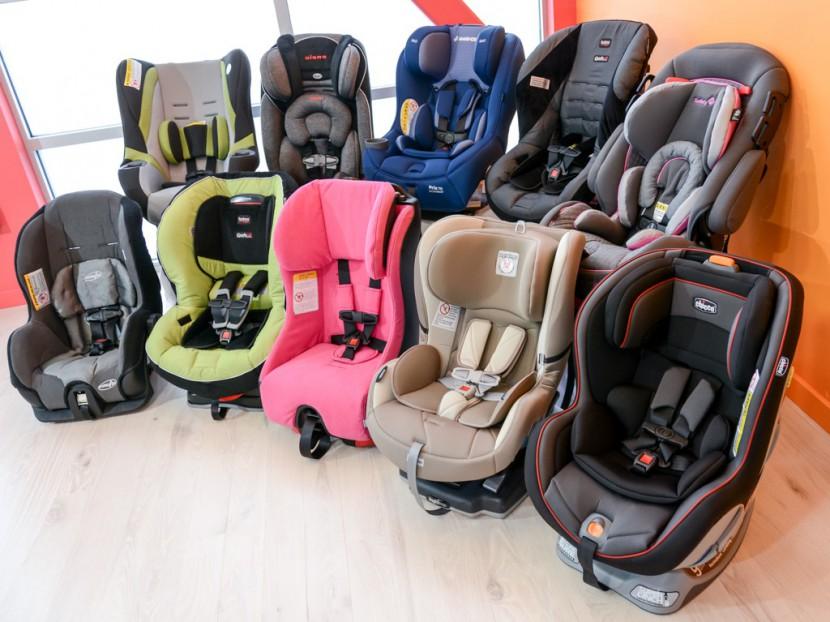 The ease of operation also depends on the weight of the seat. Convertible seats tend to be heavy because they bundle up the functions of two to three types of seats. Also, a substantial structure offers better protection and does not lose shape in the event of an accident. But, lighter seats come in handy when you take frequent rides in cabs or rental cars. Lugging a lighter seat is also convenient when you travel frequently through train or airplane.
Some convertible car seats are lightweight and also score a high safety rating. The Evenflo Tribute is just 9 lbs while the Britax Boulevard ClickTight ARB is 28 lbs. The Clek Foonf is another good option that weighs only 33 lbs.
Crash Test Performance
The NHTSA is a is a government agency that regulates the road safety and the safety, policy, and installation of children car seats. There are some independent parties too like the BabyGearLab and Consumer Reports that conduct their own safety testings.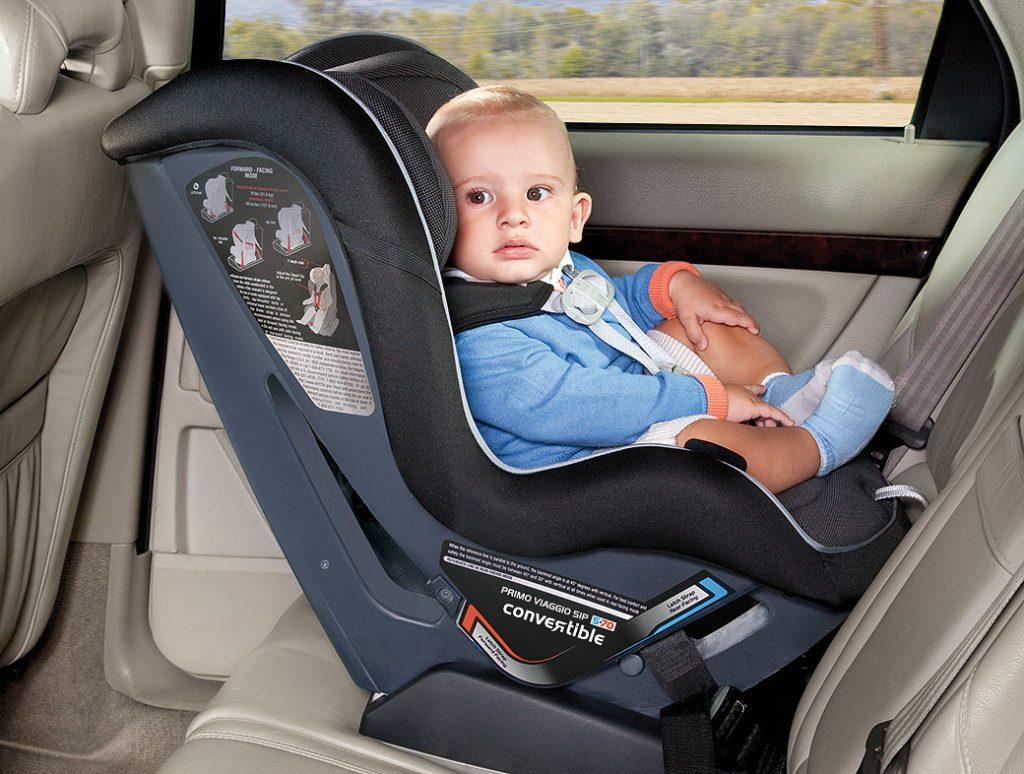 >> Are you interested in used Japanese cars? Click here!!! <<
Comparing convertible car seats according to the NHSTA rating is an efficient way to filter the quality out of the unqualified ones. However, the NHSTA data are for front-impact crashes only. The side-impact test scores are available in Europe and Australia but not in the United States. You have to rely on independent third-party institutions for assessment of the side-impact scores.
In-Depth Overview Of Best Convertible Car Seats
Feeling slightly overwhelmed by the number of models and unable to determine which one is the best convertible car seat? In that case, this article shall introduce you to a couple of solid examples along with their pros and cons. Generally speaking, different people have different ideas when it comes to convertible seats for infants. But in the case you know nothing about market choices, it's best that you check the product below and see if you like anything. They have values that receive a lot of praises from experts/parents around the globe.
1. Britax Boulevard ClickTight- Best Of The Best
Why This Is The Best
Regarding baby convertible seat, virtually every parent wants to have all the extra reassurance they can get and Britax Boulevard is able to deliver that. Featuring anti-rebound bar, triple-side impact protection and energy-absorbing foam, the Britax model is the best convertible car seat in term of protection. Additionally, the high rear-facing and forward-facing weight limits (40 pounds and 65 pounds respectively) work great for fast-growing chills.
Due to the multi-position harness, it's simple for parents to adjust the seat profile in order to give their kid a relaxed ride. Pushing a button is all you have to do to apply changes and ensure a proper fit for the infant.  
The seat itself takes up a small amount of space so it's suitable for cars with tall passenger seats. Because of the use of breathable fabric and generous cushion, the level of comfort is superb compared to other products.
Since the seat utilizes the innovative ClickTight installation system, setting it up is a breeze. The seat permits you to lift up the entire bottom portion and reach the belt pass-through with relative ease. As a result, there is no need to struggle around while attempting to pull the belt through narrow corners and spaces of the car interior.
That point alone is enough to make the seat a lifesaver for already weary parents.
Pros:
High level of comfort

User-friendly operation

Straightforward installation
Cons:
Less than ideal legroom

The price is a bit steep
2. Chicco NextFit – Editor's Choice
Why It's A Editor's Choice
Designed to offer up to 9 headrest positions and 9 recline positions, Chicco NextFit is fully capable of supporting the average child. As it's possible to change the configuration of the Chicco example at moment notice, people consider it the best convertible car seat when it comes to ease of use. Sturdy and stable, the seat is definitely a good choice for parents that want to make a cost-effective purchase. The adaptable design of the seat makes it compatible with a wide range of car and interior layout in circulation.
With a rear-facing weight limit of 40 pounds and a front-facing weight limit of 65 pounds, the seat is suitable for babies between 1 and 5 years. Incorporating a convenient Super Cinch strap, it's easy to give your baby a custom fit without fighting the seat. Through the bubble levels, you should be able to tell with a glance if you manage to nail the angle of the seat or not.
Outfitted with a machine-washable cover, the seat makes sure that parents could take care of "accident" without much difficulty. Just unbuckle the belt, slide the baby out, remove the cover and proceed to toss it into the washing machine. In addition to that, the manufacturer is willing to deliver a quick guide on dealing with specific spills and stains.
Pros:
Admirable stability

The adjustment range is wide

Rugged and high-quality finish
Cons:
No cup holder/booster

Bulky and cumbersome
3. Evenflo Tribute LX – Editor's Choice
Why It's A Editor's Choice
Shopping on a tight wallet? Then Evenflo Tribute LX is going to be the best convertible car seat for you. While the Evenflo unit lacks premium features and function, it still earns favorable opinions from numerous convertible car seat reviews. Manufactured and tested base on the Federal Safety Standard, the seat is one of the best car seats for toddlers nowadays regarding all-around performance. For budget-minded parents in general, the value of seat far exceeds its acquisition cost and hence it's surely a model that worth considering.
Featuring 4 position harness and 2 position buckle, the seat would accommodate the growth of children for an extended amount of time. As the weight of the seat is only 10 pounds, its portability is commendable and you could transport it without trouble. Since the seat is light and simple to deploy, feel free to switch it between vehicles as you see fit. In the case you are a frequent flier, the seat is suitable for airplane use
In term of support, the seat possesses foam liners that increase the level of comfort while also offer added safety. The seat pad is machine-washable and so if it gets dirtied in use, cleaning is not a big challenge. It's widely advised that you exam and inspect the restraint crotch buckle every now and then to get rid of all foreign materials. Spilled foods, liquids and debris might hamper the latch mechanism.   
Pros:
Fit multiple setups

Excellent mobility  

Highly affordable
Cons:
Thin cushioning

Somewhat sharp edges
4. Graco 4Ever Car Seat
Why We Love It
Made to be an all-in-one convertible car seat, Graco 4Ever is the best convertible car seat for people that care about effective lifespan. Being a booster-compatible model, the Graco seat comfortably supports every baby between 4 and 120 pounds. Such a high weight tolerance allows the seat to stay useful for up to 10 years.   
At first, the seat could be used as a rear-facing chair and as time passes by, parents would move it to forward-facing, highback booster and finally, backless booster.
Boasting a 6-position recline and a 10-position headrest, the seat guarantee custom for the baby as he/she grows up. To help the parents understand how much recline is required for each configuration, the seat utilizes a color-coded system. In addition to that, an integrated level is available and through it, it's easy to tell whether the "base" is in a good position.
With a combination of steel-reinforced frame, energy-absorbing foam and side-impact protection, the seat provide the infants with a respectable level of safety. Convertible car seat reviews tend to mention the Graco model while discussing the issue of the safest convertible car seat. As the seat features up to 2 cupholders, it has the space for baby snacks, drinks and even toys as well.
Pros:
No rethreading

Tough and long lasting

Various settings available
Cons:
Tightening difficulty is noted

Barely adequate legroom for front passengers      
5. Clek Fllo Car Seat
Why We Love It
At slightly under 17 inches, Clek Fllo allows the parents to fit in up to 3 seats and get the most out of the available backseat space. While the profile of the Clek seat is humble, its safety features and comfort don't lag behind bigger products. Made with anti-rebound bar, impact-absorbed body and reinforced side protections, the seat take shall good care of your kid no matter what happens. In the event of a crash, the seat would channel the energy far away from the baby and send everything straight through the seat base.
For young infants, the seat performs admirably as a rear-facing convertible seat thanks to a weight limit of 50 pounds. Once the time comes, you could switch the seat to a forward-facing car seat with a tolerance of 65 pounds. Regarding newborn children, it's also possible to put the seat to good use but you have to outfit it with a separate infant insert. For most of the time, the usual effective lifespan of the seat is roughly 9 years.
Well built and approved by FAA for air travel, the product is one the best car seats money can buy.  Using GreenGuard Crypton Super Fabrics, the seat is well protected from bacteria, odors and moisture. As the seat does not contain chemical flame retardants, it's quite safe for infants. The seat pad also utilizes a stain guard so it's easy to get rid of spilled foods and drinks.
Pros
High weight limit

Excellent protection  

Compact and light
Cons
Limited legroom in some vehicles

Cup holder and crotch strap are optional accessories
6. Diono Radian RXT
Why We Love It
Like the idea behind Graco 4Ever but want something more compact? Then you need to check out Diono Radian RXT. With a rather slim and narrow body, you could fit 3 Graco seats across the back row of your car interior. Because of that, the seat is the best convertible car seat for parents that have to take care of multiple babies at the same time. Among infant convertible car seats on the market, this model is quite heavy but in exchange, the ruggedness is superb.
Possessing full steel frames as well as aluminum sides, the seat is capable of supporting any baby between 5 and 120 pounds. Considering the weight limit, the seat should serve your kid from birth to the entrance of his/her teen years. For infants that weight less than 5 pounds, simply add removable infant inset designed to accommodate the baby hip and head. In addition to top grade fabric and plush cushion, the insert more than enough to keep the baby reasonably comfortable.    
For configuration adjustment, the headrest offers 12 levels while the shoulder belt and the crotch buckle deliver 5 settings and 3 choices respectively. As a result, parents have an ample amount of customizations available in order to address the grown of their kids. Despite the fact that it's not light, the seat is foldable and has an FAA certification for airplane use. The seat sits nicely on a conventional wheelie-suitcase and its ergonomic layout let you carry it as a backpack.  
Pros:
Solid and tough

Generous legroom

Audible and visual indicator
Cons:
Pretty heavy

Complex mechanism
7. Maxi-Cosi Pria 85
Why We Love It
Comfy and capable, Maxi-Cosi Pria 85 is a fantastic seat that shall last past your children infant days without failing. With substantial padding along with plenty of cushions, the Maxi-Cosi seat guarantees that your baby would always feel relaxed. In addition to the padded design, the fabric themselves could be readily snapped off the frame in times of need.  As a result, the seat is thought of as the best convertible car seat by parents that prioritize straightforward maintenance.
For support limits, the rear-facing mode of the seat tolerates a maximum weight of 40 pounds while the forward-facing one handles up to 85 pounds. Normally, such specifications permit the seat to accommodate the average kid for an extended period of time without much difficulty. Furthermore, there are 3 recline setting and a
3-position crotch strap so it's a breeze to customize the seat configuration and achieve a custom fit.
With special attention on smooth operations and ease of use, the seat incorporates harness holders to prevent the straps from getting in your way. Moreover, on the right section of the seat is a built-in cupholder that firmly holds drink through the trip. Accompanying the seat is 2 infant insert to help parent orient and position their babies conveniently.
Pros:
Customizable layout  

Handy and solid features

Machine washable fabrics
Cons:
Fairly expensive

Too wide for certain cars
The Final Words
The convertible car seat reviews is an effective way to determine which one will best suit your needs. In fact, much of the decision making depends on personal preference. Many parents put much importance on the crash test performance but convenient installation and easy functions play a bigger part in ensuring the overall safety. The best convertible car seat should have a combination of good safety score, easy installation system, and user-friendly functions.