The Toyota Harrier 2015 Review
Last updated
Feb 06, 2018
0 comments
2015 Toyota Harrier is falling into mid class category of crossover SUV s. It was originally sold mainly in Japan from as far as '97. Toyota usually sells this model under the Lexus flagship as an RX model with exclusive features. And the year 2013 witnessed Harrier fusing to a new generation of different styles and features from the RX. In this article, we will perform a closer review about Toyota Harrier 2015.
All You Need To Know About Toyota Harrier 2015
The model is now under the 3rd generation with improved engine function and fuel efficiency, the latest model 2015 Harrier comes with a power-train engine just like its immediate predecessor. It's also a hybrid system now with hyped invigorations per excellence if its debut at the Tokyo Motor Show is anything to go by.
Engine Capacity
Since it's a hybrid type of vehicle now, the car designers has modernized the engine completely. The car takes both fuel run and electric run under one roof with variables. The engine is a hybrid with power-train just like the immediate predecessor, which is much enhanced with more premium engine capacity. The hybrid and trim level comes with a 2.5 liters Atkinson Cycle engine, with 150 horsepower and a toque of 152 lb/ft. It also has a E-Four power system with powerful electric motors. The hybrid engine of Harrier 2015 has a power output of about 194 hp.
Performance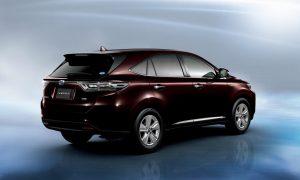 Toyota Harrier modernized engine performs better than its predecessors in real time: it's well designed to depict Japan's exclusive state-of -the-art engine style. Furthermore, The Harriet 2015 also has one of the best performance ever recorded engine, which is strong and fuel efficient. The fuel consumption is also very efficient. Because of its low maintenance cost, many future clients already added the car in their wish list.
It comes with new elegant improvements to stand the test of 2015 roads tests.
Interior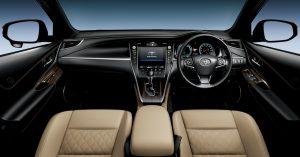 The Toyota Harrier 2015 interior is a show of real luxury and comfort. But unlike its peers Lexus RX, the interior spots black-leather upholstery, deep Burgundy leather-wrapped dashboard and side panel. Furthermore, the highest Premiums comes in Mahogany to thrill every admirer of this new model. The dashboard also comes with neatly designed curves following interior panels and steering wheels. Its dashboard has a huge HD touch-screen too. Most of all, it comes with a full-air bag system for safety in real time.
     SEE MORE:
Exterior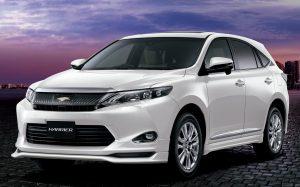 Exterior of Toyota Harrier 2015 is elegantly designed with improvements especially in curves, wide lower grille which is hexagonal trimmed. The upper grille comes with a Harrier badge distinguishing it from other Toyota line-up. Not only that, Toyota designers add Fenders and thick rear pillars to Harriet 2015. This makes the outstanding beautiful headlights and rear-lights.
It's elegantly and superior designed with trim body and a streamline body. In conclusion, car owners will have nothing to complain when it comes to style and taste.
Price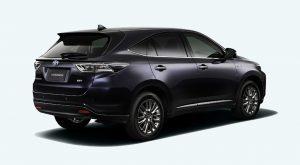 As a result, the price of this elegant trim machine stands at $45,000, which is exclusive of importing and shipping costs. Drivers will satisfy with this price, especially when the car imported to United States from Tokyo.
Toyota Harrier 2015 is a elegantly designed hybrid car with excellent features. It is definitely gonna be one of its kinds in the luxury SUVs class of models. It's fuel efficient with great engine performance in real time.