The Ultimate Comparison: Nissan Rogue vs Murano
Last updated
Jul 10, 2018
0 comments
SUVs have always been popular as family-friendly vehicles but the shopping is not as simple as it used to be. There was a time when people used to buy them by looking at their exterior beauty. Now, two SUVs can look almost similar but their technical specs could be quite different. Similarly, a head-to-head study of Nissan Rogue vs Murano will make it clear that these two cars have many different features despite being SUVs and manufactured by Mazda.
Nissan Rogue vs Murano: A Complete Comparison
The first point of difference between Rogue vs Murano is their size. The first one is a compact crossover while the latter is a midsize SUV. Both models have their own unique benefits that make them as an excellent choice as a family vehicle. However, read the Nissan Rogue vs Murano comparison to fix your choice on one particular model.
Interior Features
The Rogue has comfortable, classy interior with adequate space for all the passengers. It makes clever use of the legroom, allowing the first- and second-row passengers sit comfortably. Another plus point is there is a third row that can accommodate two kids. The recent models (from 2017 to onward) offer quieter cabin.
If Rogue is good, Murano is even better in this category. The soft-touch materials, Zero Gravity seats, and woodgrain trims will make you feel like sitting in a luxury vehicle. Nonetheless, it does not have the luxury of Rogue's extra seating.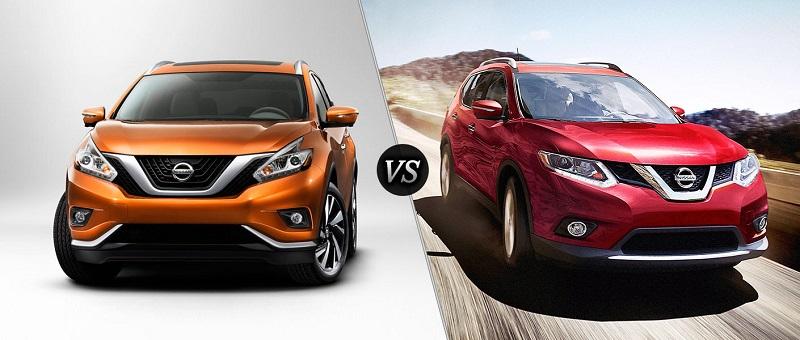 Engine Performance
Murano is the clear winner here since it has a powerful 3.5L V6 engine with 260hp against Rogue's standard 2.5L 4-cylinder engine with 170hp. The midsize SUV's 1,500lbs towing capacity is also better than the compact crossover's 1,000lbs. However, neither of them score full marks for acceleration and control. If you love to carve corners, these are not the cars you will want to have.
     SEE MORE:
Cargo Space
Well, Rogue is a tough candidate to beat in this category. It has not only an extra row of seats but also a spacious cargo room that is bigger than Murano's cargo space. It becomes possible because of some clever engineering. You will enjoy 18 different cargo configurations that seem almost impossible to beat.
On the other hand, Murano has a standard cargo space measuring 31.1 cubic feet. There is also not many configurations to explore.
Fuel Economy
In this discussion about Nissan Rogue vs Murano, the first one again wins this category. Considering the classes they belong to, their respective fuel economy is excellent. With a Murano, you will get 21 mpg in the city and 28 on the highway while Rogue yields an impressive 26mpg/city and 33mpg/highway.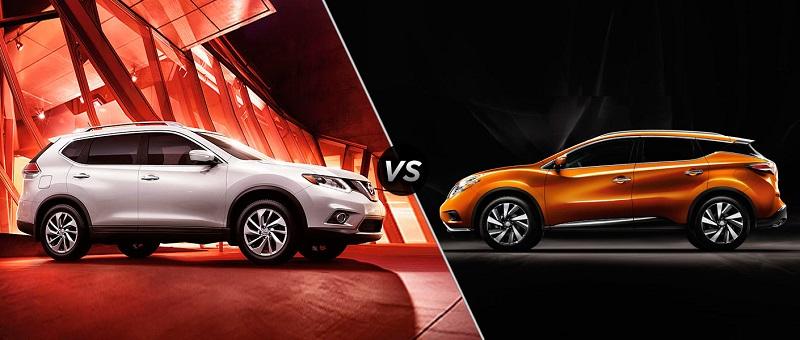 Pricing
Murano costs more than Rogue but it's understandable since it is bigger and has more features. Its base model costs nearly $6,000 more than the base model of the Rogue. You can choose between some expensive trim levels.
It is obvious from the Nissan Rogue vs Murano discussion that the second model is a better option for daily driving and enjoying luxurious features in an SUV. However, if you are more into carpooling or have a big family, go for the Rogue.