Cool Things To Do To Your Truck Interior
Last updated
Jan 19, 2021
0 comments
Our precious vehicles are truly our second home, especially if you spend a lot of time on the roads. Therefore, customizing your truck and adding cool gadgets to its interior makes sense. There are many cool things to do to your truck interior for extra comfort, aesthetics purposes, entertainment or just for fun and express your personalities. 
Browse through our suggestions of cool and useful accessories and upgrades for your truck to make the interior more comfortable and homely. This list is categorized into cool things to do to your truck interior for comfort, for aesthetics and for fun.
These affordable ideas can really spice up your cherished hauler. Plus, your rides will be so much more enjoyable and relaxed, which is also a prerequisite for safe driving. Upgrade away!
Cool Things To Do To Your Truck Interior: For Comfort
Heated Seat Cushions
While you can crank the heating on your truck on chilly days, heated seats will get you feeling toasty a whole lot faster, therefore might be a more economical choice.
This category offers a variety of high quality products. You can easily find one made with a universal fit so no matter your make and model of truck, they should go on perfectly. 
Snailax heated seat cushion 
A highly rated and recommended heated seat cushion brand on Amazon is Snailax. These Snailax cushion typically feature multiple layers, including a cooling layer and a ventilation layer, plus the 3D spacer mesh that's intended to be as breathable as possible. 
With such breathable material, you will be sitting comfortably all year round in any weather condition. You can definitely use these in the summer, as they have a moisture management and cool ventilation feature for the hotter weather.
In addition, thanks to the supportive polyester panels, you'll be snug and ready for long drives.
A more expensive offering from the brand is the Memory Foam Heated Massage Cushion, available for $57. The massage seat cushion is designed with soft and comfortable polyurethane memory foam as padding, the high density memory foam provides you with superior comfort and great pressure relief.
Not just heated, the back massager seat cushion has 6 invigorating massage motors that delivers vibrating massage to your tissue and muscles to help promote blood circulation, relieve muscle pain, tension, stress and eliminate fatigue after day work or a long trip.
A super cool feature is you can even customize your massage to target upper back, lower back, hips or thighs, or combining all these areas in a simultaneous, all-inclusive 5 programme modes and 4 variable vibration intensities. On par with other offerings from Snailax, its cover is made of ultra cozy plush and incomparably soft polyester that offers a comfortable and great feeling for body touch. 
Sojoy heated seat cushion 
While spending around $50 for a heated seat cushion is a wise long-term investment, there are plenty of cheaper options that will last you many years and also offer excellent value for money. 
Another super affordable option is the Sojoy 12V Heated Seat Cushion that is available for only $20 and receives an overall rating of 4.6 stars on Amazon. Simple yet functional, this heated seat cushion features super soft velvet fabric composite foam polyurethane is very comfortable to touch the skin in winter.
The two hooks of the seat are fixed for easy access, a buckle strap at the waist, a loose socket at the top, and a tightly mounted seat. The back is equipped with a silicone anti-slip effect for safer driving. $20 well spent on more comfy rides.
READ MORE
Air purifier
If air quality is your priority, or if you have asthma or allergies, and that old air freshener on the rearview mirror isn't doing it for you anymore, consider a high-tech air purifier for freshness all day all the time. 
For around $25 to $50, you can get a compact, portable air freshener and purifier to remove offending odors from your truck. A good option is the FULOXTECH Portable Air Purifier, available at $25 and has a 4.5 stars rating on Amazon.
This handy little gadget has a built-in micro electronic odors elimination system. The unique 360-degree ozone release enhances odors elimination much more effectively than bamboo charcoal bags and odor absorber gel. 
A handy feature is that it is USB rechargeable, with each charge lasts 10 days.
Another favourite by truckers and RVers is the PeakPlus Air Freshener, Ionizer and Purifier, available for $21. This little air freshener works via air purification technology. PeakPlus sends out negative oxygen ions, up to 4.8 million of them across various parts of your vehicle, for a better smell. 
Connecting via your truck's cigarette outlet, it gets rid of air pollutants, gas particles, dust, smoke, mold, bacteria, cigarette smoke, and pet odors.
Trust us, a good air purifier will top the list of cool things to do to your truck interior!  
Wireless Car Charger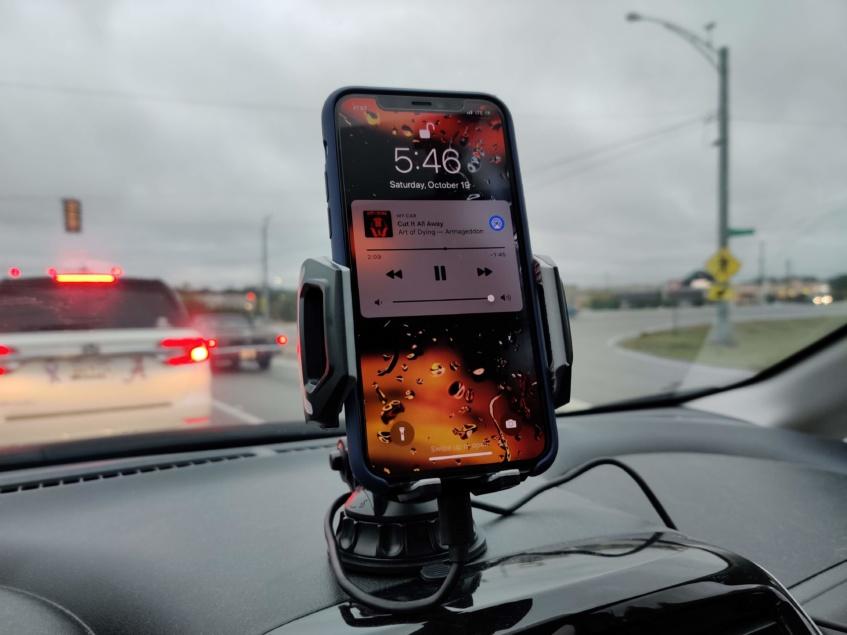 A charger is undoubtedly a must-have for any car owner. So why not take a step further and treat yourself with a wireless charger?  Most high-end phones these days have wireless charging capabilities, and a wireless charger can be used by the passengers in the backseat as well. 
You have a wide variety to choose from when it comes to wireless charger. From $20 to $40, you can get a durable, sleek charger for both iPhone or Android smartphone using the Qi industry standard. 
One of the many wireless car chargers that get good reviews on Amazon is by CHOETECH. This CHOETECH's accessory doubles as an excellent smartphone mount with landscape and portrait mode. 
Mini Fridge or Chiller
In hot weather, a cold drink for refreshment on your trip will be everything you would hope for. A mini fridge in your truck might sound extravagant, however it is not necessarily so. 
For only $47, you can upgrade your beloved truck with AstroAI 4 Liter Mini Fridge, an offering with raving reviews on Amazon. Its semiconductor refrigeration chips are freon-free and environmentally friendly. Quiet technology keeps sound at a minimum. You will get a three year warranty from AstroAI, which speaks volume about this mini fridge's quality. 
The Drive Bin
Also an affordable and useful accessory, a drive bin is a compact, waterproof trash bin for keeping your vehicle clean. Usually in the form of a collapsible soft bag, they are easily adjustable, too, with quick-clip straps that store them on a headrest.
Arm Rest Console Organizer
This might be the first time you hear about this magical upgrade, and rest assured that it has rightfully earned its place in our top picks of cool things to do to your truck. This organizer that you can insert will create extra space and give you 10 times better storage.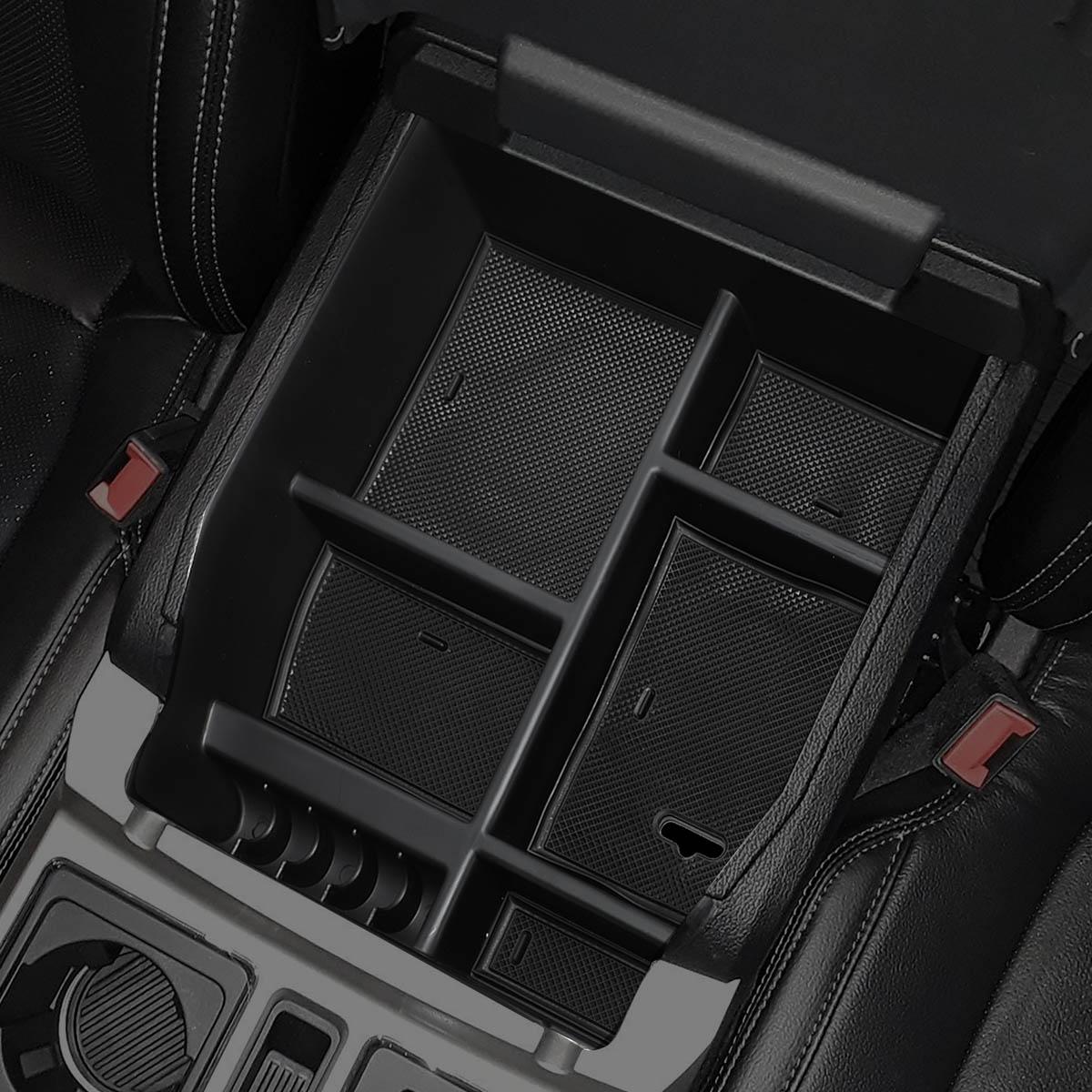 They are very cheap to buy, and should put an end to you trying to scrabble around to find things in the center console. You can go basic with something costing up to $20, or go fancier with larger organizers that costs between $25 and just under $40.
READ MORE
Seat-Back Organizers
The one thing you always need in any vehicle is additional storage, especially if you're traveling with kids in the back seat. While some trucks have lots of hidden storage compartments, others do not.
Even if they do have hidden storage, you will appreciate the handy seat-back storage options like the full-scale High Road ZipFit Cargo Seat Back Organizer for SUV's and Trucks. There are literally hundreds of affordable options in this category, available at typically around $20-$30. 
With these space-saving cargo organizers, everything is so accessible, within sight and easy reach for anyone sitting in the backseat.Keep toys, snacks and clothing items neat and tidy with this simple storage solution.
Under-Seat Storage
In addition to the back of your seat, you can add storage under it as well. The popular offerings in this category are on the pricier side and require installation, however they are durable and heavy-duty.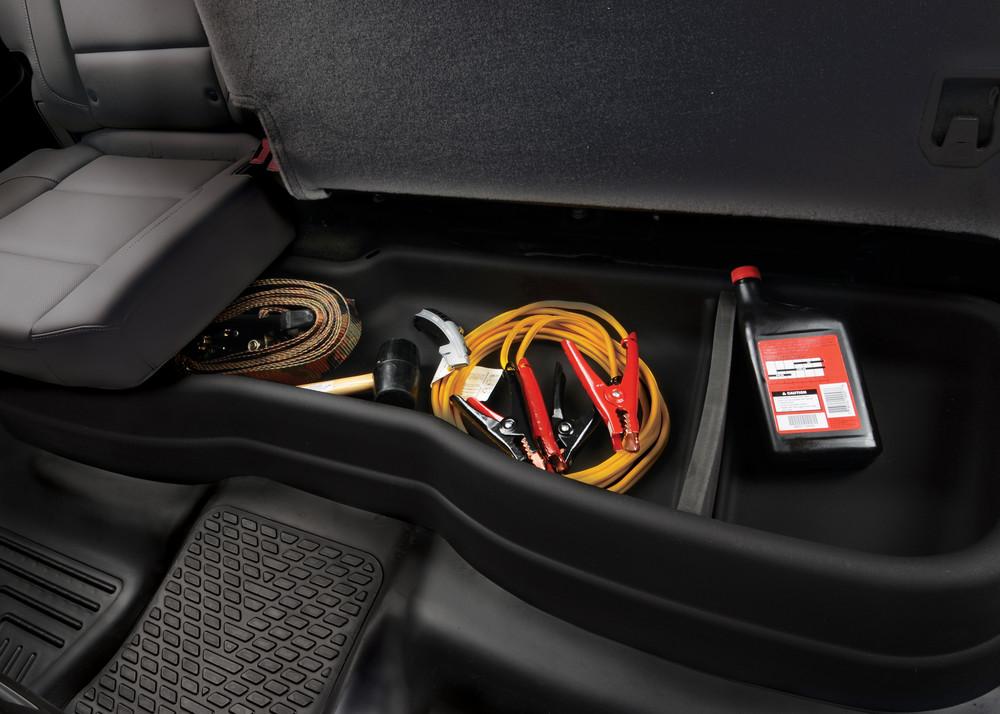 Under-seat storage for trucks are often designed in the form of tough trays or boxes with textured black anti-skid surfaces to keep your stuff from sliding around. 
For perfect fit, these under-seat storage are often tailored for a particular popular truck make and model. They are available for between $90 and $200.
READ MORE
Compact Car Vacuum
Not the coolest item on this list, however a durable, powerful yet compact car vacuum is the perfect addition to any truck. Perfect for owners who love to keep their truck's interior impeccably clean, and will be highly appreciated on longer vacations and road trips. 
When you shop for a car vacuum, look for one with a long cord, so that it'll reach every nook and cranny of the car. A truly hassle-free cleaning job! ThisWorx for TWC-01 car vacuum is a great option with raving reviews on Amazon and will only cost you $30 for a gift that you know will be used frequently.
Puppy covers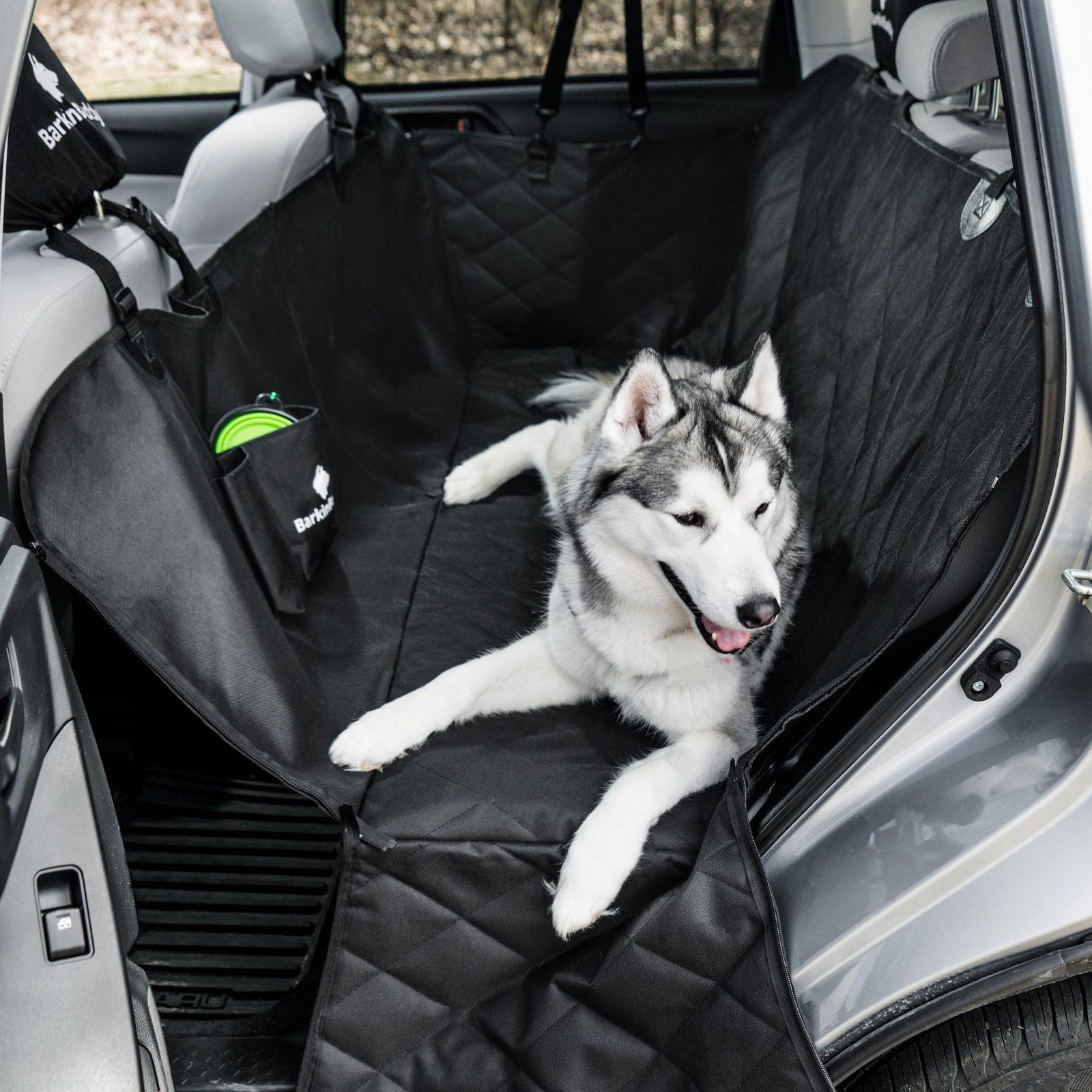 We know you love your pets and want to bring them everywhere with you in your truck. Keep your truck interior free of fur and puppy accidents with one of the coolest, smartest, handiest vehicle accessories ever invented: dog-seat covers. 
For around $30, you can get a non-slip soft waterproof cover, which works for backseat benches or hammock seating, are easy to install and clean. A popular cover is the Winner Outfitters, available at $29 with raving reviews from almost 3,000 vehicle owners on Amazon. 
Inflatable Air Mattress For Back Seat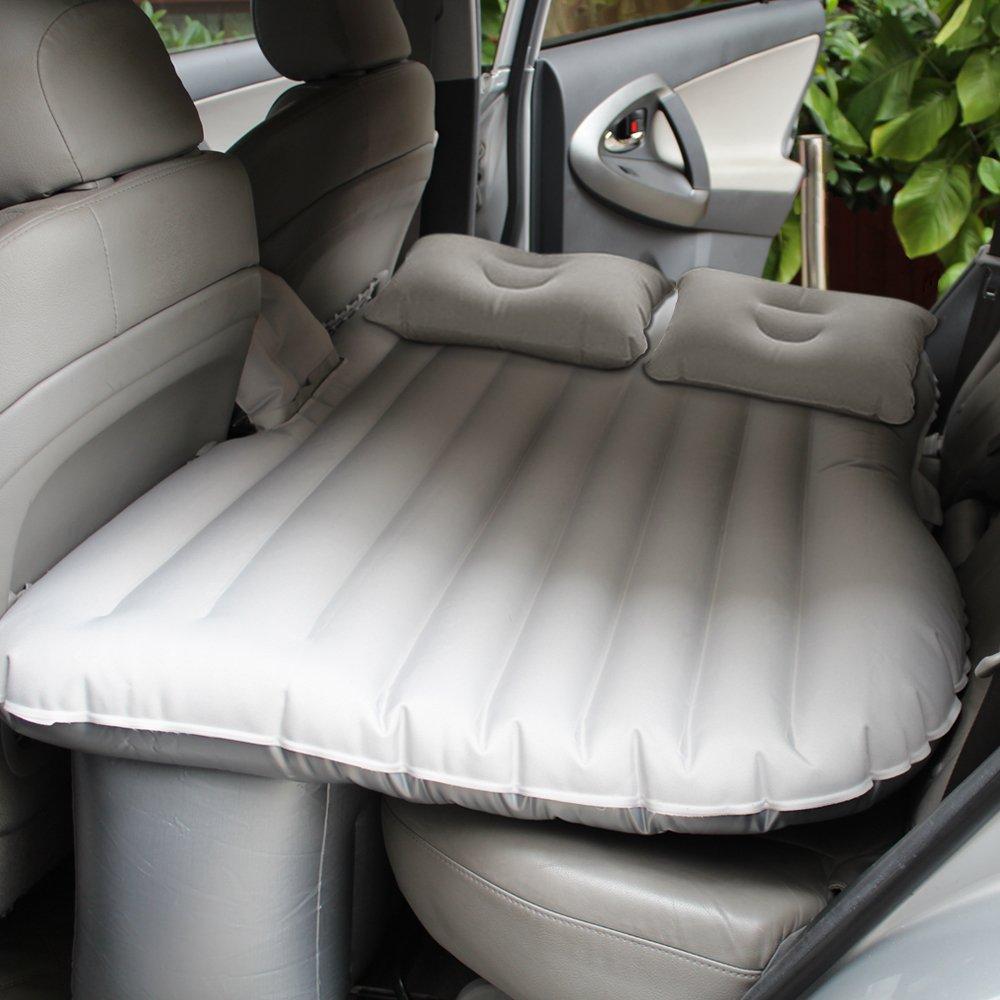 Car camping just got real with back seat inflatable air mattresses with pillows. Inflate or deflate it in seconds with the included air pump and, when you're done, it folds neatly into a stuff sack, making storage a breeze. 
Dreaming of sleeping comfortably under the stars in good weather while camping in the wild? A truck-bed full size air mattress will allow you to lie down on a cozy and spacious sleeping quarter on the bed of your truck.
READ MORE
Cool Things To Do To Your Truck Interior: For Aesthetics
Light Tint on the Windows
Window tinting is very cheap, and definitely counts as one of the cool things to do to your truck. For around $12 to $20, you get a full kit with different sized squeegees, knives and blades to easily install on any flat, curved window surfaces and corners.
Not only will it make your truck look cooler, but it also blocks out harmful UV rays.
LED Interior Lights
Looking to add some oomph to your night time camping in your beloved pickup? Light up the night with LED interior lights, which are fun, cool, aesthetic as well as practical.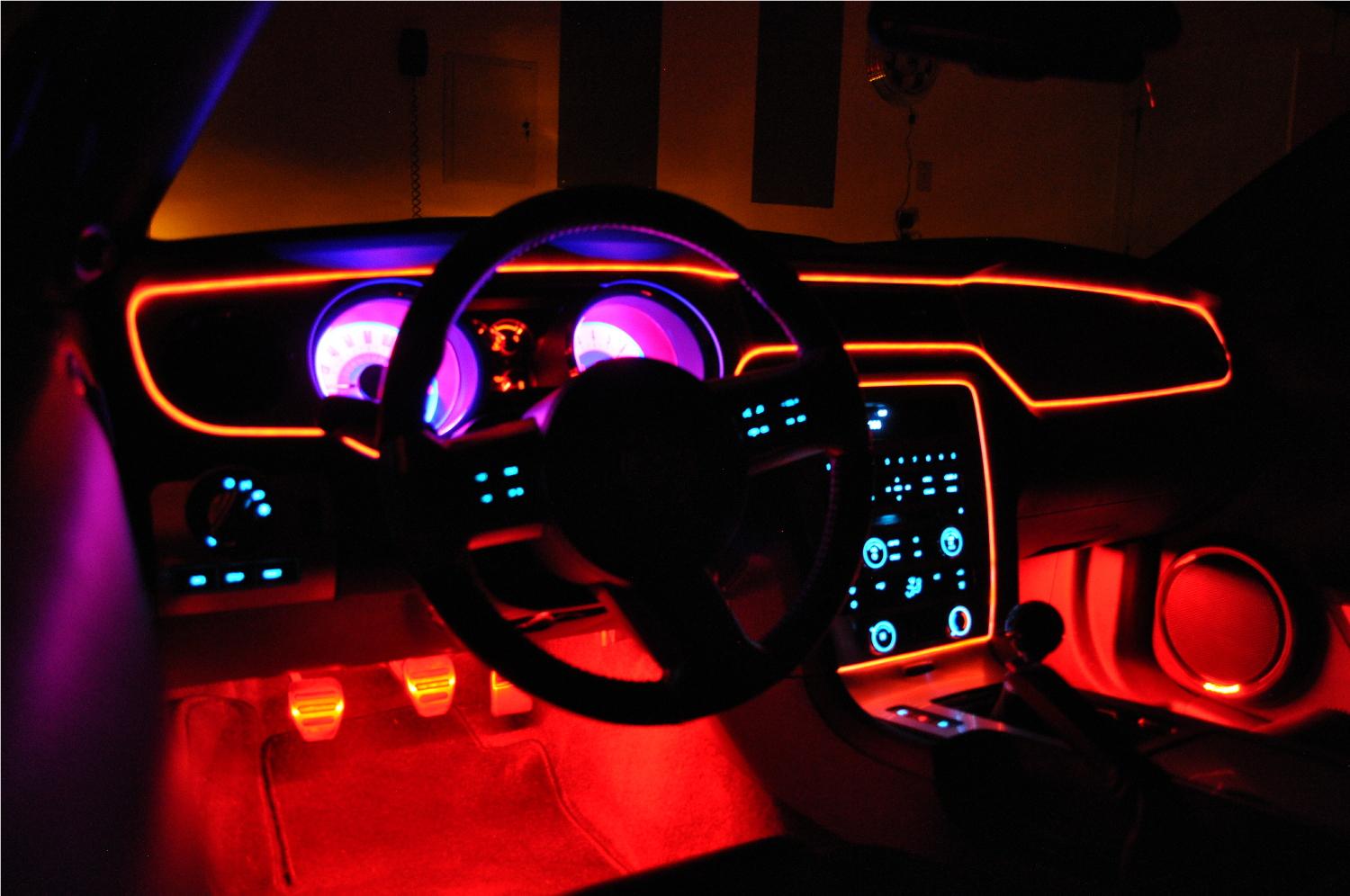 If you want some reliable interior lights that are rated four stars and above on Amazon, the Xcellent Global's interior LED lights will be a worthy investment. For $21, you get 4 water resistant, eight-colour LED strip lights. 
Everything you need for awesome interior illumination is included in the box, such as heat shrink tubing, the light module, a remote control, and the LED strip lights. You should arrange these lights the way you want and then use double-sided tape to secure them. 
Some users have installed the lights beneath their trucks' bumpers and others under the headlights. Xcellent Global's lights are malleable for plenty of installation options. 
Fun features include remote control, which enables you to switch the led mode and adjust the brightness as you wish, also sound-activated allows you enjoy the fun with the color changing following your car stereo music rhythm as well as your voice.
Music-Activated LED Light Sticker
This might be the coolest, strangest sounding item in any list of cool things to do to your truck on the internet. If you love the idea of LED lights that are guided by your favorite tunes, then a music-activated LED light sticker is another fun, fantastic investment for your truck. 
Signstek, Esupport and Xcellent Global sell such a sticker, and for somewhere around $13 it's a small investment towards some major fun while driving.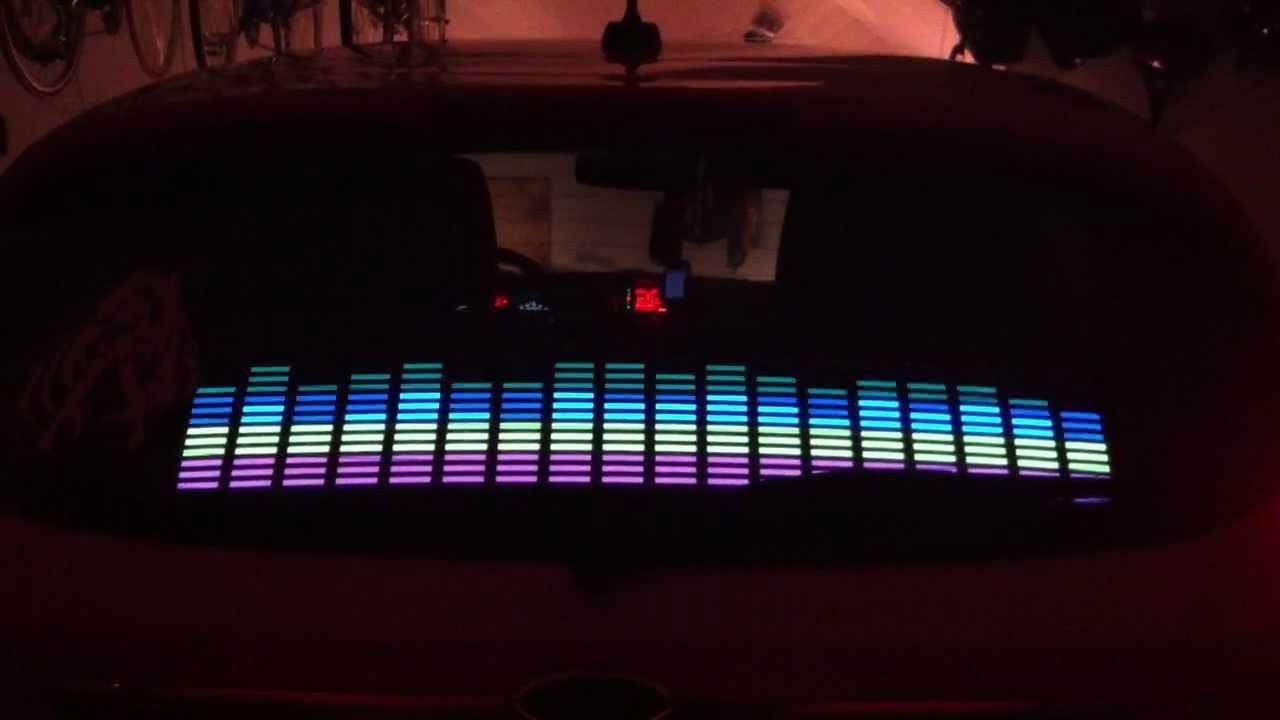 The sticker has glue on the back. You simply remove the adhesive and then secure the sticker where you want it to go. On that note, you can only place the Signstek sticker once as the glue is loosened after one use. But worry not, once you do have your sticker set up, you can enjoy it for over 5,000 hours. 
Taking up 1 mW of power, you won't risk sucking up too much juice from your truck for this little accessory. As soon as you turn on any music, the LEDs on the sticker will "dance" along to the beat of the song. 
Rest assured that the lights don't pulsate enough that they'd distract other drivers. According to the manufacturer, this sticker might even boost your safety when on the road in the dark since you get extra light.  
Steering Wheel & Seat Covers and Floor Mats
Add some more color to your truck's interior and express your personalities and spunk with a steering wheel cover, seat covers and floor mats. Steering wheel covers start at about $5, while seat covers start at $23 and can go up to as much as $150 for comfier, fancier options.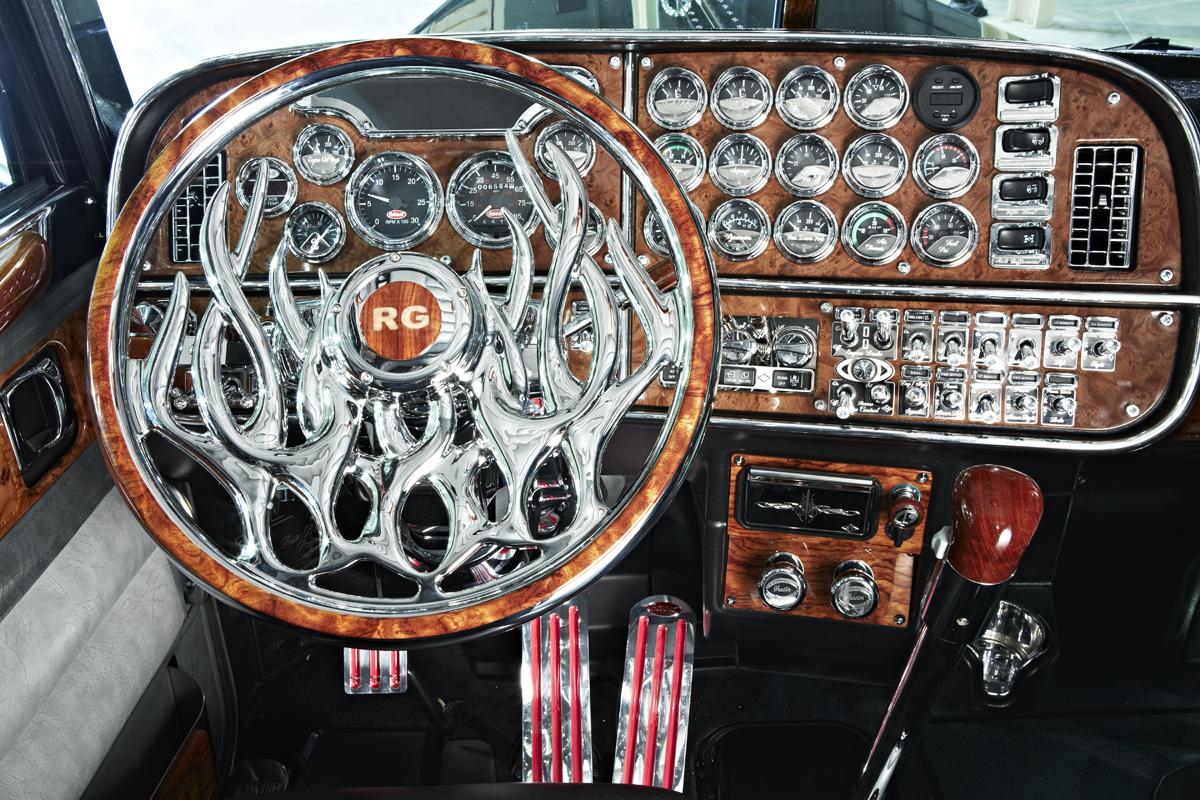 Floor mats start at $28 for a two-piece pack, $33 for a three-piece pack and around $60 for a four-piece pack. These are long term investments that will enhance not only the look of your interior but also provides more comfort on long rides.
Cool Things To Do To Your Truck Interior: For Fun
A Bluetooth Car Kit
For only $25, This Mpow MBR2 Bluetooth Car Kits is a top seller on Amazon, as rated by more than 1,500 car owners. This is probably the best of its kind currently available on the market.
It is hands-free and is perfect for cars or trucks. You get to choose your receiver hue. Available choices are black, orange, purple, green, and rose red.
Taking less than two hours to charge, you should get 10 hours of music and other entertainment with this Mpow kit. Once you set it up, all you have to do is activate your phone's Bluetooth. Then, power on the device and you can queue up any tunes you'd like. 
A bonus feature is you can even take calls with this receiver, provided that you use a 3.5-millimeter audio cable and adapter. The connection range is 33 feet, which is quite impressive.
Bluetooth in-dash DVD/CD/Am/FM car stereo receiver 
Next up is a super cool high-tech gadget. For around $140 to $180, you can get a multi-purpose in-dash receiver like the Pioneer AVH-X390BS Double Din Bluetooth in-Dash DVD/CD/Am/FM Car Stereo Receiver with 6.2 Inch Wvga Screen/Sirius Xm-Ready, which costs $175 on Amazon.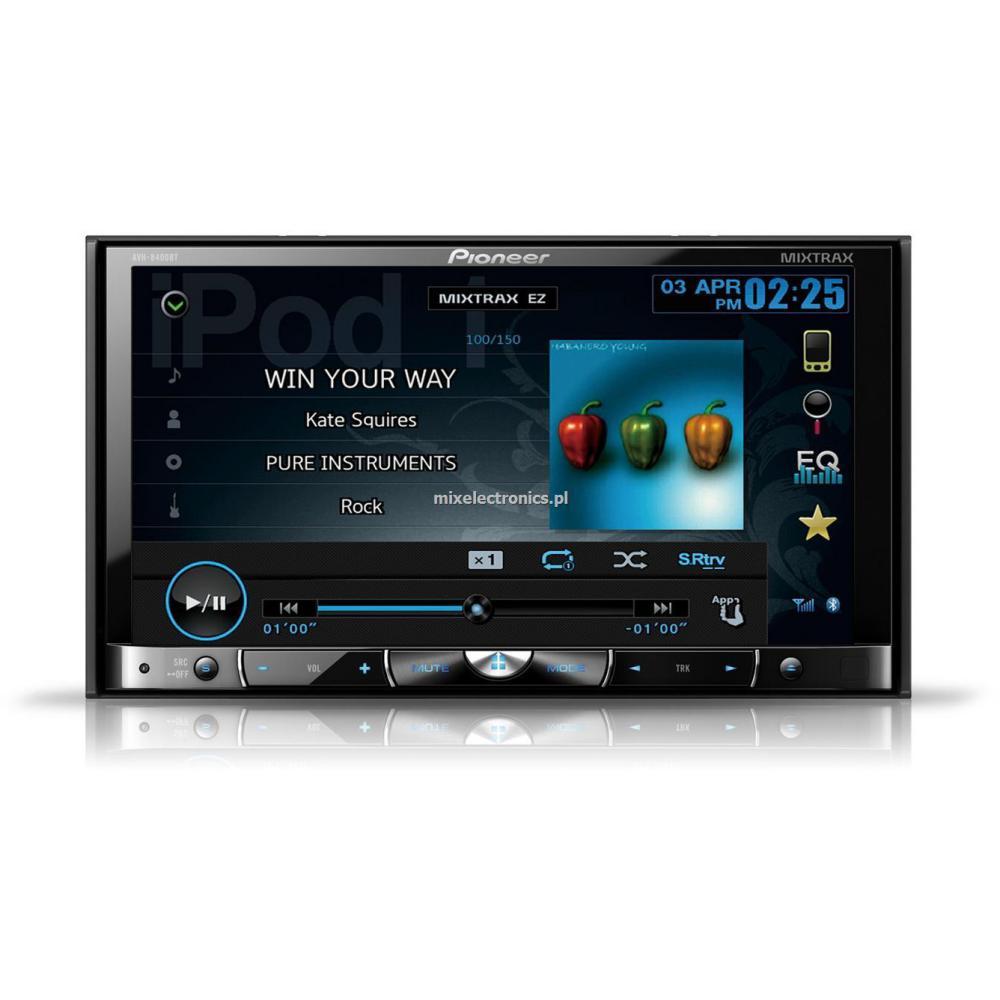 This fully customizable in-dash receiver is like a smartphone, bluetooth and audio/video player all in one, making it an awesome infotainment addition to any car. Its wide range of features include Bluetooth, media player, voice control, Pandora and Spotify control, AppRadio One, Android Music and many more. 
This device will be a valuable addition to any vehicle owner, especially car owners who have a family with kids. 
Speaker System
On long trips, putting on a good tune will relieve driving stress and keep you awake and uplifted. A speaker system will be a practical upgrade option that gives you a huge range to choose from in terms of price.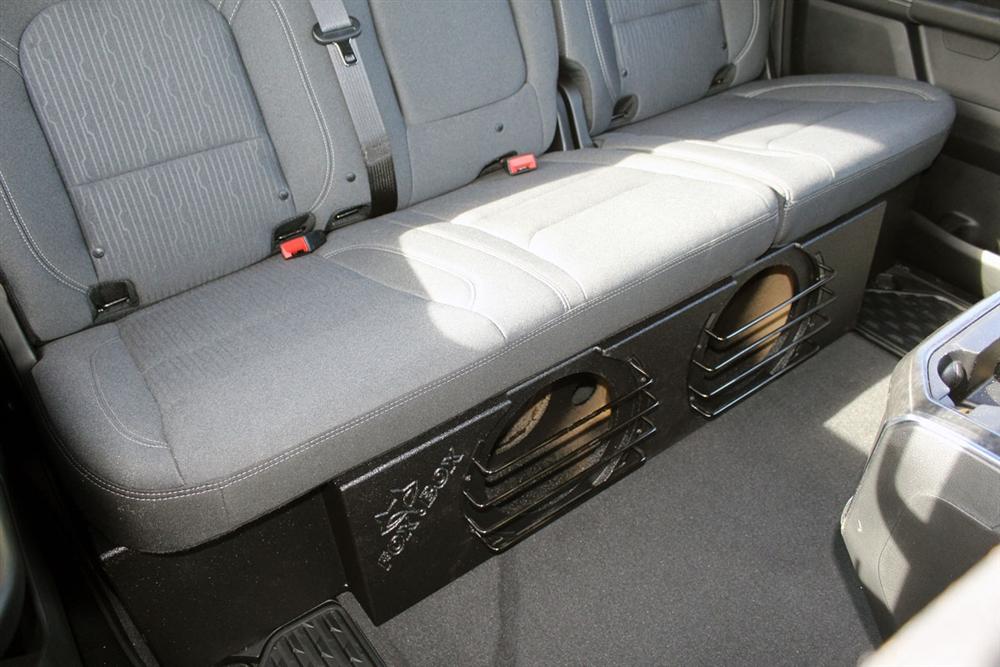 From as low as $30 to as high as over $200, you can pick out something compact, sleek and minimal or go bigger for something like the JBL GTO609C Premium 6.5-Inch Component Speaker System. This JBL gem costs $89 and offers high-quality sounds, just what you would expect from JBL. 
This model is designed especially for cars and can compensate for the undersized wires found in most cars, and make the most of every watt your car stereo can deliver. 
It features a patented i-mount system allowing unparalleled flexibility and produces more bass, smooth highs, strong and clear sound from a head-unit or amplifier capable of delivering up to 270 watts of power. It claims to come close to the sound quality of larger sized speakers and satisfy even the high-fidelity audiophile listeners. 
Not only produces great sounds, the speaker's great power-handling specifications also increase reliability over its lifetime.