Best Car Seat Cushion Reviews Of 2023
Last updated
May 09, 2023
0 comments
Most vehicle seats feel quite uncomfortable, especially when you have to sit for a long time or have any kind of spine or tailbone injury. Good news: car seat cushions can transform those uncomfortable journeys into something pleasurable. Read on the check out 2019 best car seat cushion that can provide extra comfort during a road trip.
When buying a car seat cushion, never compromise two things: durability and comfort level. A low-quality product will fall flat after a while and bring back those painful days. So, it should be comfortable, slightly bouncy, but never so plushy to make you feel like there is nothing underneath your hips.
The cushion should be ergonomically designed to promote good postures including spine alignment and cradling the back and other lower bottom parts of your body. Cushions made of memory foam are the best; there are some other good options made of different materials. So, be careful when choosing a seat cushion and remember that a high price does not equate to good quality.
Best Car Seat Cushion: 8 Products That We Absolutely Love
Car seats lose their shape and the foam gets flattened over time. You will know the pain if you have an old vehicle or bought a used car. The seats of these vehicles have already contoured around the body shape of their previous owners. You will find them uncomfortable and every bump, brake, and vibration will make the leveled surface feel hard on your lower back.
A good-quality seat cushion can relieve you from such discomfort and pain. We've curated 8 products that will change your car riding experience.
1# Everlasting Comfort Seat Cushion
If you are looking for a pure memory foam car seat cushion, this one from Everlasting Comfort is a great choice. Easy to carry everywhere as the weight is just shy of two pounds, it can accommodate everyone with the 17.5″ x 13.5″ x 3″ dimensions. Even if you are a big person with 350 pounds of weight, you will find this cushion comfortable.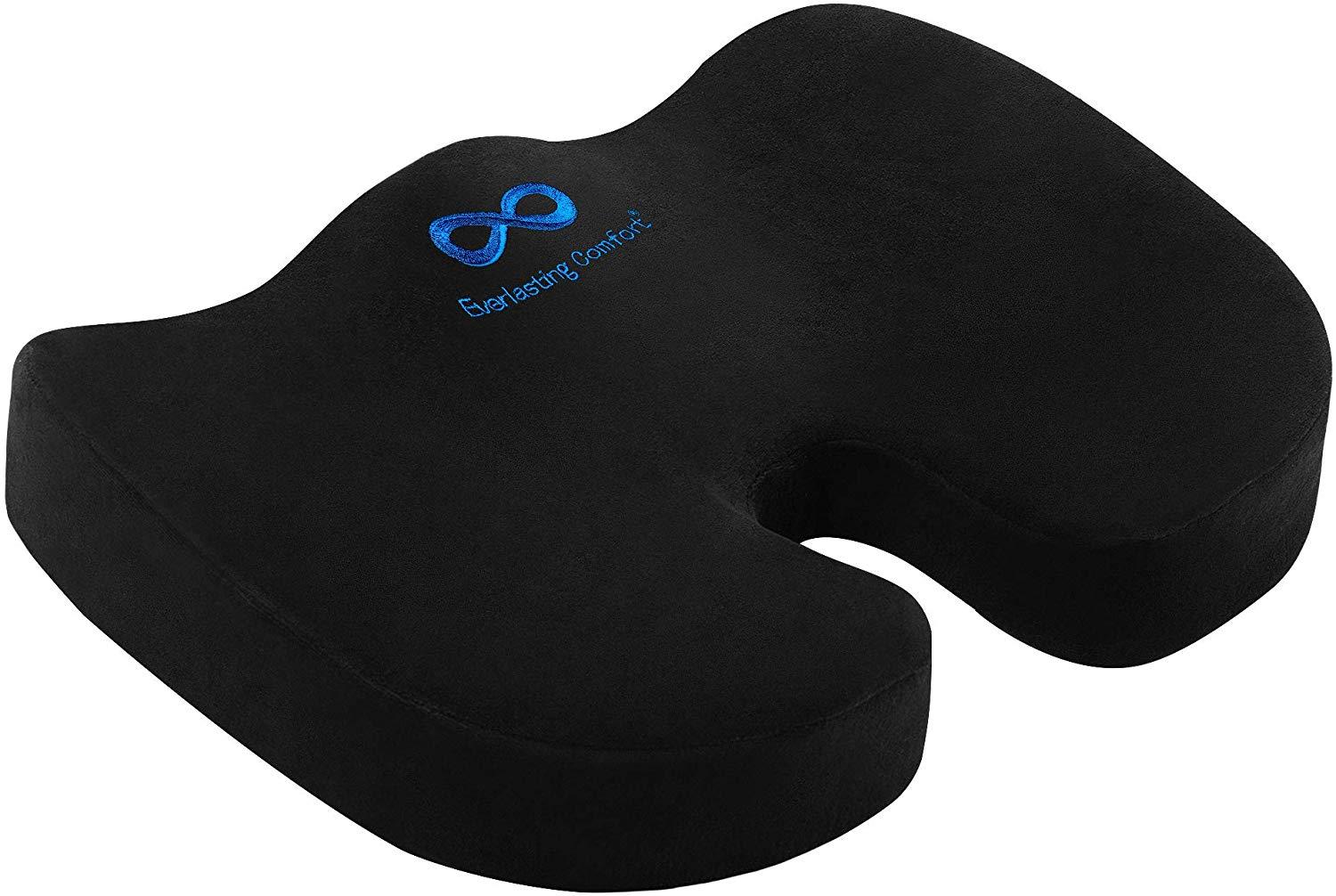 No more struggling with chronic back pain or hip pain due to a surgery or accident. This foam cushion uses a heat retention technology to mold around your body contour. It helps with sitting for extended hours in a car, airplane, stadium, and in a wheelchair.
This is a premium-quality seat cushion that relieves all kinds of hip and back problems with a U-shaped ergonomic design. An added bonus is the non-slip rubber bottom that keeps it secure to a specific spot.
The soft, velvety cover is removable and machine washable. Just remember to use cold water for washing and air dry, and it will be fine.
2# Aylio Coccyx Orthopedic Seat Cushion
This one is undoubtedly one of the best car seat cushion for long drive where you need ample back support. Without being overly dramatic or relying too much on bells and whistles, this seat cushion sticks to a simple design and focuses on ensuring optimum comfort.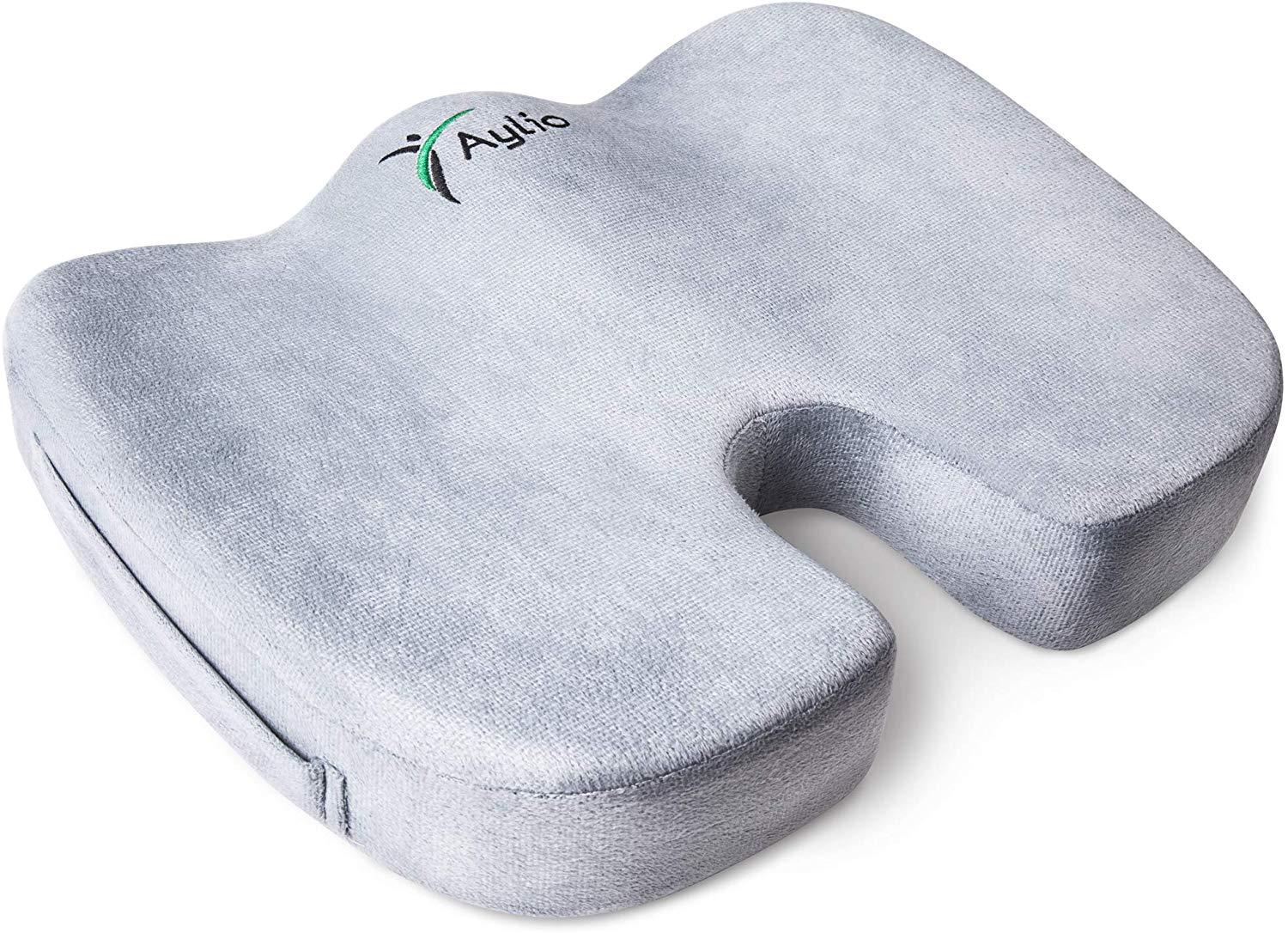 Take the cushion anywhere you want, in your car, home, office, or during travels as it is lightweight and small. Its contoured profile cradles the hips, buttocks, and thighs, relieving sciatica and lower back pain.
Keeping the correct posture and spine alignment is not a problem anymore, as the seat cushion has an anti-slip base. It is a safe option if you have an injured tailbone or any other conditions like a slipped or bulging disc.
The velvety cover is so soft that there is no chance of rubbing or irritation when it comes to contact with the bare skin. The good news is that you can machine wash the cover to maintain hygiene.
3# ComfiLife Premium Comfort Seat Cushion
Does it get highly uncomfortable when you are on a long flight? Do you shin, coccyx, and lumbar areas hurt constantly when you sit in your office or drive around all day? This premium seat cushion from ComfiLife is a blessing when nothing seems to work for your sore back and tailbone. It works wonder when professional massaging seems to be doing nothing.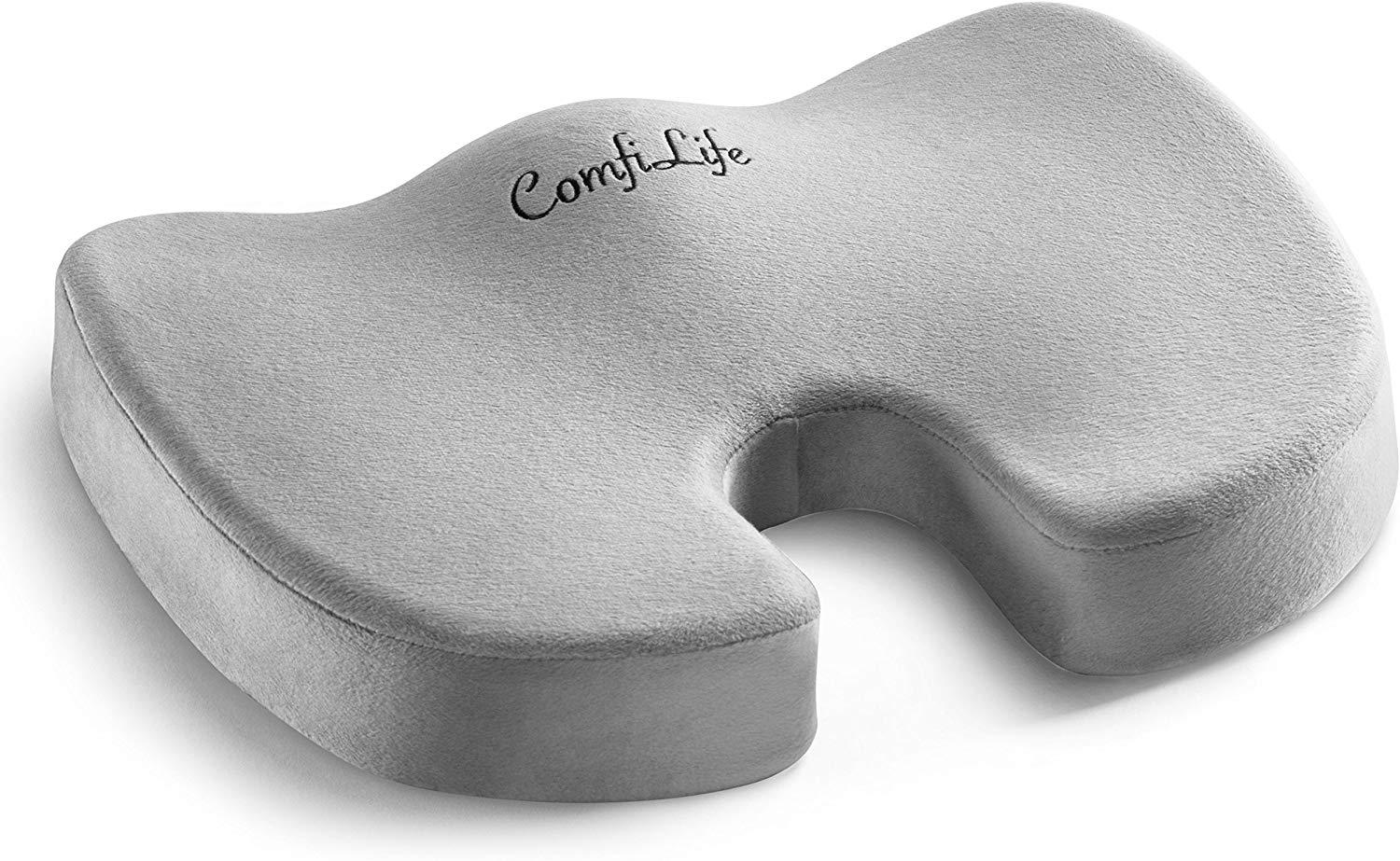 This is one of the best car seat cushion products because all of its components are premium quality. The clinical-grade memory foam hugs around your bottom and takes all the pressure off of your midline.
Carry it wherever you go, as it is highly portable with an integrated handle. Placing it on the car seat or office chair transforms the regular seat into a deluxe seating. Besides, the non-slip rubber bottom keeps it secured on a specific spot.
SEE MORE
4# TravelMate Gel-Enhanced Memory Foam Seat Cushion
Cushions made of pure memory foam get saggy after a while. TravelMate solves this problem by using hybrid gel-enhanced memory foam. This is a US-patented material that takes good care of your hips, back, and lumbar regions.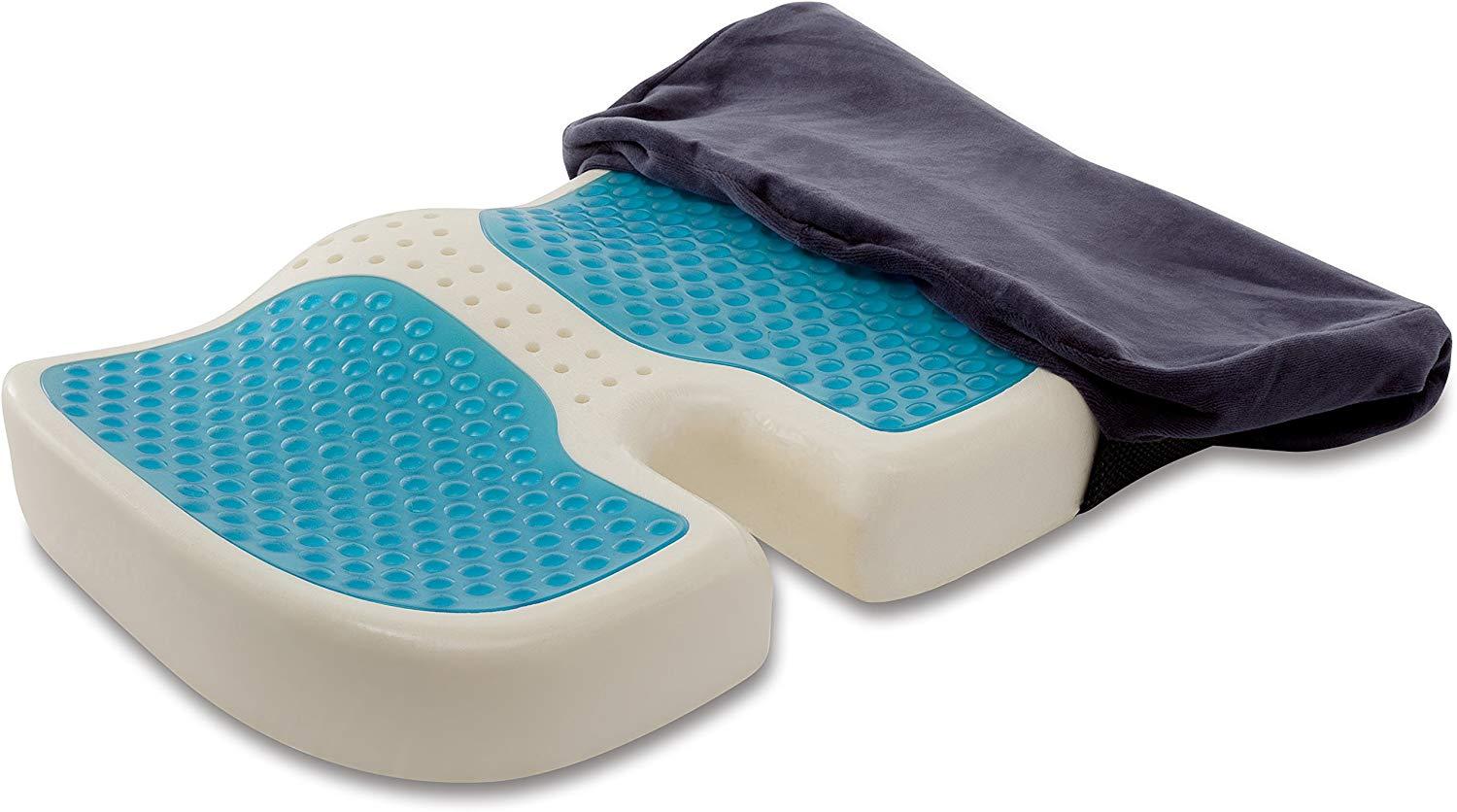 The silicone-coated, non-slip cover is machine washable, which is a relief for people concerned about hygiene. There are numerous built-in channels on the cover to keep it breathable. Despite being warm and comfy, this seat will never become uncomfortably hot in summer days.
Most seat cushions for cars are made of a foamy material, but TravelMate goes one step ahead and combines a cooling gel with memory foam to offer the best possible comfort. Besides, the seat cushion promotes healthy postures by keeping your spine in the correct position and taking the pressure off of it.
5# Dreamer Car Auto Seat
This one is a little different from other entries as you won't sit on but lean onto it. Strapped to the back of the car seat, this back support cushion from Dreamer is excellent for relieving muscle tension and sciatica pain.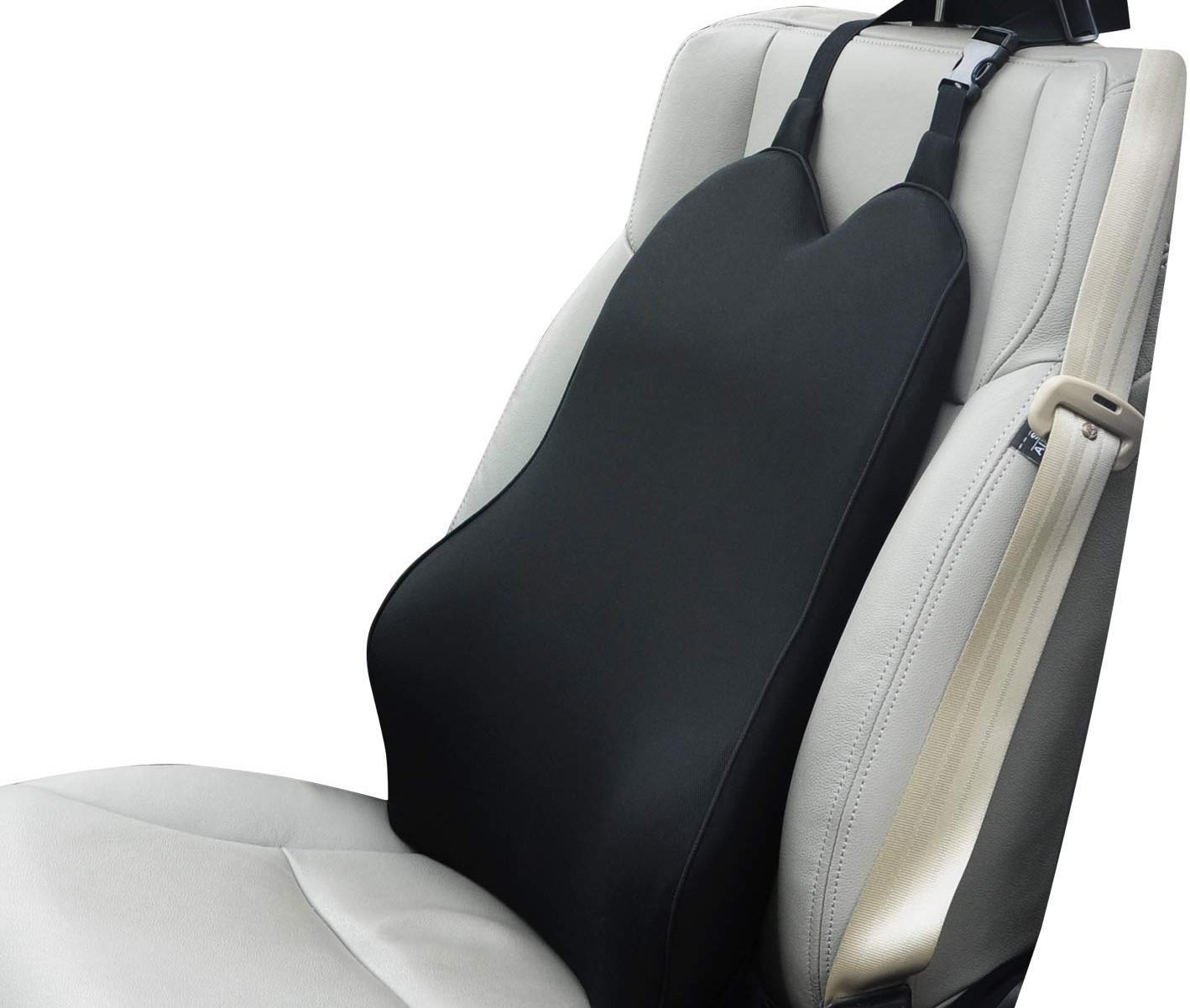 Car riding puts lots of pressure on your backbone, especially at the time of sudden kick-offs and abrupt braking. This seat, with high-density memory foam, offers the right balance of softness, firmness, and comfort for your back.
The good news is you can customize the support with the help of two buckles and two adjustable straps. So, you can attach it higher or lower to the seat according to your height and personal comfort. It is undoubtedly one of the best if not the best car seat cushion for back pain.
6# Coccyx Orthopedic Memory Foam Seat Cushion
If you consider only the rave reviews online, this orthopedic memory foam seat cushion from Xtreme Comforts will stand out as the best car seat cushion. The U-shaped ergonomically-designed cushion is versatile to be used not only on car seats but everywhere, from airplane to office.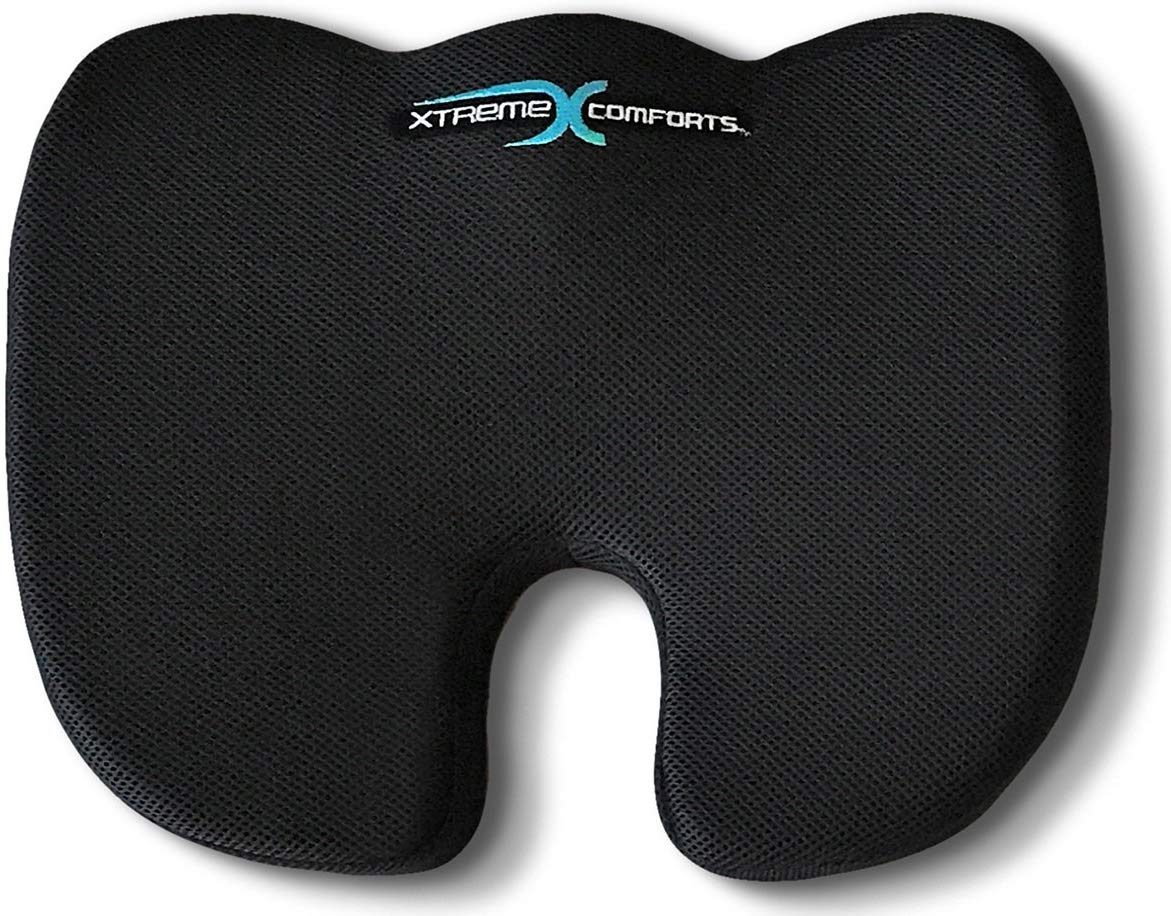 The cushion never goes flat due to the use of ultra-deluxe body active memory foam. It nicely hugs around your lower back to provide the optimum relief from back pain. In fact, the ample back support extends to providing comfort when you have arthritis, hip pain, degenerated discs, and plenty of other issues caused by old age or back injuries.
You don't have to worry about the cushion slipping from its position as it features an anti-skid bottom. So, you can use it anywhere you like without giving a second thought.
Xtreme Comforts is confident that you will like its products. If not, you can return it and get a refund as the company offers a money-back guarantee for two years.
7# FORTEM Seat Cushion
This is one of the cheapest car seat comfort cushions that you will find in the market. The company kept the cost lower by using urethane foam instead of memory foam.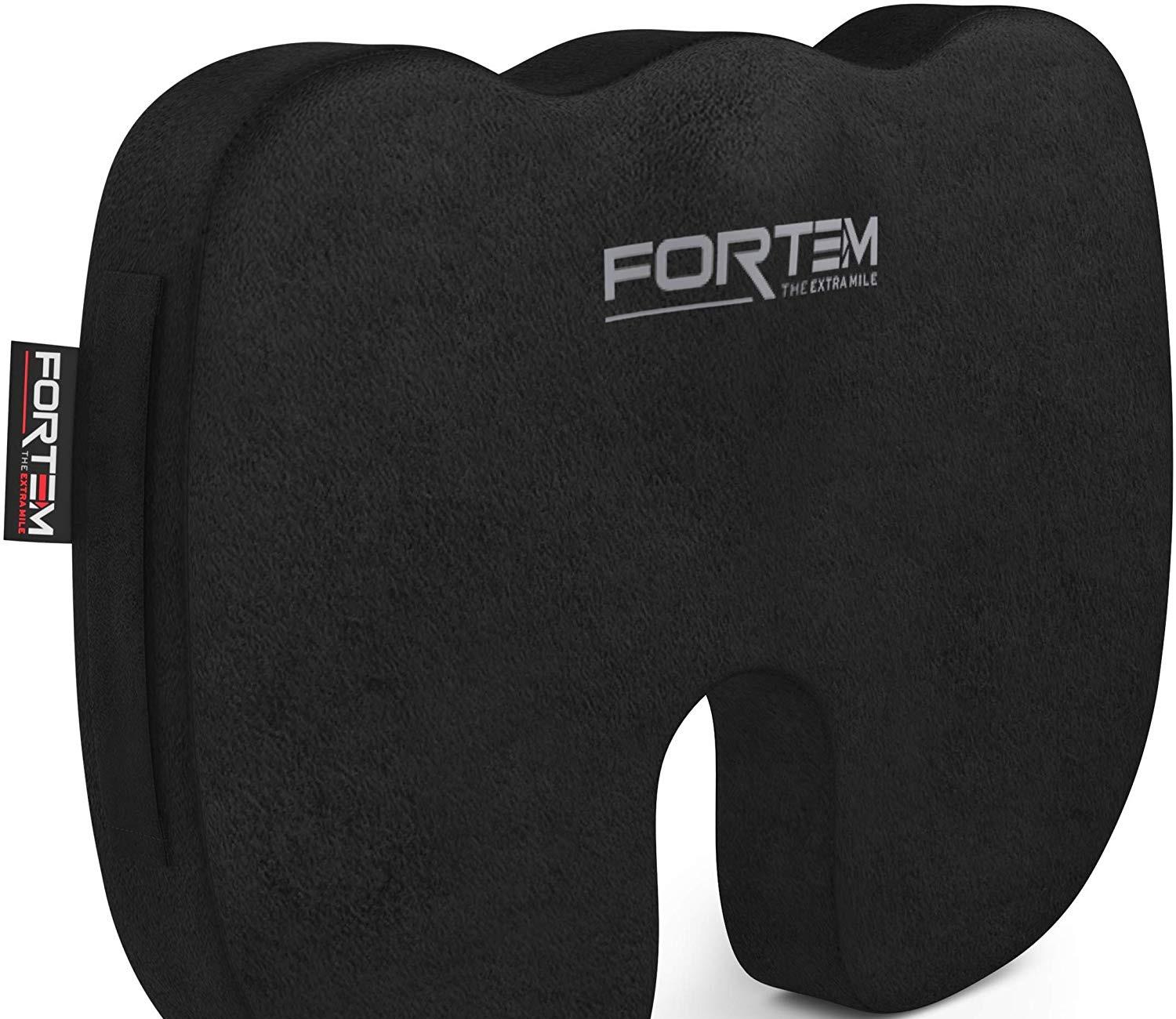 However, it does not considerably compromise the comfort factor. It is firmer than the memory foam but offers great support by holding up well. You can use it for a long time without making it flat.
There is a zipper to the soft velvety cover for easy removal and cleaning. A side carry handle makes it easier to carry the cushion anywhere. Another good design feature is the anti-slip gel lining on the bottom so you don't have to fix it after every movement.
This is a great portable seating option for its compact profile and low weight. If you are still doubtful, Fortem offers a 100% satisfaction guarantee for this product.
8# ComfiLife Gel Enhanced Seat Cushion
The gel-enhanced seat cushion from ComfiLife is undoubtedly a great choice if not one of the best car seat cushion for sciatica pain. The combination of memory foam and cooling gel makes sure that you get the best support and comfort.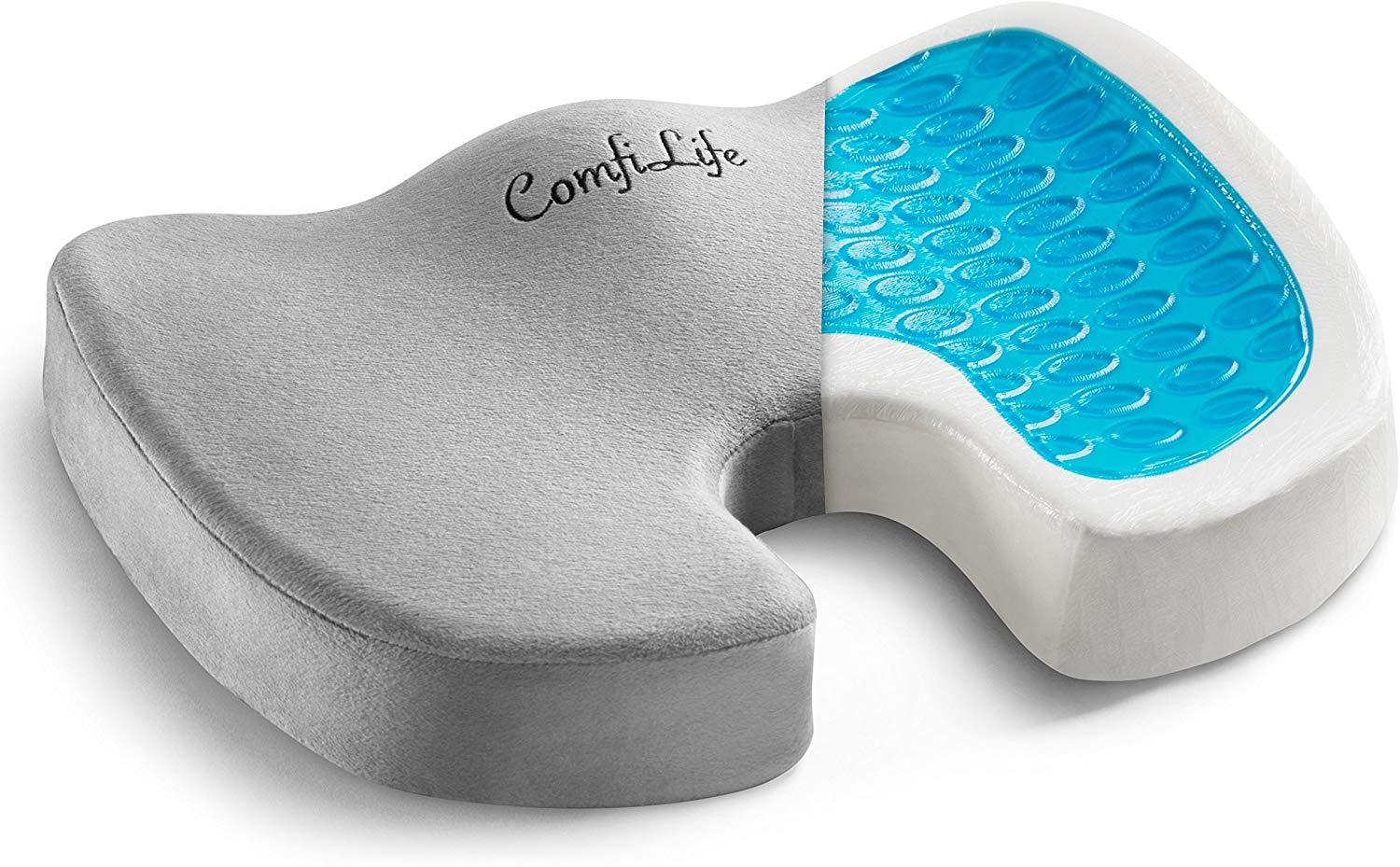 The surface feels soft to the touch but the build is firm enough to accommodate larger people. Say goodbye to soreness and discomfort caused by prolonged sitting as this cushion cradles your lower back.
This cushion is perfect for those people suffering from tailbone injuries, back pain, degenerated discs, or spinal issues. Even if you don't suffer from any injury, you can use it for extra comfort.
ComfiLife gives customer satisfaction the highest priority. So, you can claim the refund if you are not fully satisfied.