15 Best Car Gadgets You Should PURCHASE in 2018
It is not exaggerating if saying that everyone always dreams of owning a car. However, after having one, not many owners are interested in equipping the car gadgets. This is sad, since these equipment not only provide drivers a much more easier driving experience but also improve car efficiency and save fuel. Below are 15 suggestions on the best car gadgets you can take as reference. Let's find out!
15 Genius Car Gadgets You Should Never Drive Without
Car gadget is a wonderful tool for drivers, help them drive faster and easier. However, not many car owners have the knowledge of which gadget they should buy. Here are our recommendations for 15 best car gadgets:
1. Dash cam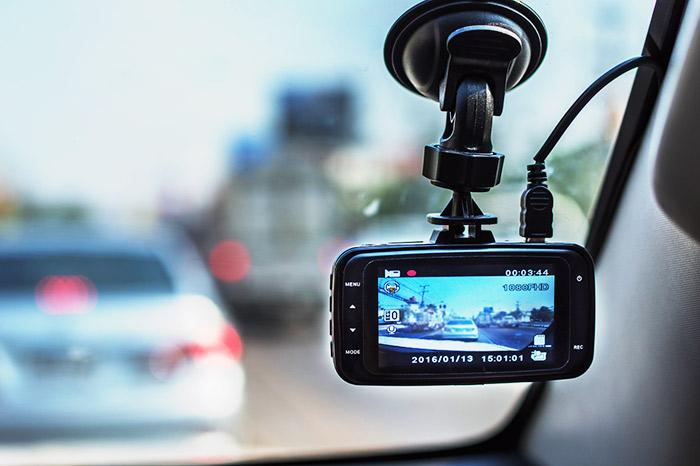 Well-known as one of cool car accessories, a dash cam is a small digital camera mounted to the dashboard that every car should have it nowadays. It is used for shooting the driver's journey when the car is started and moving. Dash cam is not a tool that can protect you physically but it is a vital product that ensure your safety on the road and its footage that it shoots can be used to demonstrate who is responsible in case of an accident. Dash cam is a must-own tool for anybody who uses a fair time traveling on the street.
Recommended dash cams for drivers: If you are interested in buying a dash cam, the Garmin Dash Cam 55 is the best choice for you. This dash cam can shoot 30 frames per second and captures images in crystal-clear 1440p video. Garmin Dash Cam ensures your safety and if you drive in through a scenic area, you can use this cam to make amazing time- lapse videos. Go on Amazon to pick one for yourself.
Another option for you is the Z-Edge dash cam. It can shoot 30 frames per second and automatically switch on and shut off when driver turn on/off the ignition. Z-Edge dash cam is available on Amazon too.
2. Portable jumper starter kit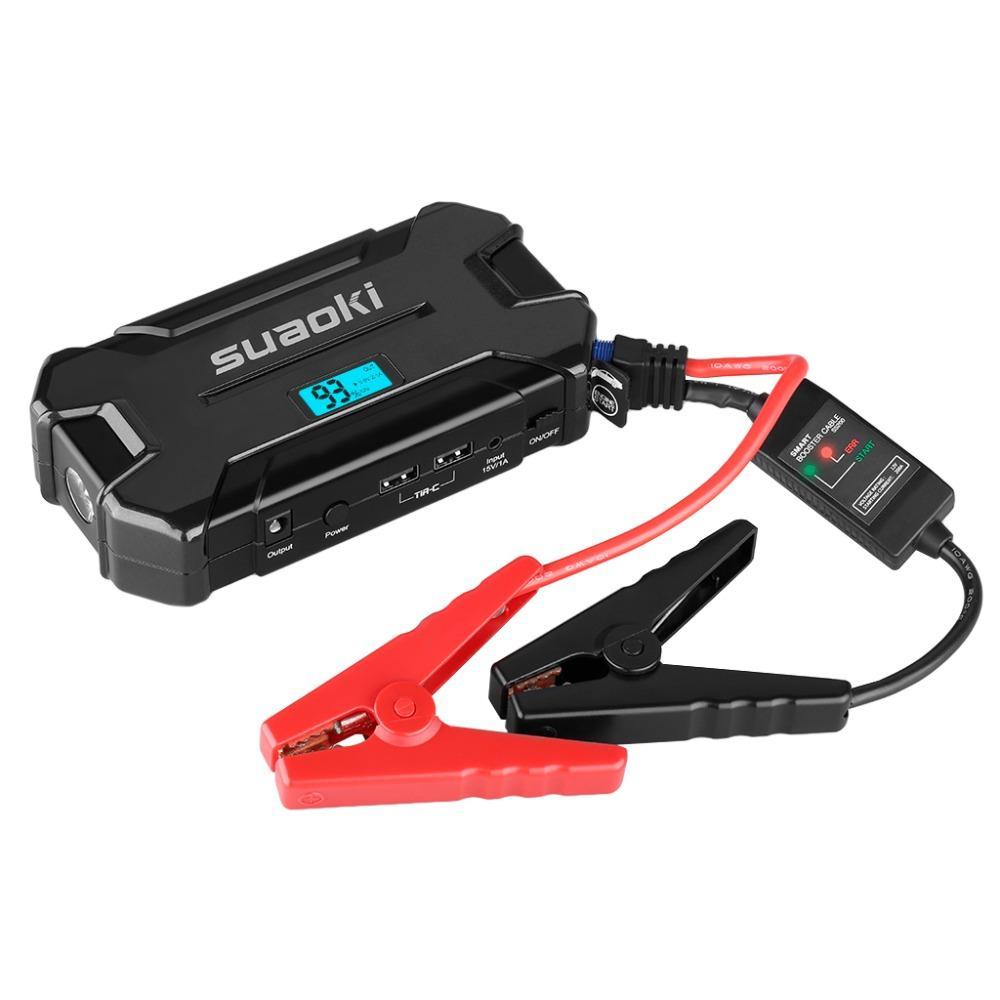 One of the best car gadgets is a portable jumper starter kit. According to auto experts, this kit is on the list of must have car accessories. While you are driving on the road, there is nothing can guarantee that somebody can be around and give you a jump when you need it. That is why you should always bring a jump starter kit in your car. The main function of a jump starter kit is a battery source which allows driver to start his car when it dies by hooking the clamps on the kit to the battery of the car. Additionally, a jump start kit can be used as a backup power source.
Recommended jump starter kit for drivers: The Suaoki portable jump starter kit is a good choice for car driver. This product is designed with a flashlight built in. Also Suaoki declares that their kit can be used to start a vehicle 22 times on charge. Thus, don't hesitate to add this kit to your list of must have car accessories.
3. Fobo Tire Plus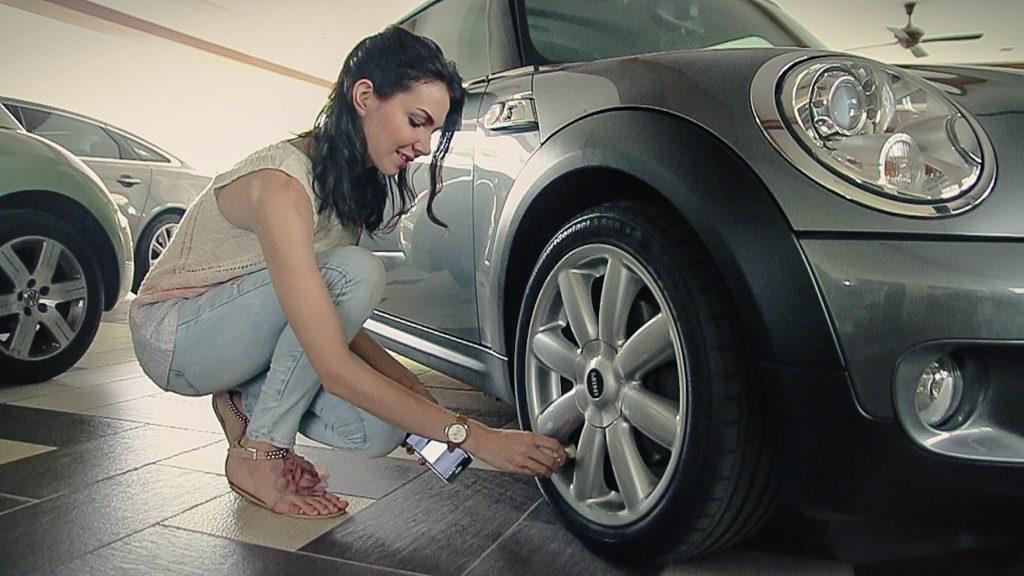 There is a huge number of car accidents happen each year due to unsafe vehicles run on the road. To increase road safety through optimizing tire pressure, Fobo Tire Plus – a complex Wireless Tire Pressure Monitoring System is created to replace handheld pressure gauge. Owning the latest bluetooth 4.0, Fobo Tire Plus can work directly with high-tech devices using iOS or Android systems. Moreover, Fobo Tire Plus has an intelligent in-car monitoring unit which works on its own or all together with your smartphone, it can monitor up to 600 kPa (87 psi) and give car driver a warning in the non-appearance of a smart-phone. Car experts estimate that Fobo Tire Plus is one of the best car gadgets that you shouldn't miss.
Advantages of Fobo Tire Plus:
Promoting the efficiency of fuel
Reducing unneccessary tire wear
Optimizing tire performance
Giving car owner the real time status of his tire pressure
Improving good control of your car
You can easily pick set of Fobo Tire Plus on Amazon.
Check out this video below to see more detail about the cool car accessory.
4. GPS tracker
GPS tracker is a device that connects with your smartphone and help you know where exactly your vehicle is at anytime. Normally, GPS tracker is more advantageous for parents trying to keep tabs on their children but in some cases, for example somebody tries to steal your car, the GPS tracker can be useful for car owner.

Recommended GPS trackers for you:
The Spy Tec portable GPS tracker is a product you should take into consideration. The product even enable car driver to set up a geo-fence and will inform car driver via text or email if the car go over the pre-determined place.
5. High Road Car Seat Organizer
If you have amassed a lot of useful accessories, then it's time to find a place to stow them. High Road car seat organizer is one of cool car accessories you need to buy. High Road car Seat Organizer is designed with functions as a solid storage opt for hoarders and families as well. The gadget is made of polyester and durable mesh, and it has an array of flexible pockets and compartments. Coming with a modifiable headrest strap, High Road Car Seat Organizer also easily attaches to any seat back, enabling you to all your things within easy reach.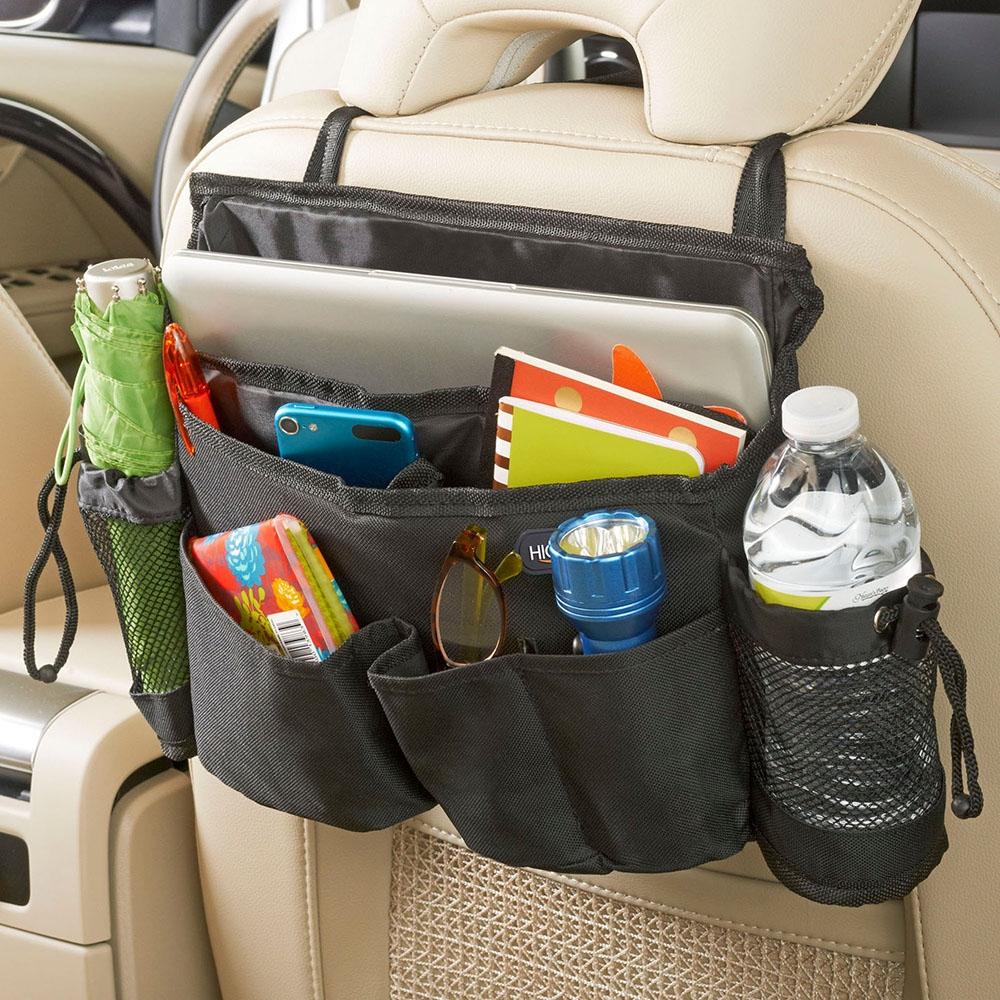 Recommended High Road Car Seat Organizer for you:
High Road SwingAway Car Seat Organizer: This product is designed with 8 protective pockets with many sizes to fit everything from tissues, water bottles, smartphone.. to ipads, notebooks. And it also has 3 back padded compartments to protect electronic devices. Additionally, the High Road SwingAway Car Seat owns adjustable straps buckle which is fit any headrest. The price for this gadget is not expensive and you can easily pick one on Amazon.

6. Smart Wheel
One of the best car gadgets is Smart wheel which is the first intelligent steering wheel cover helping prevent distracting driving. As known, distracting driving is a growing problem for all drivers, especially for teen drivers. So, with this new approach, it will change the way people drive in real time.
With Smart Wheel, safety challenges can be solved by technology with main functions. Firstly, it will snap onto any steering wheel and use patented sensing technology to encourage safe driving and help drivers stay focused on the road. Additionally, Smart Wheel's real-time feedback will also make drivers be aware of distracted driving behaviors before a potential accident.
Besides, track function of Smart Wheel helps you deliver teachable insights wireless to your smartphone app via Bluetooth.  Thanks to one of these cool car accessories, you can track driving habits improvement with a simple grading system.
>> Best deals for you:  Subaru Impreza 2011 for sale, Toyota RAV4 2006 for sale
7. Radmo
One of the amazing best car gadgets you should buy next is Radmo. If you have it, you have no need to worry about where you put your mobile phone or other electronic devices. Although put what you need on the windshield is not a bad idea, it is not clever choice and even illegal in some places. Radmo – the perfectly fitted mount – can help you solve this matter.
It is very flexible because it can fit with any phones, any GPS devices, mini tablets or even two phones at the same time just by adjusting handles. Also, it is stable and durable for years.
8. MiFold
Talking about car seat for children, safety is number one priority and that seat has to meet the highest regulatory standards.
With the design of holding seat belt down in stead of lifting up of regular booster, Mifold is the most advanced compact and portable booster seat for the safety of children at the age of 4 to 12. Its size is 10 times smaller than a regular booster. Additionally, Mifold is one of the most safety car gadgets. With such design, you can feel comfortable, safe and easy to use.
9. Exploride Head up Display
The next best gadget for cars is Exploride Head up Display whose features are: quad core processor, 6* transparent display, 2 GB ram, IR and rear camera and Bluetooth 4.0/LE.
With this cool accessory for vehicles, you can receive the important call while driving without disturbing your conversation with sweetheart, enjoy tracks from online radio. In hands-free environment, you also can call the beloved one without using your phone by voice calling facility inbuilt into Explorer ride.
Having Exploride Head up Display in your car, you will never get lost because you know all about your ride with on board diagnostics giving information about direction, speed, tire pressure, fuel and other important statistics. Exploride Head up Display also provides a feature rolling a list of apps available for your journey.
10. MotorMood
Next, this is one of cool car accessories you need to buy. MotorMood is a new, simple and powerful gadget for car to make the roads happier when you can say thanks to other drivers on the road or even in the dark for letting you into the lane, turning off the lights or letting me know the traffic light turns green. It makes the driving more humane and funnier.
     SEE MORE:
11. ZipGripGo
What will you do when being stuck in snow? Just try and push but still no go? Get a tow with expensive price? Now, you do not need to worry about this problem with ZipGripGo. which is an economical, convenient traction aid solution. In many car gadgets, ZipGripGo is the most suitable one for this task.  As its slogan "getting you where you need to go", you can use this easy-to-install gadget in emergency situation and fasten onto the car wheel when driving on the snowy or muddy roads.
12. Jabra Freeway
With 3 noticeable feature including 3-speaker virtual surround sound, Fm transmitter and dual-mic noise cancellation, Jabra freeway is one of the best car gadgets you should buy. Everything of Jabra freeway is in automatic mode. It turns on automatically when you enter the car and turn off to save batter after you left the car. Drivers can also connect automatically by phone using voice.
As example, when you are listening to your favorite songs with 3-speaker virtual surround sound and there is a call coming, Jabra freeway will read out the name of incoming caller to notice you. What you just do next is using your voice to make and answer the call.
13. GOFAR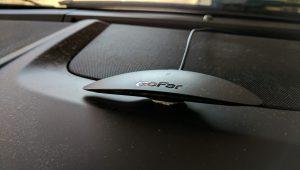 GOFAR is an intelligent in-car device that drives your car smarter: it help your car cut your time in traffic, reduce emissions and save on fuels. In trials, this gadget cuts fuel use up to 30%. So, how does it work to help your car?
For every engine, there is a sweet spot. Basing on your car's sweet spot, GOFAR will use real-time feedback to give you driving data that can help lower your costs. Moreover, it will alert you on fuel consumption through colors. If the display glows blue, it means that your car is still in the sweet spot (Efficient driving). However, the red color shows that you are wasting energy. It, hence, is really one of the cool accessories for cars you should have.
14. Spareone Plus
In the 14th rank of best gadgets for cars is Spareone Plus. It is an ideal device for emergency situations because you can be able to call for help without worrying too much about battery. This gadget is the only one operating single AA battery in the world so, it is no need for charging with 10 hours of talk time and 15 year battery shelf life. Also, this phone has free communication backup plan when power is out.
Remarkably, you can use any SIM card for this phone and call 911* even without one in most countries. Other useful features are torchlight and panic siren. This phone is sold with water proof bag.
15. IOttie
iOttie is famous for car mounting solutions. One of its cool accessories for cars is Easy Flex 3 using the standard wireless charging technology with the tilt-back design of pivot ball point for 360 rotation and one touch locking feature. Its size is compact and portable for easy mounting. However, this gadget fits with mobile devices 2.1 inches to 3.1 inches in width.
Hopefully you will get a list of must have car accessories from this article. If you have any question about car, leave us a comment in the box below, our auto experts will answer it for you.
>> Looking for a car from Japan with good conditions, click here <<