It is not exaggerating if saying that everyone always dreams of owning a car. However, after having one, not many owners are interested in equipping the car gadgets. This is sad, since these equipment not only provide drivers a much more easier driving experience but also improve car efficiency and save fuel. Below are 10 suggestions on the best car gadgets you can take as reference. Let's find out!
Ten Genius Car Gadgets You Should Never Drive Without
Car gadget is a wonderful tool for drivers, help them drive faster and easier. However, not many car owners have the knowledge of which gadget they should buy. Here are our recommendations for 10 best car gadgets:
1. Smart Wheel
One of the best car gadgets is Smart wheel which is the first intelligent steering wheel cover helping prevent distracting driving. As known, distracting driving is a growing problem for all drivers, especially for teen drivers. So, with this new approach, it will change the way people drive in real time.
With Smart Wheel, safety challenges can be solved by technology with main functions. Firstly, it will snap onto any steering wheel and use patented sensing technology to encourage safe driving and help drivers stay focused on the road. Additionally, Smart Wheel's real-time feedback will also make drivers be aware of distracted driving behaviors before a potential accident.
Besides, track function of Smart Wheel helps you deliver teachable insights wireless to your smartphone app via Bluetooth.  Thanks to one of these cool accessories for cars, you can track driving habits improvement with a simple grading system.
>> Best deals for you:  Subaru Impreza 2011 for sale, Toyota RAV4 2006 for sale
2. Radmo
One of the amazing gadgets for cars you should buy next is Radmo. If you have it, you have no need to worry about where you put your mobile phone or other electronic devices. Although put what you need on the windshield is not a bad idea, it is not clever choice and even illegal in some places. Radmo – the perfectly fitted mount – can help you solve this matter.
It is very flexible because it can fit with any phones, any GPS devices, mini tablets or even two phones at the same time just by adjusting handles. Also, it is stable and durable for years.
3. MiFold
Talking about car seat for children, safety is number one priority and that seat has to meet the highest regulatory standards.
With the design of holding seat belt down in stead of lifting up of regular booster, Mifold is the most advanced compact and portable booster seat for the safety of children at the age of 4 to 12. Its size is 10 times smaller than a regular booster. Additionally, Mifold is one of the most safety car gadgets. With such design, you can feel comfortable, safe and easy to use.
4. Exploride Head up Display
The next best gadget for cars is Exploride Head up Display whose features are: quad core processor, 6* transparent display, 2 GB ram, IR and rear camera and Bluetooth 4.0/LE.
With this cool accessory for vehicles, you can receive the important call while driving without disturbing your conversation with sweetheart, enjoy tracks from online radio. In hands-free environment, you also can call the beloved one without using your phone by voice calling facility inbuilt into Explorer ride.
Having Exploride Head up Display in your car, you will never get lost because you know all about your ride with on board diagnostics giving information about direction, speed, tire pressure, fuel and other important statistics. Exploride Head up Display also provides a feature rolling a list of apps available for your journey.
5. MotorMood
MotorMood is a new, simple and powerful gadget for cars to make the roads happier when you can say thanks to other drivers on the road or even in the dark for letting you into the lane, turning off the lights or letting me know the traffic light turns green. It makes the driving more humane and funnier.
     SEE MORE:
6. ZipGripGo
What will you do when being stuck in snow? Just try and push but still no go? Get a tow with expensive price? Now, you do not need to worry about this problem with ZipGripGo. which is an economical, convenient traction aid solution. In many car gadgets, ZipGripGo is the most suitable one for this task.  As its slogan "getting you where you need to go", you can use this easy-to-install gadget in emergency situation and fasten onto the car wheel when driving on the snowy or muddy roads.
7. Jabra Freeway
With 3 noticeable feature including 3-speaker virtual surround sound, Fm transmitter and dual-mic noise cancellation, Jabra freeway is one of the best car gadgets you should buy. Everything of Jabra freeway is in automatic mode. It turns on automatically when you enter the car and turn off to save batter after you left the car. Drivers can also connect automatically by phone using voice.
As example, when you are listening to your favorite songs with 3-speaker virtual surround sound and there is a call coming, Jabra freeway will read out the name of incoming caller to notice you. What you just do next is using your voice to make and answer the call.
8. GOFAR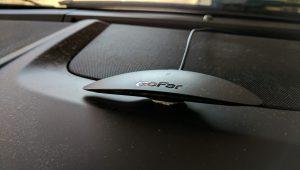 GOFAR is an intelligent in-car device that drives your car smarter: it help your car cut your time in traffic, reduce emissions and save on fuels. In trials, this gadget cuts fuel use up to 30%. So, how does it work to help your car?
For every engine, there is a sweet spot. Basing on your car's sweet spot, GOFAR will use real-time feedback to give you driving data that can help lower your costs. Moreover, it will alert you on fuel consumption through colors. If the display glows blue, it means that your car is still in the sweet spot (Efficient driving). However, the red color shows that you are wasting energy. It, hence, is really one of the cool accessories for cars you should have.
9. Spareone Plus
In the 9th rank of best gadgets for cars is Spareone Plus. It is an ideal device for emergency situations because you can be able to call for help without worrying too much about battery. This gadget is the only one operating single AA battery in the world so, it is no need for charging with 10 hours of talk time and 15 year battery shelf life. Also, this phone has free communication backup plan when power is out.
Remarkably, you can use any SIM card for this phone and call 911* even without one in most countries. Other useful features are torchlight and panic siren. This phone is sold with water proof bag.
10. IOttie
iOttie is famous for car mounting solutions. One of its cool accessories for cars is Easy Flex 3 using the standard wireless charging technology with the tilt-back design of pivot ball point for 360 rotation and one touch locking feature. Its size is compact and portable for easy mounting. However, this gadget fits with mobile devices 2.1 inches to 3.1 inches in width.