Torn Between Audi A3 vs A4? Get Your Facts Straight!
Last updated
Sep 26, 2023
0 comments
Car buyers often face the dilemma of choosing between the Audi A3 vs A4 when shopping for an entry-level model in the luxury market.
For an entry-level deluxe model, both cars have almost similar features and the prices also hover in the same range.
There are still some differences nonetheless and you will have to drill deep into their attributes and other aspects to make an educated decision between A4 vs A3.
Audi A3 vs A4: The Differences
If you have to pick a specific model, you have to compare some key aspects of the Audi A3 vs Audi A4 to figure out the right choice according to your requirements.
Exterior and Body Type
A small premium vehicle with five seats is the Audi A3. With Audi's massive single-frame grille, slender LED headlights and taillights, crisp stylistic lines, short front and back overhangs, and an integrated rear lip spoiler, it has a generally unassuming appearance that is athletic and contemporary. 
In North America, the A3 is no longer offered as a hatchback; instead, it is only offered as a four-door sedan or a convertible.
On the other hand, the Audi A4 resembles the A3 in terms of appearance and has a comparable front and back overhang. It also includes five seats, the single-frame grille from Audi, and LED headlights and taillights.
These two appear to be pretty similar, yet the Audi A4's proportions give it a more conventional sedan appearance. The A3 is significantly shorter and stubbier in comparison.
Due to a recent redesign for the 2020 model year, the A4 also sports a more contemporary appearance. 
Choose the Audi A4 if you want something that appears more mature. The A3's size can be a little off-putting.
Passenger Comfort & Cargo Space
The A4 wins in both sections. Both cars boast leather upholstery and heated front seats but A4's second row is more spacious and comfortable for adult passengers. 
All of A4's interior features are top-grade materials, which will beat A3's entry-level luxury attributes any day.


Similarly, its cargo area is larger than the A3, and it is possible to customize it with a 40/20/40 split. The trunk features a convenient design for loading and unloading stuff. 
Looking at the A3, you will find that none of its versions except for the Sportback e-tron has a bigger cargo room than the A4.
Performance
The Audi A4 vs A3 comparison will produce almost a tie in this category. With a similar horsepower rating, both models show quick acceleration. They offer a balanced ride on both city streets and country roads.
The control options respond smoothly in both cars. You will enjoy driving them because of the precise steering and highly responsive, strong brakes.
Also, no matter which road you have chosen to drive, the passengers won't feel a thing.
          SEE MORE
Fuel Efficiency
The A4 will come out as the winner in this section of the Audi A3 vs A4 comparison. With the standard four-cylinder 2L engine, the A3's mileage is 26/35 mpg in the city/highway.
The performance drops a little for the turbo four-cylinder engine (220hp) that gets 24/31 in city/highway. 
On the contrary, both automatic and manual variations of A4 boast 27/37 mpg in city/highway. Also, the car runs on premium gasoline, unlike the A3 model.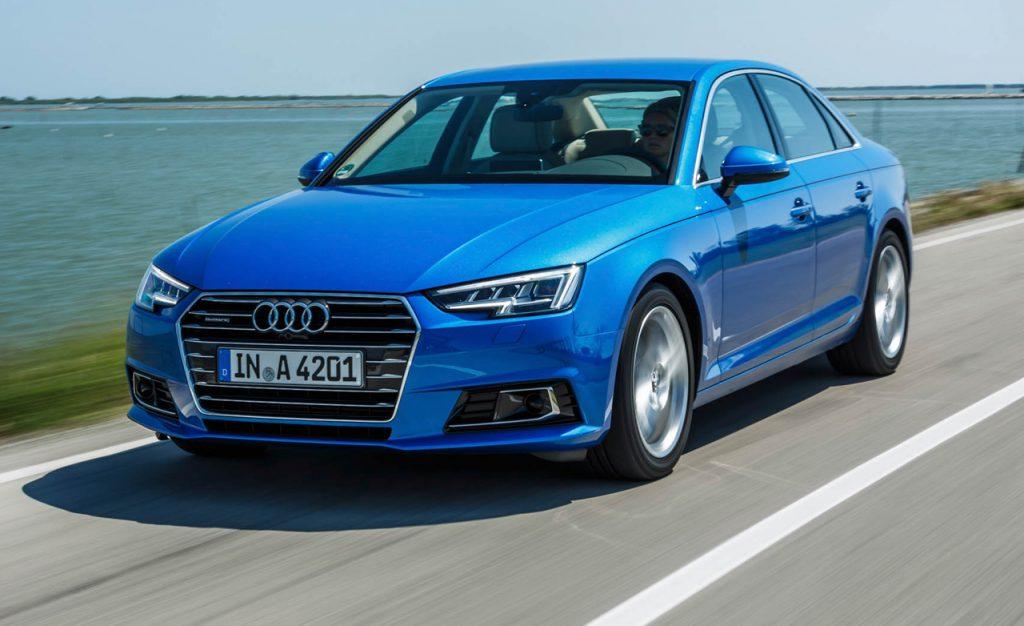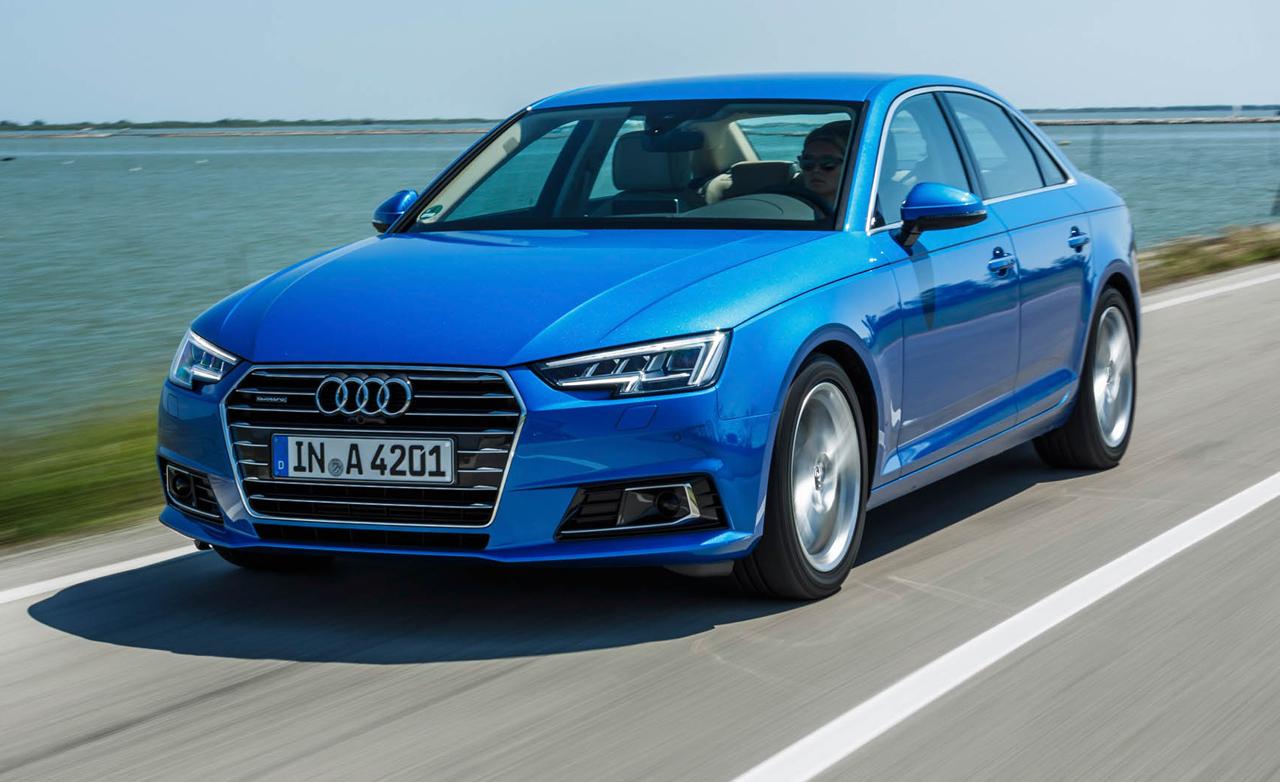 Technology features
For the Audi A3, it comes standard with a 10-speaker music system, a 7-inch touchscreen with Bluetooth, Apple CarPlay, and Android Auto, cruise control, and rain-sensing wipers.
Audi's 12.3-inch Virtual Cockpit display, automated temperature control, and a heated steering wheel are all available extras.
Automated emergency braking and front collision warning are standard safety features; however, adaptive cruise control, advanced park assist, and high-beam assist are optional.
The A4 comes standard with a 10-speaker music system, a 7-inch touchscreen with Bluetooth, Apple CarPlay, and Android Auto, cruise control, and Audi Drive Select with numerous drive modes. 
Forward-collision warning and automatic emergency braking are two examples of standard active safety systems.
A bigger 8.4-inch multimedia display, the 12.3-inch Virtual Cockpit driver's display, a Bang & Olufsen high definition audio system, automated temperature control, a multifunction steering wheel with shift paddles, and other technological features are available. 
In the bottom line, although the A4 comes equipped with greater functionality, the Audi A3 vs Audi A4 specs have fairly comparable features and equipment. 
If you are tempted to choose a lot of optional accessories for the A3, it could be preferable to opt for the A4 instead and choose fewer options.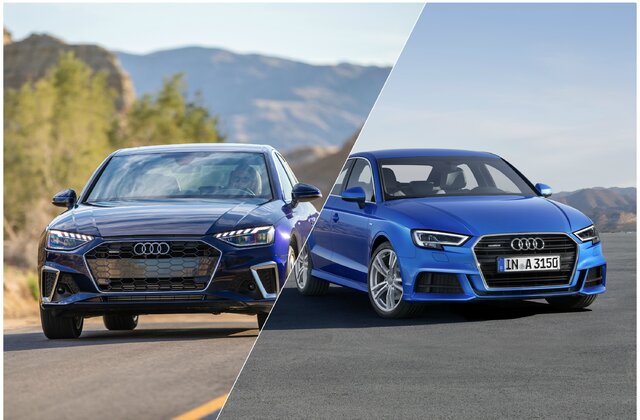 Price
The base Titanium variant with the 188-hp 2.0-liter engine costs $34,290 for the Audi A3. The Premium trim, which starts at $36,590, is the least expensive vehicle with AWD and the more powerful 45 engine. 
Starting prices for the top-of-the-line Prestige model with the 40 and 45 powertrains are $42,600 and $45,790, respectively.
On the other hand, the starting price of the A4 is $40,095 for the base Premium model with the 40 Quattro power plant, while the base trim is $41,800 with the 45 Quattro powertrain. 
The prices for the top-of-the-line Prestige trim for the 40 and 45 engines are $50,395 and $50,795, respectively.
Overall, the A3's basic price is far lower than the A4's, but when you add additional equipment to it, the A3's value rapidly depreciates. 
Unless you plan to skimp on choices for your A3, it could be more cost-effective to get an A4 basic model, which comes standard with equipment that is on par with or better than that of an A3 and is significantly larger for only a few thousand dollars more.
Check out this video from Car Channel to get a more visually comparision of the 2021 Audi A3 and A4 sedan!
Conclusion
Considering all the aspects, the debate between Audi A3 vs A4 indicates some specific points. 
If you want a cheaper, faster, and smaller car, go for the A3 but A4 will be the better option if you are eyeing for something bigger, more powerful, and smoother.