Used Toyota Toyoace for sale
(706 Results)
Photo
Model

Year

Km

Engine

Grade

Car Price

Total Price

1996




14,200


km

2,700


cc

1994




Aug

29,400


km

4,000


cc

1998




May

95,900


km

2,800


cc

1996




Dec

229,900


km

2,000


cc

1992




93,100


km

2,400


cc

1997




Apr

129,000


km

2,800


cc

1996




Dec

229,000


km

2,000


cc

1991




Feb

115,000


km

3,700


cc

1991




39,000


km

2,800


cc
Photo
Model

Year

Km

Engine

Grade

Car Price

Total Price

1993




Jan

110,200


km

2,800


cc

1994




Aug

323,700


km

3,700


cc

1991




Sep

160,000


km

3,700


cc

1994




467,000


km

3,700


cc

1970




Dec

- km

1,500


cc

1978




Jun

- km

1,600


cc
Buying Guide
Toyota Toyoace is small truck manufactured by Toyota since September 1954. It is sold alongside its brother model called Dyna, and Oem brand is Daihatsu Delta and Hino Dutro. Until now, it has fallen out of the favor of the consumers and is popular for export. So, if you are looking for a Toyota Toyoace for sale, there are a lot of places to find them - both new and used.
Seeking A Toyota Toyoace For Sale? Read The Complete Rundown
Having detail information about Toyota Toyoace specifications, features and performances before purchase will help to make a better decision. In fact, the overall Toyota Toyoace reviews from the experts and automobile devotees are positive. The one thing you have to be sure whether the car fits your intended requirements.
Overview
Toyota Toyoace has experienced through eight times improvement by its producer. The first Toyoace was one-ton truck of a semi-cab over design and went on sale in September 1954. The Toyoace was a renaming of Toyopet SKB Truck as a result of a 1956 public competition with 200,000 entries. Here is the brief history of Toyota Toyoace:
1. First Model SKB (1954 - 1959)
This model appeared for one-ton truck of a semi-cab over design. At the first time, Toyoace was sold slowly because its price was higher than the competitors which were three-wheeled trucks. After a significant decrease in price, the Toyoace accounted the majority of Japanese market for light trucks in favor of four-wheeled vehicles.
2. Second Model SK/PK20-30 (1959 - 1971)
During this period, it was a long seller product. The new SK20 was also sold as a panel van (SK20) and as a double-cab truck (SK20).
3. Third Model Y10 (1971 - 1979)
Manufacture updated the third generation to a more modern design and was available in several new body styles. Mole codes include PY10, RY10/12/14 and JY16.
4. Fourth Model Y20/30/40 (1979 - 1985)
This model was the last Toyoace to be of a separate design from its twin Dyna until 1985.
5. Fifth Model U80/90(2t-3.5t), Y50/60(1t-1.5t) (1985-1995)
The generation Toyoace manufactured based on the fifth generation Dyna was launched in 1985.
6. Sixth Model Y100 (1-1.5ton), U100-200 (2-3 ton), FB4J/5B (3-3.5ton)
Still with Y-series chassis numbers for the lighter models and U-series for the heavier versions, the sixth-generation which was introduced in May 1995 was merged with the Dyna. In addition, the exterior witnessed the big change, particularly the grille.
7. Seventh Model
In May 1999, the heavier diesel versions (1.75-3.5 tons) were replaced by the new seventh-generation Toyoace which was a four-ton model. In June 2001, Toyota replaced completely the lighter models.
8. Eighth model (2011-now)
In June 2011 the eight-generation Toyoace appeared, now featuring hybrid drive systems in several models. The Toyoace got a small change at the front and received a collision avoidance system and a lane-departure alert system.
This truck has withstood the test of time and usually was developed and modernized. Although, during the lifetime, the Toyota Toyoace underwent a lot of changes in terms of exterior, interior, suspension, gearbox and engine; however, this article only focuses on analyzing thoroughly the latest generation to provide the most updated information for readers.
Exterior & Dimensions
Through innovation, Toyoace saw a noticeable growth in overall versatility in 2005. An excellent visibility which is important when the driver maneuvers through commercial work zones is provided by the flat front end of the Toyoace paired with the large glass windshield. Additionally, this vehicle is available in the chassis cab, tipper and dropsied bodies. There are three types of wheelbase that is standard, medium and long with payloads varying from 1000kg to over 1800kg that users can choose. Thanks to these functional choices, Toyoace is mentioned as a versatile vehicle that can be suitable for different requirements within industry.
Interior Impression
The spartan interior in the first generation featured hammock-style seats as in a Citroën 2CV. In term of the cab as well, in the other latter models, the interior was improved to enhance riding comfort. It has a spacious cabin that help drivers enjoy greater space and comfort with extra leg and headroom as well as easier entry and exit. However, the legroom may be still inadequate for taller drivers and to be honest, it is not the best choice for longer trip.
Engine & Performance
When developing the 2001 Toyoace model, the manufacture paid special attention to economy, safety, logistic efficiency, environmental performance, as well as enhancement of driver's comfort and fatigue mitigation. They created and developed new five diesel engines which enhanced fuel economy and driving performance. Moreover, "in September 2002, a low-emission model was introduced that qualified as a low-emission vehicle in seven prefectures and municipalities in the Kanto region and six in the Kansai region. From then on, the emission cleaning device came to be extensively adopted in other models as well." In May 2000, they made a 2.7-liter gasoline engine and 2.7- and 4.1-liter LPG engines. Then, the models with payloads of 1000kg to 1500kg took over from the same basic design as that of larger models and were improved in Jun 2001.
In 2007, this truck dropsied, tipper and chassis models featured a 2.5-liter D-4D engine. The new 3.0-liter D-4D provided a much-needed boost in power, bumping output from 89PS/103PS to 109PS. Furthermore, the line's torque capability increased from 260Mn to 289Nm.
Cargo & Storage
Being identical with the Dyna, the Toyoace models have payload capacities ranging from 1.25 to 3.5 tons. But the only difference between them is the sales channels, the grille design and the model name. There are three cab types that were standard, wide and grand (a derivative of the Hino Ranger FB supplied under an OEM arrangement). Addressing customers' need, Toyoace was innovated in terms of environmental performance and safety as well as drive comfort.
Fuel Economy
Because the diesel hybrid system was renewed, the eighth generation model focused on improvements in fuel efficiency and environmental performance. This system utilizes a specially a specially designed engine and nickel metal hydride battery, allowing it to achieve a displacement of 4,009cc and power output of 150 horsepower, as well as enhanced fuel efficiency. Going along with this, the 2-pedal 5-speed manual transmission has been produced. For hybrid vehicles, inside the meter panel, a specialized meter was installed to make feasible the monitoring of driving conditions.
The latest version of Toyoace complied with the 2009 Post New Long-Term Gas Emission Standards, thus becoming a subject of the "Tax Plan To Increase The Spread Of Eco-Friendly Vehicles". So, drivers of hybrid vehicles receive a full exemption from the automobile acquisition tax and motor vehicle tonnage tax in Japan.
Safety And Exporting Policy
Toyoace is provided with mobile in car safety camera to keep a visual log of every journey. In addition, reverse sensors help drivers manoeuvre easily while parking with sensors located at the rear of the vehicle.
It is very common to find Toyota Toyoace for sale in many countries, even in Africa and Asia:
To Myanmar: 7th model to 8th model
To Kenya: 7th model to 8th model
To Zambia, Uganda, Tanzania, etc: Old model
To Caribbean etc: All model
Is Toyota Toyoace A Good Truck?
Toyota Toyoace and other Toyota trucks as well are suggested by many experts because they have wide range of advantages that should be considered. However, it still have some drawbacks such as the water pump in the 2.0-liter and 2.5-liter diesels that has a tendency to break up and affect the timing belt. But overall, we can see that the merits outweigh the demerits. Furthermore, it has price range from $2,640 to $4,070 - we think that is the affordable price for a truck with mentioned performance. In summary, this truck has withstood the test of time and has proven that it can be a valuable addition to any work fleet.
User Reviews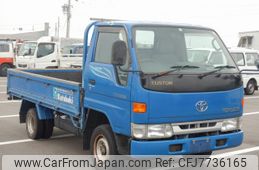 Toyota Toyoace 1997
53
Eric Lindberry
Verified Buyer

Guam
Satisfied
After Delivery Pictures