Development History Of Japanese Automobile Industry
Last updated
Nov 22, 2017
0 comments
Japan is, without a doubt, one of the most famous countries when talking about automobile industry. This beautiful country is not only the birthplace of many famous car brands like Toyota, Nissan, Honda, Suzuki… but also has the cheapest price for vehicles. Little did the car owners know, the sunrise country also experiences the most interesting automobile development. In this post, we will have a closer look at the history of Japanese Automobile Industry. 
The Pioneers (1901-1935)
The Import and Sales of Automobiles by Foreign Trading Companies
The first automobile dealer in Japan was the Locomobile Company of America Agency, specializing in the import and sales of America's Locomobile steam cars. In 1901, this agency set up a sales showroom in Tokyo which gave Japanese their first opportunity to take a close look at automobiles on display.
Early Efforts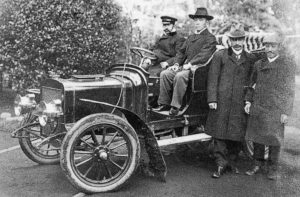 In 1902, about one year after automobiles made their first appearance in Japan, a 21-year old technician named Komanosuke Uchiyama, an employee of the Sorinshokai bicycle dealership in Ginza, produced two trial automobiles. One was a car whose gasoline engine had been brought back from the United States by Shintaro Yoshida, a manager at Sorinshokai, with a chassis and body built by Uchiyama himself.
First Domestic Gasoline Engine Car
In April 1904, Torao Yamaha of Okayama City produced the first domestically manufactured bus, with a steam engine and room for 10 passengers.
In April 1907, the aforementioned Komanosuke Uchiyama produced the Takuri, the first entirely Japanese-made gasoline engine car.
From 1914 to 1917, the Kaishinsha Motor Works operated by Masujiro Hashimoto in Tokyo, while importing, assembling and selling British cars, also manufactured seven units of a two-cylinder, 10-horsepower "all-Japanese" car called Dattogo. Kaishinsha was the first automobile manufacturing business in Japan.
Also in 1914, Mitsubishi Zosen manufactured 22 Mitsubishi Model As, the first mass production cars in Japan. Until this time, the Japanese automobile industry was in its infancy.
Automobiles and the Military
After its experience in the Russo-Japanese War (1904-1905), the pressing need for transportation on the battlefields turned the military's interest towards automobiles. Commencing its survey of military vehicles in 1907, the military carried out detailed investigations by importing military trucks from Germany and France. In May 1911, it produced the first domestic military truck at the Osaka Artillery Factory under the orders of the Military Agency.
In March 1918, the Military Vehicle Subsidy Law was established. Under this law, the military granted subsidies to Japanese car manufacturers to produce automobiles to be used by civilians during peaceful times and converted to military use in times of war. This was in effect Japan's first automobile industry policy. There were all together seven automobile manufacturers subject to this law, including the Tokyo Gas & Electric Engineering Co., Ltd. and Kaishinsha.
The Great Kanto Earthquake and the Advance of Two Major U.S
Manufacturers in Japan The Great Kanto Earthquake, which occurred on September 1, 1923, created an urgent need for motor vehicles to service the inhabitants of the devastated capital. As a temporary measure until Tokyo's transportation network could be fully restored, 800 Ford Model T truck chassis were immediately imported and converted to buses (the so-called Entaro buses) that would continue to serve the city's transport system for a long time thereafter.
Perceiving Japan as a potentially lucrative market, Ford established Ford Motors Japan in Yokohama in February 1925 and began local assembly and sales (from June that year) of Model Ts. GM followed suit, establishing GM Japan in Osaka in January 1927 and commencing local assembly and sales (from April) of Chevrolets.
The advent of these two companies in Japan provided the country with its first opportunity to directly experience modern automobile manufacturing. This included mass production technology, rigorous quality control of subcontracting parts manufacturers, and a system for rapidly establishing a nationwide sales network.
Towards Industrialization (1935-1945)
Early Industrial Growth
From 1935 on, the automobile, aircraft, electric and chemical industries experienced strong growth in response to the needs of the era. With the implementation of the Automobile Manufacturing Industries Act (1936) and orders from the military, the motor vehicle industry leapt into the spotlight. By 1937, when the Sino-Japanese War began, as many as 16 companies were participating in the manufacture of automobiles and establishing an infrastructure for the industry.
Establishment of Comprehensive Automobile Industry Policies
Numerous industrial policies were promoted in the 1930s for what was, at the time, a burgeoning industry.
In 1930, an advisory organ of the Ministry of Commerce and Industry submitted a report stating that "the government should devise appropriate protective policies to assist in the wholesome development of the automobile industry". As a result, the Committee for the Establishment of a Domestic Automobile Industry was formed in May 1931 which drew up specifications for "Ministry of Commerce and Industry Standard Model Automobiles", calling for the manufacture of medium-sized, 1.5-2 ton trucks and buses according to its specifications.
In 1932, the Tokyo Gas & Electric Engineering Co., Ishikawajima Automobile Manufacturing and Dat Automobile Manufacturing together produced an experimental car called "Isuzu". In June that year, these three companies established the Domestic Automobile Association, Japan's first automobile manufacturers organization. In April 1937, these same companies merged to form the Tokyo Motor Co., Ltd., which became the forerunner of Isuzu Motors and Hino Motors.
The Automobile Manufacturing Industries Act
Following the Japanese military occupation of Manchuria in 1931, the basis for war grew steadily stronger, and in 1936 the Ministry of Commerce and Industry and the Ministry of War jointly supported the establishment of the Automobile Manufacturing Industries Act. The aim of this legislation was ostensibly to stifle the monopolization of the automobile market by American manufacturers by fostering domestic mass production of motor vehicles to meet the needs of the public, but an additional goal was to ensure an uninterrupted supply of vehicles for the military.
The first companies operating under this law were Toyota and Nissan. While zaibatsu companies such as Mitsui were hesitating, these two new companies, prepared to take the risk, aggressively embarked upon the mass production of automobiles.
In 1937, one year after the creation of the Automobile Manufacturing Industries Act, the Military Vehicle Subsidy Law of 1918 was officially revoked.
Withdrawal of the Big Three
The advance of America's Big Three (Ford, GM and Chrysler, known in Japan as Kyoritsu Motors) into the Japanese market beginning in 1925 meant that, by 1930, their annual production of automobiles totaled 19,684 units, about 43 times the production (458 units) of domestic cars.
However, they were forced to stop production with the passage of the Automobile Manufacturing Industries Act which, as previously explained, aimed to eliminate dependence on foreign manufacturers for reasons of national security. Moreover, when foreign exchange regulations were revised after the break-out of the Sino-Japanese War in 1937, import prices skyrocketed with the decline in the yen exchange rate. Feeling the mounting pressure, the Big Three finally discontinued production in 1939 and withdrew from Japan.
Between 1925 and 1935, the Big Three produced a cumulative total of 208,967 units. In contrast, domestic production for the same period totaled 12,127 units, just 5.8% that of American manufacturers.
The War Regime
Production Soars with War Effort
Under the war regime, both the military and civil sectors made war preparedness their first priority, and car industry, especially the Automobile Industry in Japan was no exception.
The "Five-Year Outline Plan for Strategic Industries" issued by the Ministry of War in 1937 clearly applies the wartime system to the motor vehicle industry. During the five years prior to 1941, it targeted a 270% increase in annual production volume, from 37,000 units (domestically manufactured only) to 100,000 units (domestic 90,000 units, Manchuria 10,000 units).
The Automobile Manufacturing Industries Act of 1936 positioned the automobile industry in a key role in the war effort, and the Ministry of War soon after classified motor vehicle manufacturing as a munitions industry. As of 1938, Japanese car manufacturers had no choice but to focus on the production of trucks, rather than cars, and some were eventually required to produce other kinds of munitions as well.
The adoption of the Automobile Manufacturing Industries Act was the first step in a controlled economy. While ensuring the supply of materials and the demand for automobiles within a certain range, it also restricted the activities of automobile manufacturers, placing everything from production to sales, including materials, labor and capital, under government control.
Automobile Manufacturing as a Model for Industrial Development
From the mid-1920s, the Ministry of Commerce and Industry and the Ministry of War viewed automobile manufacturing as a "comprehensive" industry, because of its interdependence with a whole range of related industries in the provision of parts. Operating on the premise that the development of the automobile industry could serve as a model for industrial expansion in other sectors as well, the government thus granted the automobile industry a key position in the development of Japan's industrial infrastructure.
This concept of across-the-board industrial development, promoting the growth of related industries in a given sector, was to remain a basic feature of postwar industrial policy in Japan.
Increased Government Control
In 1938, a General Mobilization Act brought about increased government control of Japan's industries, including the nationalization of the electric industry and regulations governing the distribution of steel. In August, the Ministry of Commerce and Industry issued guidelines restricting manufacturing to trucks only; production of passenger cars was canceled, with some exceptions. In 1941, following the total ban on petroleum exports from the U.S. to Japan, the use of gasoline for household- and business-owned automobiles was prohibited, and the refitting of vehicles for the use of alternative fuels, such as charcoal, was swiftly carried out.
Between 1930 and 1940, a total of 284,568 motor vehicles (cars, trucks and buses) were produced which were supplied for the most part to the military, with the remainder being allocated for use by government authorities.
With no other choice but to support the wartime system, Japanese car manufacturers saw their dreams of producing high quality passenger cars completely frustrated. They would have to wait another 20 years, beginning in the mid-1960s, for the motorization of Japan to become a reality.
Emergence of a Japanese Manufacturing System
With the mass production of motor vehicles expanding steadily from 1935 on, the development of the parts manufacturing industries became a priority. Close cooperation between automobile manufacturers and parts makers was essential in order to improve production technology, quality control, and delivery systems.
As a result, Japanese car manufacturers during this period began to systematically foster the relatively underdeveloped parts industry, a move which foreshadowed the characteristically Japanese approach to manufacturing, based on mutual trust between maker and supplier, that was to flourish after the war and attract so much attention around the world in recent years.
Postwar Reconstruction (1945-1955)
Production Resumes in the Wake of War
The war in the Pacific ended on August 15, 1945. In its wake, total estimated damages amounted to 105.7 billion yen, equivalent to Japan's GNP for 1946. Compared to some other industries, the Automobile Industry in Japan did not suffer extensive direct damage from the war. However, with steel and other materials being extremely difficult to procure, production had dropped by 50% by the end of the war.
In response to the automobile manufacturers' desire to resume production, and with the postwar reconstruction process creating a growing demand for trucks for freight traffic, the GHQ (General Headquarters of the Allied Powers) issued permission as of 1945 for as many as 30 different companies to enter into truck production.
Automobile Production Policies of GHQ
Truck production, once resumed, did not develop as rapidly as anticipated, hindered by difficulties in obtaining new parts and materials, uneven quality, restrictions in the use of electricity and frequent power failures, among other factors. To sustain themselves over this awkward transition period, automobile manufacturers began producing agricultural equipment, tools, and pots and pans to ensure the livelihood of workers experiencing not only unprecedented inflation, but also difficulties in securing essential daily supplies as well as acute housing shortages. Employers even had to grant "food holidays" to allow employees the opportunity to obtain food for themselves.
As reconstruction progressed, the production ambitions of automobile and auto parts manufacturers increased. In response, in June 1947 the GHQ permitted the manufacture of small (under 1500cc) passenger cars, limiting production to 300 units per year. At the same time, to help counteract massive unemployment, the U.S. Army instructed automobile manufacturers to take on the repair of its own damaged vehicles. This helped manufacturers stem the flow of red ink, and provided them with the opportunity of studying the work methods and repair techniques practiced by the Americans.
Deflation, Layoffs and Labor Disputes
As a consequence of tight government finance and banking policies that had been adopted under the guidance of GHQ to suppress inflationary tendencies in the aftermath of the war, Japan was struck in 1949 with a major recession that dealt a severe blow to the automobile industry. Automobile manufacturers were forced to cut wages and implement layoffs, and from June 1949 to June 1950 slashed employment by 23% (6,200 persons). Under these distressing conditions, labor unions confronted management and all the major manufacturers were hit by the most prolonged strikes in Japanese labor history.
Promoting Vehicle Safety
To help promote the motor vehicle industry and the implementation of automobile technologies, the Ministry of Commerce and Industry introduced performance tests in 1947 for domestically produced vehicles, and in June 1951 the Road Vehicles Act was passed. The aim of this law was to promote automobile safety by requiring manufacturers to apply for official approval by the Ministry of Transportation for each new vehicle type to be produced (the same type approval system was to be applied to imported vehicles as well). These two measures played a significant role in improving the quality of domestically manufactured automobiles.
Creation of Automotive Trade Associations
A slight improvement in the supply of materials required for automobile production prompted the formation of various organizations representing different sectors of the industry. The first organization to be established was the Automobile Industrial Association, founded in April 1948 by five companies including Toyota and Nissan. The Japan Auto Parts Industries Association was created next, and the Midget Motor Manufacturers Association as well as the Japan Auto-Body Industries Association were established soon thereafter.
Promoting the Automobile Industry
Automobile Industry Policies Established by MITI
In 1950, while automobile manufacturers were striving to rebuild the Japanese motor vehicle industry, considerable attention was paid to the opinion expressed by Mr. Hisato Ichimada, chairman of the Bank of Japan at the time, that Automobile Industry in Japan was not necessary at all. In Mr. Ichimada's view, it was "meaningless for Japan to develop its automobile industry with the present international division of labor" ; in other words, it would be impossible for Japanese car manufacturers to hold their own against the great European and American manufacturers.
Causing quite a stir, these statements had the effect of stimulating the exact opposite opinion. In particular, the influential Ministry of International Trade and Industry (the successor to the former Ministry of Commerce and Industry) favored the protection of domestic automobile manufacturers, and this line of thinking set the general tone for government policy. Specifically, MITI set up guidelines (issued in October 1952) aimed at introducing new technologies to Japan through technical collaborations with foreign automobile manufacturers, improving production technologies for passenger cars, and manufacturing automobiles that would be competitive in the export market.
Rationalization of The Japanese Automobile Industry
The Industry Rationalization Promotion Law adopted in March 1952 marked the first implementation of the new government policy discussed above. Through this law, the automobile, steel, machine tool, and electric communications equipment industries were designated as key industries that ought to be rationalized. The provisions of this law gave those industries tax advantages and also made low-interest government loans available to them. The cost reductions thus gained by the Automobile Industry in Japan, together with improvements in the quality of their product, allowed manufacturers to produce cars made in Japan with export competitiveness.
Meanwhile, rationalization of the auto parts industry was also being accomplished, through the creation of the Japan Industrial Standards (JIS) regulations in 1951 and an industrial subsidies system that was introduced in 1952. These measures, too, made important contributions to improved product quality and cost reduction in Japanese automobile manufacturing.
Deregulation
As economic and industrial reconstruction progressed, regulations imposed in the aftermath of the war were gradually eased. In October 1949, GHQ lifted its restrictions on passenger car production, and in November all controls on sales were abolished.
Deregulatory measures also applied to the export of automobiles. The exchange rate of $1=\360 was established in April 1949, and in May 1950 new legislation for the promotion of exports and capital transactions was passed, paving the way towards the growth of an international economy.
Automobile exports from Japan totaled 301 units in 1948 and 1,137 units the following year. In March 1949, the Yokohama Trade Exhibition displayed cars produced by Japanese manufacturers eager to export their automobiles overseas.
In 1951, MITI launched the publication of a promotional catalogue in English providing detailed information on the Japanese automobile industry and its products.
The Impact of the Korean War
The Korean War broke out in June 1950, while economic and industrial deregulation was being implemented in Japan. As a result, there was an urgent need to furnish the U.S. Army, engaged in battle on the Korean peninsula, with munitions and supplies. Once again, Japan found itself in a "special procurements boom" and a "special demand economy". The automobile industry was no exception. One year after the conflict started, special procurement contracts with Japanese industries amounted to a total of $340 million, with $22.7 million allocated for the provision of trucks and $7.64 million for automobile parts.
Automobile manufacturers received orders not only for automobiles but also for engines, spare parts, military vehicle repairs, fuel tanks for aircraft, and so on. To meet these special demands, the output of manufacturers expanded enormously, spurring on the growth of the parts industries on which they depended.
First Major Automobile Show in Japan
The "special procurements boom" helped revitalize and modernize the Japanese economy, with tremendous expansion leading rapidly to a consumer economy. By 1953, per capita consumption exceeded the pre-war level.
Strong economic growth stimulated the demand for automobiles. Excluding special procurements, 25,435 standard size cars were produced in 1952, up 9.5% from the previous year, as well as 16,058 smaller-sized passenger cars (up 34% from 1951), 47,917 three-wheelers (up 53.3% from 1951), and 28,263 two-wheelers (up 230% from 1951).
In this very favorable sales environment, Japan's first major automobile exhibition, the 1st Tokyo Motor Show, was held in 1954 in Hibiya Park. Sponsored by various automobile-related organizations, the show drew 550,000 visitors and was a great success.
Technological Tie-Ups with Foreign Manufacturers
Domestic passenger cars at this time were manufactured by mounting passenger car bodies onto the chassis of small trucks, a technically irregular way of building cars to say the least. Soon, however, Japanese car manufacturers began to focus on developing cars that would meet international standards and on implementing mass production systems which could not have been created before the war.
One approach they adopted was to enter into technological tie-ups with foreign automobile manufacturers, as mentioned earlier. In May 1953, Nissan began selling the first Austin A40 vehicles assembled in Japan and started complete domestic production of the car in May 1956. Following suit, Isuzu started complete domestic production of the Hillman in September 1957 and around the same time, Hino launched a completely domestically manufactured Renault. Mitsubishi, too, was producing a jeep as of June 1956 as a result of a tie-up with Willys Overland.
On the other hand, Toyota and Fuji Seimitsu, using their own technologies, chose to develop cars made in Japan independently which would meet international standards. As a result of their efforts, Toyota produced the Toyopet Crown (1500cc) in January 1955, and Fuji, aiming to become exclusively a manufacturer of luxury cars, produced the Prince Skyline (also 1500cc) in April 1957.
Motorcycles and Three-Wheelers
In the early postwar years, with passenger car production restricted by GHQ, motorcycles and three-wheelers played an enormous part in meeting the demand for motorized vehicles in Japan. Three-wheeler production started up in late 1945, and the manufacture of motorcycles was resumed in 1946. Three-wheelers, in particular, were appreciated by small and medium-sized companies and independent enterprises for their economy and convenience. The demand for motorcycles began to grow significantly from 1951, and in 1953 production leapt to 166,429, making Japan the fifth largest motorcycle-producing country in the world.
Establishing an Infrastructure for a Motorized Society
With the signing of the San Francisco Peace Treaty in September 1951, Japan was recognized internationally as an independent and sovereign nation. Once again, the formulation of road development and traffic policies was in the hands of the Japanese government.
Postwar road development began full-scale with the adoption of an initial five-year road construction plan in 1954, but in 1956 only 2% of Japan's entire road network was paved (17% for national roads). That same year, a World Bank survey team headed by Ralph J. Watkins arrived in Japan to conduct a preliminary survey on highway construction. On its completion in October 1956 and submission to the Ministry of Construction, the team noted harshly that "there is no other industrialized country besides Japan that has neglected its road network so badly".
As a result of recommendations in that survey, road construction and national highway legislation was passed in 1957. In October 1958, a groundbreaking ceremony launching the construction of the Meishin Highway marked the beginning of Japan's "highway era".
Other important developments in the postwar motorization of Japan were the creation of an automobile tax in 1950 and an automobile insurance system in July 1955.
New Industrial Policies (1955-1965)
MITI Proposes a "People's Car"
In May 1955, the Ministry of International Trade and Industry announced the "People's Car" Plan, which gave Japanese car manufacturers an excellent opportunity to develop original models of their own. This plan called for a car weighing less than 400kg with an engine displacement of 350-500cc, fuel efficiency of 30km/liter, 2- to 4-person occupancy and a cost of not more than \150,000 (this price was later revised to \250,000).
The response of manufacturers to this proposal was that such a vehicle would be "impossible to manufacture with the performance and sales price requested". After much back-and-forth discussion between the industry and government, the "People's Car" Plan was eventually scrapped.
The Impact of MITI's Proposal on Manufacturers
The announcement of the "People's Car" Plan had the effect of spurring competition among automobile manufacturers to market new products, particularly the manufacturers of two- and three-wheeled motor vehicles who had been hoping for some way to enter the four-wheeled market. In 1955, Suzuki commenced sales of its 360cc Suzulite; Fuji followed suit with its Subaru 360 (also 360cc), and Mitsubishi with its Mitsubishi 500 (500cc). In 1960 Toyo Kogyo (today's Mazda) introduced the Mazda R360 Coupe, and in 1961 Toyota began marketing the 700cc Publica. All these vehicles were very clearly influenced by the "people's car" concept.
Furthermore, the "People's Car" Plan was instrumental in changing the thinking of the general public, who had thought that automobiles would have little or no role in their own daily lives. In this sense, the government's proposal had a kind of pump-priming effect, promoting the development of motorization which was to expand very rapidly in the mid-1960s.
Economic Growth and Japanese Automobile Industry
This period of independent compact car development took place in the dawn of Japan's era of rapid growth, which would come to be known internationally as "the Japanese miracle" and would raise Japanese living standards and Japan's position in the world economy to unprecedented heights.
The Hayato Ikeda cabinet (appointed in 1960) launched this era, which continued unabated until the first oil crisis of 1973, by calling on the nation to strive for a doubling of the Japanese income. During this time, the annual output of domestically manufactured four-wheeled motor vehicles (including trucks and buses) went from 481,551 units in 1960 to 7,082,757 units in 1973 – second only to the United States. During the same period, the number of four-wheeled vehicles in use in Japan increased from 1,353,526 to a staggering 24,999,281 vehicles.
Automobile Trade Liberalization
In September 1955, Japan became an official member of GATT (General Agreement on Tariffs and Trade), signaling its return to the international economic community. In April 1959, the Ministry of Finance announced various trade liberalization measures, and trade liberalization for the automobile industry became simply a matter of time.
The greatest obstacle in liberalization was the weak international competitiveness of domestic passenger cars. The Automotive Industrial Association, acting on behalf of the manufacturers of passenger cars, who were calling for more time, requested the government to postpone the liberalization of passenger car trade until 1965, allowing the manufacturers to make massive investments in plants and equipment and R&D; in preparation for what was inevitably to come.
After assuming the status of an "Article 8 member" within the IMF (International Monetary Fund), requiring the government to abolish all restrictions on foreign exchange, and becoming a member of the OECD (Organization for Economic Cooperation and Development) in 1964, Japan finally implemented the liberalization of passenger car imports in October 1965.
Establishing a Mass Production System
The Shift towards Complete Domestic Production
Except for Toyota and Fuji Seimitsu, Japanese manufacturers had, since 1953, produced cars through tie-ups with overseas manufacturers, as we have seen with the Nissan Austin, the Isuzu Hillman, and the Hino Renault. But beginning in 1955, while Japanese manufacturers were acquiring the necessary technologies and starting to produce cars that were entirely domestically made, there were already moves to discontinue these tie-up arrangements.
Nissan ceased production of Austin cars in 1959, and when Hino and Isuzu followed suit in 1965, the same year that passenger car imports were liberalized, the "era of technological tie-ups" finally came to an end.
Emergence of Small Passenger Cars
Small passenger cars (under 1500cc), which automobile manufacturers first introduced in 1955, proved to be a tremendous stimulus in the development of Japan's car market. In fact, the competition for top place in the domestic small car market between Toyota's Corona (introduced in July 1957) and Nissan's Datsun Bluebird (introduced in August 1959) was so keen that it became known as "the BC war", after the two cars' initials. At that time, 90% of all cars sold were for use in business activities, and small passenger cars were used almost exclusively as commercial vehicles in the taxi or hired-car business. Japanese used cars were used quite popular at the same period.
Since the introduction of the fixed-rate (meter) system for taxi fares in late 1945, taxis had become increasingly popular. When smaller cars offering lower rates were introduced into taxi fleets beginning in the mid-1950s, there was a strong surge in demand for the new small cars made in Japan.
Increased Sales of Cars for Personal Use
Since 1955, when the postwar era officially ended and Japan entered the early stage of its long-term economic growth, car purchases by individuals had been steadily expanding with the rise in personal income. By 1958, the number of cars sold for personal use (including those purchased by government and business organizations for personal use by their staff) made up 54.5% of the total number of cars sold, compared with 25.2% in 1955. The demand for personal-use cars had finally surpassed the demand for cars for use in business (including taxis), which until then had dominated the market. 
The main reason for this steady rise in car sales for personal use was their increasing affordability, made possible through substantial cuts in sales prices which were the result of expansions and improvements in manufacturing operations and the establishment of a mass-marketing system.
Establishing A Nationwide Sales Network
Efforts to maximize production efficiency were a response to the tough competition each manufacturer faced in Japan. On the marketing front, Toyota had been the first to adopt a system for "volume sales", and then introduced a new mass marketing-oriented system in 1953. Instead of the earlier system of just one sales company per prefecture, Toyota started switching to a two-channel system, beginning with Tokyo. A complete nationwide two-channel system was in operation by 1957. 
Public relations activities were also carried out in order to gain a better understanding of domestic car performance requirements and to stimulate new demand. Moreover, it was decided that the Tokyo Motor Show, inaugurated in 1954, should continue to be held on a regular basis. In addition, manufacturers came up with their own promotional ideas to encourage sales, including the donation of vehicles to international car rallies such as the 50,000km London-to-Tokyo trek sponsored by Asahi Shimbun.
Advances in Production Technologies
As mentioned earlier, car manufacturers from the mid-1950s on were making large-scale investments in plants and equipment, not only to cope with the increase in demand accompanying the steady growth of the Japanese economy, but also to prepare for imminent trade liberalization.
Investments in equipment were focused on the introduction of special-purpose automatic transfer machines. Beginning in 1955, manufacturers concentrated on introducing these machines to certain critical processes and applied them especially in the machining of engine parts, such as cylinder blocks and cylinder heads. These various measures helped bring about the rapid automation of Japan's automobile production system.
Construction of Factories for Passenger Car Production
In pursuit of improved mass production and cost reduction, manufacturers undertook to build factories exclusively for the manufacture of passenger cars, because the previous approach, whereby both trucks and passenger cars were assembled in the same facilities, had just about reached the limit of its capabilities. Accordingly, construction of Toyota's Motomachi Plant started in 1958, and Nissan's Oppama Plant in 1961; Isuzu also built its Fujisawa Plant at this time. Even today these plants remain in service and rank among each company's key production facilities.
Also beginning around this time, each company began to clearly, consistently apply the approach to managing manufacturing resources that is known today as the "just in time" system: the right items are purchased in the right quantities at the right time and immediately delivered to wherever required. With the advent of full-fledged mass production plants, this system proved to be indispensable.
Additional New Facilities
To enhance the performance of domestic cars, manufacturers also undertook the construction of special test-drive circuits designed according to their individual concepts. For exports to the United States and Europe, high-speed test circuits were crucial since high-speed driving was commonplace in those countries, although certainly not in Japan.
The common need of manufacturers for test-drive circuits eventually led to the construction of a special highway testing ground which was completed in Ibaraki Prefecture in October 1964.
Meanwhile, Japanese manufacturers also competed to enhance their technical divisions. Toyota completed its R&D; Technical Center in 1954, and Nissan separated its original R&D; facilities from the design division to establish an independent R&D; Division in 1958. Daihatsu established a special Research Factory in 1962, while Suzuki completed its Technical Center in 1963, Toyo Kogyo its Technical Building in 1964, and Mitsubishi its Automobile Technical Center in 1969.
End of Three-Wheeler Boom
While production was slow to start up for other types of vehicles after the war, three-wheeled trucks in 1948 already surpassed the number produced in 1937, the highest pre-war level, because manufacturers with pre-war experience in three-wheeler production (Daihatsu, Toyo Kogyo) wasted no time in responding to GHQ's authorization of truck production.
With the entry of aircraft and auto body manufacturers into truck production, the manufacture of three-wheeled trucks surged in response to strong demand from small and medium-sized businesses. Until 1959, three-wheelers represented the largest percentage of trucks produced, and it was only in 1961 that sales of four-wheeled trucks finally exceeded those of three-wheelers.
In 1959, three-wheeler manufacturers and motorcycle manufacturers such as Daihatsu, Toyo Kogyo and Honda began taking up midget car production, thus bringing to seven the total number of manufacturers who embarked upon midget car production around this time. As a result, the new midget cars made in Japan became very popular, with total production increasing from 36,110 cars in 1960 to 82,354 cars in 1964. Also during this period, production of light-duty trucks made a staggering leap from 41,522 to about 360,000 units.
Growing Popularity of Small Passenger Cars
Small passenger cars had been on the market for a number of years, but the concept of a "people's car" was perhaps best embodied in Toyota's Publica which came out in June 1961.
The small car market, however, took some time to expand. Although they were competitive with midget cars in terms of being practical and affordable, the disadvantages of small cars, at least initially, were their comparatively high maintenance costs and the fact that they required a different class of driver's license. Eventually, however, the excellent performance of the small passenger cars outweighed these relatively minor considerations. The Publica Deluxe, which Toyota first marketed in July 1963, enjoyed enormous popularity.
New Marketing Strategies
With the steady introduction of new passenger cars into the market and the shift in car purchases from business to personal use, the competition among automobile manufacturers intensified and they all struggled hard to capture the hearts, minds and pocketbooks of Japanese car buyers.
In 1963 and 1964, manufacturers extended the period of new car warranties, reflecting their confidence in the progress of Japan's automotive technologies. At the same time, banks began offering automobile loans as part of their consumer financing services.
These measures also contributed very significantly to the rapid motorization of Japan which began in 1965.
Motorcycles Take Off
Motorcycle production in 1960 totaled 1,473,084 units, making Japan the top motorcycle-producing country in the world. The tremendous growth in motorcycle use is explained by their convenience, economy, and greater suitability to road conditions in Japan at that time.
In the late 1950s, Japanese motorcycle manufacturers began taking part in international motorcycle competitions, and in June 1959 Honda was the first Japanese manufacturer to participate in the coveted World Grand Prix race. With this kind of stimulus, there was rapid growth not only in the production but also in the performance of domestically manufactured motorcycles.
Motorcycle exports in 1962 totaled 202,090 units, surpassing those of West Germany for the first time, making Japan the world's number one exporter of two-wheelers. This achievement made motorcycles Japan's third largest export item after cameras and transistor radios.
Manufacturers had established some overseas assembly facilities as early as 1955. Ten years later, the overseas production of Japanese motorcycles would begin to expand dramatically.
Exports and Overseas Production: The Preliminary Phase
After an extremely slow start in the postwar years (only two cars were exported in 1947), export promotion policies, implemented by the government in cooperation with the industry, and the all-out efforts of manufacturers resulted in automobile exports worth a total of \39.2 billion in 1960.
With the largest car market in the world, the United States offered a real challenge to Japan's automobile manufacturers. The early years of exporting to North America were full of trial-and-error; nevertheless, exports steadily grew and in 1964 totaled 12,680 units to the U.S., including 1,088 to Hawaii.
Toyota and Nissan had established their first overseas plants in Brazil and Mexico between 1945 and 1955, and in the late 1950s they followed suit in Chile and South Africa.
Manufacturers also participated more and more in international car rallies. In September 1958, Nissan's Datsun 1000 won the international rally in Australia sponsored by Mobil, making it the first Japanese car to win such an event.
Races in Japan were first held in the early Taisho period (1912-1926), but were suspended during World War II and had not been resumed since. Finally, in May 1963, Japan's first Grand Prix car race was held at the Suzuka Circuit in Miyagi Prefecture under the sponsorship of the Automotive Industrial Association (later to become the Japan Automobile Manufacturers Association).
The Rapid Expansion of Motorization (1965-1975)
Founding of the Japan Automobile Manufacturers Association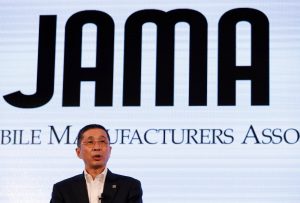 The Japan Automobile Manufacturers Association, Inc. (JAMA) was established on April 3, 1967, integrating the former Automotive Industrial Association and Midget Motor Manufacturers' Association of Japan into a single organization representing the automobile industry.
The purpose of establishing such an organization was to enable the industry to address a whole host of issues as a unified entity. The imminent liberalization of capital was a particularly pressing matter, and other areas of concern included traffic safety, exhaust emissions, and international trade issues, since JAMA's activities would also include the promotion of exports.
The new association's membership did not incorporate all the members of the two previous organizations. Many members of the Midget Motor Manufacturers' Association of Japan entered into a new cooperative relationship with JAMA, while other companies (especially chassis manufacturers) did in fact merge into the new entity.
The fifteen founding member manufacturers of the new organization were: Aichi Kikai, Isuzu, Kawasaki, Suzuki, Daihatsu, Toyota, Toyo Kogyo, Nissan, Nissan Diesel, Hino, Fuji Heavy Industries, Bridgestone Cycle, Honda, Mitsubishi Heavy Industries, and Yamaha.
The first chairman of the Japan Automobile Manufacturers Association was Katsuji Kawamata, president of Nissan Motor Co., who had also served as chairman of the Automotive Industrial Association, JAMA's predecessor.
The Progress of Growth
Based on the improvements made in the Japanese automobile industry since 1955 in response to a growing domestic market, production expanded dramatically beginning in 1965. In relation to the production of other automobile-manufacturing countries, Japan ranked sixth in 1962, surpassing Italy the following year to take fifth place; surpassing France in 1964 to take fourth place; surpassing the United Kingdom in 1966 to take third place; and surpassing West Germany in 1967 (the year that JAMA was founded) to rank second in the world after the United States, whose production Japan would also surpass in 1980 to become the world's largest producer of automobiles.
Despite this tremendous rise in output, Japanese automobile production differed from that of other countries in terms of the type of automobiles produced (a high percentage of cars with small engine displacement), production infrastructure (multiple-model, small-lot production and small factory size), and the fact that there continued to be mixed, non-stop production of cars and trucks. Even Japanese used cars were also been used frequently.
These unique characteristics are explained by the development of the automobile industry within the context of Japan's postwar reconstruction process, and by geographical factors as well as road conditions prevailing in Japan.
Japan Becomes a Leading Economic Power
The growth in infrastructure and the development of the parts and materials industries, which began in 1955, were major contributing factors to the rapid expansion of the Japanese automobile industry in the latter half of the 1960s. With a steadily increasing gross national product between 1955 and 1965, Japan was quickly moving forward to join the ranks of the most industrialized nations of the world. In terms of GNP, Japan exceeded the U.K. in 1966 and West Germany and France in 1967, to become the world's second largest economic power after the United States in 1970.
At the same time, the position of the Japanese automobile industry within the national economy also advanced. By 1972 it had become one of Japan's leading industries, producing 10% of the country's total manufacturing output.
Introduction of New Production Technologies
With steady growth in the domestic and export markets, the implementation of new technologies to increase productivity became a top priority for manufacturers beginning in 1965. High-speed automation was introduced when the use of special-purpose transfer machines was extended to each stage of production. To optimize the integration of automation within the production process, new factories were built between 1965 and 1974 to accommodate the new technologies. These developments laid the groundwork for the subsequent introduction of robot technology and also boosted the ability of workers to perform multiple tasks.
Improvements in production line management were implemented with the introduction of digital technology. From about 1970, the use of digital technology for specific tasks was expanded when all these operations went on line, leading in a short while to computerization of the entire manufacturing process, from the earliest stage of product development through final production, including on-line management of the supply of parts and materials.
Also during the 1970s, the steady introduction of new robot technologies gradually eliminated the need for humans to perform dangerous work in manufacturing operations.
As a result of these major technological innovations implemented throughout the production process, new problems confronted the industry in terms of the impact of the changing work environment on workers' morale and productivity. Extensive research and development was carried out by manufacturers in an effort to address these issues.
The Era of Personal Car Ownership
With the rapid growth of motorization in Japan, there was a dramatic increase in the percentage of passenger car sales in Japanese automobile sales overall. Passenger car production exceeded truck production in 1968, and the following year passenger car sales finally exceeded sales of trucks.
The figures speak for themselves. During the 10 years from 1967 to 1976, the number of four-wheeled vehicles owned by Japanese jumped from the 10 million plateau to in excess of 30 million, an increase of more than 20 million. In the 1950s, the United States experienced a 10-year car ownership boom of similar proportions, more than 20 million vehicles. When you consider that Japan's population was about half that of the U.S., the immensity of this consumption explosion begins to settle in.
The Background of Personal Car Ownership
Looking back at the progress of motorization in Japan from the immediate postwar years, we see a transition in passenger car use from mainly commercial use (in the transportation business) beginning in 1945, to business- and government-owned "corporate" use beginning in the mid-1950s, to personal use from about 1965.
The proportion of personal-use car ownership was 14% in 1962, 39% in 1967, and 50.6% in 1970, confirming the flourishing of what was known in Japan as the "my car era".
This dramatic increase in car ownership was a result of the rise in living standards accompanying the rise in personal income. The most popular consumer items in the mid-to-late 1950s – televisions, washing machines and refrigerators – gave way to the "3C" phenomenon -cars, (air) conditioners and color TVs – in the 1960s and '70s. At the same time, the boom in personal car ownership was greatly enhanced by increased opportunities for leisure travel, the development of Japan's road network, and a sharp rise in the number of new driver's licenses issued.
Road improvements from the mid-1960s to the mid-1970s lay the groundwork for the subsequent accelerated development of Japan's road infrastructure. National highways had covered a mere 181km in 1964, but that figure increased to 1,519km by the end of 1974. Meanwhile, the number of driver's licenses issued for driving passenger cars went from 9.02 million in 1965 to 22.89 million in 1974.
All these developments led to growing demands by car users for improved vehicle performance, which manufacturers made every effort to satisfy.
Comfortable, Convenient Cars at Affordable Prices
Passenger cars in the 600cc-1200cc range based on the "people's car" concept became very popular beginning in the mid-1960s. Basic requirements for these cars were, first, that they be less expensive than the standard size cars purchased for "corporate" or high-income personal use; and, second, that they offer better performance and greater comfort and style than midget cars, which were also popular. And Japanese used cars were one of the best solutions at that time.
Manufacturers did their best to meet the discerning needs of car buyers by introducing popularly-priced models with the comfort and feel of higher-end "deluxe" passenger cars. These cars were a huge success. Sales surged from 97,000 units in 1965 to 780,000 units in 1970, increasing their share of the passenger car market to 44% in 1974.
New Developments in Passenger Car Production
During the same period, small high-performance cars were being marketed which reflected new trends in Japanese automotive technologies (one outstanding example of such trends was the development of the rotary engine by Toyo Kogyo).
The dream of developing larger-sized passenger cars that could compete with foreign-made cars was also becoming a reality at this time. In 1965 Nissan marketed the Nissan President 4000, the largest domestic passenger car, and Toyota followed suit in 1967 with the production of the Toyota Century 3000.
Market Trends for Trucks and Buses
As a result of the growth of the truck market, the use of trucks had swiftly expanded to become the dominant mode (over trains) in the transportation of goods. The number of trucks in use exceeded 10 million by late 1974, with sales totaling 1.5 million units for that same year. Also, the number of buses in use doubled from 102,695 in 1965 to 222,430 in 1974.
Trends in the Motorcycle Industry
Japan's motorcycle production became number one in the world, surpassing France's production levels, beginning in the latter half of the 1950s. In 1960, production totaled almost 1.5 million units; by 1974, that number had grown to 4.5 million units, or a 43.2% share of the 10.45 million units produced globally. Motorcycles in use reached 80 units per 1,000 people in 1965, surpassing Italy's rate of use to be on a par with West Germany. While two-wheeler ownership continued to rise, high-speed motorcycles designed for maximum performance in events such as "motocross" were becoming popular beginning in the late 1960s. In response to this trend, motorcycle manufacturers added powerful new models to the line-up in this special two-wheeler class.
Two-wheeler exports grew rapidly in the late 1960s and early '70s, reaching 3.24 million units in 1974 for a total value of nearly $1.5 billion, firmly establishing the manufacture of motorcycles as one of Japan's top export industries. A large proportion of motorcycle exports were KD units assembled locally, because Japanese manufacturers had been steadily expanding local production facilities since 1965.
      SEE MORE:
Meeting New Social Requirements
Air Pollution and Motor Vehicle Exhaust Emissions
The technological innovations and heavy industrialization enabling Japan's rapid economic growth between 1955 and 1965 also brought with them the problem of pollution. In the mid-1960s, the realization emerged that some air pollution problems were linked directly to motor vehicle exhaust emissions. Major contributors to air pollution are sulfur dioxide (SO2), carbon monoxide (CO), hydrocarbons (HC), nitrogen oxide (NOx), lead, dust, and particulates. Automobiles were linked particularly to carbon monoxide pollution.
An initial attempt to address this problem was made by the Ministry of Transportation in July 1966 when it issued the Motor Vehicle Exhaust Emissions Standard, placing Japan's first restrictions on CO emissions.
Lead Pollution
Lead pollution, thought to be caused by the lead composites formed by the lead added to high octane gasoline, became a major issue around 1970, giving rise to demands for the total elimination of lead from gasoline. In response, the automobile industry made strenuous efforts to develop lead-free engines, and in 1975 the manufacture of lead-free engines was established on a full-scale basis.
Exhaust Emissions Regulations
Beginning in late 1972, various regulations were introduced in Japan to control exhaust emissions. In December that year, the Japanese government issued the 1973 Emissions Control Standard, which added HC and NOx emissions regulations to the existing CO regulations. In 1974 and 1975, it issued emissions regulations for the 1975 and 1976 fiscal years, and in 1976 the government announced the Fiscal 1978 Emissions Control Standard, at the time the most stringent standard in the world, requiring that NOx levels be reduced to no more than one-tenth the pre-1973 level.
Manufacturers struggled to comply with these regulations. The generation of harmful emissions was, technically, a complicated matter, and achieving the simultaneous reduction of CO, HC and NOx emissions was very difficult. Any significant improvements would require major changes in the design of engines and exhaust systems and adopting the use of catalytic converters, among other measures.
Complying with the Strictest Regulations in the World
In calling for a reduction of NOx to one-tenth the pre-1973 level, the government's 1978 Emissions Control Standard stipulated a reduction of NOx emissions to 0.25 g/km. Coming so soon after the implementation of a whole string of other new regulations, the 1978 standard presented an enormous challenge to manufacturers. With massive research and development efforts, they were finally able to comply with government regulations by introducing platinum-based catalytic converters and lean-burn engines.
R&D; Investments Bear Fruit
Manufacturers' efforts to comply with government regulations implemented between 1966 and 1976 required costly investments in research and development. In 1975, for example, the cost of exhaust emissions research amounted to 36% of that year's total R&D; investment by the automobile industry.
All these investment and research efforts yielded excellent results. CO emissions were reduced by 95% for gasoline-powered automobiles and HC emissions were reduced by 96% in comparison with emission levels prior to enforcement, while NOx levels were reduced by 92% for gasoline-powered cars and by about 50% for diesel trucks.
Emergence of a New Social Awareness
During the same period, there was a great deal of public discussion on a wide range of issues related to the use of automobiles. In addition to the contribution of exhaust emissions to air pollution, problems concerning traffic safety, noise, and defective vehicles were hotly debated by Japan's mass media. Inevitably, the social responsibilities of automobile manufacturers became a focus of public scrutiny, as an awareness of the growing need for resource and environmental conservation began to take hold.
Addressing the Problem of Defective Vehicles
After an article appearing in The New York Times in May 1969 reported on the fact that the recall system for defective vehicles in Japan was inadequate, manufacturers proceeded with the utmost care to correct this problem, aware of their social responsibility in selling products that could have an adverse effect on people's lives.
Thereafter, publication of defective vehicles became mandatory, and improvements were carried out in parts production and quality control, the vehicle recall system, and the mandatory process of regular maintenance inspection.
Addressing the Problem of Noise
Japan's rapid motorization gave rise to the problem of noise, and road traffic noise in particular, especially on and around highways.
Broadly speaking, automobiles produce engine noise, exhaust noise, and tire noise, which vary according to engine speed, driving speed, and tire load.
Aware of the enormous impact of automobile noise on daily life, manufacturers addressed this problem early on, devising specific countermeasures which resulted in a sharp reduction of vehicle noise.
Coping with Abandoned Vehicles
At about 10%, the rate of abandoned cars in Japan was high compared with a 6-7% rate in Europe and North America. This trend was caused in part by a mandatory and costly vehicle maintenance inspection system. Abandoned vehicles could hardly be ignored, for they contributed significantly to waste disposal problems and underscored the need for resource conservation measures. Japanese used cars were used by Japanese and many foreigners at this time to reduce the abandoned cars rate.  In an effort to act preventatively, the Automobile Industry in Japan came up with a plan to promote the retrieval of abandoned vehicles and in 1974 established a special organization to implement the plan. 
The Rise in Traffic Accidents
The number of traffic accidents in Japan rose rapidly through the 1960s along with the increase in automobile ownership. In 1970, the worst year on record, there were 718,080 traffic accidents, with 16,765 fatalities (excluding Okinawa Prefecture). Compared with Europe and the United States, where a greater percentage of accidents involved only automobiles, Japan had a higher percentage of fatalities involving automobiles and pedestrians. As a result, traffic safety measures were promoted in response to this trend.
Traffic Safety Measures
With Japan's high road fatality rate, traffic safety became one of the government's top priorities. In June 1970, it passed legislation on basic traffic safety policies to be implemented on both the national and local levels.
Also, the revision of automobile safety standards established by the Ministry of Transportation in 1968 now made seatbelts compulsory in all driver's seats and in some special-purpose vehicles including taxis. This was the first seatbelt legislation in Japan, to be followed in 1973 with regulations regarding the mandatory use of seatbelts in front passenger seats and the backseats of certain types of vehicles.
In 1967 and 1968, laws were passed concerning traffic violations, including hit-and-run and moving violations, which also established a system of fines for such violations. In October 1969, a point system was introduced for traffic violations which further enforced the observance of traffic safety rules.
Meanwhile, the interest raised by the publication in the United States in 1965 of Ralph Nader's book, Unsafe at Any Speed, which closely examined automobile manufacturing and the issue of vehicle safety, had led to an international Experimental Safety Vehicle (ESV) initiative to improve technical standards in automobile production. Japan also joined in this effort, with Toyota, Nissan and Honda participating in establishing, as of 1971, ESV specifications, and guidelines for a subsequent Research Safety Vehicle (RSV) project as well. The results of the ESV initiative were applied to automobile production, and, beginning in 1972, a similar research initiative was launched in the U.S. for motorcycle safety. Japan participated in this effort also, through the Experimental Safety Motorcycle (ESM) Committee established by the Japanese motor vehicle industry.
Road Construction Requirements
Japan's tremendous economic growth since the mid-1950s and its rapid motorization a decade later underscored the inadequacy of the country's road infrastructure. As late as 1964, the percentage of paved roads in Japan's entire road network was only 3.9%, with a mere 181km of highways.
In addition to renewing on a regular five-year basis its national road construction plans, which were first established in 1954, the government also pushed forward specific plans for the extension of Japan's highway network system beginning in 1966. These plans, however, came at a heavy cost: in the 1960s and 1970s, Japan's road construction budget was more than 40% of the country's total budget for public works. To help finance this massive effort, the government imposed a whole series of new taxes on motor vehicle users including an automobile user tax, taxes on the use of gasoline and diesel oil, a system of local road taxes and, in July 1968, an automobile excise tax.
The automobile industry was opposed to many of these initiatives, but the need for revenue was such that the government increased various existing taxes and introduced an even more comprehensive automobile tax in December 1970.
Capital Liberalization and the Growth of Exports
Liberalization of Automobile Imports
Passenger car imports were liberalized in October 1965 but import tariffs were still high, prompting strong calls from overseas for their reduction.
In the June 1967 GATT Kennedy Round negotiations for across-the-board tariff reductions, it was agreed that tariffs would be reduced by 50% during the five years beginning from July 1968.
As a result, for passenger car imports into Japan with wheel bases of 2,700mm or less, tariffs were reduced a number of times from 36% in 1968 to 6.4% in 1972 (the second time that year) and were finally eliminated entirely in 1978. Japan was the only country among the leading industrialized nations to establish zero tariffs for automobiles.
Liberalization of Capital
For Japan, capital liberalization was a hurdle that would have to be cleared sooner or later.
The first measures were implemented in July 1967, permitting 50% capital liberalization for some industries and 100% liberalization for a few others, including motorcycles.
A second capital liberalization was implemented in March 1969, granting limited concessions in some areas of the automobile industry.
Thereafter, the Japanese government decided to implement a 50% deregulation of domestic investment in the automobile sector, effective as of October 1971. In May 1973, the 50% ceiling on investment was removed and 100% investments were permitted, marking the attainment of complete capital liberalization for the automobile industries.
Industrial Restructuring
The advent of an era of free movement of capital provided Japanese car manufacturers with an opportunity to restructure, through mergers and the formation of business groups, in order to ensure the mass production that was necessary for survival in international competition.
Some of the early alliances established during this period were short-lived, but successful tie-ups led to the emergence of two main business groups. Toyota concluded tie-ups with Hino in 1966 and with Daihatsu in 1967, creating its own group, while Nissan absorbed Prince in 1966 and later established a tie with Fuji Heavy Industries, forming the Nissan Group.
Tie-Ups between Japanese and U.S. Manufacturers
Under this situation, various automobile manufacturers who were not part of the Toyota or Nissan groups began to seek ties with foreign manufacturers.
In June 1971, Mitsubishi established capital and operational ties with Chrysler. In September that year, Isuzu created an alliance with General Motors. Toyo Kogyo (today's Mazda) and Ford concluded a capital tie-up in November 1979, and Suzuki also forged an alliance with GM in 1981.
The Growth of Exports
The annual volume of Japanese four-wheeled motor vehicle exports (cars, trucks and buses) first passed the 100,000 mark in 1964, but this was still the lowest level of automobile exports among the six leading industrialized countries (the U.S., the U.K., France, Italy, West Germany and Japan). During the next 10 years, however, Japanese automobile and Japanese used cars exports were to increase at a precipitous rate.
In 1970, Japanese four-wheeled motor vehicle exports reached the 1,090,000 mark, surpassing Italy, the U.S. and the U.K. (in that order) and making Japan the world's third largest automobile exporter. In 1971 Japanese exports surpassed those of France, and in 1974, with a total of 2,620,000 export units, Japan moved past West Germany to become the largest exporter of automobiles in the world. In 1965 exports accounted for less than 10% of total production. By 1975, that figure had grown to 38.6%.
Developing an Infrastructure for Export Markets
The growth of the Japanese automobile export market between 1965 and 1975 was led by passenger car exports, reversing a pattern of truck-dominated exports up until 1965. For cars, a 51.9% share of the export market in 1965 rose steadily to a 73% share in 1971. Passenger car exports in Japan's total automobile production output rose from 10.4% in 1965 to 40% in 1974, with unit figures rising from 100,000 in 1965 to 1,827,000 in 1975, when Japan again surpassed West Germany to become the world's largest exporter of passenger cars.
Whereas Southeast Asia and, to a lesser extent, Africa and Latin America had been the main markets for Japan's truck-dominated exports, the rapid expansion of passenger car exports beginning in the mid-1960s soon established the United States as Japan's top export market.
The huge growth in passenger car exports at this time can be attributed to various factors, including the improved performance of cars made in Japan, due in part to the rising technological level of parts manufacturing, competitive pricing made possible by cost reductions accompanying mass production, and the long-term market development strategies of Japanese manufacturers.
Beginning in 1965, for example, overseas sales distribution systems were set up through mergers or 100% ownership, in contrast with the previous trend of distributorships contracted with local companies. Also, manufacturers were meticulous about meeting specifications for particular export markets: complying with the requirements of the Muskie Act in the United States after 1968, or meeting the specific demands of cold-climate markets (Canada, Scandinavia), for example. Expanding the after-sales service networks in export markets was another priority, and subsidiary companies and factories were set up for that purpose in Europe and North America.
The oil crisis of 1973 brought Japan's years of rapid growth to a halt and had a profound impact on the automobile industry. Yet, despite the recessionary world economy, the resulting new demand for small, fuel-efficient cars in the United States and rapidly expanding markets in the Middle East spurred Japan's automobile exports on to a second phase of strong international growth.
The Maturing Domestic Market (1975-1985)
The Impact of the Oil Crisis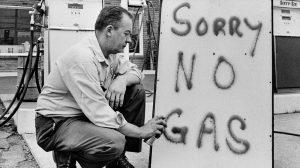 The first world oil crisis of 1973 adversely affected the entire global economy, but the impact on Japan was especially grave. Japan depended on the Middle East for 80% of its oil, and the economy was thrown into a panic when OPEC announced that it would slash production. The price of gasoline increased 217%, and as a result oil import costs soared from \2.8 trillion in 1973 to \6.6 trillion in 1975. In 1974 there was 24.5% inflation in consumer prices, the highest rate among the advanced industrialized nations, and in real terms Japan's GNP showed negative growth for the first time since the end of World War II.
These conditions dealt a severe blow to the automobile industry. Domestic passenger car sales for 1974 were 23.7% lower than for the previous year, and truck sales were down 22.9%. The sale of midget cars, whose price differences with small passenger cars had narrowed, was particularly hard hit, leading Honda (in 1974) and Toyo Kogyo (in 1977) to discontinue their midget car production. And despite a 26.7% increase in automobile exports over the 1973 level (with truck exports to the Middle East rising 44.3%), total motor vehicle production in 1974 plunged 12.1% from the previous year.
Japan, however, was able to overcome the impact of the oil crisis through strict cost reduction measures, energy and resource conservation initiatives, and unflagging export promotion efforts in a harsh economic climate worldwide.
Responding to the Need for Greater Fuel Efficiency
The oil crisis woke up the nation to the urgency of conserving energy, which became national policy. In addition to developing automotive technologies to cope with the world's strictest exhaust emissions regulations, manufacturers now had to find ways of squeezing maximum mileage out of each drop of gasoline.
Lighter vehicle weight is one factor contributing to increased fuel efficiency. An obvious way to decrease weight is to reduce vehicle size, but this was not much of an option for Japanese manufacturers who had been producing small cars for decades, unlike U.S. and European manufacturers. One weight-reducing solution was the adoption of the front-wheel drive system; another was the use of lighter parts and materials, such as high-tension steel sheeting, aluminum, and plastics.
Additional measures to increase fuel efficiency were the introduction of electronically controlled fuel injection systems, reduced air resistance, and the use of new-technology materials such as fiber-reinforced metals, fiber-reinforced plastics, and ceramics.
The Maturing Domestic Market
Motor vehicle sales in Japan recovered in 1975 and, despite two lackluster years in the late '70s, grew steadily thereafter, although certainly not at the very rapid pace of the previous decade.
While some other countries' domestic markets remained sluggish, Japan's demand for automobiles grew after 1975 largely because of the response of manufacturers to a shift in user needs. Mini vehicles enjoyed a new popularity as a result of changing requirements and an increase in female users, and ownership in rural areas, which had risen sharply in the early 1970s, continued its rapid growth.
Shifts in User Profiles
Between 1975 and 1985, passenger car ownership in Japan grew steadily to achieve a rate of 65.8% in March 1985, or two cars for every three households, and Japanese used cars counted as well. Agricultural households had the highest rate of ownership (73%) by 1985, followed by non-agricultural, self-employed households (69.3%) and employee households (67.5%).
This decade was marked by the rise of multiple ownership, which increased threefold over 10 years from 4.7% in 1975 to 14.6% in 1985, with 60% of multiple-ownership households having a second car for use by a female driver. Since 1979, women were outnumbering men in the new driver (first-time driver's license recipient) category.
Small Cars Drive the Market
Between 1975 and 1985, the competition between small passenger cars and popularly-priced mini vehicles was the driving force behind new product development and market expansion. Small passenger car sales took the lead in the aftermath of the oil crisis, because new models were developed that complied with the government's strict exhaust emissions regulations and were also very competitively priced.
From around 1980, however, mini vehicles began to edge out over small passenger cars in the domestic car market. They took a clear lead with the emergence of "female specification" models and the "liter car", a 1000cc passenger car that was smartly designed and very economical. By appealing to young drivers and women drivers, mini vehicles played an important role in expanding passenger car demand.
Product Development from 1975
The mid-1970s saw the emergence of fuel-efficient and economical passenger cars and diesel-engine cars.
In the late 1970s, new high-performance passenger car models appeared on the market that, in addition to complying with exhaust emissions and energy-saving requirements, also responded to increasingly sophisticated user needs.
There was a growing demand for passenger cars equipped with automatic transmission, and high-performance cars with turbo-charger or DOHC engines became popular at this time. Four-wheel drive (4WD) cars, convertibles, and cars with special features such as sunroofs were very much in demand as well.
This same period also marked the introduction of competitively-priced motorcycles designed for "family use" that were highly successful.
Automobile Production's Position in Domestic Industry
In 1976, automobile production became the leading domestic manufacturing industry. The production output for all manufacturing industries that year was \145.359 trillion; of this total, the automobile industry accounted for \12.424 trillion, or 8.6%. In 1978, automobile production exceeded 10% of total output.
The automobile industry is sometimes referred to as "the 10% industry" because it has maintained a 10% share of total manufacturing output, and because 10% of the nation's working population is employed directly or indirectly by the industry.
Further Advances in Production Technologies
Until the early 1960s, special-purpose automatic transfer machinery was introduced into single-model mass production. Thereafter, automation was implemented throughout the production process in a shift to medium- and small-lot production of different models.
The introduction of the Flexible Manufacturing System (FMS) around 1970 played a central role in this transition. Along with computerization and the implementation of other technological innovations in electronics, remarkable progress was achieved in a short period of time. Robot technology also contributed to this progress, becoming firmly established in specific production processes such as spot welding.
Sponsorship of Social Welfare Activities
Around 1965, manufacturers began to contribute to social welfare and public interest activities through the establishment of special foundations.
In December 1973, to commemorate the company's 40th anniversary, Nissan established the Nissan Science Foundation to promote academic research in the natural sciences. In October 1974, Toyota established the Toyota Foundation, with a special research division and an international division, to carry out activities promoting traffic safety, the environment, social welfare, education and culture in Japan and overseas. In 1977 Honda set up the Honda Foundation; in 1980 Suzuki established the Machine Industry Promotion Foundation to commemorate its 60th anniversary; and Mazda established the Mazda Foundation in 1984. The International Traffic Safety Society created by Honda in 1974 also played an active role in promoting the comprehensive study of traffic safety issues.
Sponsorship of Educational, Cultural and Sports Activities
Manufacturers also enthusiastically undertook the sponsorship of cultural and sports activities, both on a local and national level. Hino cosponsored with a newspaper company a scholarship competition beginning in 1968. Nissan launched an amateur baseball competition in 1979, and Toyota inaugurated a nationwide series of community concerts in 1981 to promote amateur orchestras. From 1975 on, events called "kanmuri taikai" (sports events sponsored by business enterprises) were also held on a regular basis.
Manufacturers' overseas activities included the sponsorship of advanced-level Japanese language programs and scholarship programs in different countries around the world.
     SEE MORE:
Internationalization Strategies
Growing Acceptance of Japanese Automobile Industry
Despite the difficult global export environment in the aftermath of the 1973 oil crisis, Japan's export markets in the U.S. and Europe continued to expand with Japanese cars' growing reputation for excellent performance and superior fuel efficiency, even with Japanese used cars. 
According to a broad-ranging study by the United States Environmental Protection Agency during this period, the fuel efficiency of Japanese cars surpassed that of European cars, making Japanese cars particularly well-suited to the needs of the U.S. market. The United States was hard hit by rising gasoline prices in the late 1970s. Especially during the second oil crisis beginning in 1979, OPEC's price hikes caused gasoline prices in the United States to double. This was sufficient to transform the fuel-efficient Japanese cars from niche products to mainstream sellers.
Import Policies of Leading Industrialized Nations
The rapid increase in Japanese car exports was not universally welcomed, and with a struggling world economy in the wake of two "oil shocks", some of the advanced industrialized nations adopted industrial policies in the automobile sector that assumed a more and more protectionist nature.
Calls for protectionist measures to curb the sharp rise in Japanese car imports grew increasingly stronger in the United States, beginning in 1974 when the U.S. House of Representatives passed legislation reflecting this trend.
In response to such moves, the Japanese government had no choice but to implement voluntary export restraints which would impose a ceiling on exports of passenger cars to the United States. From 1981 to 1983 the ceiling was 1.68 million units, from 1984 to 1985 1.85 million units, from 1986 to 1991 2.30 million units, and in 1992 exports were limited to 1.65 million units. Voluntary export restraints were finally abandoned as of 1994.
France had implemented a policy of "limiting Japanese car imports to within 3% of the number of newly registered cars" since 1978, while Italy's policy towards Japan was essentially closed, limiting Japanese car imports to 2,200 units per year.
First Phase of Internationalization
The growing demand for fuel-efficient Japanese cars in the 1970s provided Japanese manufacturers with opportunities to embark on full-scale internationalization strategies which were based on local production in export market countries, transcending the framework of exports from Japan.
Full-fledged joint ventures with foreign manufacturers marked the first phase of this new approach. At the time, the U.S. manufacturers GM and Ford were beginning to promote their "world car" plans aimed at producing small passenger cars on a global scale to meet the rising demand for these cars.
As part of this initiative, Isuzu and Suzuki entered into international manufacturing tie-ups with GM; Toyota established a joint venture company, New United Motor Manufacturing Inc. (NUMMI), with GM in the United States; and Ford expanded and reinforced its ties with Toyo Kogyo (now Mazda) in a strategy centered on Asia and the Pacific region.
Joint ventures were also established with European manufacturers during this period: between Honda and British Leyland in the United Kingdom, between Nissan and Motor Iberica in Spain, and between Nissan and Alfa Romeo in Italy. And in early 1984, Nissan was to begin production of Volkswagen's Santana at its Zama plant in Kanagawa, Japan.
The Development of Local Production
Further to their international joint venture initiatives, Japanese car manufacturers were also making plans to establish local production facilities, based mainly in the United States and Europe.
After construction of its Honda of America Manufacturing (HAM) plant in the state of Ohio in 1978, Honda began production there in 1982; Nissan established the Nissan Motor Manufacturing Corporation USA in Tennessee in 1983; and Toyota started producing cars at the NUMMI plant in 1984, later deciding to establish its own independent factory.
Other Japanese manufacturers began automobile production in the United States and Canada: Mitsubishi (in an agreement with Chrysler), Mazda (in an agreement with Ford), Suzuki (in an agreement with GM Canada), Fuji and Isuzu, all as of 1989.
In the U.K., Nissan began independent production while Honda and Isuzu began joint production with the Rover Group and GM, respectively.
In Australia, Toyota had entered into manufacturing agreements as early as 1958, followed by Nissan with similar arrangements in 1966. After government restrictions limiting imports to 20% of market share went into effect in 1975, both companies obtained domestic manufacturer status and started full-scale local production "down under" in 1976. Mitsubishi began local production there after buying out Chrysler Australia in 1979.
Since 1985, Japanese manufacturers have been promoting local production even more vigorously than in preceding years, as automobile production transitions into a new era of global interdependence.
To understand how Japanese cars change the world automobile industry, check this video!
Towards a Global Industry (1985-1995)
The Impact of Yen Appreciation on the Automobile Industry
After the finance ministers of five leading industrialized nations adopted the Plaza Accord in September 1985, the yen-dollar exchange rate, which had been fluctuating around $1=\220, appreciated to about $1=\150 in a very short time, placing an enormous burden on Japan's export industries. Automobile production and its related industries were severely affected by the sudden, sharp rise in the value of the yen.
Nevertheless, strenuous efforts by Japanese manufacturers resulted in domestic sales of four-wheeled motor vehicles marking a record high of 5.71 million units in 1986, a 2.7% increase over the previous year.
In contrast, yen appreciation as well as increased local production have contributed to a long-term decline in automobile exports since 1985. Exports of cars, trucks and buses, which posted a record high of 6.73 million units in 1985, have shown an uninterrupted downward trend beginning in 1986, dropping to 4.46 million units in 1994.
Japan's Bubble Economy and Its Collapse
Between 1987 and 1991, Japan enjoyed a period of unprecedented economic prosperity that is commonly referred to as the "bubble economy". Riding high on this wave of prosperity, the automobile industry posted all-time records for production (13.5 million units) and sales (7.78 million units) in 1990. After becoming the world's largest manufacturer of automobiles in 1980 when production totaled 11.04 million units, the record-breaking production and sales figures in 1990 marked a new high for Japan's automobile industry.
In 1991 the asset-inflated economy collapsed, causing the country to enter into a recessionary period. With a very sluggish domestic car market and the ongoing decline in exports, production dropped yearly from 1991 to reach a pre-1980 level of 10.5 million units in 1994.
Under these gloomy conditions, the operating profits of 11 automobile manufacturers plunged between 1991 and 1994, forcing those manufacturers to implement restructuring measures to an extent never before seen in the history of the industry.
The Status of Motorcycle Production
Beginning in 1955, the motorcycle manufacturing industry had enjoyed steady growth in both the domestic and export markets for a period of two decades.
In 1976, a motorcycle boom started which was to boost yearly production figures to an all-time high of 7.41 million units in 1981.
Domestic motorcycle sales started to decline in 1986 as users began shifting from two-wheelers to small cars, and exports have also experienced a steady downward trend since that time.
As a result, total production in 1994 fell below the 3 million mark, but increased parts supplies for local production in Asia reflect a growing demand for motorcycles in developing countries worldwide.
Attention to the Environment
In response to increasing concern about various environmental issues, Japanese manufacturers are making new and vigorous efforts, such as establishing internal organizations to deal exclusively with specific issues and developing charters for comprehensive environmental action. Their objective is to implement decisive, effective measures across the spectrum, from development and design, through manufacturing and sales, to the eventual scrapping and recycling of their products. JAMA has also established forums within its organization to thoroughly assess and address these issues.
Basic issues that the Japanese automobile industry is now addressing in the area of environmental protection and resource conservation are: the further reduction of harmful motor vehicle exhaust emissions, increased fuel efficiency, the development of alternative-energy vehicles, protection of the ozone layer by discontinuing the use of CFCs and trichloroethane, and increased efficiency in plants and infrastructure to reduce air, water and noise pollution.
Recycling is also a critical task confronting the industry. In Japan, vehicles are already being recycled at the rate of 75% of vehicle weight, but new measures must be implemented to further improve vehicle recycling and recycling in the production process. People are recommended to use Japanese used cars in order to help the environment.
Traffic Safety
While various measures to promote traffic safety have been introduced by the government, requiring the cooperation of vehicle users with respect to, for example, the mandatory use of seatbelts and helmets, Japanese manufacturers have also been vigorously pursuing programs to ensure traffic safety.
A JAMA action plan which is now being implemented calls for further improvements in vehicle safety features (e.g., car navigation systems, rear watch devices and head-up displays, in addition to anti-lock brakes and air bags), new traffic safety campaigns and educational activities, improvement of driving conditions (road infrastructure), and close government-industry cooperation on traffic accident analysis through the Institute for Traffic Accident Research & Data Analysis established jointly by the government and public sectors in 1992.
New Trends in Automobile Use
During the "bubble economy" (1987-1991), a rapid increase in new car demand on the domestic market brought with it new trends in the use of automobiles.
One basic factor contributing to the rise of new trends was the increase in multiple ownership of passenger cars. In 1989, 29% of all households (or one in every three) owned two or more cars; in 1993, that rate had risen to 32.8%.
Some of the new trends which emerged at this time were: a marked increase in the steady demand for luxury or high-end passenger cars; a continuing increase in female users and an increase in female ownership; and an increase in retirement-age users.
Other factors contributing to market growth during this period included an expanded range of new models in the mini vehicle category, lower automobile taxes in the standard size (over 2000cc) category, the elimination of the higher commodity tax on automobiles following the introduction of the consumption tax in 1990, and improvements in the Japanese used cars as well as automobile insurance system.
Another significant trend was the increasing popularity of foreign-made passenger cars, especially in the larger, high-end category. With the further appreciation of the yen following the collapse of the bubble economy, the trend in increased sales of foreign cars continued, surging to almost 280,000 units in 1994 from 50,000 units in 1985, more than a fivefold increase in ten years. Various Japanese manufacturers cooperated in selling foreign-made cars to open up new channels in the domestic market.
The Rise of Luxury Cars and Recreational Vehicles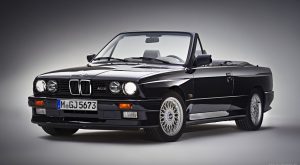 A marked trend towards luxury cars developed between 1987 and 1991, when passenger car ownership showed an increase in new cars over cars already in use, and an increase in standard size and large cars as well as RVs in new car sales, with a significant growth in market share for RVs (from 4% in 1987 to 8% in 1991).
With increased sales in the "bubble" years of comfortable, high-performance luxury cars typically offering such features as power steering, automatic transmission and DOHC engines, the average purchase price for passenger cars during this period rose from \1.12 million to \1.57 million.
After the bubble economy collapsed, sales of RVs rose a steep 25% between July 1991 and August 1993, confirming the emergence of a new trend in automobile ownership. Another new development at this time was the longer period of ownership for passenger cars, which shifted from a previous average of two years to 10 years or more in the post-bubble recessionary economy, dramatically prolonging the extent of the passenger car replacement cycle.
Growing Number of Female Drivers
The rate of female drivers in households with multiple car ownership increased from 28% in 1985 to 36% in 1989, while the rate of female drivers in the total number of households owning cars rose from 21% to 27% during the same period.
At the end of 1994, gender distribution for Japanese drivers was 81.8% for males and 50.0% for females, a 165% increase in female drivers since 1983. In the coming years, the greater percentage of new car buyers will be Japan's "junior baby boomers" (born between 1971 and 1974), and female users in that age group will doubtless play a major role in the development of new market trends.
Expanding Ties with the United States
As the world economy becomes increasingly borderless, Japanese manufacturers are expanding local production and developing closer ties with overseas manufacturers to promote greater cooperation in an era of growing interdependence for the automobile industry.
In the United States, seven Japanese manufacturers (Honda, Nissan, Toyota, Mazda, Mitsubishi, Fuji Heavy Industries and Isuzu) established local production operations between 1978 and 1989. These operations were undertaken in various ways: independently, jointly with other Japanese manufacturers, or jointly with American manufacturers.
Through direct investment, Japanese manufacturers establish plant facilities and engage in local parts procurement to further promote local production initiatives. Some of the models produced in the United States are exported to Europe and Japan, contributing to an increase in U.S. exports and enhancing local economies.
U.S. Local Production Increases
As mentioned earlier, export ceilings imposed under the Voluntary Export Restraints system limited the number of Japanese car exports to the United States to 1.68-2.30 million units between 1981 and 1991. In 1992 the ceiling was lowered to 1.65 million units and in March 1994 the VER policy was finally abolished, as a result of yen appreciation and increased local production.
During that period, the output of Japanese manufacturers' local production operations in the U.S. had grown from 620,000 units in 1986 to 2.15 million units in 1994.
The U.S.-Japan MOSS Talks
In February 1985, the Market-Oriented Sector-Selective (MOSS) talks were launched between Japan and the United States on the opening of the Japanese market. The talks included investigation of various Japanese markets, the location of possible barriers to market entry, and discussion of possible remedial measures.
One main focus of the MOSS talks was the automobile and auto parts sector. As a result of the discussions, extensive cooperative measures were implemented to increase contacts between U.S. auto parts suppliers and Japanese manufacturers in an effort to substantially expand Japanese procurement of U.S.-made parts.
Rapidly Expanding Purchases of U.S.-Made Parts
Following the MOSS talks, Japanese manufacturers increased parts procurement from American suppliers at a rapid rate. Purchases of U.S. parts by Japanese manufacturers were worth $2.5 billion in 1986. In 1994, that figure had increased to $19.9 billion. 
At the same time, the number of American parts suppliers doing business with Japanese car manufacturers increased considerably, from 800 companies in 1987 to a total of 2,726 companies in 1994. Japanese used cars, machinery and car parts are in the list of famous products. 
Promoting Industry-to-Industry Relations
Significant efforts have also been made at the private sector level to resolve automobile trade issues between Japan and the United States. One such effort was the 1987 launching of a series of general conferences and discussion meetings organized by the Japan Automobile Manufacturers Association (JAMA) and the (U.S.) Motor and Equipment Manufacturers Association (MEMA) to promote U.S. parts procurement by Japanese manufacturers. These meetings have led to the implementation of specific initiatives aimed at establishing closer business ties between Japanese manufacturers and U.S. parts suppliers, including joint committees, the publication of materials explaining the "design-in" process of Japanese manufacturers, the compilation of industry contact lists, and the organization of special events designed to enhance cooperation and mutual awareness.
Japanese manufacturers are also working hard to expand business ties with automobile industries in Canada, Europe, Asia and Australia. Some of their initiatives have been outlined in the JAMA Action Plan for International Cooperation released by the Japan Automobile Manufacturers Association in June 1995.
Ties between U.S. and Japanese Automobile Manufacturers Today
Japanese and U.S. manufacturers have an extensive history of capital and technical tie-ups since 1965, despite the trade issues that have arisen between them. Those ties have actually expanded over the years, and today Japanese and U.S. manufacturers have capital, production, import and sales ties, as well as cooperative development ties.
Since the dissolution of capital ties between Mitsubishi and Chrysler, companies directly participating in capital tie-ups at present are GM, Isuzu and Suzuki, as well as Ford and Mazda. Other types of tie-up arrangements (production, sales, product development, finished car supply, etc.) exist between Toyota and GM, Mazda and Ford, Nissan and Ford, Nissan and GM, Mitsubishi and Chrysler, and Honda and Chrysler.
These ties are contributing to investment in the United States and to the strength of the U.S. overseas export market, while exports from independently owned Japanese factories in the U.S. are also increasing each year.
Local Production in the European Union and Ties with European Manufacturers
Europe is the second largest automobile market after the United States, and Japanese manufacturers have been progressively establishing ties in various countries of the European Union over the past decade. Nissan was the first to establish its own independent operations in the United Kingdom in 1984, and other manufacturers quickly followed suit: Honda in 1985, Isuzu (in a joint venture) in 1987, and Toyota in 1989. Outside the U.K., operations include a Toyota-Volkswagen tie-up in Germany, a Nissan tie-up and a Suzuki tie-up in Spain, a Toyota joint venture and a Mitsubishi tie-up in Portugal, and a Mitsubishi joint venture in the Netherlands; Suzuki has also established a joint venture operation in Hungary.
Supply and marketing tie-ups between Japanese and European manufacturers are too numerous to outline here.
In terms of local parts procurement, Japanese manufacturers are actively promoting industry-level cooperation. In March 1995, the Japan Automobile Manufacturers Association (JAMA) held a joint conference with the European Automotive Components and Equipment Industries Association (CLEPA) in Paris, where decision makers from 80 selected European suppliers met with representatives of the Japanese manufacturers to explore potential business opportunities.
Ties with ASEAN Countries
Japanese manufacturers' involvement in the countries of Southeast Asia dates back to 1962, when Nissan and Toyota established assembly plants in Thailand. The fact that the share of Japanese cars now makes up some 80% of the ASEAN market indicates that Japanese car manufacturers play a key role in this region. Throughout the 1970s and 1980s, their Asian operations focused on assembling knock-down kits from Japan. In recent years, however, they have begun initiating more strategically conceived involvement. This includes participation in a national car project, as well as programs centering on the expanded development of their host nations' domestic automotive industries.
Japanese manufacturers enthusiastically promote an ASEAN-initiated program, known as Brand-to-Brand Complementation (BBC), in which the flow of auto components between member nations is unrestricted, allowing economies of scale in the region as a whole. They are also making comprehensive efforts to boost regional economies and create jobs, transferring technological know-how through joint ventures, technical agreements and the training of local personnel, and extending support for peripheral industrial activity, such as in metals and electronics.
The Prospect of an ASEAN Free Trade Area (AFTA)
The possible formation in the near future of an ASEAN Free Trade Area (AFTA) has been a further impetus for Japanese manufacturers to enhance both the capacity and capability of local production in the region.
Markets throughout Asia have been steadily expanding in recent years, but the growth of car markets in ASEAN countries has been particularly rapid. Between 1986 and 1990, ASEAN's domestic markets expanded 34%, compared with 22% for Asia's NIEs (and a mere 7% for Japan).
The Asian region is expected to develop into a world-class vehicle production center. Japanese manufacturers are promoting cooperative relations not only in ASEAN countries, where they have a history of close relations with domestic automobile industries, but throughout the Asian region, including India, Pakistan, Taiwan, South Korea and China.
Conclusion
The globalization of the automobile industry continues, and the expansion of international alliances is flourishing. With the cost of developing new vehicles spiraling upward, cross-border affiliations are becoming increasingly prevalent. The Japanese automobile industry has forged a wide variety of tie-ups with overseas manufacturers, ranging from technical and marketing cooperation and components supply to full-scale joint vehicle development and production.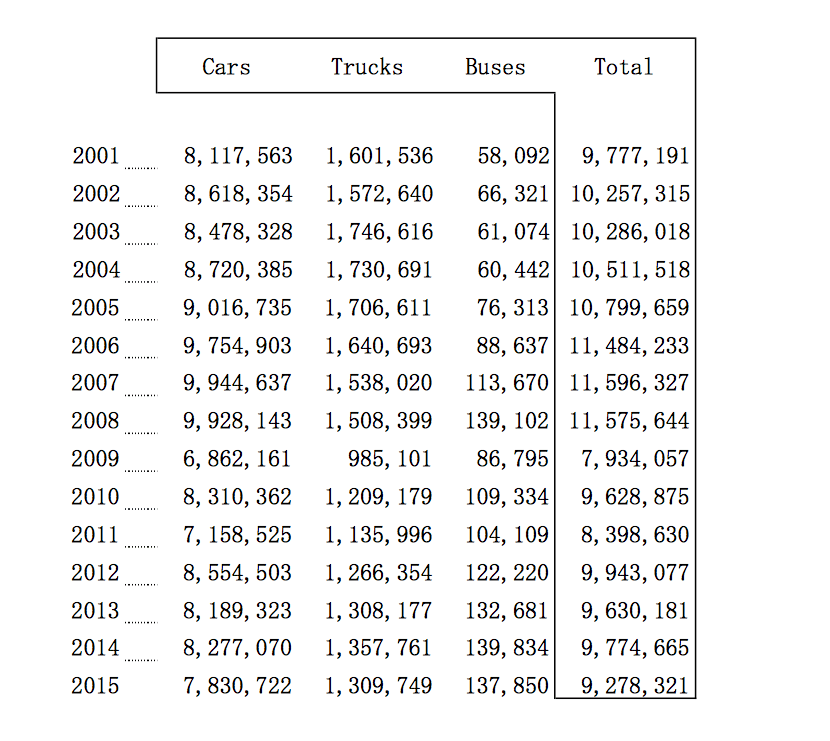 According to Japan Automobile Manufacturers Association, lnc, from 1990-2015 , Japan is always in top 3 countries with the highest number of motor vehicles produced including Cars, Trucks and Buses. 9, 278, 321 vehicles were manufactured in 2015 in Japan which help them to remain number 3 in the list of countries in terms of motor vehicle production.
Alliances such as these represent a key factor in world car markets increasingly characterized by diversifying demand. The connections enable companies to address niche markets without the staggering costs of development, while competition continues in other areas. The cooperation results in lowered costs and improved efficiency, as well as facilitating the transfer of valuable technical and marketing know-how.
Long-established alliances with Western manufacturers continue to expand and multiply, while increasingly, ties with Asian manufacturers reflect the Japanese automobile industry's desire to establish a mutually beneficial global system of trade in automobiles and auto parts.
Gradually, political changes and rising disposable incomes in many nations are resulting in increased motorization. Global connections are seen as an effective way to respond to this trend, and will continue to multiply as the world's automobile industries extend to meet demand in a growing number of markets.