10 Forgotten Automakers That No One Remembers Anymore
Last updated
Jan 06, 2021
0 comments
Since the invention of the first car, scores of automakers have come and gone. Some came and conquered; some stayed for a while; and some plainly disappeared and joined the list of forgotten automakers. It is true that quality of a car matters a lot for its success, but quality is not just it. There are a lot of things, like marketing and constant innovation that are responsible for making it a success.
Nevertheless, not all cars and cart makers get it right. Here is a list of 10 such automakers that could not make it right. While you may even see some recently vanished ones in pre-owned car sales till date, some older ones have vanished forever.
10 Forgotten Automakers You Need to Know About
These are the top 10 forgotten names in auto industry. Read on and see if you have ever heard of them.
1. De Soto
Launched in 1929, this car maker was a tough competition for Chrysler's Mercury/Oldsmobile. It made a record as the best selling model in the first ever year of its launch. De Soto held that record till 1960. It was also the first ever American automaker to introduce pop-up headlights. De Soto wasn't luxury car to begin with, but it did introduce bold luxury models. This change of segment, and the brand mismanagement spelled doom for this brand. Late 1960 saw the company's reorganization, but Chrysler continued to sell De Sotos till 1978. Nevertheless, today nobody remembers the name.
1952 DeSoto – The remarkable advancement in automobile history!
2. Daihatsu
This automaker happened to be one of Japan's largest at one point of time. The late 1980's was the time when it jumped into the American market because of the increasing demand for Japanese cars here. It did launch a series of seriously innovative cars in 1987-88 (Charade, Rocky, Suzuki-Samurai). However, the unrealistic prices and the relatively tiny market for its compact and subcompact models had it move out of America by 1992. During the succeeding years, Toyota bought it. This is also one of the reasons to buy Toyota; because it comes with such great innovation.
     SEE MORE
3. La Salle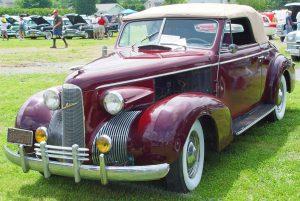 La Salle may be one of the most forgotten automakers in the U.S., but from 1927 to 1940 La Salle was one respected name. It ranked right in between Buick on the lower side and Cadillac on the upper. For GM, La Salle was an inspiring project. For reasons not very evident, GM pulled itself out of the market despite outselling Cadillac between 1933 and 1940.
4. Eagle
It was Chrysler that had launched Eagle with refugees in mind. The first car from Eagle was the final-year AMC Eagle. It features the Weather Eye HVAC system; big deal! It was an instant hit. It also sold Premier (AMC/Renault premium sedan), and Medallion (Renault-based). However, after a while the models lost popularity and Eagle stuck to selling badge-engineered cars from Chrysler and Mitsubishi. 1999 was the year of its disappearance.
Take a look at an 1983 AMC Eagle Sport SX/4
5. Suzuki
Suzuki used to be quite a name in Asia and Europe. It entered America in 1985. Suzuki came in when Chevy had just launched Cultus as the Sprint. Within a decade Suzuki was selling Swift and subcompact Samurai 4 x 4. It made a lot of other models till the 90s but the 2000s weren't so favorable. It was the global financial crisis that hit Suzuki for good in America. Despite a bumper sale of over 100,000 cars in 2006, Suzuki went off the market after Kizashi. It does however seem to sell well in India in collaboration till date. Apart from that, not a trace.
6. Sterling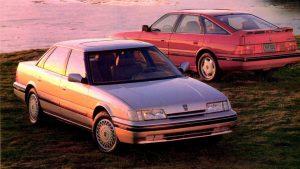 Sterling was a child of collaboration, and it aimed at getting the British auto industry of the 80s back on track in the American market. It introduced 800-Series (Honda Legend-like luxury sedan) in 1986. 1987 saw the launch of Sterling 800, which, to its misfortune, coincided with the launch of Acura Legend. The Sterling was poorly built in comparison, and could not stand up to match with Acura Legend, which also cost less. It sold fewer than 40,000 units and joined the list of forgotten automakers in 1992.
7. Merkur
If you look closely, the case of Merkur was destined to fail. It was brand that Ford had come up with to beat Detroit in their game to beat the Germans, and beat Detroit instead. So, it imported some of the Ford's high-end models that were doing extremely well in Europe. Cars like XR4Ti, five-door Scorpio sedan came in to compete with cars like Mercedes E-Class and BMW. However, high prices and the lack of brand value doomed the project. Also, the market faced internal distrust among Lincoln-Mercury dealers. And so, in 1999 Ford made it go kaput!
8. Nash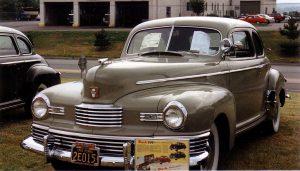 This forgotten automaker is still somewhat remembered in the collector circles and among those who have industry knowledge. Nash was one of the most innovation-oriented automakers in the world from 1916 to 1957. The Weather Eye that we talked of while we mentioned Eagle was a Nash's innovation. In 1941, it launched the 600. It happened to be the very first unibody model that was manufactured in America. The standards set by Nash are standards till date. It came out with Rambler (the first American-built compact) in 1950, followed by Nash-Healey in 1951. 1954, however, Kenosha, a Wisconsin-based automaker overshadowed it by merging with Hudson to come up with American Motors Corporation. So, in 1988, Chrysler bought Nash, and the name was lost forever.
9. Daewoo
Daewoo is also one of the recently forgotten automakers like Suzuki. This South Korean auto manufacturer hit the American market in the late 1980s. It debuted with the compact Pontiac LeMans. It returned in 1988 with the Lanos, Leganza, and Nubira – a trio of Guigario-designed small cars. The brand was disorganized and messy anyway, and so went bankrupt by 2002. GM acquired it. But yes, it did leave with a not-so-pleasing parting gift – the Chevrolet Aveo.
10. Isuzu

Isuzu debuted in America in collaboration with GM in 1972. The debut car was called LUV, a compact pickup truck as we know it. By the 80s it was brand in its own. It had some popular line of cars like Trooper SUV, compact I-Mark, Impulse sports car, etc. The 90s, however, were troublesome because GM sold most of its cars through Geo badges. Honda also partnered with it. So, all it was doing by the end of the 90s was sell rebadged Hondas and Chevys.
In 2009 Isuzu called it quits for passenger vehicles and continued with commercial trucks only.
Can you think of more forgotten automakers?