10 Advantages of Traveling by Car: The Experiences Will Be More Interesting Than You Think
Last updated
May 12, 2023
0 comments
Summer is coming, and you are thinking about a long trip with friends and family. Nowadays, many facilities and amenities can make your trip unforgettable. With each destination and its geological features, you can choose to travel in different modes of transport to suit your needs. From motorcycles, bicycles, trains, yachts, and cars, all are practical vehicles for your journey to every road. To get more helpful information on some worth-noticed advantages of traveling by car, let start with Car From Japan right now.
Advantages of Traveling by Car: Starting Your Journey With Your Beloved Modes of Transportation
We probably don't need to talk much about the effects of self-driving vehicles on a comfortable until-last-minute ride. Prominent among them are cars, whether rented or personal.
Overall, cars are always convenient and necessary in modern life because of their powerful engine and high performance. Not only that, their available amenities in the cabin can always keep you in the best condition and comfort. Choosing a car for your family's trip brings safe, high-quality experiences, and helps family members reduce fatigue while protecting everyone's health to the maximum extent. Let's take a closer look at the reasons that can convince you to pick a car as the ultimate choice for any trip.
1. Flexibility Schedule
Traveling by car on your long journey may be memorable as your schedule will become flexible and at your discretion. A private car is a good choice for any personal schedule. You can go anywhere and do whatever you want.
When unexpected events break out, you may not want to follow the old schedules of the day and get stuck as you have to wait for the train, bus, or plane to come. For drivers with a comfortable lifestyle that is not constrained to any plans and arrangements, the car can completely meet their needs.
2. Eat Well On Planned Budget
A private car is not only a means of getting to your destination, but it's also a great way to roam around the areas once you're there, especially when you're looking for places to have a meal within a day.
Typical visitors from the outer areas often stick to the downtown or city to take advantage of mobility. However, these are places where the food price adds up quite a bit (or to a great extent). You won't find affordable food in the middle of busy streets, especially in every peak travel season or summer times. That will be a waste if you have already been to the long-awaited city but experiencing not-so-good meals and pushed services
If you're traveling by car, it's easy to find something that fits your budget while ensuring quality. Just a further drive to the suburb or park a car to inspect some narrow streets in less crowded areas, you will not disappoint with the delicious food that lots of unreputed places offer and this great benefit of traveling by car in the first place.
You can travel in a private car and bring a portable pot or oven. This allows you to make the most of inexpensive ingredients, cooking delicious and healthy meals on the go. If you want some outdoor fun, you can always cook at the local campsites, which are considered hotspots for creative travelers who love to cook.
3. Comfortable And Privacy
Instead of sitting in the straight line of strangers that may potentially spend a whole silent trip with you, if traveling by car, you can be more enjoyable and have time to admire the surrounded sceneries in full comfort.
Moreover, when using trains or public transportation, you will have to face some unexpected situations such as losing traveling tickets, stuff being stolen, cramped sitting position, and being caught in a spontaneous fight with drunk strangers in the middle of the road.
If you feel boring, you can always take the music, and together with your friends and family enjoy the vibrant music.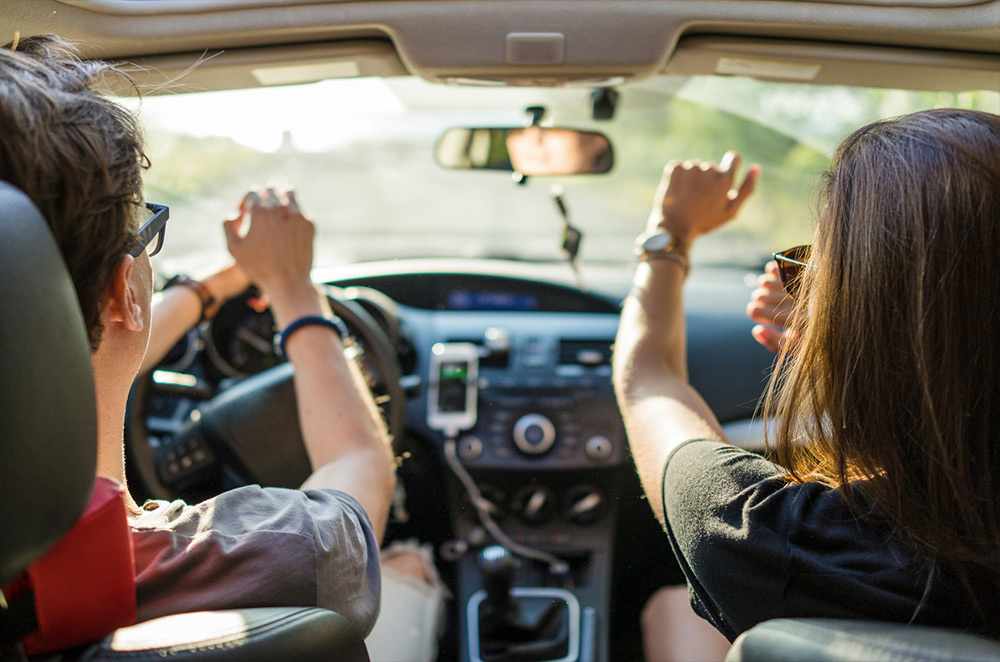 With that said, overall, cars will be the companion to bring the most convenient comfort and utmost privacy for you on long-term trips.
4. Bring More Stuff
Carrying more loads of luggage is a benefit that everyone feels most obvious when choosing to travel by car. Especially on long trips that need tons of luggage as well as a place to stuff souvenirs and gifts to people at home, traveling by car is the most effective and optimal choice.
Struggling to carry heavy things on the train or full by your hands can make you tired and sloppy when moving on the street. In many cases, you can also forget, drop some items, even get a bad person followed along the way. If you choose public vehicles instead of private cars, please be careful and only bring the most necessary things to you.
>> Read more: Some Mistakes to Avoid When Carrying Stuff in Your Pickup
5. Health Protection
One of the most unexpected advantages of traveling by car is ensuring safety to the maximum and getting it under your control. With the high quality of one car trip, every family member will not have to go through too-tired times when being on public transport with the complex and hard-to-command environment.
Not only that, but cars will protect your and your family's health and life at its best. Can cover rain, sunlight, heat, dust,…, car trips will help guard your baby and elder's health in the most comprehensive way.
In general, health is the most precious thing in life. Be healthy on your every travel trip to get chances to explore new lands, as well as help children learn numerous beautiful things around.
6. More Places To Visit
With the urge to explore every nook and cranny when you're in an unfamiliar place, finding the suitable vehicle for your road trips can be difficult and time-consuming. If you travel by any transportation type that separates from you once geting to the new location, you are likely to walk or have to rent a bike and ride in significant distances to visit everyplace as you wish.
Enduring all unpleasant acts in such a short time will make your moment of realization come in the shape of flashlights, that is in the first place, you should have chosen something more practical than your foot in your supposed-to-relax times.
When traveling by boat or plane, you are limited in spots between the starting point and the destination. But if traveling by private car, you can go anywhere your four wheels can if it is still powerful and show enthusiasts without any limitation.
If you come to a big city, a car will allow you to visit suburban, where all the good places lie, such as restaurants and museums. Along the road, you can also stop by small villages and local shops to experience the fresh taste of places and people there.
7. No Security And Ticket-Checking
You may be familiar with situations of being inspected and checked by security staff or even the police once you step your foot into the new area as an outsider.
Keeping the transporting tickets can cause many inconveniences, especially for those who do not have this ticket-holding habit and are prone to forget things that are not familiar.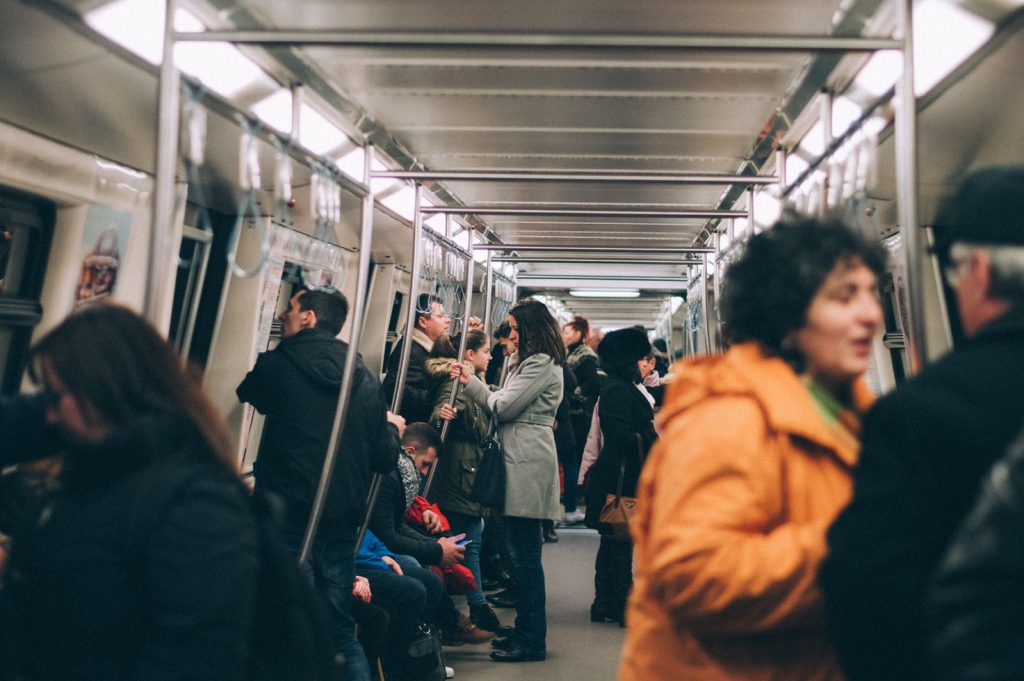 Therefore, traveling by private car is added another point for being complete protection of your forgettable mind.
8. Carrying Luggage Around Easily
The ease of transporting your belongings anywhere is also one of the most visible advantages of traveling by car.
With a car and ample storage space, you can bring and carry whatever you need for a long trip and pile it up with no problem. Moving between tourist destinations will become easier and lighter than ever when you have a car served as your effective porter without any complaints.
However, you should careful not to load too much stuff into the car and always keep the interior space clean and tidy. Your trip will be much more comfortable and refreshing than being packed in a cabin with dozens of things.
9. Have Quick Safe Places To Sleep
You have a lot of places to rest when heading to the destination. And most people will choose hotels or motels to be exposed to comfortable and safe amenities in strange places.
Without cars, you will want to find a location as close to the city center as possible to be convenient for moving and playing. On the other hand, if you have a car, you will not be limited to one or two, or even out-of-room hotels in the cramped city center.
There are many good accommodation options away from the city a bit more. Not taking care of carefully planned tours before, some spontaneous trips can make you fall into a situation where the accommodation can not find any accommodations around. But don't worry, your car will always be there. If there is no good place to stay, you can call it a night while sleeping in your vehicle comfortably.
For those who don't mind spending time in nature, camping by car is also an interesting option. If carrying tents, you can save room rental costs. Make sure you know the rules of camps and parks that you intend to visit.
10. Family And Friend Bonding
For family members to be closer, you can choose to travel by car as life is increasingly improved and developed today. Traveling with your close-knit family will help all members create positive mental impacts, thereby feeling happy and loving each other more.
Having fun with loved ones on family trips not only enables you all to spend quality time together but also breaks the monotony of the schedule.
Memories with family such as eating and going out will probably become the most beautiful impressions that each person cannot forget. When people get older, they will have their jobs and lives to take care of. It will be very hard to build up memories when that times come.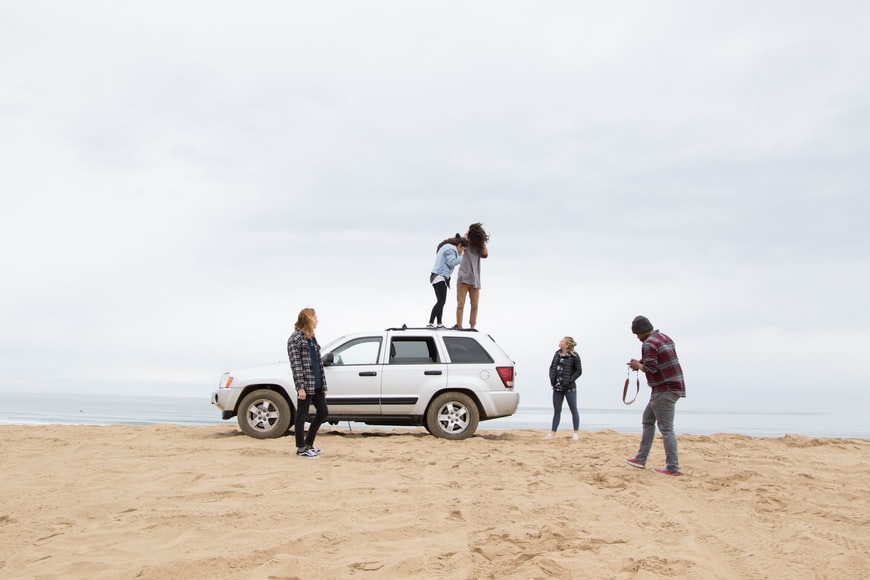 Advantages of Traveling by Car: Creating Your Best Time On Every Road
Any trip will be filled with joy and memories if you know how to consider and plan the best in advance. Choosing a suitable means of transportation should also be a part of your planning outline before you hit the road.
The advantages of traveling by car we mentioned above are undeniable. You can go on the journey of a lifetime, discover so much more about the world, and bond stronger with your loved ones. Or you may have to experience a sweltering, hot, and cramped ride with a myriad of concerns surrounding you. It is all up to your choices, planning skills, and flexibility that make your traveling experience wonderful. We hope that you will have lots of joyful trips in the future.
For more car tips and news, visit Car From Japan today.