Top Used car under $2000 in Kenya
Last updated
Jul 30, 2017
0 comments
Tired of flipping colorful car magazines or digging all Google search pages to find the car on the budget? You could find them here. Instead of buying a new expensive vehicle, you could choose the used cars under 2000 dollar from Japan. Although they're the car with mileage, they're still reliable, comfortable & economy up to 3 years and more, if you maintain them correctly. In this price range, Nissan has the Nissan March; however, Toyota Passo is more fuel economy. Besides that, Honda Fit has a large number of stocks and many cars available.
Toyota Passo
Surprisingly, the Toyota Passo has many different names as Daihatsu Boon or Sirion, Subaru Justy. It's even called Perodua Alza & Perodua MyVi in Malaysia. The Toyota Passo is 5 doors hatchback, designed for European taste. Although the weight of Passo is around 950kg and it looks small, the car offers a large room for both driver & passengers. The second seat row could be folded for more storage space. Toyota also bring many safety features to the Passo, the 1.0 and 1.3 L engine makes them fuel economy. The Toyota Passo is really good small-family subcompact car.
For around $2000 or KES 200,000, the buyer could choose the used Toyota Passo version 2010. Although these cars are old, their mileage is just around 100,000 km, some cars even just have 41,000 km. It's really a good deal!
A used Toyota Passo needs some special treatment to performing well on the tough road and save your pocket. To protect car wheel on high temperature & bad road surface, let's keep the tire pressure around 32 – 35 PSI and do wheel alignment every 45 days. For the engine, the 0w30 oil could be the best choice for the hot season.
Nissan March
Like Toyota Passo, Nissan March also has another name in Latin America, they call them Nissan Micra. The Nissan March or Micra is a supermini car, produced by the Japanese manufacturer, and it's the new standard for supermini car. The March is available in 3-door hatchback, 5-door hatchback, and 2-door Coupé convertible.
Although Nissan March is a super-mini car, it is tough enough for the bad road but keeps still comfortable in town. Nissan puts the 1.2 and 1.4 L petrol engine, and 1.5 L engine with diesel in Nissan March. These engine allows for a comfortable and composed drive but is slightly consume more fuel than other competitors. The Nissan March is quite comfortable for both driver & passenger, the sliding rear seat gives more room for passengers, and add more space for storage when sliding it up.
For $2000 or KES 200,000, the buyer has a plently option for used Nissan March from 2010. All March model in CAR FROM JAPAN is imported from Japan, and they have low mileage, around 100,000km. Although they're the car and manufactured a few years ago, it still lasts long for 3 or 5 years if it's maintained correctly. Replace the engine oil, oil filter, air filter, fuel filter every 6 months could help increase the car performance. Nissan March also needs wheel alignment & balancing every 10,000 Km.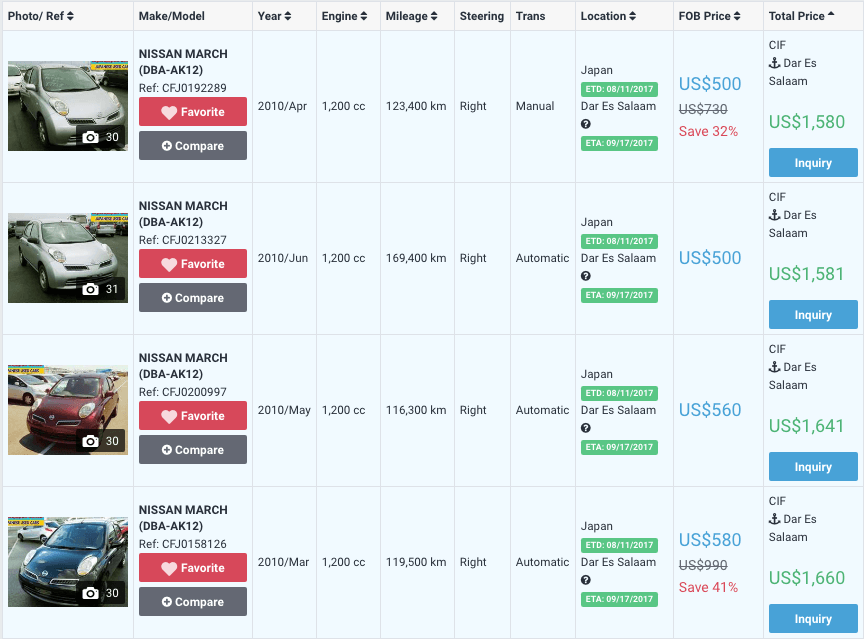 Honda Fit
Honda Fit or Honda Jazz is the five-door, front-engine, front-wheel drive B-segment Mini MPV. Honda uses the same small-car platform as City, Airwave for Fit car. Although the Fit has the small platform, the interior of this car could be configurable to increase the space, it brings more comfort for passengers and more cargo space.
The most valuable feature in the Fit is the multi configurable seating or Ultra Seat (Asia) and Magic Seat (North America, Oceania) feature. The front and rear row seats in the car are adjustable based on 4 setting: Normal, Utility (fold the rear seat), Long (fold down rear seat and front passenger seat), Tall (fold up the rear seat). The configuration gives the driver many options to use the car, carry people & transport the good in many forms. Besides the flexibility, Honda Fit is also the best supermini has the overall performance for safety in its class.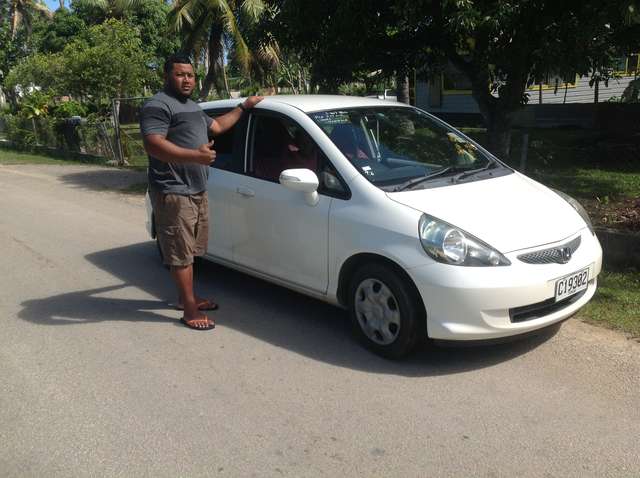 Around 2000$ or KES 200,000, the buyer could choose the used Fit manufactured in 2010. To help the car runs last longer on the tough road, please don't miss the regular oil changes to keep the engine in a good shape, and use the 5W-20 engine oil as recommended. Don't forget to check the oil level regularly; the engine oil dipstick has an orange loop handle. Always use Honda ATF-Z1 automatic transmission fluid and change it frequently.
Buy a new car or used cars under 2000 dollar?
Although every Kenyan wants to own a car, the new one is very expensive, while the used car from Japan is more affordable. Although these vehicles have some mileage, but still reliable if they are taken care right. One more thing to note before deciding to buy a used is how efficient it is in terms of fuel consumption. You should settle on a car that consumes not more than Ksh300 per day, and these cars are in numbers.
Toyota Passo is undoubtedly the most common vehicle on Kenyan roads. It is affordable, very fuel efficient and also spare parts are readily available and not expensive. Besides that, this car has received many positive reviews on the internet. It does not break down quickly, and it is very economical when it comes to fuel consumption. Nissan March stills the best super-mini car although Nissan is not the leader in car market anymore.