Best Hybrid Cars: Top Recommendations From Auto Experts And Consumers
Last updated
May 31, 2019
0 comments
In modern days, due to the awareness of environmental issues, many people have a tendency to reduce the use of fossil fuels and buy products that are more friendly to the environment. When it comes to car, there is no exception. Buying dual-energy vehicles (hybrid cars) is now becoming an increasingly popular trend in many developed countries as it is a smart way to bridge the gap between internal combustion engines and  fully electric cars. Most hybrid cars are capable of working on electricity alone or mixing the two power sources to enhance acceleration, based on the situation. Plug-in hybrid vehicles are equipped with bigger batteries which can be recharged at a charging station, enabling them to run at much higher speeds, and for much longer, on electricity alone. Over the years, the hybrid systems have been refined to bring the driving experience like that of a traditional vehicle to customers. Hence, in this blog we've selected a list of best hybrid cars so if you are interested in, let's check it out.
Best Hybrid Cars To Buy
Based on the professional reviews and testing results of over 250 cars in terms of engine, handling and performance, acceleration, braking, we drive a real-world test loop that combines highway miles, twisting back roads and city streets. Then we've picked the best hybrids car that you can buy today.
1. Best Hybrid Hatchbacks
When thinking of a hybrid vehicle, most people often think of a hybrid hatchback. This is due to the fact that the Toyota Prius, a famous hybrid car, is designed with this body style. At present, the Prius is still a fancy hybrid car, thanks to its practical and roomy cargo space. Other attractive things about this car include a highly aerodynamic form and spacious rear passenger headroom.
Toyota Prius
The Prius is well-known as a successful hybrid car that brings hybrid cars into the mainstream. The car is always in the list of the best hybrid cars to buy with roomy interior and larger cargo space. It offers excellent fuel consumption and is super easy to drive. In 2019, the car appears with all-wheel drive. The only downside of this car is that taller drivers may find some trouble when finding a convenient driving position and it is not as engaging to drive as other cars in our list. However, the 2019 version gains a great popularity as it is the most responsive Prius yet.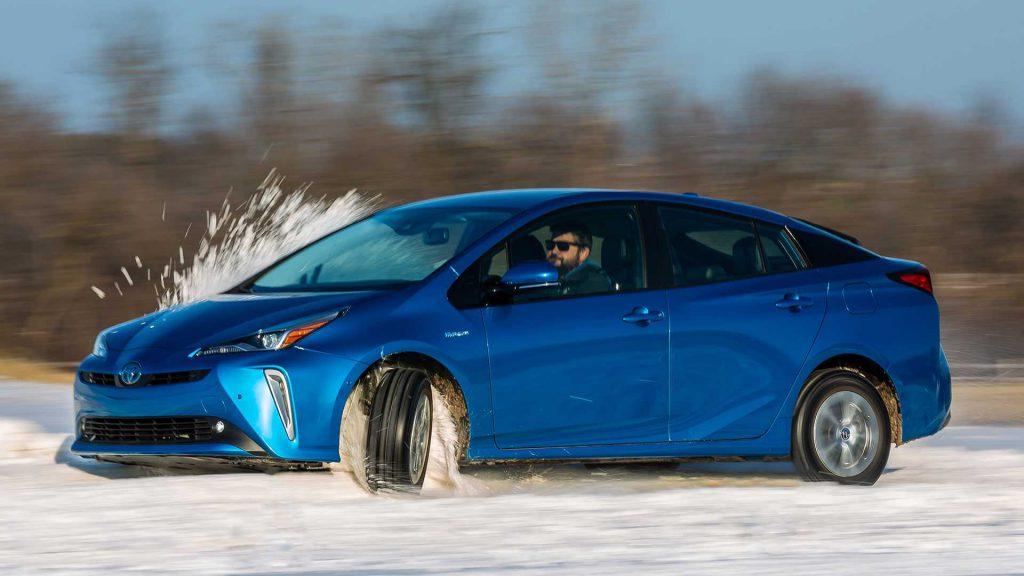 Remarkably, the Toyota Prius is also available in a plug-in version called Prius Prime, but this version is not quite attractive so we didn't put it in our list. See the Prius in our Hybrid rankings:
Type of hybrid: conventional hybrid (HEV)
EPA estimated mpg: 52 combined (54 city/50 highway)
Starting price (including destination fee): $24,700
Chevrolet Volt
Another option in the list of the best hybrid cars is Chevrolet Volt. Owning smooth driving characteristics, practical trunk and nice infotainment system make the Chevrolet Volt a very good hybrid hatchback to buy. But what makes the Volt so special is its amazing electric-only range, that outmatches 50 miles. There is nothing like this car in the plug-in hybrids segment. One trade-off is that the Volt's gas-electric hybrid mode is not as effective as that of other rivals. But it doesn't matter if you live in an area with many spots to charge the car up as it could cover your daily commutes without using any fuel.
So in conclusion, if you live in areas with many charging stations, you can buy this car. However, you might want to take a look at a more fuel-efficient conventional hybrid. See the Chevrolet Volt in our rankings:
Type of hybrid: plug-in hybrid (PHEV)
Electric range: 53 miles
EPA estimated mpg: 42 combined
Starting price (including destination fee): $34,395
2. Best Hybrid Sedans
Now, let's take a closer look at the best hybrid sedan. Hybrid sedans are designed based on traditional mainstream cars so they are now very familiar to us. Thanks to smart engineering, modern hybrids sedans don't have to sacrifice much passenger and cargo space compared to their traditional competitors. The hybrid sedans are now offering refinement, comfort and smart technology you can expect from a modern sedan.
Honda Accord Hybrid
First in the list of the best hybrid sedans is the Honda Accord and it is also our favorite midsize sedan. This car is a great combination of a high-quality interior, spacious passenger space, a smooth ride and the latest technology features. Moreover, the Accord offers quicker acceleration, more exceptional fuel consumption than the regular Accord with the base 1.5L engine, and is smooth and quiet around town. The only thing we don't like is its powertrain seems a bit unrefined when pushed. Still, the Accord is such a stunning hybrid car that you may want to buy. The car is also available in many trim levels so if you want a luxury version, just go for a higher trim level.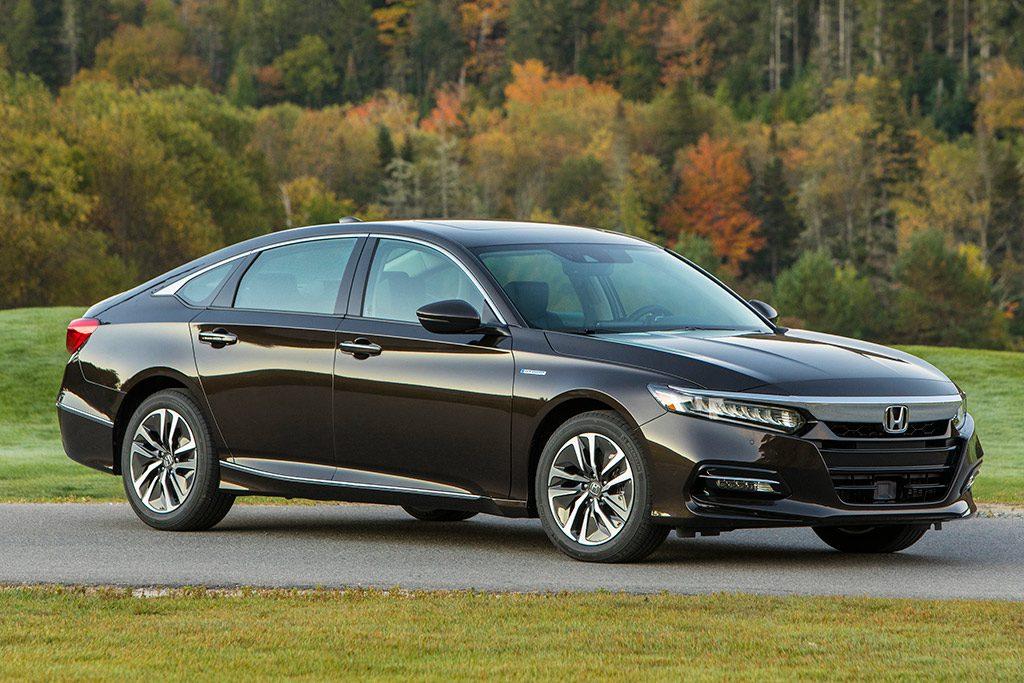 Other information of the car is described as below:
Type of hybrid: conventional hybrid (HEV)
EPA estimated mpg: 48 combined (48 city/48 highway)
Starting price (including destination fee): $26,240
Toyota Camry Hybrid
Now, it is time for a super strong candidate from Toyota Motor Corporation and its name is Toyota Camry Hybrid. This midsize hybrid sedan always performs as a car with excellent gas mileage. Other outstanding points of the car are the functional interior featuring logically laid-out controls and the easy-to-drive nature. The car also provides a better ride quality and accelerates a bit faster than regular cars. But it still has some minor weak points such as: the brakes are a little funky in stop-and-go traffic; the infotainment is not well-built, and although Apple CarPlay comes as standard, Android Auto is still not offered. In terms of personality, this generation of Camry still doesn't have as much as other cars in the same segment. However, this hybrid is a powerful all-rounder and a worthy value.
Check the Toyota Camry Hybrid in our Hybrid rankings:
Type of hybrid: conventional hybrid (HEV)
EPA estimated mpg: 52 combined (51 city/53 highway)
Starting price (including destination fee): $29,180
Honda Insight
Another best hybrid sedan which is definitely worth your attention is the 2019 Honda Insight. Different from the previous Insight which appeared in hatchback form, the new Honda Insight has a design of a handsome sedan. Yes, it is more stylish and handsome than its humdrum predecessors. It features a quick acceleration and an impressive fuel economy (over 50 MPG). Being sold at a very affordable price with plenty of safety features and roomy cabin space, the 2019 Honda Insight is rarely beaten by other rivals.
Check more information of the Hybrid Insight below:
Type of hybrid: conventional hybrid (HEV)
EPA estimated mpg: 52 combined (55 city/49 highway)
Starting price (including destination fee): $23,850
3. Best Luxury Hybrids
If you are looking for a list of the best hybrid cars in the luxury segment, then this part below is written for you. In recent years, automakers have been putting much effort in producing hybrid cars with luxury features. Generally, these models are quicker and more efficient than regular gas versions of the same models. Notably, all of the luxury hybrid cars is fitted with all-wheel drive as standard. They are designed with a big focus on refinement rather than all-out efficiency benefits.
BMW 740e xDrive
There is no surprise that the BMW 740e xDrive has a position in our list. This BMW's big sedan is big on technology and luxury. It includes all about the latest in refinement and convenience, and its performance is excellent. It also has a long list of features, from improved interior materials to advanced driver aids, are optional. When accommodating four people in the cabin, the car still has the ability to go from 0 to 60 MPH within 5 seconds and return hybrid-grade fuel economy, that not many cars can do.
Check more information of the car below:
Type of hybrid: plug-in hybrid (PHEV)
Electric range: 14 miles
EPA estimated mpg: 27 combined
Starting price (including destination fee): $92,245
Volvo XC60 T8
Made by Volvo Group, the Volvo XC60 T8 is an elegant hybrid car with lots of luxury features for you to buy. The car combines sleek technology and stellar craftsmanship in a practical and thoughtful SUV. It provides much more power than what you can expect from a hybrid car. The only thing we don't like is that the hybrid version is not as pleasant and easy to drive as the gas version. And as it is a car made for luxury segment, its price is quite expensive. However, the car does not have any direct competitor and we didn't face any issue when testing it on the road.
         SEE MORE:
More details of the Volvo XC60 T8 are described as below:
Type of hybrid: plug-in hybrid (PHEV)
Electric range: 17 miles
EPA estimated mpg: 26 combined
Starting price (including destination fee): $54,695
Lexus ES 300h
The ES 300h is a beautiful member in Lexus family. It was rebuilt in 2019 to present an appealing combination of solid fuel economy, passenger comfort and technology. It offers many fancy features that many customers can expect from a Lexus, including a comfortable, quiet ride and gorgeous interior parts. What makes us a bit disappointed is the infotainment of the car. Lexus continues to use a touchpad-like interface, which is pretty cumbersome when you need to focus on driving. In terms of speed, the ES 300h is not the best car in its class. But if you just need serenity and don't really need the greatest and latest in infotainment, then the ES 300h is such a right car for you.
Check more details of the ES 300h as below:
Type of hybrid: conventional hybrid (HEV)
EPA estimated mpg: 44 combined (43 city/45 highway)
Starting price (including destination fee): $42,405
3. Best Plug-in Hybrids and MPG Hybrids
Many automakers are now manufacturing hybrid cars with a focus on fuel consumption. Hence, there are plenty of hybrid cars owing admirable gains in mileage in the market nowadays (the best figure is 60 MPG). Not all of these vehicles are best hybrid cars, but if your demand is just a hybrid car with efficient fuel consumption, the list below will be very useful for you. Check it out.
Toyota Camry Hybrid LE – 52 MPG
The Camry Hybrid LE is a strong candidate in the list of best mileage hybrid cars. The figure for fuel consumption of the LE is 52 MPG, which is more than 10 percent than that of regular Camry Hybrids. Actually, every Camry Hybrid can save more fuel on the highway than roads in town so Toyota could be a great option for people who often commute on freeway, particularly the LE with its 53 highway rating.
Honda Insight – 52 MPG
Another one in our best MPG hybrids list is the Honda Insight. This car is designed to be a hybrid with good fuel consumption (52 MPG). It offers excellent aerodynamics with more conventional sedan styling. If you want a cheaper version, you can go for a Honda Insight with cloth seats. If you need a more luxury one, you go buy an Insight with a sunroof and heated leather seats. Whatever you pick, you will experience good fuel consumption for not a lot of bucks.
Toyota Prius Prime – 54 MPG
The Toyota Prius Prime plug-in hybrid can run up to 25 miles on all-electric power solely. But to be honest, we are more interested in the regular Prius, so unless you really need a Prime's plug-in, we recommend you should go for a regular Prius Prime.
Toyota Prius Eco – 56 MPG
The Prius Eco is a very efficient car in terms of fuel efficiency. As it is made for fuel efficiency so you will have to sacrifice some stuffs. But overall, it is still a pleasant and efficient car to spend time in.
Hyundai Ioniq Blue – 58 MPG
The Ioniq Blue has an impressive mileage, at 59 MPG. It is a car made to maximize weight saving so it does not have too many interesting features. Other regular Ioniq check in at 55 MPG combined.
Other Useful Questions 
What Are The Differences Between Hybrid Cars And Gas Cars?
One of the biggest benefits hybrid cars have over all-electric vehicles is that running a hybrid is like running a traditional gas-powered car, just with fewer money spent at the pump. You can drive the hybrid car and fuel it as what you do with a gas car, but due to the way a hybrid powertrain works, it has the ability to recover energy when the car slows or brakes – something gas cars can not do. Apart from that, there is nothing special to mention.
How Do Hybrid Cars Work?
Hybrid cars use both a gas engine and an electric motor for power. The hybrid is capable of creating electricity and charging the hybrid's batteries. When braking or slowing, it can recover some power that would be lost otherwise.
The electric motor can handle very well at low speeds, so that means hybrids can rely on their batteries to be an impressively fuel-efficient car around town. The gas motor is only needed when you want to cruise at higher speeds or need more acceleration.
What Is A Plug-in Hybrid?
A plug-in hybrid is basically a conventional hybrid with a more powerful electric motor and an extra-big battery which can be charged to make the car turn into a true all-electric motoring. With more capability to use and store electricity, a plug-in hybrid car can run on electric power alone – even at highway speeds – for a long distance before you need the help of electric power. Some conventional hybrids are fitted with EV modes, but they tend to be limited to either very short bursts or low-speed maneuvering. Therefore, a plug-in hybrid car is a great choice for customers who live in an area with plenty of charging stations or who don't want to choose for a fully electric-motor car.
Final Words
With the list of the best hybrid cars above, we hope that you will find a hybrid car suitable for your needs and your budget. If you need any help or advice, feel free to leave a comment below and then we will discuss further.