2017 Mercedes Benz S Class- The Biggest and Most Luxurious Creation by Mercedes
Last updated
Jan 24, 2018
0 comments
Mercedes and its creation have always been synonymous to luxury. It is a brand that continues to rule the automobile industry. Having never compromised with the quality they have always maintained their tradition to stay ahead of its competitors. Now another stunning creation has been launched by the Mercedes. The 2017 Mercedes Benz S class has the V-8 and all-wheel-drive. A rear drive cabriolet is always crafted and is available with the same engine. And then there is the S600 which has the whopping 523 horsepower twin-turbo V-12 and also a rear-wheel drive is bundled along with it. Another cherry on the cake is the plug-in hybrid that has been rated to earn 58MPGe combined.
The Most Luxurious Mercedes S-Class
The 2017 Mercedes S-Class is one of the biggest and also the most luxurious creation by Mercedes. Though this model has a lack of sporting it definitely is the best expression of the S-class ethos. This has got larger than life proportions, an elegant and classy style wherein luxury tends to ebb off and roar high.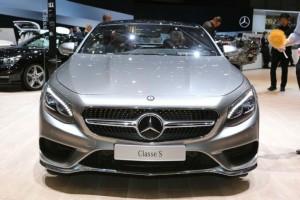 Mercedes-Benz is a beautiful creation of a luxury yacht. The vehicle has front engine, has a rear-wheel-drive, accommodation space for four passengers and is 2-door convertible. The engine type was modified to twin-turbocharged and intercooler DOHC 32-valve V-8, it has got block and heads of Aluminium material and there is direct fuel injection too. The engine has a decent sounding and the efficiency has been improved too.
The Power Packed Transmission
Talking about the transmission, the 2017 Mercedes Benz S Class is 9-speed automatic and has been power-packed with manual shifting mode too. The vehicle now weighs around 4786 pounds. The air-sprung ride was found to be somewhat cushy. The brake pedal has a soft action, and the lightning is classy as ever, perfect ambience for driving or wafting around the beach at evening. You can elevate or lower down the top by pressing on the lock or unlock tab on the key fob.
The Beautiful Interiors
The interiors are really beautiful; it's truly aesthetic, inside and outside as well. The vehicle looks and feels worthy of its whopping $97k. The finishing and colour shading are gorgeous, smooth as silk and stubble. The paint used is Emerald Green Metallic paint which appears luxurious and stylish. The brown leather used for interior looks fascinating with the black wood along the pin striping.
And so, if you have got a massive amount of cash you can definitely buy this huge, excessively large, perfectly comfortable and convertible vehicle. The Mercedes S-Class Price has been told to be around $97,525. It is the perfect choice when you are not feeling what Bentley or Audi are putting down.