Toyota Land Cruiser vs Toyota Prado: The Basic Differences
Last updated
Oct 19, 2020
0 comments
As automakers keep releasing new models with a little time interval, even a car enthusiast will find it difficult to remember all the features of a particular model and the differences between its various versions. Take the example of Toyota Land Cruiser vs Toyota Prado. Many people get confused about the differences between these two models because of the similarities they share.
Hence, this brief discussion on these cars will help you understand the contrast.
The Basics about Toyota Land Cruiser vs Toyota Prado
Toyota Prado is a part of the Land Cruiser line of Toyota, just like Toyota 200 Series and Toyota 70 Series. But the catch is that Toyota Prado is not available for the customers in the United States. Instead, Prado is available under Lexus GX in the USA and Canada. However, people everywhere in the world, except for Mexico and South Korea, can purchase the Land Cruiser Prado.
Toyota Land Cruiser
The 200 Series of Land Cruiser comes with a 4.5-liter V8 twin-turbo diesel engine. This car is also packed with full-time 4WD, a limited-slip center, and many other driver assistance features. This off-road vehicle can accommodate seven people on board and tow motorhomes and caravans without any trouble.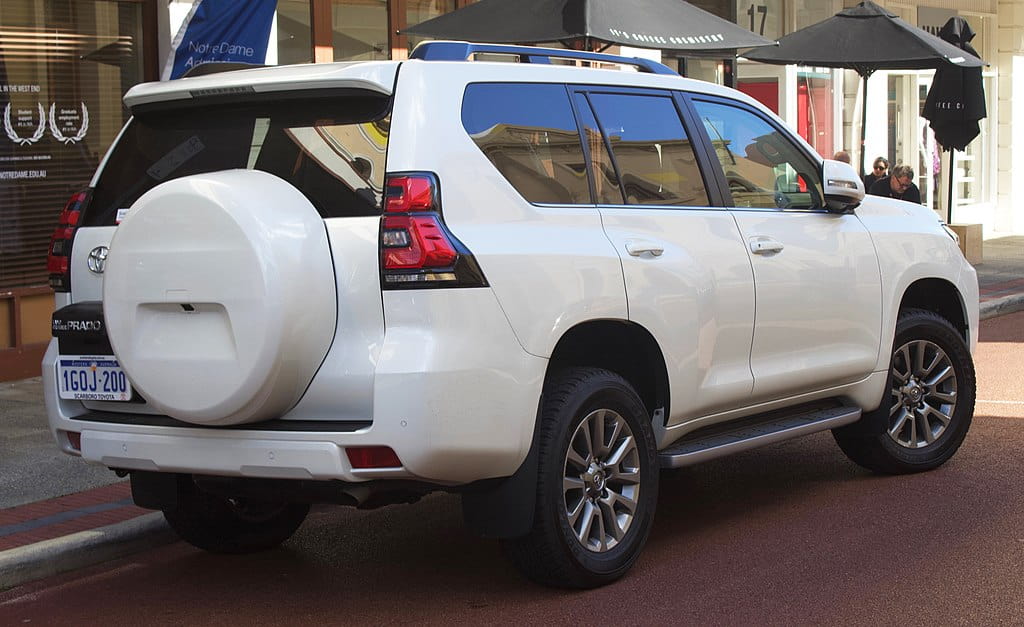 With a 93-liter primary fuel tank and a 45-liter sub-tank, the total fuel storage capacity is 138 liters. Combinedly, the fuel consumption rate is 9.5 ltr/ 100 km, but on low-range 4WD, it will consume 12.8 ltr to cover a distance of 100 km.
When it comes to the disadvantages of a Toyota Land Cruiser, the price tag sticks out like a sore thumb, as you need to spend a fortune to own this vehicle (starting price is $85,415). It also has an old-fashioned interior that many users may not like. Its lack of practical space inside the car can also cause inconvenience to the users.
Toyota Prado
A 2.8-liter four-cylinder turbo-diesel engine is what the users will get if they buy a Prado. Its towing capacity Prado is 2500kg in low-braked and 750kg unbraked for manual models. With automatic pushes, the braked capacity will reach 3000kg. Five people can travel in this car without feeling uncomfortable or cramped for space.
Contrary to its most competitors, there is no 4×2 mode in Prado. This car runs on a permanent four-wheel drive (4WD or 4×4) set-up. With a massive 150-liter fuel tank capacity, the claimed fuel consumption rate is 7.9L/100km in manual and 8.0L/100km in automatic. In practice, 9.5L/100km is the mileage that users should expect.
SEE MORE
Just like other cars in the Land Cruiser series, Prado also comes with a high price-tag, even being a high-specification model. It also does not have the necessary safety kit and does not support Apple CarPlay or Android Auto.
Conclusion
So, these are some of the common differences between the Toyota Land Cruiser vs Toyota Prado. Although both come from the house of Toyota, they differ in features and specifications. As Toyota Prado is not available in the USA, American customers have to remain happy by choosing Toyota Land Cruiser.