Toyota Camry Vs Nissan Teana: Which One Is Better?
Last updated
Jan 08, 2021
0 comments
Both Toyota Camry and Nissan Teana belong to the D-segment vehicles, which are defined as large passenger cars in Europe and mid-size vehicles in North America. Some compact executive cars also belong to this category. Despite sharing the same class section, these two models have many dissimilarities with one another. If you have been thinking of buying one of them, check the following comparison between Toyota Camry vs Nissan Teana.
The Comparison Chart: Toyota Camry Vs Nissan Teana
In fact, the entire D-segment has become stagnant. Some automakers have limited the distribution of their D-segment to some specific countries like Hyundai makes Sonata limited to Korean and USA markets only. Honda Accord and Toyota Camry still provide worldwide distribution and Camry is arguably the best-selling model in this segment but the sale numbers are not impressive compared to SUVs. Nissan still sells Teana across the world but they have not updated it since 2013.
How do Camry and Teana stack up against each other? Here's a head-to-head comparison:
1. Exterior And Interior Design
The Camry has a bit of flair when it comes to the 2.0L version. Its chrome grille and uniquely styled 17-inch alloys are eye-catching. However, the hybrid version features a modest design with simple mesh grilles and no front-bumper details.
     SEE MORE
Teana's style is subtler with its sporty backside, front grille, and teardrop-shaped headlights. The standard model comes with 16-inch wheels but a 17-inch version is also available.
However, Teana's dated interior is a big downside that looks even worse with faded black features. The cushy zero-gravity seats, dual-zone climate control, and powered driver and passenger seat compensate for the old look.
On the other hand, Camry looks more modern with wooden inlay and leather upholstery. Some standard features include an infotainment system with a 7-inch color screen, powered front seats and sunshades, and dual-zone climate control.
Comparing the boot space between Toyota Camry vs Nissan Teana, the former leads with 530 liters of space while Teana closely follows with 516 liters.
2. Engine Variations
Teana offers a choice between a 2.0L and 2.5L petrol engines and both are available with a CVT. The bigger engine yields 173 horsepower at 234 Nm of torque while the smaller one produces 136 horsepower at 190 Nm torque.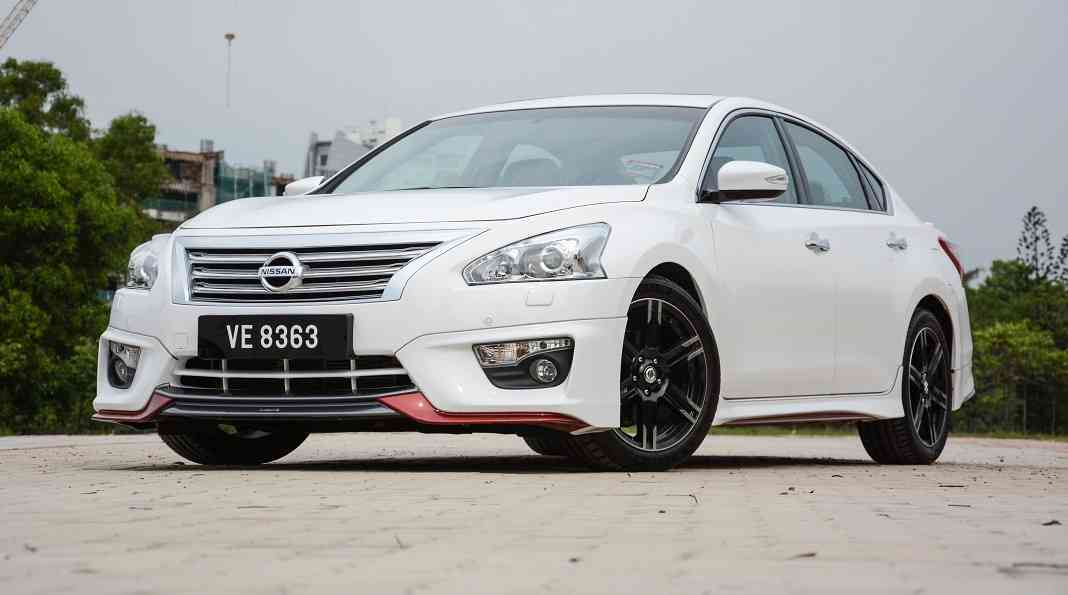 Camry offers two engine variations. The standard model features a 2.0L engine that generates 167 horsepower at 199 Nm of torque. A 6-speed automatic is the only transmission choice for this version. The fuel-economic hybrid model gets its power from a 2.5L unit that yields 160 horsepower at 231 Nm of torque. This one does the gear shifting and acceleration with an e-CVT.
The Bottom Line
If you have to choose between Toyota Camry vs Nissan Teana, the latter is a better choice for the value for money. Except for the outdated interior look, its comfort features and engine power are almost similar to those of the Camry. The only concern is its uncertain future, as Nissan has not confirmed whether it will continue its production.