The Truth about the Differences between Ford Edge vs Ford Escape
Last updated
Mar 01, 2021
0 comments
Ford is a brand that is another name of durability, innovation, and reliability to the automobile enthusiasts. It has impressive collections of crossovers and SUVs and almost every single model is an epitome of what the brand stands for. In this case, many people will find themselves stuck between Ford Edge vs Ford Escape although one is a midsize crossover SUV and another one is a compact SUV.
Ford Edge vs Ford Escape: A Brief Study
The Escape is a compact SUV that competes with the likes of Subaru Forester, Mazda CX-5, and Hyundai Tucson. The slightly larger Edge has its competitors in Hyundai Santa Fe Sport and Nissan Murano. Checking individually, you will fall in love with both models. But, when you have to make a choice between Ford Edge vs Escape, keep reading to know their similarities and differences. We hope that you will be able to make a perfect choice at the end.

1. Trim Levels & Price
Both cars are available in four trim levels. The Escape's base S trim is mainly targeted to the fleet owners. Most people go for the SE instead. The other two options are SEL and Titanium.
The Edge's trim levels are the entry-level SE, SEL, and Titanium. The SEL is the most popular option with their satellite radio and power adjustable front seats.
The Escape's base model starts at just below $24,000 while the Edge's base model starts at slightly more than $29,000.
          SEE MORE
2. Seat Comfort & Cargo Space
In this comparison between Ford Edge vs Ford Escape, the first one wins both sections. Unlike other midsize SUVs, the Edge offers two rows instead of three but it can comfortably accommodate five passengers. The Escape also accommodates five people but the cabin is not that much spacious. Even its competitors have more legroom.
The Edge boasts of 39.2 cubic feet of cargo space but it extends to 73.4 cubic feet in the base trim model because of the quick-release seats. The Escape offers 34 cubic feet car area but you can stretch it to 68 cubic feet with the 60/40 split of the rear seats.
3. Performance
Both models have three engine choices but the Edge is sure to impress with its 2.7L twin-turbo V6 engine with a mighty 315HP and 350 torque. The Escape's highest output machine is a 2.0L, four-cylinder EcoBoost engine with 245HP. Both of them runs on a 6-speed automatic transmission but the Edge has the edge with the wheel-mounted paddle shifters.
The Escape offers a smooth, sharp handling with the help of a responsive steering and well-tuned suspension. The Edge is also a joy to ride because of its precise steering and stable handling.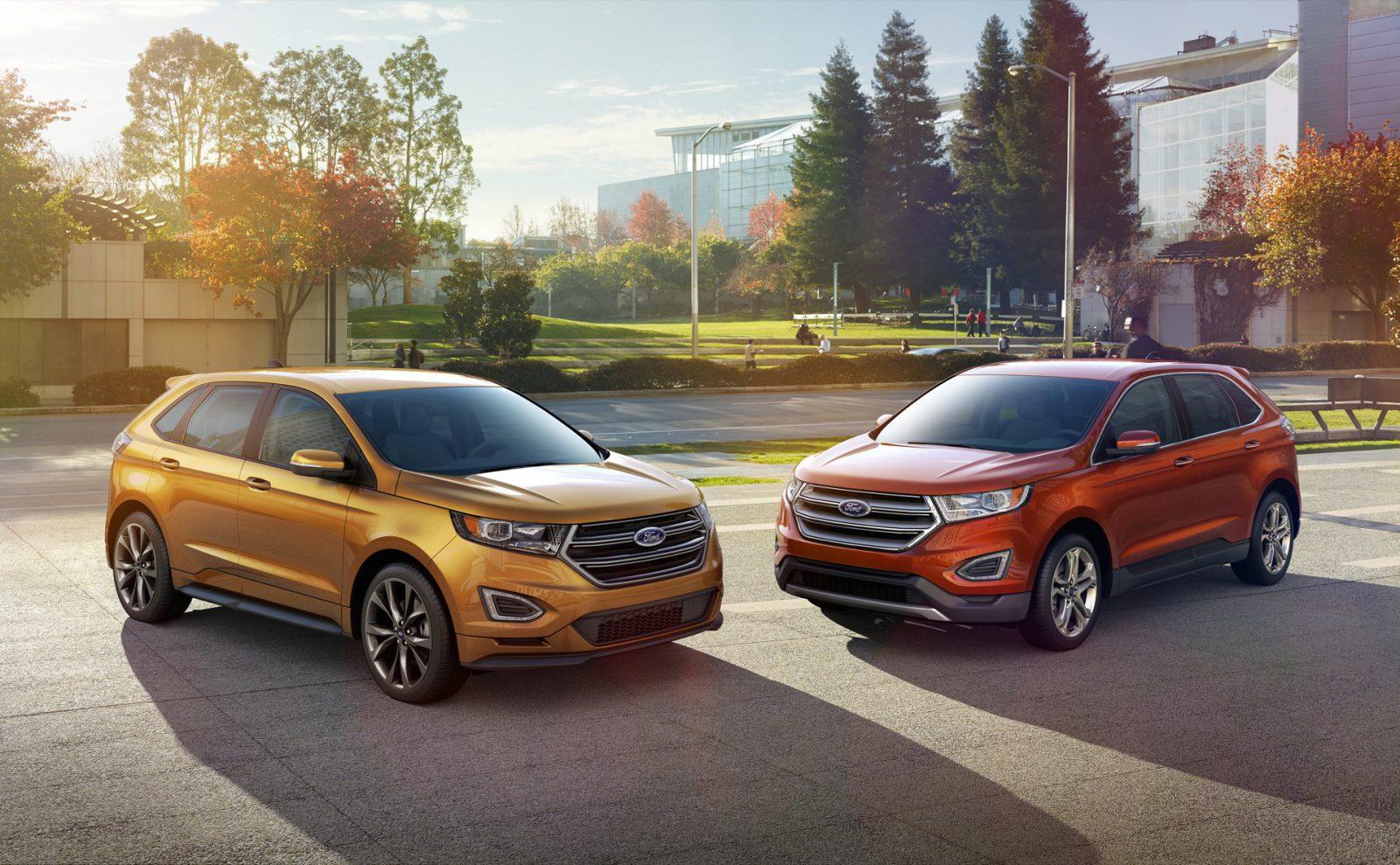 >> Looking for a high-quality used car from Japan, click here <<
4. Fuel Economy
The Escape gets the upper hand in this section of Ford Edge vs Ford Escape comparison. Its highest performing 1.5L turbo four-cylinder engine has a mileage of 23/30 mpg in city/highway. The Edge's best performing setup is a 2.0L turbo engine that provides a mileage of 21/29 in city/highway.
Check out the video below to see the comparison of Ford Edge and Ford Escape in more details:

In this Ford Edge vs Escape comparison, both models are poised evenly against one another with almost similar features and handling attributes. Still, you can choose the Edge for more legroom and cargo space or the Escape for its fuel economy and lower price.