Brief Comparison between Nissan Tiida Vs Nissan Note
Let's compare Nissan Tiida vs Nissan Note to find out which one is the better one.
Nissan Tiida
The Nissan Tiida is a production of a Japanese manufacturer Nissan. The Tiida has spanned two generations successfully since 2004. The word "Tiida" stands for "the sun". The first generation was manufactured between 2004 and 2012.
The series has the five-door hatchback and the four-door sedan as well. The car was launched in North America as Nissan Versa and in South America as Dodge Trazo. The model has bridged the subcompact and the compact car classes and thus acts as an intermediate model.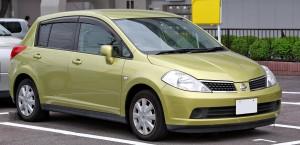 The second generation of new Nissan Tiida was introduced in the Chinese market. It was five-door hatchback C12 series which was launched in Thailand, Australia, and New Zealand as the Nissan Pulsar.
Compare the specifications
It is of subcompact class with 4 door sedan or 5 door hatchbacks. The layout boasts of Front engine, front wheel drive or four wheel drive.
It comes with four engine type;
1.8 L I4 (gasoline)
1.6 L I4 (gasoline)
1.5 L I4 (gasoline)
1.5 L I4 (diesel)
The curb weight turns out to be of 1,125-1,182kg.
Nissan Note
Nissan Note is a mini multipurpose vehicle launched by the Japanese company, Nissan. It was launched into the Japanese market in 2004 and then later in the international market too. This vehicle is a five-door hatchback. It has the intelligent key with brilliant proximity centers. The roof has arched line fusion concept and boomerang LED lights too.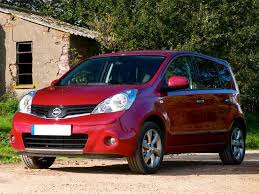 The double-deck four slot grille makes it more commodious and spacious one. It was unveiled at 2004 Paris motor show. The retail model of this automobile is based on the design derived from the concept of Nissan tone.
Car Specifications
It comes with 17-inch alloy wheels and a neatly brushed aluminum interior fittings. The body color is dark gray, black, silver perforated metallic design.
The vehicle sports classy sporty seats, with twin glass strips which run along the length of the roof.
Smoke plated front grille and gun metallic front grille on the series models.
Dimpled leather wrapped steering wheel laced with standard red stitching on it.
It is a cold terrain vehicle which includes 4-wheel drive as one standard equipment
The dimension specifications are as follows
Length-161.4 in OR 4100 mm
Width-66.6 in OR 1692 mm
Height-61 in OR 1549 mm
Front/rear Track-57.9/57.5 in OR 1,471/1,461 mm
Comparison:
On comparing, Nissan Tiida vs Nissan Note, We find the Tiida is packed up with impressive electronic fuel injection engine which helps amplify the fuel economy.
It also offers slightly better fuel economy on the highway and a better balance between the engine power and the fuel economy
Nissan Note is more spacious and has a commodious design. It has got an excellent dashboard. Nissan Tiida has excellent wheelbase of 2,600 mm and the hatchback of 4,295 mm
Tiida offers you better Bluetooth connectivity and voice control, then what you get in Note. It also has good sound quality of the audio system
Nissan Note offers you brilliant DRLs. Their steering wheels are more comfortable than that of what Tiida has.