Driving a Toyota Land Cruiser: Why Is It Appealing?
Last updated
Oct 27, 2020
0 comments
Toyota Land Cruiser is one of the top-selling car series in the world. Still, before purchasing a car, people may want to know the experience of driving a Toyota Land Cruiser.
The Appeal of Driving a Toyota Land Cruiser
So, here are some highlighted attributes that contribute to the positive experience of driving this model.
Splendid Off-Road Performance
Ever wondered why people prefer this car for mine sites, remote farms, and military purposes? It is because of the smooth off-track performance this vehicle delivers.
It comes with a heavy-duty Kinetic Dynamic suspension along with a rugged 4WD system that does not let passengers feel any road vibrations or jerks. There is also a Multi-Terrain Select feature with which users can adjust the traction of the car according to the specific road surface.
Hence, this car keeps rolling without any trouble even when going through sand or thick mud.
Comfortable Cabin
A 2017 Land Cruiser can accommodate up to eight people. Therefore, it is always a good option for taking families on a long trip. As the external noise will not be able to enter the cabin, children will easily fall asleep.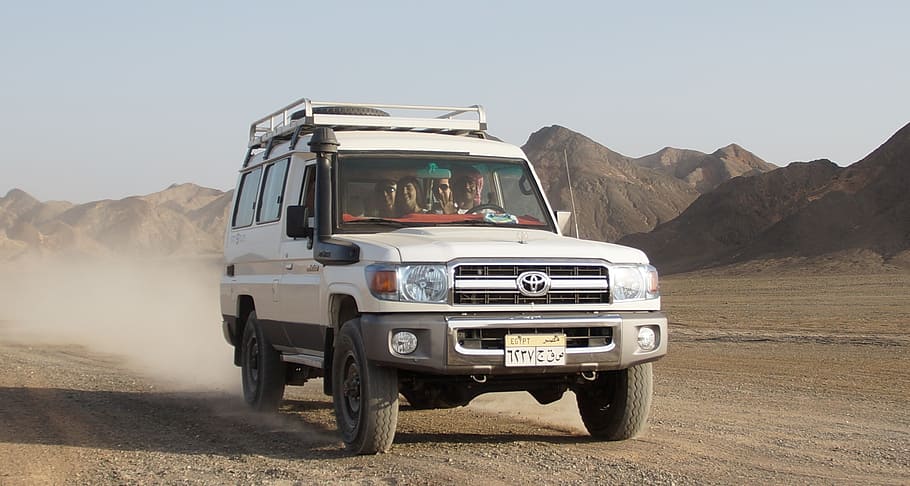 Youngsters will also enjoy the ride with the rear-seat entertainment system that consists of two display screens and wireless headphones. A wireless smartphone engine is also available in this car.
Multi-Purpose Vehicle
When users do not have any passengers to carry, they can turn this SUV into a spacious cargo. All the rear seats are foldable so that one can increase the storage capacity to a maximum of 82 cubic feet. This space is sufficient to transport everything, from furniture to camping gear.
Transformed Towing Car
While driving a Toyota Land Cruiser, users can make use of its sturdy frame. You can utilize this vehicle like a full-size pickup truck and tow a trailer weighing more than 8,000 pounds. Besides, this SUV can effortlessly pull a small boat or a pair of ATVs.
Powerful Engine
A tough engine ensures the seamless driving of a Land Cruiser. With this car, users get a 4.2 liter or 4.5-liter V-8 engine. Its fuel capacity ranges from 150 to 180 liters. This engine has already garnered a reputation among its users as a robust and durable one. It can generate 381 horsepower and 401 pound-feet of torque.
The latest models of Land Cruiser come with eight-speed automatic transmission. The minimum rumble that the car engine produces will ensure peaceful driving.
SEE MORE
Safety Measures
Since driving involves a certain amount of risks, the standard safety technologies of this vehicle will work as an insurance for the drivers.
Anyone can easily navigate this huge SUV through any obstacles with the help of a surround-view camera. The blind-spot monitoring feature is helpful on a busy highway. Technologies like automatic braking, adaptive cruise control, and safety connect assist in any emergency.
Conclusion
When it comes to the experience of driving a Toyota Land Cruiser, most drivers claim it to be positive. Due to the features mentioned, anyone who wants to drive the car will have a positive experience.