The Best Nissan Cars: A List Based on Reliability
Last updated
Feb 03, 2021
0 comments
Nissan is one of the best automobile companies that manufactures a range of innovative vehicles. With the help of modern-day automatic controls and a competitive price range, the best Nissan cars surely stand out from the crowd.
What Are the Reliability Factors of Nissan?
Nissan has earned the trust of millions of people around the world for making the most reliable cars. A recent independent survey shows that Nissan is 9th out of 32 automakers in terms of reliability. The average repair cost of Nissan cars is also relatively low, according to the quotes from top repair shops.
Best Nissan Cars: Top 7 Reliable Models
Although there are many good Nissan cars around the market, the following are the best in their class.
1. Nissan Titan
The best Nissan car to buy if you are looking for an SUV. Its competitors are the costly SUVs from GM and Ford brands. Although this model lacks some features of Ford and GM trucks, reasonable pricing is the key to its marketing.
The Titan SV with the convenience bundle is definitely a good choice. It comes with the following features:
Parking sensors
Nissan connect system
Dedicated navigation module
9.0-inch large touchscreen monitor
Heated front seats
Dual-zone cabin climate control
2. Nissan Versa
Nissan Versa, one of the top Nissan cars, comes in two variants — hatchback and sedan body construction. The car is packed with a list full of features and accessories, making it the best Nissan sedan.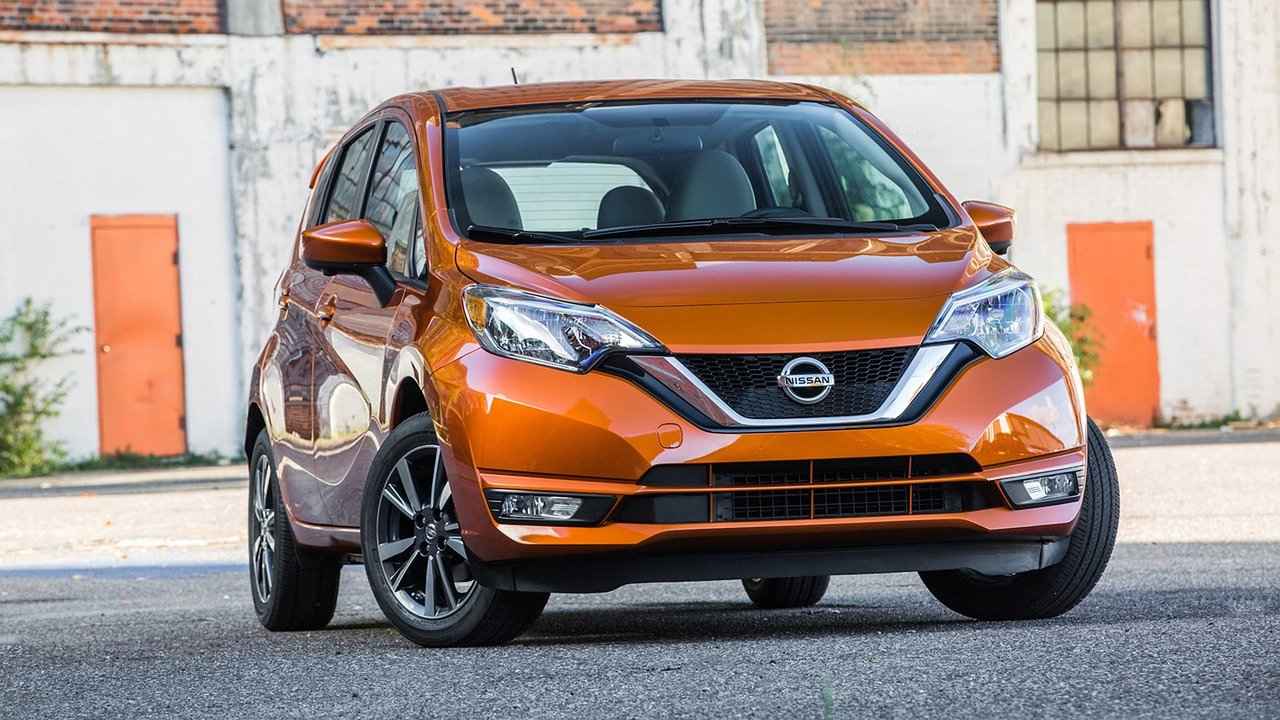 However, the most attractive feature is a higher reliability score than the competitors. The cabin design offers an airy and relaxing interior. Some of the noteworthy features are:
Redesigned reverse and forward emergency braking
Lane departure warning mechanism
An automatic pedestrian identification system
Fully automatic powerful beam headlights
The 2020 Nissan Versa contains advanced add-on features to catch more attraction, while the price is highly reasonable. Some of the add-ons are a blind spot monitoring system, hi-tech adaptive cruise control, and a rear cross-traffic alert.
3. Nissan Altima
Nissan Altima is a great commuting car along with a super cool style. Its engine has a 236 hp capacity, which ensures a smooth ride for this car. It also delivers an excellent fuel economy while comparing with same-class competitors.
However, the handling and interior could have been better. The 2019 and 2020 redefined models are more reliable and efficient. Some of the significant features are:
Larger touchscreen
An efficient turbocharged V6 engine
Apple car play and Android auto
4. Nissan Quest
Completely redesigned Nissan Quest 3rd generation minivans are better than the 1st or 2nd generation models. The manufacturer focused on improving the performance and style of the vehicle.
Further refinements in generation 4 models make this car a serious competitor of Toyota Sienna or Honda Odyssey. The minivan comes with a 3.5-liter V6 engine with a capacity of up to 260 hp.
5. Nissan Rogue
It is a small vehicle, but a decent crossover SUV without any doubt. This commuter car is suitable for all weather conditions and it has better fuel economy than competitors.
The Rogue has a roomy interior with airy and aesthetically-designed cabins. You can get a maximum of 70 cubic feet of cargo capacity by folding the rear seats. Otherwise, the trunk offers a generous 40 cubic feet of space. There is also a dual floor storage system.
This model is equipped with Nissan's ProPilot program. Some advanced technologies include a driver alert and assistance.
6. Nissan GT-R
It is one of the best sports cars globally and the top-performing racing automobile in Japanese streets. The 2021 model includes a 3.8-liter V6 engine with GT3 turbochargers. The powerhouse can produce up to 600 hp. Nissan GT-R 2021 model, which is undoubtedly one of the best Nissan cars, contains a 6-speed dual-clutch transmission protocol.
It has an aggressive and intuitive gear shifting with an adaptive gear shift control mechanism. There is also a Nissan navigation system for helping drivers in unknown areas.
Other attractions are:
NissanConnect infotainment services
Apple CarPlay integration
The 8.0-inch multi-touch control monitor
11-speaker Bose surround audio system
Standard Bluetooth hands-free telephony
SEE MORE
7. Nissan NV 200
The compact cargo automobile van offers adaptability in a cozy package. This competitor of Ford Transit Connect is available in S and SV trims. The S variant offering 40/60-split back cargo doors. NV 200 gets an advantage over the other class brands due to its budget-friendly price. Other features of this model are:
Power windows
Dual speaker audio system
Auxiliary input jack for infotainment
Manually sliding lateral doors
Conclusion
Nissan cars are quite reliable as compared to its contending brands. The vehicles' prices are at a reasonable range and repair cost is cheap as well. The cars also show alerts and notifications if something goes wrong besides offering good online support. This list of the best Nissan cars will help you decide on the best Nissan cars to buy.