Best Kei Cars That That's Worth Importing From Japan
Last updated
May 21, 2021
0 comments
The automotive industry has always been heavily regulated by environmental, taxation and safety laws, in some places more so than others. In Japan, the government's stipulations plus the demand for affordable cars during the rebuild of the economy after World War 2 have brought on the birth of "kei cars". The term is short for "keijidosha" in Japanese, which means "light automobile".
Initially a domestic niche segment of nimble, lightweight and underpowered cars specifically designed for the Japanese market, kei cars have quickly gained a dedicated following worldwide. Despite being severely limited by a number of rules, there are a bunch of kei cars that would make very fun rides on present day roads and available at a price range that's hard to ignore. Let's look at the 15 plus most interesting kei cars that's actually worth importing from Japan. There's a kei car to scratch every itch of any fervent enthusiast, from the cool to the cute, from vintage to futuristic looking, from the practical to the quirky or even bizarre, they will surely turn heads whenever they go. 
What Are Kei Cars? What Makes Them So Desirable Today?
Even if you're not a hardcore gearhead, you probably have heard the term, but might not know the interesting and rich history behind the invention and evolution of this unique automotive segment. At first glance, from the countless photos you can find on Google, Kei cars are, well, aesthetically pleasing supercars that were shrunk in the dryer.
The era when kei cars were introduced explained why they were so successful in Japan. After WW2, due to the shortage of materials as well as the high price of fuel, Japanese automakers could only produce pint-size four-wheelers with tiny motors. At the time, the government also offered tax incentives to encourage people to own cars, so these nimble kei cars were designed to fit under the most affordable road tax bracket. 
The first kei cars in Japan bursted out of the scene in 1949. Interestingly, these microcars were not a Japanese invention. But they instantly gained approval by the market, since in addition to the above historical circumstances, they were ideal for this distinct market, which was plagued with congested city roads and the extreme lack of parking spaces.
A kei car must measure less than 11.2 feet in length and 4.9 feet in width and 6.6 feet in height. With dimensions close to those of a go-kart, these are the smallest cars in Japan, or anywhere. The engines must be well below the 1.0-liter mark, and initially were supposed to be 350 cc or below, but regulations have changed several times since then. Now, the maximum engine displacement is 660 cc, making no more than 63 horsepower. Kei cars are generally fuel efficient, considering their small footprint, lightweight and the fact that they are made in Japan for the Japanese market.
Thanks to their fuel efficiency, cheap price tag, easy maneuvering and parking, government tax incentives given to owners, and of course their aesthetic stylings, kei cars made instant success. In 2018, seven kei cars made it into the top 10 best sellers in Japan. Although sales did drop for a while with increasing tax in 2015, it soon bounded back up. 
Despite their almost-ancient origins, Kei cars have continued on strong and become the definitive cars of modern day urban Japan. Most domestic automakers offer a wide selection for every purpose and buyer, from roadsters to sedans, SUVs, delivery pickups, microvans and even sleek and decently powerful sports cars. There are a number of models that are just plain weird to export markets, but being Japanese kei cars, they are always vintage looking and adorable.
Kei Car Exports: Should You Get One? 
Not all kei cars make for successful exports, due to the limitations in size and power. That said, there are many models with decent horsepower and equipped with turbochargers, which can also be tuned for more. And depending on your needs and driving circumstances, their nimble footprint and lightweight can provide a lively and unique performance, and might actually prove convenient for a number of purposes, such as delivery or commute on cramped urban streets. 
Before, Japanese kei cars were rarely exported outside Japan. However, with their rising popularity, many models have been exported rather successfully to other countries.
Traditionally, direct-from-Japan exports are of very high quality, due to the unique combination of low mileage driving habits, a fairly mild climate and very strict safety inspections that force owners to upgrade to a new vehicle much sooner than here in the west. This has created an enormous pool of affordable, well-cared for used cars that were typically sold to markets like Africa, India and Australia.
If you live in the United States, the good news is many kei cars are now eligible for legal import under the 25 year exemption rule. That means you can now get your hands on the sickest, most desirable crop of kei cars that were made in the early '90s, for a quite affordable price range. There are ample appealing options for fans of sporty and unusual rides. 
One important note though: if you're well over six feet tall, you might not fit or drive comfortably in one of these munchkins. If you're head over heels for these quirky and adorable vehicles, your best option would be the more spacious hatchbacks and vans. This list below has quite a few of those.
READ MORE
Best Kei Cars of All Times: The Stunning Retro 
Nissan Pao: Another Retro Classic
Let's start off our list with some of the most stunning retro classics of kei cars of all times. The compact and aesthetically pleasing Pao was introduced by Nissan even before retro was a thing in car design, and instantly became a big hit. 
The name "pao" is a Chinese word which means a Mongolian portable dwelling. And true to its name, this tiny, versatile kei car came with a distinct interior and exterior design under the concept of "adventurous spirit". 
PAO was exhibited at the 27th Tokyo Motor Show in 1987 as a concept car and later hit the market in 1989. It sold for only three years between 1989 and 1991, and came in a right-hand drive configuration catered for the Japanese domestic market. 51,657 units were quickly sold out in the 3 months. There was a long waiting list, and orders were delivered on a first come-first served basis.
The Pao was developed as a retro fashionable city car at Pike Factory, Nissan's special project group. That's why it's known as part of Nissan's Pike cars, along with the Nissan Figaro (covered further below), S-Cargo and Be-1.  
Being nimble and unassuming as it is, the Pao was capable of solid performance, with an independent suspension, and the 1.0 L (987 cc) engine delivers up to 52 horsepower, 51 mpg (5.5 L/100 km) in the city and 79 mpg (3.4 L/100 km) on the highways at a steady speed of 37 mph (60 km/h). A three-speed automatic transmission or a five-speed manual transmission was available, with the manual transmission being more popular.
The compact and lightweight Pao is very fun to drive. To reduce weight, it came with a canvas top, and required just 4.4 m to turn. It has a styling that resembles the most fashionable vintage cars of the era. Distinctive design features include a split rear tailgate like the Austin A40 Farina Countryman, the first British hatchback car (the glass section swings up and the bottom portion opens down to create a tailgate, also referred to as a clamshell hatch). Other notable features that made its name are the 'flap-up' windows similar to the Citroën 2CV, the side strakes that inspired early Woodie car body styles, and external door hinges like the fashionable 1960s Austin Mini.  
If you're in love with this beauty, the Pao has been fully legal to own and drive for a while now, first in Canada and later in the United States. A Pao can be yours for only about $6,000 for a model in good conditions. For a vintage looking car with a lot of character and so fun to drive, that's a steal! Another piece of good news is there's a healthy supply of affordable exports from Japan and good aftermarket support. You only need to pay for international shipping costs, and your local importer will ship the car to your door.
>> Check out awesome used cars ready for imports from Japan here << 
Subaru 360: It Was Called "Ugly" At The Time, But Not So Now
The Subaru 360 was among the first kei cars ever exported outside of Japan, including to the United States. It was nicknamed the "ladybug" in Japan, and this tiny microcar indeed reminds you immediately of the Volkswagen Beetle at the time. Compared to the Beetle, this Japanese kei car was $300 cheaper and 1,000 lbs lighter. 
The 360 was actually the first car that Subaru ever made. It was unveiled in 1958 and produced in 12 years until 1971, with a production of 392,000 units during its model run. 
From 1968, approximately 10,000 units were imported into the US and offered at $1,297. They were advertised as "cheap and ugly" at the time, but the 360 is certainly not ugly. It is highly sought after among the overseas car enthusiast community today, and was one of Japan's most popular automobiles back in the day. In fact, these tiny, slow cars paved the way for the bigger, more powerful cars that hit the market during the '70s and '80s.
The 360 was available in a single generation, and offered in three variants: the two-door station wagon, the "convertible" sedan with a roll-back canvas roof and the sports car, which means you can pick the one that satisfies your quirks. It was representative of the Japanese kei car of the post-war period, with an inexpensive price tag, a nimble footprint and a 1,000 lb curb weight (this weight exempts the model from compliance with US safety regulations). 
This adorable vintage kei car came with a lightweight fiberglass roof panel, rear-hinged doors and swing axle rear suspension. A notable feature was the monocoque construction. Monocoque is a French word meaning "single shell", and refers to a type of automotive construction where loads are supported by the car's external skin instead of an internal frame. The monocoque construction alone made the Subaru 360 different, since manufacturers were switching to unibody construction after WW2, and is now the norm for passenger cars and many light trucks. 
The nameplate 360 was derived from its 356-cc engine displacement under the kei car regulations. The two-cylinder engine, which produced from 365CC to 423 CC, meant that the 360 was desperately underpowered, true to its nickname "ladybug". During its first production year in 1958, the early engine produced a negligible 16 hp (12 kW) and increased to 25 hp (19 kW) by the end of its model run. An optional 36 hp (27 kW) twin-carbureted engine was also available. 
Equipped with a 3-speed manual transmission, this tiny bug had a top speed of 60 mph (96.6 km/h). Although it was slow, the 360 boasted decent fuel efficiency at 66 miles per gallon, thanks to its small size and lightweight. 
Like other kei cars, this engine limitation was due to the fact that these vehicles were engineered for the typical driving conditions in Japan, with short daily driving distances averaging 5–8 miles (8–13 km) and low speed limits at 40 km/h (24.9 mph) in the cities.
The Subaru 360 was replaced by the lesser known but more performance-focused R-2, which was in turn quickly replaced by the long-lived Subaru Rex. In 2020, a Subaru 360 sedan in excellent condition (#2) could be had for around $10,000, which was pretty affordable. However, in 2021, prices have somehow skyrocketed to $40,000 and above. Let's wait a while to see if prices cool down a bit when the pandemic is subdued. 
READ MORE
Honda S600/S800: Understated, But Looks Expensive
Honda S600
Honda was one of the first Japanese car companies to enter the American market in the '60s. Prior to the '60s, Honda was primarily a maker of scooter motorcycles. And the cute little roadster S600 was one of Honda's first ever car models, which bursted into Japan's automotive scene in 1964. It was an extremely compact and lightweight two-seater convertible, with an understated, unassuming yet sophisticated and classy styling. 
Built between 1964 and 1966 as Honda's introductory 2-door sports car, the S600 was engineered and made to an incredibly high standard in true Honda spirit. It boasts superb craftsmanship inside and out, including a motorcycle engine that revved to 9500rpm. Well-made and revvy but not showy, the S600 was the embodiment of Honda's philosophy and was the solid foundation for their later four-wheelers.
It first came out in right-hand drive only, but soon offered the left-hand drive version to appeal to overseas markets. In addition to the standard trim, there was also the upgraded SM600. The SM600 offered an array of usability improvements, including better cushioned seats, a detachable seat track for quick removal of the passenger seat, a standard radio and speaker, standard reversing lights, a standard heater, a standard cigarette lighter, special paint colors and more.
The 600CC engine delivered just 57 HP but thanks to its curb weight of just 1,500 pounds, the S600 still offers a lively driving experience. Interestingly, the chain drive in the S600 came straight from Honda's scooter motorcycle drivetrain system. 
During its three-year production run, the styling was largely unchanged, except for adjustments to the headlights, front grille, and bumper. This little roadster later offered a coupe variant in 1965. More than 11,000 roadsters were produced, of which only 1,800 were coupes.
The S600 was replaced by the S800 as Honda's image car in 1967, an equally desirable kei car both in Japan and overseas. The S800 was an upgraded, more powerful version and also available as a coupe. A used Honda S600 or S800 can be had for anything between $23,000 and $40,000 at auctions.
Honda S800
The S800 was first introduced at the 1965 Tokyo Motor Show and like the S600, it was available as either a roadster or a coupe. The S800 continued to use the chain drive and independent suspension in the rear found in its predecessors at first, and later adopted a conventional drive-shaft, live axle rear end with four radius rods and a Panhard rod for a while, then the front drums were replaced by disc brakes.
In part thanks to Honda's expertise in manufacturing powerful motor-cycle engines, the S800's 791 cc straight-4 engine delivered a healthy 70 horsepower (52 kW) at 8000 rpm and a decent top speed of 100 mph (160 km/h) automobile, while still achieving a fuel efficiency of 35 mpg (6.7 L/100 km). In 1967, the S800 was the fastest 1-litre car in the world thanks to its high revving 10,000 rpm engine . 
Up until 1970, about 11,500 S800s were produced. Production of the well loved S roadsters was put on halt for nearly three decades until the release of the S2000 for the 2000 model year.
In addition to the S600 and S800, you can also check out the S800M (aka S800MK2) designed for the American market. It was introduced in 1968, with dual-circuit brakes, lean burn carburetion under the bonnet, flush mounted interior door handles, safety glass and exterior side marker lights, but was never officially exported.  
Nissan Figaro: Retro and Classy 
Technically, the Nissan Figaro does not fall into the Kei cars category, since they are slightly larger and have a bigger engine size. However, it's very close to the Japanese microcars of the segment, plus it's so gorgeous we couldn't leave it out. 
And being a 1991 model despite its vintage look, it is much younger than many of the kei cars in this list, which means as a project car, it might be easier to work with and requires less repairs. Their more spacious dimensions also make more sense for imports to Western markets. 
The Nissan Figaro is a true beauty, with complete retro styling that will never go out of style. In fact, with only 20,000 of these made back in the day, these classics will only become more eye-catching and desirable with time, so better get it when one is available within your budget. 
The Figaro was introduced in 1991 as a limited-edition car based on the Nissan Micra platform. It came standard with automatic transmission, a stylish new body, a big sunroof, bespoke interior and many upgrade options. The diminutive 987 CC turbocharged engine delivered 77 HP, but when coupled with a small and light body, it is still a ton of fun to drive.
It immediately attracted the domestic market as well as Japanese car fans overseas. There were so many buyers lining up to get a Figaro at the time that Nissan organized a lottery, and winners got to buy the car. Today, it's still one of the best kei cars of all time.
Best Kei Cars of All Times: The Cool and The Cute
Autozam AZ-1: The A of "A-B-C Kei Cars"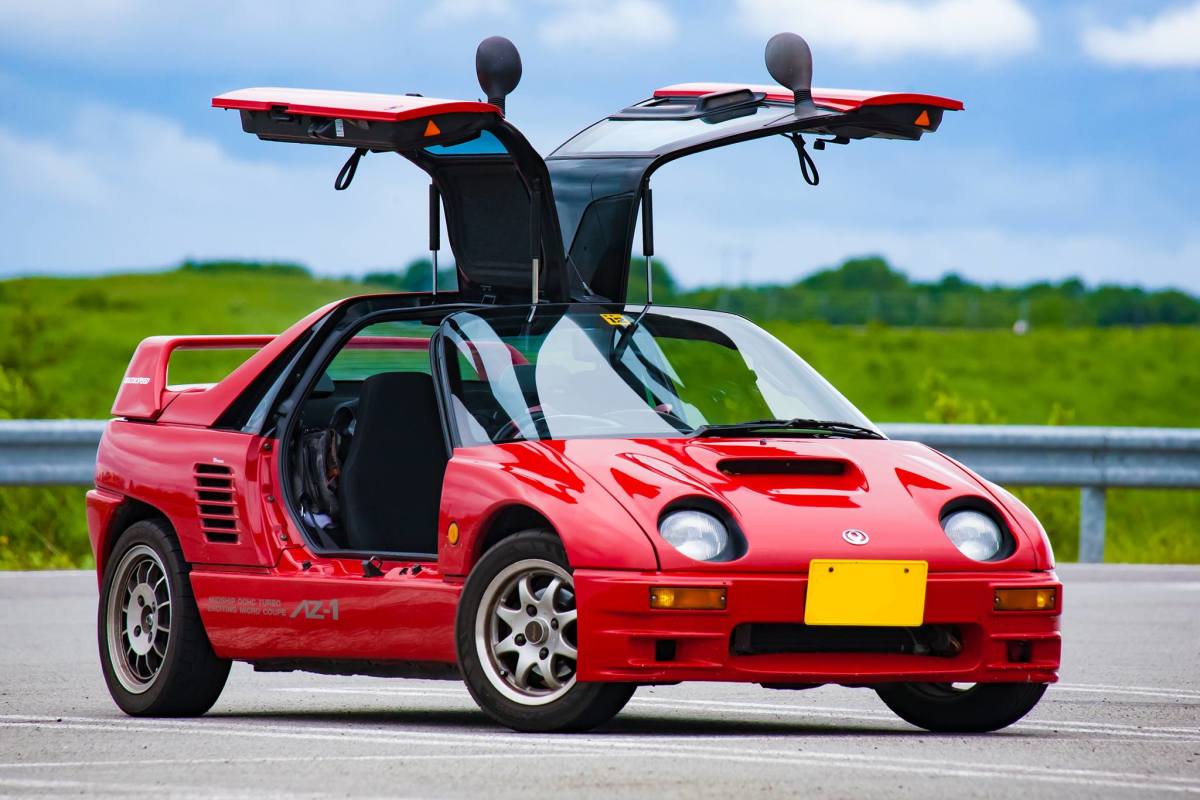 Next is the performance-oriented kei cars trio. First, the A of the A-B-C Kei cars of the '90s was the legendary Autozam AZ-1, manufactured by Mazda but sold by Suzuki during 1992-1995. It was a proper sports car, and in fact even considered by many as the only supercar in the kei car segment, despite its unassuming size and a curb weight of only 1,500 pounds. 
This adorable sports car comes with a turbocharged three-cylinder 657-cc engine that delivers 660 CC and a healthy 64 HP. What made it so successful in Japan were its cool gullwing doors, solid chassis, exotic styling, decent performance, and lively driving dynamics thanks to its lightweightness. The limited edition of this model was also powerful and eye-catching, sporting an extra-large rear wing. 
Despite having an engine displacement comparable with the Honda Beat, the B of the sports car trio, some Autozam models are twice as expensive as the Beat because of its exotic and stylish design alone. 
The only downside to this beautiful, powerful and fun-to-drive kei car is that it's relatively rare, since Mazda churned out less than 5,000 of them. If you are in love with the Autozam AZ-1, the good news is you can import it to the U.S. now that they're reached the 25-year eligibility status. 
Honda Beat: The B of The Kei Car Trio
The Honda Beat, the B of the A-B-C Kei cars, is also older than 25 years and can be imported to the U.S., so take your chance and hunt for one before prices go up due to high demand. The rear wheel drive, mid-engined two-seat roadster Honda Beat has consistently been one of the most loved and sought after Kei cars ever. 
This mini supercar comes with a drop-top. Its cool sporty design came from Pininfarina, the legendary Italian coachbuilder. 
Its production run during 1991-1995 means it was then under the 660cc regulations, so the Beat came with a 656-cc three-cylinder engine and individual throttle bodies that delivered a healthy 63 horsepower (47kW) and revved over 8,000rpm. You wouldn't be far off thinking that that sounds quite like a motorcycle engine, making it similar to the Honda S600 and S800 above in a way. Also, the Beat was naturally aspirated with a five-speed manual transmission, another feature in the typical Honda fashion. 
Coupling with such a decent engine, its light curb weight at just 1,656 pounds make for immensely lively and fun driving dynamics. Honda built over 33,000 in its five-year production run, so it's not as rare as some other Kei cars in this list. Its current price on the used market is relatively affordable, ranging from $6,000 to $11,000 depending on the model year, mileage and condition. 
Suzuki Cappuccino: The C of The Trio, Also Cute But Powerful
Along with the Autozam AZ-1 and the Honda Beat, the Suzuki Cappuccino completed the A-B-C performance-focus Kei car trio of the '90s, with an 8-year production run during 1991-1998. This two-seat sports car is loved for its eye-catching long hood plus short rear deck design: minimal, sporty but adorable with a hint of retro styling. What makes it even cooler is the multi-transformable roof, which could turn it into a Targa-top or even a full convertible.
As cute as it looks and sounds (Cappuccino!), it's relatively powerful considering its tiny footprint. Sliding in under the 660cc limit, the Cappuccino is powered by a turbocharged 657cc three-cylinder engine that produces a good 63 hp, so it's closer to Espressos than Cappuccinos. 
The front-mid engine layout means all of its horsepower is sent to the rear wheels via a five-speed manual or a four-speed automatic. This coupled with its modest curb weight of just under 1,600 pounds and its nimble size makes for a lively driving experience.
Everything about this roadster, including its aesthetics, makes for a recipe for a lot of fun. It's also affordable and can be readily sourced from Japan, with a Cappuccino in excellent condition now trades for around $10,000 on the secondhand market. 
Toyota Sports 800: First Sports Car From Toyota
The most well known sports car by Toyota is probably the Toyota 2000GT, which was further made famous thanks to the James Bond movie. But you might not know that just two years prior, in 1962, the automaker introduced an oddjob-sized sports car called the Sports 800, its first ever sports car. The Toyota Sports 800 has an endearing short-form nickname in the Japanese market: "Yota-Hachi" (ヨタハチ), or "Toyota 8". 
Back then, Toyota was a young and green automaker, so they only built over 3,100 Yota Hachis up until 1969 for the domestic market, with some exports to southeast asian neighbors. This means that this vintage sports car is rare, and you need at least $40,000 to get one of these bad boys at auction. 
Another piece of bad news is there are only about 300 of the original Sports 800 in working conditions to date, making them just as  rare as the highly sought-after 2000GT, which has a production run of 351 units. 70% of the model did not survive in whole, due partly to dying engines that couldn't be replaced due to lack of available parts, and partly due to rusting thin steel unibody.
The vast majority of the 3,131 Sports 800 were right hand drive. Some 300 cars though were built primarily for the American-occupied Okinawa market, where cars were driven on the right side of the road, so they were left hand drive.
The Sports 800 was unique in many ways. First off, it came with a removable roof from the factory that can be neatly stored away in the trunk. Secondly, it's notable for its fighter-jet-style  styling and construction. Interestingly, the developers of this kei car were the WWII aircraft designer Tatsuo Hasegawa and his partner Shozo Sato from Datsun. This is why the Sports 800 employs various aerospace engineering principles in its materials and design.
The fighter jet theme includes a one-piece sliding canopy instead of conventional doors, a feature derived from the 1962 Publica Sports prototype. To reduce weight and improve aerodynamics, thin-gauged steel was used for the unibody while the hood, roof panel and trunk lid (and even the seat frames during the first few years of production) were made from aluminum. At the time, aluminum was mostly used for building fighter jets.
It came with a diminutive 800 cc engine that delivered 45 HP with dual carburetors, an improvement from the 700 cc engine that produced a mere 28 HP. Despite being underpowered, this lightweight microcar is still very fun and practical to drive given its agility, and also fuel efficient. In Japan, the Yota Hachi was the ideal vehicle to drive and park around town at 70 km/h (45 mph) while still achieving the advertised fuel economy of 73 mpg. It also has performance credentials on the race tracks, with a decent top speed of about 160 km/h (100 mph), quite impressive for such an unassuming profile. 
The basic body design remained the same over its model run, although there were subtle changes, including the switch from non-synchronized to synchronized first gear, changes to the grill and bumperette, and later the side marker lights.
Suzuki Alto Works: One Of The Fastest Kei Cars Out There
If you're looking for a cheap city car that can put a smile on your face while still being practical every day, you'll be hard-pressed to find something as quirky as this all-wheel drive Suzuki Alto Works. Its selling points have long included a low price and good fuel economy. 
While it may resemble the Renault 5 a bit, the Suzuki Alto Works is a two-door Kei hatchback and belongs to the second generation of the Alto line. It was introduced in February 1987. This was the first kei car to reach the legal limit of 64 PS (47 kW). This is the fastest version of the Alto Kei car, and rather nifty to drive, even if it looks more like an amusement park ride.
Like most Kei cars, it uses a transversely mounted front engine layout, limited to a displacement of 660cc. Power from the 12-valve three-cylinder engine is capped at 64 horsepower and 63 lb.-ft. of torque, going to a five-speed manual transmission. The engine can, in JDM style, be tuned for more. Where this car differs from most other Kei cars is in the rest of the drivetrain—it sends power to all four wheels.
Honda S660: A Mini (Acura) NSX
The little roadster Honda S660 belongs to Honda's family of "S" models and is a lightweight two-passenger sports car with a transverse mid-engine, rear-wheel-drive layout. Segment-wise, it is the successor to the iconic '90s Honda Beat. Even its size and styling resembled the Beat. So if you have a hard time sourcing a Honda beat in good condition, the S660 might be the perfect alternative kei car.
Another iconic vehicle that the S660 resembled is the NSX. In fact, the Honda S660 is described by many as an NSX shrunken in the dryer. Not just in terms of style, the S660 roadster also has a mid-mounted engine just like the NSX that produces 63 HP, but with just three cylinders, 660 CCM, and a turbocharger. 
The result is practically ideal handling. Back in the day, it was declared by hardcore gearheads and professionals as offering one of the best driving experience within the kei cars segment, despite not equipped with a very powerful engine.
The car is available in two trims, Alpha and Beta,with paddle shifters and either a six-speed manual or a seven-speed CVT automatic. 
An advantage of buying a S660 is that it's produced from 2015 to date, thus even if you buy used, whatever is available should be very young with a few miles on the odometer. This is part of the reason for its modern styling. The rest is probably due to it being developed by a 22-year old engineer. Fun fact: That 22-year old engineer was Ryo Mukumoto, who at the time beat 400 other participants in Honda's in-house competition to be the youngest lead engineer in the company's history and was given 5 years to to lead a team to develop the S660.
On the second hand market, a Honda S660 in good to excellent condition now trades for around $12,000 up to $17,000 depending on model year, mileage and condition.
Mazda R360 Coupe: Most Affordable Sports Coupe Back In The Day
Presented in 1962, this tiney kei coupe was the first four-wheeler that Mazda produced. During its short production run between 1960 and 1966, it became one of the best selling Kei cars. 
The R360 was a compact and stylish two-door, four-seat coupe. As for downsides, it's very much underpowered, with a rear-mounted V-twin engine delivering a mere 16 HP.  Interestingly, this falls into the sports car category since it tipped the scale at just over 837 lbs or 380kg. Different variants were available, including the P360 sedans and even the B360 pickup. 
This kei car has a notable history. When the R360 bursted into the Japanese market in 1960, it broke conventions in many ways. This era saw the boom in demand for car ownership in Japan, while not many people could afford a car, even the microcars for the masses. Then, Mazda introduced the extremely affordable R360 coupe, which could be had for much cheaper than a micro-mini car at the time.
The debut won instant success. Just prior to the R360 Coupe's official launch, Mazda had already received orders for as many as 4,500 units.
One half of the success was attributable to Mazda's commitment to manufacturing efficiency and the use of advanced technology, which allowed for its low price tag of only 300,000 yen for the manual transmission version and 320,000 yen for one equipped with a torque converter (the first ever in the country).  
Part of its fervent popularity came from its performance allure, thanks to the use of cutting edge technology that was ahead of its time. The R360 Coupe was the first passenger microcar to be equipped with a four-stroke engine, which delivered better fuel efficiency and durability than the two-stroke version. It also broke convention in the automotive world with a four-wheel independent suspension system employing torsion rubber for improved driving dynamics, plus a torque converter and an array of advanced technologies. Thanks to a light monocoque body, light alloy hood and other measures aimed at reducing weight, the R360 Coupe is very fun to drive and delivers decent fuel economy. In fact, it is the lightest Japanese passenger car ever produced.
Daihatsu Copen
You might not have heard of this brand before. Daihatsu is a smaller, lesser known brand, but back in the post-WW2 era, it was known as the creator of the 2-door convertible Copen, much loved for being tuner-friendly and for its insanely cute styling. The little Copen looked like a shrunken version of the Audi TT Roadster in the early 2000s. 
The Copen was a representative example of the Japanese kei cars movement at the time. Everything about it screams "kei", from its diminutive dimensions to its sporty looks and the small-fry 660cc engine. While the motorized hide-away hard roof was the leading characteristic of this model, a variant produced between 2002 and 2007 did come with a detachable top. 
Bursting into the Japanese car market scene in 2002 and is now in its second generation (debuted as the Kopen), the Daihatsu Copen is one of the youngest models of kei car with the least years on it. In addition and more importantly, its popularity among car enthusiasts is due to its highly customizable nature, which makes it the ideal project car. 
The 2nd Generation Kopen
At the 2013 Tokyo Motor Show, Daihatsu unveiled the concept car for the second generation of the Copen. It's called the Kopen, with the tagline "Future Included". The name "Kopen" was a blend word, derived from "kei" of "kei cars" and "open" which refers to the characteristics of convertible roadsters. 
The Kopen was lighter than its predecessor, and featured a new monocoque chassis structure called a D-Frame, a new 660cc turbo three-cylinder engine with DVVT, a new suspension system, and better sounding exhaust system. The new versatile D-Frame allows owners to customize their dream roadster with a selection of interior and exterior designs. Styling-wise, it has been redesigned to be more angular. 
Suzuki Fronte Coupe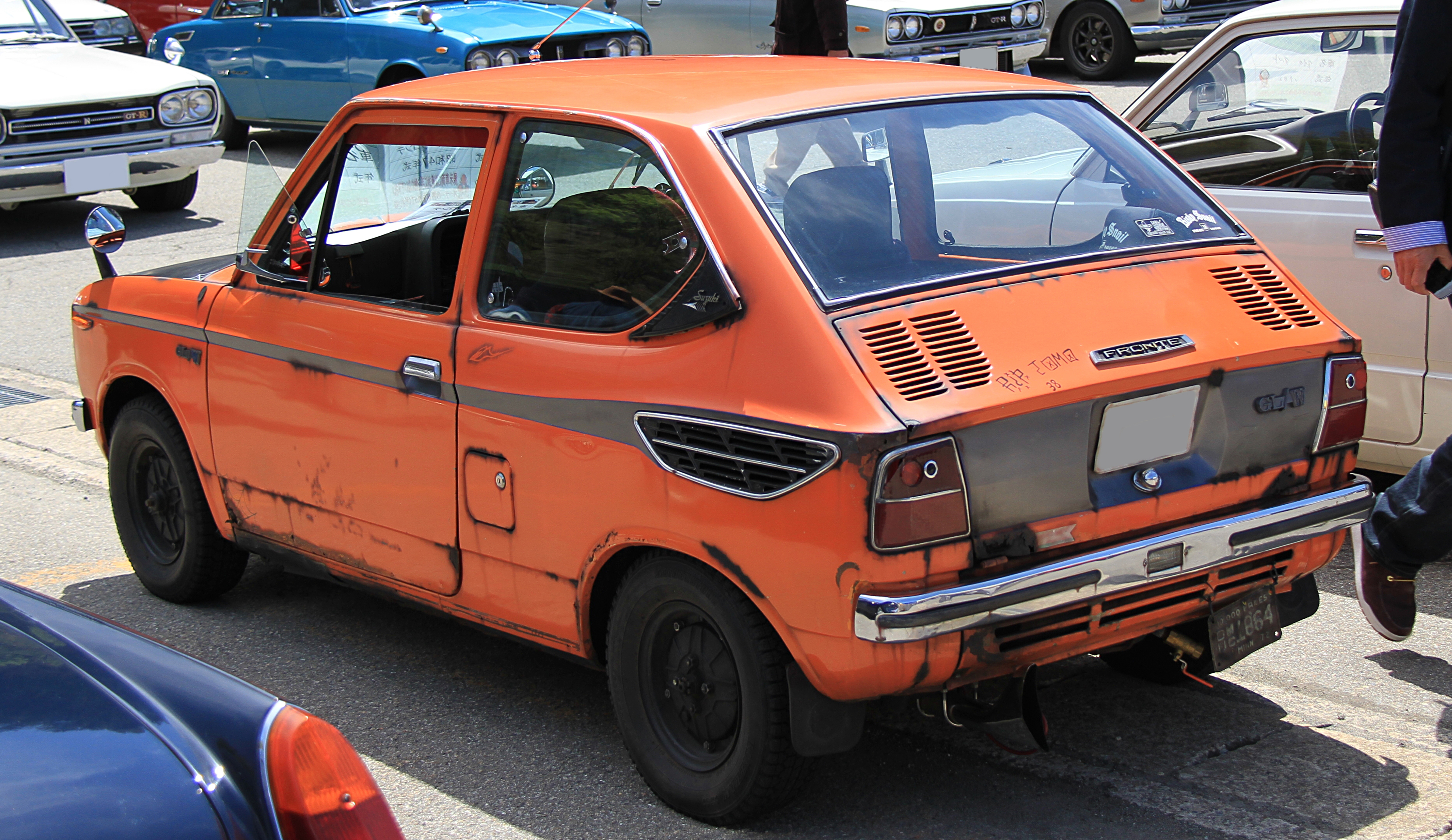 The Fronte Coupe was introduced in 1971, that is over ten years into the Kei car genre, so kei cars of this period were heavier than their founding fathers. At 500kg, the Fronte Coupe was a hefty beast compared to most of the kei cars in this list. It was produced during 1971-1976, then the upgraded version Cervo SC100 came out during 1977-1982.
This Giugiaro-designed, RWD 2+2 kei car coupe broke the mold when it was presented. First was its cute, understated wedge shape that turned heads both domestically and overseas, despite its miniscule dimensions of 3 meters long, 1.3 meter wide and 2 meters between axles. 
Performance-wise, it's an exciting little ride packed in a very confined envelope that boasted the same mechanical layout as the classic Porsche 911. Its engine was also mounted at the tail and drove the rear wheels like the Porsche 911, while its 42:58 weight distribution was actually better than the Porsche. Other desirable features include the all-independent suspensions, sports-car-type front disc brakes, plus double-wishbones up front and semi-trailing arms at the back.
Its underpowered 360 cc 3-pot engine only produced 37 horsepower, but when divided by 0.36 liter, it still delivered one of the highest specific outputs in the kei car segment. Suzuki claimed that the 2-stroke engine worked just like a six-cylinder motor, despite having only three cylinders. The decent power output coupled with the low roof line and overall aerodynamics allowed for a top speed of 78 mph, which was impressive for such a diminutive engine.
For more interesting updates, head to our comprehensive library of car reviews.
Best Kei Cars of All Times: Pickups, SUVs and Vans
Suzuki Jimny: Rugged But Cute Off-Road SUV
The Jimny was an icon in the SUV category of kei cars when it was first launched in April 1970. Although what you see these days is no longer considered kei cars, especially the ones that are exported, Japan still has a Kei car version of the four-wheel drive off-road mini SUVs to date by putting in a small engine and getting rid of the fender flares and bumpers to make it smaller.
While most K-cars are designed for urban errands, the Jimny double duties as a versatile and capable 4WD off-road vehicle. That said, it's also perfect for maneuvering and parking on cramped Japanese city streets, thanks to its compact size, lightweightness and thus decent fuel efficiency.
The base model is powered by a 660 cc, three-cylinder, turbocharged petrol engine. The Jimny Sierra, which was made for export markets, boasted a 1.5 L four-cylinder naturally aspirated petrol engine that produced 100.5 hp at 6,000 rpm, and featured increased displacement and wider dimensions. Spanning four generations, all Jimny featured a ladder frame chassis, that is separate frame and body. This construction means the body serves only as a cabin to protect against the elements, with no structural carrying role. 
The Jimny has made for successful exports to Europe, Canada, South America, Australia, New Zealand, India and many SEA countries. It has been exported to the US, but was later withdrawn.
Suzuki Hustler: A Practical Crossover SUV
Even though the Suzuki Jimmy has been the most popular compact SUV in Japan back in the day to date, Suzuki made another crossover SUV that gets equal praise: the Hustler. An interesting, unique and practical feature that it's known for is the folding seats that can transform the interior into a sleeping area during road trips. 
This K-car is loved mainly for its retro look, decent fuel economy and a long list of options. With a 660 CC engine that puts out around 65 HP, it is not the fastest thing on the road, but is practical for urban driving and offers quite lively rides. 
Daihatsu Midget: Tiny & Bizarre Delivery Truck 
Introduced in 1957, the Daihatsu Midget is a single-seater, 3 wheeled mini-truck with tiny engines, created as a light delivery vehicle for tight spaces. In 1993, it evolved into a microvan/kei truck with two seats. Being a light delivery vehicle, it only weighs 1,257 lbs. and has a cargo capacity of only 330 lbs. (150kg), despite being a truck.
The second generation was introduced in 1996 with 4 wheels, four-wheel drive and several unique features,  as well as the optional air conditioning. At less than 9.5′ long and barely over 4′ wide, the Midget II is a bizarre looking tiny truck and can fit in any parking spot. 
The line includes several distinctive models, all having in common a single or two-seat utilitarian design and semi-enclosed cab, while an enclosed cab can be had from the factory as a specialty option. Another semi unusual thing is that the spare tire is on the front, a common feature with the Volkswagen Type 2 hippie van. Although production ended in 1972, the funny looking truck still amassed a dedicated following in Japan, and there was even a racing series at one time. 
The second generation model came with a 660cc engine that delivered 45hp while maintaining an EPA of 45 mpg. You can choose between automatic and manual transmissions. 
Suzuki Mighty Boy: Technically a Pickup, But … 
In addition to the Midget, this small K-car with a memorable name was another pickup that is hard to believe it's a pickup. Basically a K-truck with a tiny bed behind the front two seats, it is definitely one of the most interesting Kei cars ever made. Introduced in 1983 and produced up until 1988, this mini-size coupé utility was the only bonnet type pick up sold under the 550-cc kei car restriction. 
Despite being classified as a commercial vehicle in Japan and Australia so as to benefit from lower taxes, its 550 cc engine (which produces 31 HP) and an equally diminutive load capacity means very limited utilitarian values. However, this unique "pickup" (well, technically) still won a huge fanbase in Japan and actually proved useful for various urban delivery purposes, thanks to low fuel consumption and small footprint, which makes maneuvering and parking in the cramped city streets less of a headache.
Mitsubishi Minica Lettuce: Cute Commute Car For Mothers
This half-glass liftgate Kei car, the Minica Lettuce, is as cute as its name. All eyes would be on it if it ever roams on the street anywhere outside of Japan. 
The Minica as a whole was marketed towards female buyers, but the Lettuce was even more so. A telltale characteristic is that the two passenger doors are on one side, with only one on the other. This design was to prevent small children from getting out of the car unattended, and for Japanese mothers to easily move young children and groceries out from the passenger side of the car. "Lettuce" is also a pet name aimed at attracting lady shoppers.
Interestingly, Mitsubishi jointly designed the Lettuce with Seiyu supermarkets, one of Japan's largest supermarket chains, to specifically make the ideal commute car for grocery shopping and transporting young children. Seiyu was selling the $6,000 car in its supermarket chain, not far from fresh farm produce.
Like most K-cars, the Lettuce was still an economy hatchback, but the way Mitsubishi played on that format made for a recipe for fun. It was relatively spacious, more like regular-sized hatchbacks than K-cars, with higher-quality interior materials, a more upscale aesthetic, improved braking, handling and stability. 
By the time the Lettice hit the market, the limit imposed on kei cars increased, so Mitsubishi missed out on cramming a 660cc engine under its little hood rather than the 550cc it made do with, which delivered 46 horsepower, still decent for urban commute. 
Daihatsu Mira Cocoa: Another Feminine-Looking SUV For The Female Drivers
Launched in August 2009 to the Japanese domestic market, this is another one of the younger kei cars, and also marketed solely to female drivers. In addition to its sweet name and heart-warming retro styling, this 5-door hatchback is a practical and well-rounded commuter car, a 658 cc front engine that produces a decent 51 hp, a 4-speed automatic CVT transmission, and available in either front-wheel-drive or four-wheel-drive. The model bears a slight resemblance to the Renault 4. 
Daihatsu Mira Tocot: A More Spacious Kei Car
As far as Kei cars go, the Tocot is among the more spacious ones. But unless you are your only family and don't mind people pointing and laughing as you roll past them in this car; we wouldn't recommend it.
Subaru Sambar Dias Classic: Too Cute For Vans
Forget minivan; this is a microvan, just slightly bigger than a full-size child's toy. One look at it and we are sold, never mind the starved engine it usually came with. It also comes in a pickup version and offers better utility than the Kei trucks mentioned before it. Plus, we can't get over the "aww" factor here.
Toyota Pixis Mega: A Giggle-Inducing Van
The Toyota Pixis Mega is a prime example that shows the push to utilize the last inch of interior space given a very tight envelope. This tiny, boxy vehicles looks adorably funny, with flat sides, short hood, small trunk, and suicide doors. 
This model comes with a long list of options to cater for different needs, including several paint options that will brighten up urban streets and turn heads. Performance-wise, the 658 CC engine produces either 52 HP or 63 HP, depending on the option.
Nissan S-Cargo: Ridiculously Shaped, But Unique
Introduced in 1989, the S-Cargo might be one of the most oddly shaped four-wheelers ever made, and definitely one of the ugliest cars by Nissan. However, as bizarre as it looks, the Nissan S-Cargo actually has a cult following in its home country as well as worldwide, simply for its unique/quirky and highly stylized design concept.
This urban delivery K-car is typical of the segment, with a tiny footprint and a modest 1.5-liter engine mated to a three-speed automatic gearbox, but is practical and quite fun to drive. Nissan only sold around 8,000 of them, which further heightened their rare and unique status.