The Ultimate Car Cleaning Hack: Remove Car Rust with Coca-Cola
Last updated
Dec 29, 2020
0 comments
Coca-Cola may be a western entity, but it's a name that is recognized worldwide. However, apart from its great taste there are score of other things that so many people use it for. From cleaning toilet bowls, to getting greasy stains of fabrics, to cleaning car rust, all lies in between. It is a usual phenomenon for old car bumpers and wheels to get rusty. Coca-Cola is a time tested hack, and people who do remove care rust with Coca-Cola swear by it. It is one handy hack, especially when it comes to chrome finish surfaces.
Well, for those who haven't done it yet, you must know that there is pure science behind it. It does the job effectively, and this blog post right here, will tell you how so that you can add it to your list of maintenance tips.
How to Remove Car Rust with Coca-Cola
Here is why Coca-Cola is the ultimate weapon against car rust:
Since it is carbonated, it can dissolve with metal oxides to break rust and remove tarnish from a number of metals and their alloys.
It has citric acid which is known to remove stains.
It also has phosphoric acid that can remove rust.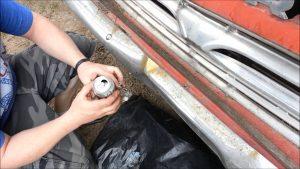 Things You will Need
Coca-Cola – Take a can or a bottle-full that is a bit flat, so that it doesn't fizz out right away. We prefer diet coke because it isn't sticky like regular coke. So, once done removing rust, you don't need to spend a lot of time washing the stickiness off.
Sponge/Aluminum Foil – A lot of people prefer sponge because it doesn't scratch the chrome finish. Aluminum foil, however, is a better alternative since you need to apply less labor with it. At the same time, aluminum foil isn't hard and so, doesn't scratch the surface.
Rags for Cleaning – If you are using regular Coca-Cola, stickiness will be wholesale. But, even if you are using diet coke, you will still have some stickiness on the car surface and the bumpers. Also, because of the color in coke, you will need a rug that to wipe off frequently.
Soap and Water for Washing – For washing the surface clean
      READ MORE:
The Procedure to Remove Car Rust with Coca-Cola
The procedure is very simple and takes only a few minutes along with some very little effort. You must use it typically for cars, buses or trucks with rusted chrome finish bumpers or wheels.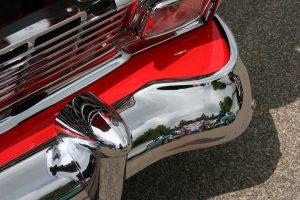 Fold the foil into a 3-4 layers so that it doesn't tear while you scrub. Simply pour some Coca-Cola in the surface and start scrubbing. Since the action is almost immediate, you don't need to wait even for a few minutes. As you scrub you will see the rust come off on to the foil. As you go, keep wiping the surface with a rag so that no debris is left.
Repeat the process until the entire bumper is clean. Now make sure that you wash the surface thoroughly with soap and water. You will be astounded to see that it will shine like new. This one is, in facts one of the most awesome car life hacks.
So, no need to spend big bucks of rust removal now. Simply remove car rust with Coca-Cola in no time.
Finding a used car from reliable sellers from Japan? Here are the best deals for you!