Must Have Tools for Garage: A Comprehensive List
Last updated
Dec 05, 2021
0 comments
If you own a car and prefer to do the small repair jobs at home, you should need some equipment and tools. The collection should depend on the types of repairs but there are some must have tools for garage that every car owner should have.
A Comprehensive List of Must Have Tools For Garage
To prepare a garage for the basic car repair work, you should have these items on this garage tools list given below.
Work Lights
You can't inspect any mechanical issue without good lighting. This genuinely comes first under the essential garage tools as it is invaluable to any mechanical activity.
Fire Extinguisher
Even if you don't keep the other must have garage tools, you should have a fire extinguisher because this one is directly related to your safety.
First Aid Kit
We won't say much about it except that you should have one in your garage.
Battery Charger and Maintainer
This is to make sure that your car battery is always topped off.
Socket Set
You need a socket set because you have to deal with various nuts and bolts during repair work.
Garage Workbench
Workbench is one of the best garage tools. It provides necessary space during a fix and ensures safety during a risky work.
SEE MORE
Multimeter
Sometimes you have to check the voltage of the electrical circuits and components. This tool is essential for that task.
Flexible Funnel
It will render oil changing easier since you can bend it in whatever way you like.
Impact Wrench
To yank a jammed nut or bolt, this tool will help you to put the required pressure.
Creepers
Any activity under your car will be less strenuous with a creeper.
Wheel Chocks
This is required for preventing your car from displacing when performing wheel repairs.
Gloves
Save your hands from any potential damage in the process of a fix. They are customary in the must have tools for garage.
Tire-pressure Gauge
This tool is your savior for measuring and getting the right air pressure in the wheels.
Tire Inflator
You will need this to seal and inflate the tire immediately.
Floor Jacks
These floor jacks are crucial while working on a single corner of a car.
Jack Stand
This will come handy to lift any weight in the process of safe fixing.
Bolt Extractor
It's not unusual to find a broken bolt. This tool will save your day to remove an impaired bolt.
Pegboard Organizer
With this, there will be no chance of losing smaller tools. Besides, finding tools won't be a hassle anymore as they will be organized on the board.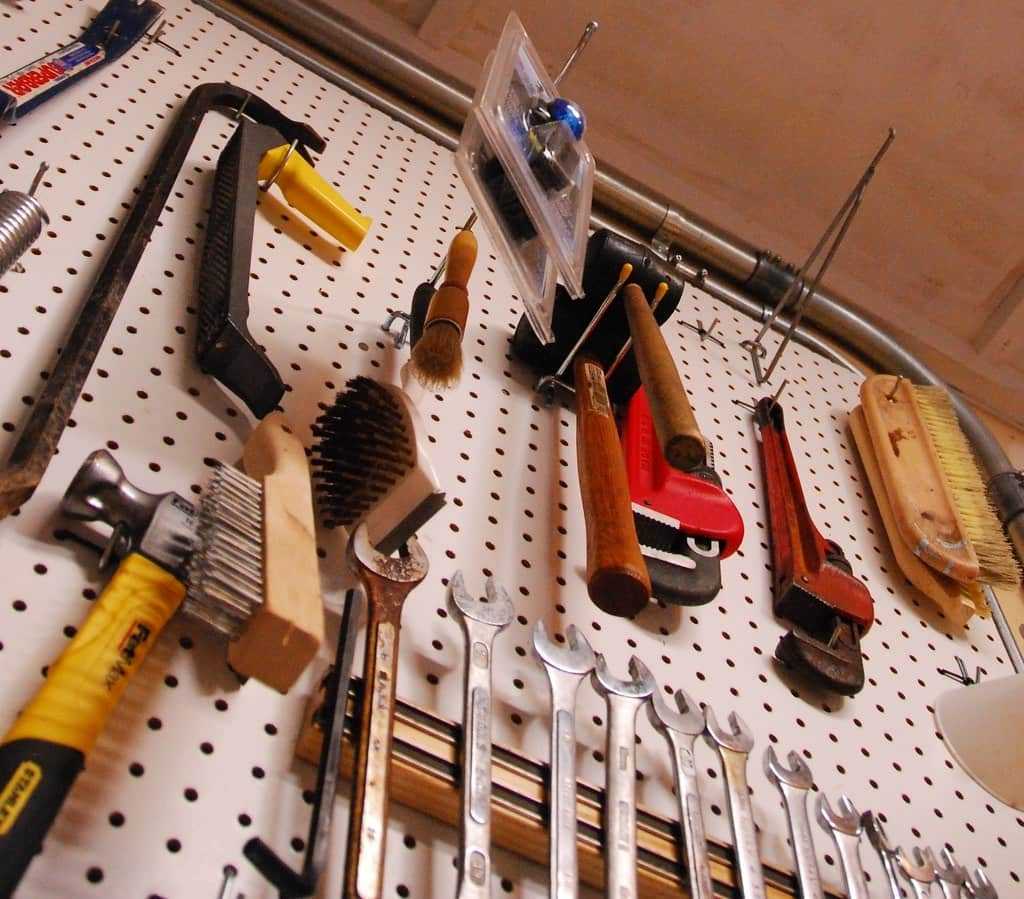 Air Compressor
You can generate air on-site with this device. You can control the uses and quality of the air with this. Normally, drivers use air compressor to inflate car tires.
Pressure Washer
You are supposed to use salt water on some parts of your car in winters. Do it flat-pack effortlessly with the help of a pressure washer.
Final Words
Do your shopping according to this list and you will have the necessary tools at your disposal during an overhaul. Knowing the proper uses of these tools will save you a boatload of money on visits to mechanics.