Top 10 Best Tire Pressure Gauge to Buy in 2023
Last updated
Apr 27, 2023
0 comments
While tire health is underestimated by many car owners, it is actually very important to keep your car's tires properly inflated to get the optimum performance: a smoother ride, quicker steering and braking response, better handling, better fuel economy, safety, and longer tire lifespan. Monitoring your tires is a simple task you should do once a month. For only $5 to $20, you can get the best tire pressure gauge that will provide you with reliable service for many years to come.
This ultimate guide will provide helpful explanations on the benefits of tire pressure gauges, the different types of tire pressure gauge, a list of the very best tire pressure gauge for each type, plus pro tips on using and maintaining this handy tool.
What Does a Tire Pressure Gauge Do?
Keeping your car tires properly inflated is an easy maintenance task and one that would not cost you a ton of money.
Under-inflated tires will lead to excessive tire wear and worse, can result in premature tire failure.In addition, they also reduce fuel economy.  They will not do their best at bearing and distributing the weight of the car, thus will negatively impact the vehicle's braking and handling.
Maintain optimal tire pressure at all times will resolve the above issues.It is important to remember that the "appropriate" tire pressure level depends on the make and model of your car and many other factors. Consult your owner's manual to find out the right tire pressure level that you should maintain.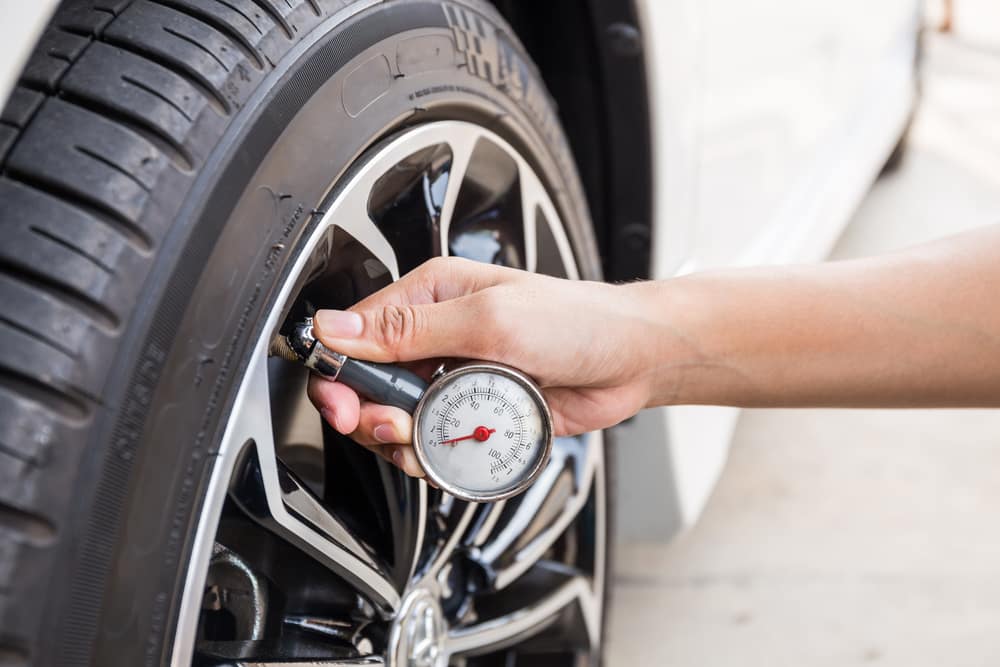 A tire pressure gauge will give an accurate reading of the current pressure inside each tire, so you can monitor and adjust the pressure to achieve optimal pressure level easily. 
READ MORE
Tire-pressure gauges are available at auto-parts stores, big-box stores, and other retailers, as well as online. For typically $5 to $15, you can already get a good gauge. 
Why You Need a Tire Pressure Gauge
A tire gauge is not just a purchase. It is an investment that you will come to appreciate more and more down the road thanks to the important benefits it provides for your precious vehicle:
Fuel Economy
Maintaining appropriate inflation will ensure your car will not need to work extra hard to make up for under-inflated tires, which impedes your vehicle from achieving the speed it should.
Smoother Ride
There's no need to explain why you will enjoy a smoother ride and enhanced stability if all four tires on your car are at the same level of pressure, and the correct one at that. Maintaining a uniform and appropriate tire pressure also put less strain on the rest of your vehicle.
Less Tire Wear & Replacement
Under-inflation means larger tires contact with the road surface and excess heat, resulting in excessive tire wear. Simple spending under $20 for the best tire pressure gauge to keep your tires in good shape and avoid premature replacement is therefore a wise decision.
Better Braking
Your tire pressure and your braking experience are directly related. The more under-inflated your tires are, the longer stopping distance whenever you slam on the brake pedal. Therefore, maintaining proper tire pressure at all times is a good safety practice.
READ MORE
Types Of Tire Pressure Gauge
Each of the different types of tire pressure gauge has its benefits. The key is to choose one you are comfortable using and find easy to read, and of course suits your budget.
Buy a gauge with a wide-enough range that it can measure the pressure in a temporary spare, which is typically 60 psi. The majority of gauges on the market have a span of 5 to 100 psi. 
If you need to check pressure in a darkened area, like in your garage, a digital gauge with an illuminated display would be the most convenient. 
Stick gauges 
Stick gauges are the cheapest type, at an average price of just under $5. Stick-type gauges somewhat resemble a ballpoint pen. They are simple, compact, and affordable, however they are a little harder to interpret than most digital gauges.
Since a tire pressure gauge is a tool you will reach for regularly in the long term, you might want to spend just about $10 extra to get the best tire pressure gauge with more user friendly display, either a digital or a dial one.
Digital gauges
Digital gauges are generally very accurate and easy to read. Digital gauges cost about $10-$12, on average, more than stick gauges but still a minimal long term investment. 
Digital gauges have an electronic LCD display, like a pocket calculator, making them easy to read. Some digital readouts light up, making them handy for checking pressure in dark conditions. They're also more resistant to damage from dust and dirt compared to stick gauges.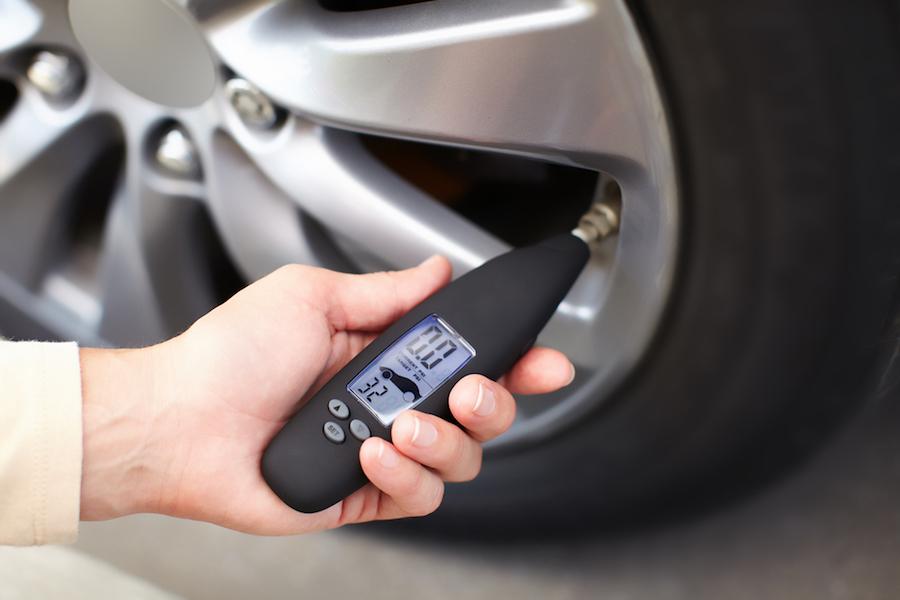 A minor downside is that digital gauges are a little larger than stick gauges and they require batteries. While batteries can last for years, they will of course need replacement. This is however not a major inconvenience.
Dial gauges
They can also be bulky and typically cost more money, running from $20 to $50. The average cost is around $25, which is still reasonable for what they can offer you in any years to come. 
Dial gauges have an analog dial, resembling a clock face, with a simple needle to indicate the pressure. Most dial gauges are easy to read.
While some dial gauges have extra features, including an extension hose, bleeder valve, dual-scale dial, and shock-resistant dial cover, they aren't necessarily more accurate and you would not really need them.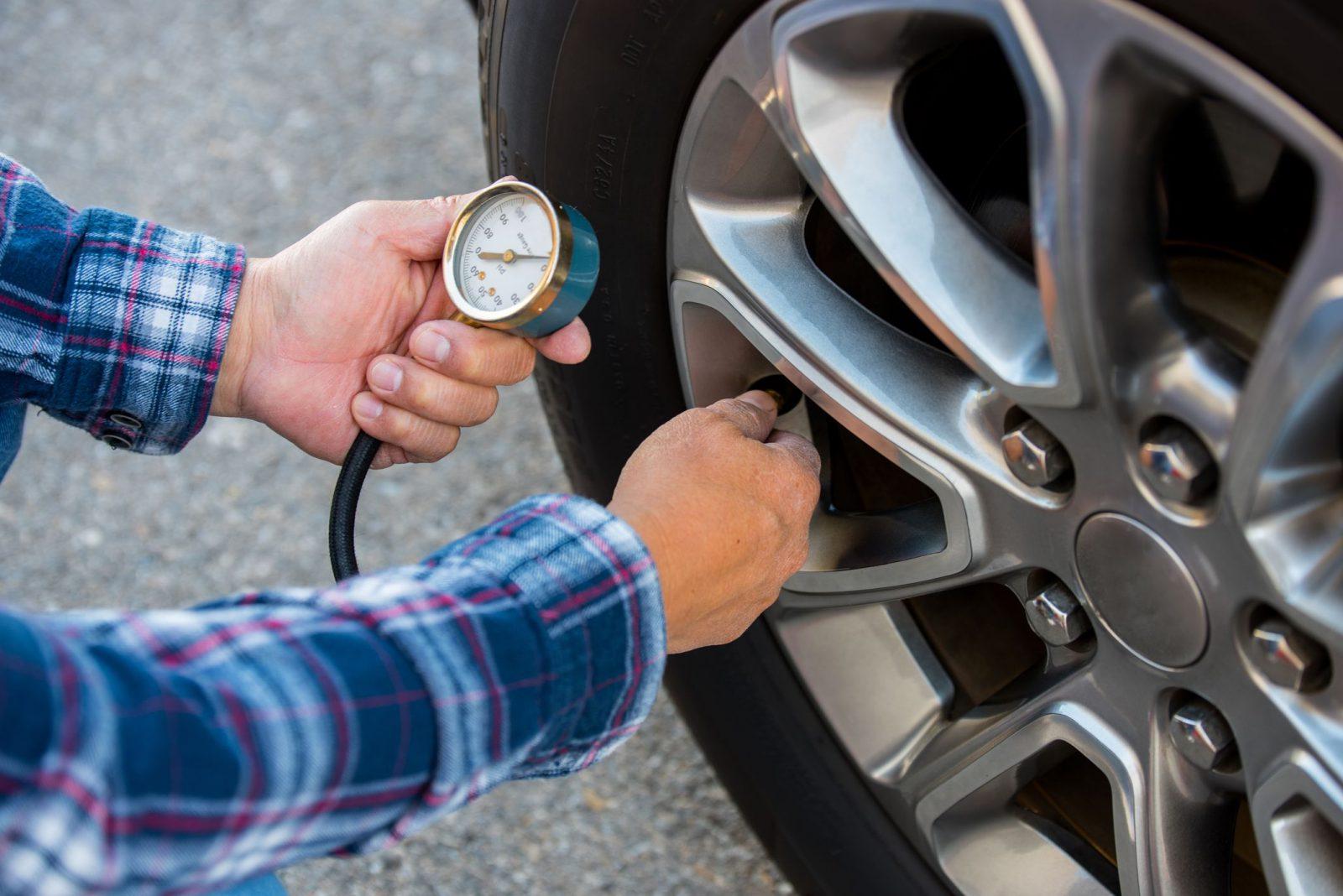 READ MORE
Best Tire Pressure Gauge: Digital
Since stick gauges only cost under $5, you cannot go too wrong even if you buy a less than perfect gauge. The following list will include the best tire pressure gauge, but only the tried and true digital and dial types, as they are more commonly used and more expensive.
TEKTON Digital Tire Gauge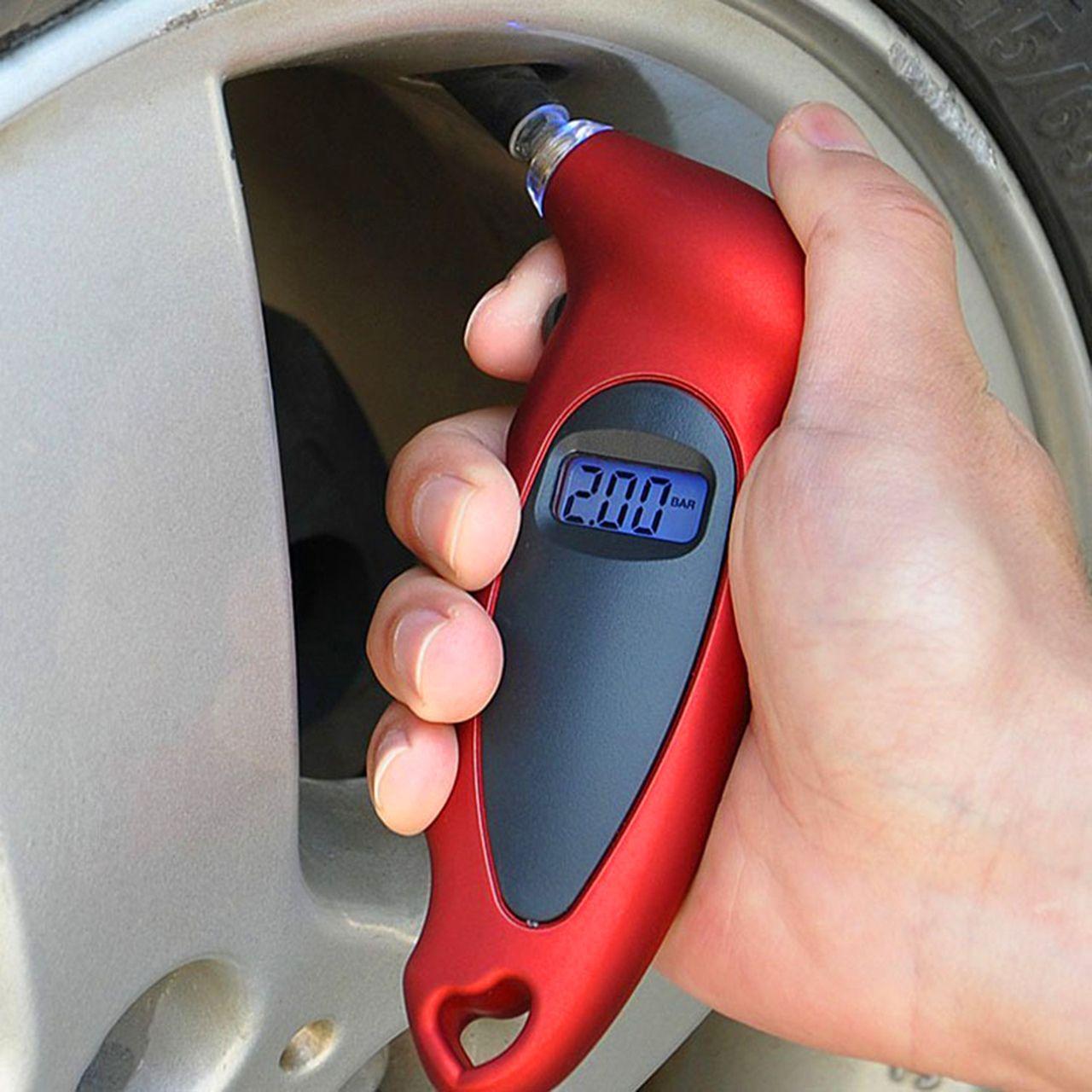 This Tekton digital gauge is often found in tire pressure gauge reviews and often claimed by many car enthusiasts as the best tire pressure gauge. It is loved for many killer features, with an affordable price of only $10, which means it offers excellent value for money.
This is a tried and true digital gauge with raving reviews from almost 5,000 car owners on Amazon, so rest assured you're making a wise investment.
Features:
Lighted nozzle and display screen for ultimate visibility in low light or at night. With this, checking the gauge in the garage would be easy.

Digital display instantly and clearly shows exact reading, eliminating the guesswork of analog gauges.

Nozzle seals to valve stem for quick and accurate measurements, and also avoid air leaks when you apply pressure.

Simple push button control turns unit on, selects the desired range, and automatically shuts off after 30 seconds to save the batteries.

Ergonomic design comfortably fits your hand and features a soft, non-slip surface for sure grip.
Accutire MS-4021B Digital Tire Pressure Gauge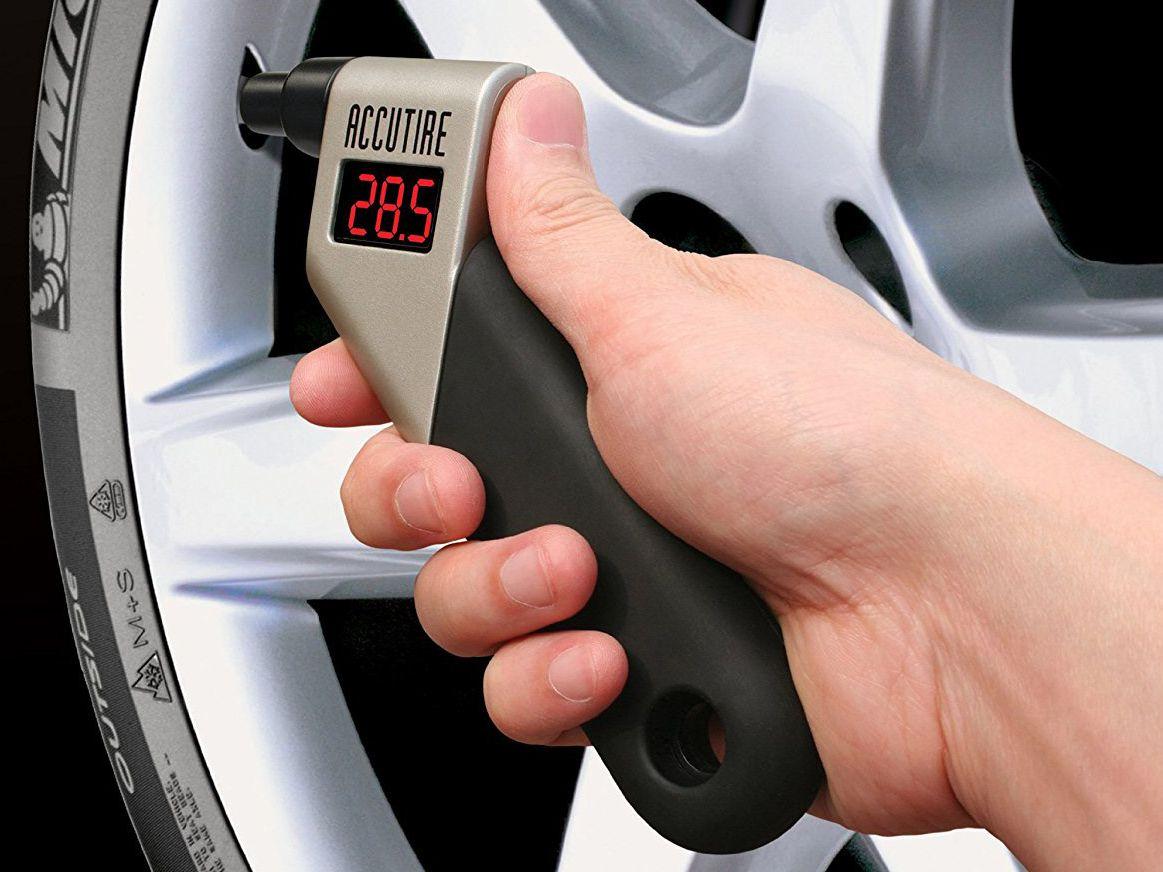 What set this Accutire gauge apart from competitors is the angled head that makes it easy popping it into the tire. For $11, you get a lot of bang for your buck, including a lifetime warranty on parts.
Features:
Large, easy to read LCD display.

Provides pressure readings from 5-150 PSI in 0.5-pound increments.

Ergonomically designed with an angled head and a rubber coated stainless steel handle for stability and easy-grip when in use.

Heavy-duty construction.

Equipped with an automatic shut off system to prevent deflation, which is extra useful for high psi tires.
AstroAI Digital Tire Gauge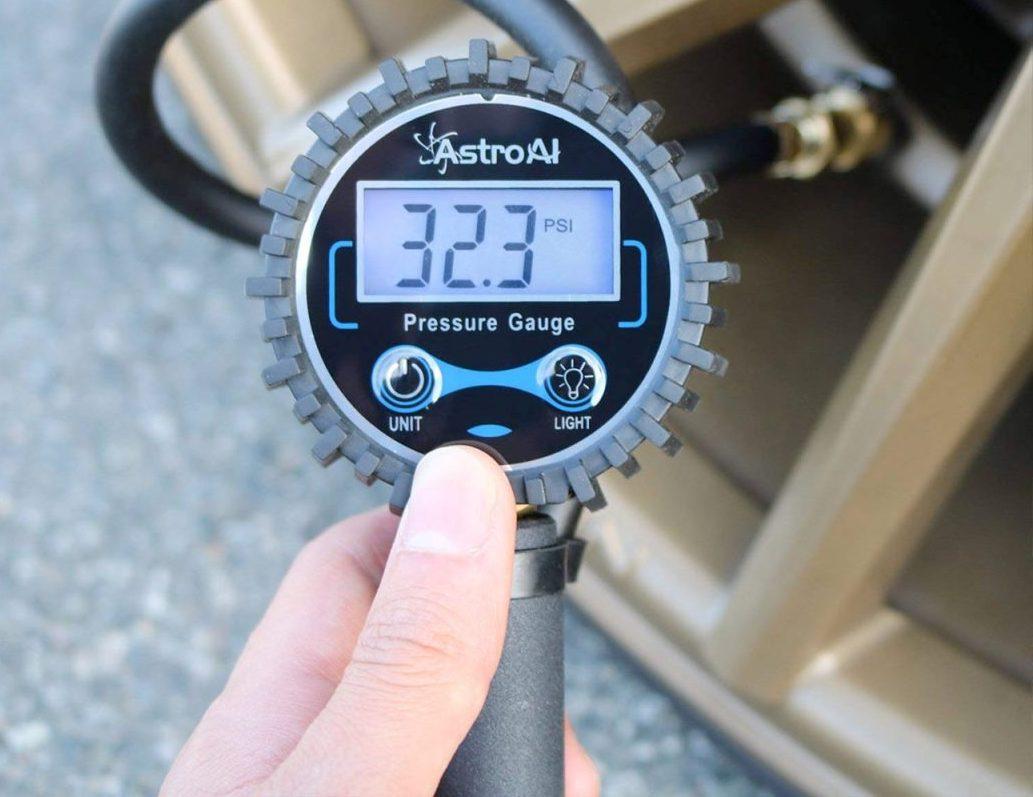 Available at only $9, this dream-come-true tools receives an overall 4.5 stars from almost 8,500 car owners on Amazon.
The AstroAI Digital Tire Gauge is easy to read, hold and use. It features a lighted digital screen that displays the exact measurement, so there is no guesswork or estimation like with an analog gauge.
Features:
Bright blue LCD display.

Four international readout settings.

Detects up to 150 psi.

Offers a simple, push-button that turns the unit on and is used to select one of four measurement ranges.

Nozzle seals onto the valve stem quickly and completely to deliver an accurate measurement.

Lighted nozzle illuminates the work area, to easily locate the valve stem in low light conditions.

Automatically shuts off in 30-40 seconds when not in use to avoid accidental battery burnout.

Features a contoured, ergonomic shape with a slip-resistant texture for comfort and control when in use.
Astro 3018 Digital Tire Pressure Gauge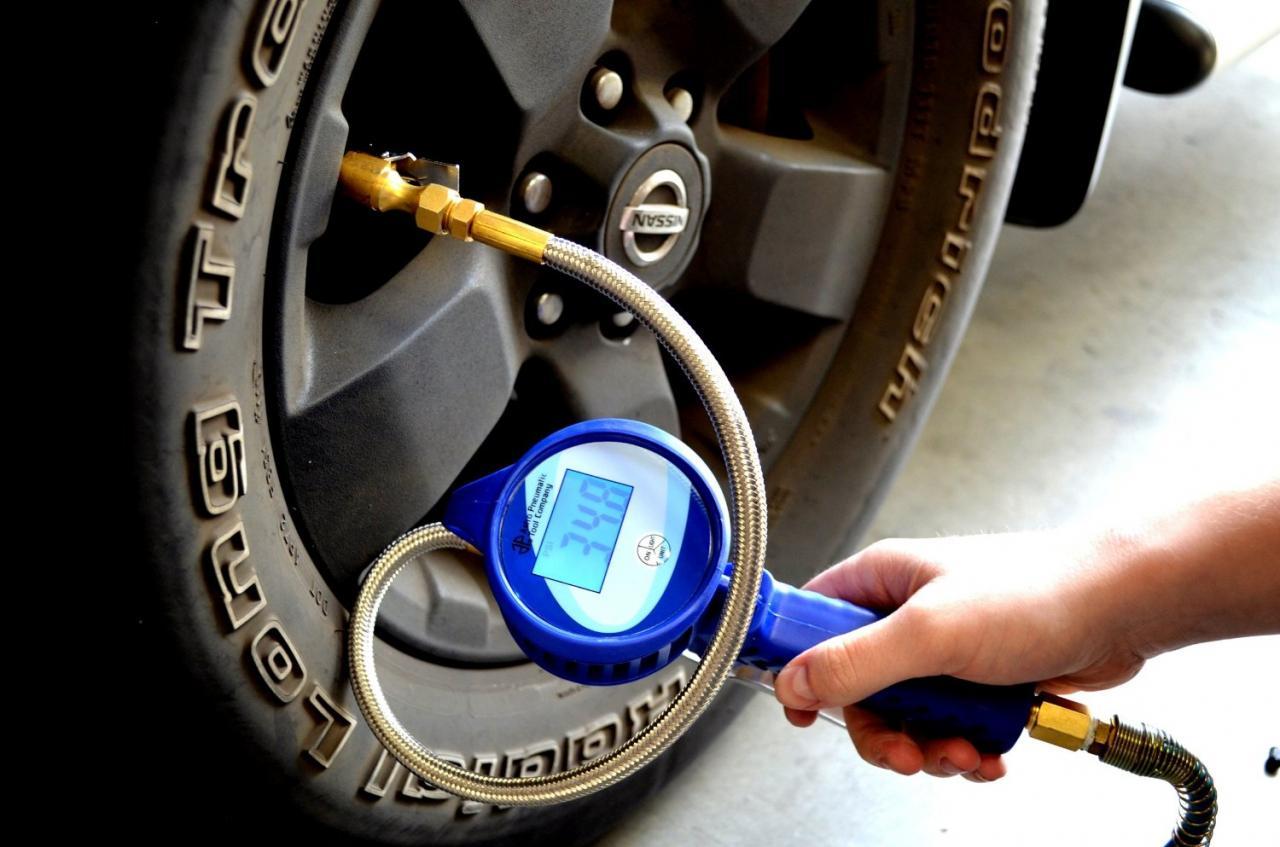 The Astro 3018 3.5″ Digital Tire Inflator with Hose is simple to read with a backlit LCD display. It is held by many as the best tire pressure gauge as it is among those with the most features.  
This versatile tool boasts a durable 21" stainless steel braided hose for enhanced durability and an easy to install AAA Battery System with four times the battery life of regular gauges.
However, this is the most expensive digital gauge on our list, available at some $67.
Features:
Large face backlit LCD digital read-out.

Measuring Range: 3 ~ 175PSI.

Superb accuracy: 0 – 58 psi +/- 1.2 PSI.

Displays psi, KG, or BAR measurements with maximum accuracy.

0.1 PSI resolution for use with TPMS (Tire Pressure Monitoring System).

Covered with a rubber sleeve for extra comfort and durability.

Stainless steel braided hose.
Tuisy Digital Tire Pressure Gauge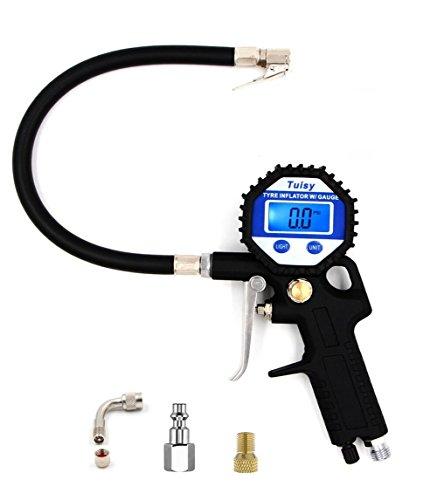 Tuisy Digital Tire Pressure Gauge is a performance tested gauge. It boasts a certified accuracy of ±1% with display resolution of .5 for maximum accuracy. 
Although you would be paying $30 for this handy tool, if performance and durability are your priorities, this Tuisy model is something you can rely on for many years to come.
Features:
Premium rubber protector safely guards LCD screen from any damage.

Support checking tire pressure solely without connecting air compressor in one-hand operation.

Built-in air bleeder valve allows to quickly bleed off tire pressure in overinflated tires to avoid tire blowing out.

Dial and main body of this tire gauge exclusively designed to be metal integrated closed into one unit to avoid any air leaking.

Enhanced heavy duty straight lock-on air chuck makes it easier to lock onto any tire valve stems outside car tire.

90 degree valve extender and metal valve cap allows 360 degree rotating and connects hard-to-reach tire valve inside car tire.
Best Tire Pressure Gauge: Dial
TireTek Premium Tire Pressure Gauge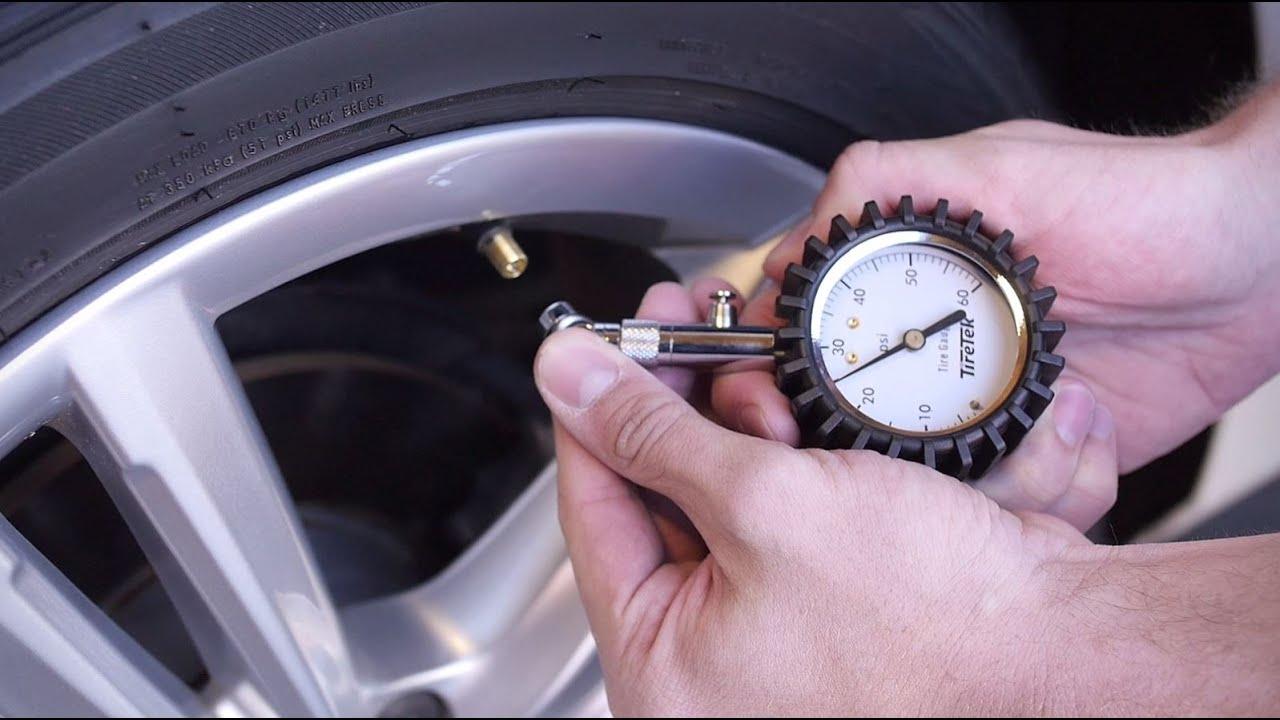 The TireTek Premium Tire Pressure Gauge reliably and consistently offers precise, accurate pressure reading. Plus, it is easy to use and is reliable in all weather conditions. This is why many mechanics would recommend this gauge for a quick, accurate reading of your tire pressure.
For $14, it is an excellent investment, also considering the 100% lifetime satisfaction guarantee.
Features:
Calibrated to ANSI B40.1 Grade B (±2%) international accuracy standard.

Built in relief valve allows you to press the bleed button whilst the gauge is still on the tire valve, releasing air until you reach the exact target required.

Dial window is superbly easy to read.

Features a steel and brass construction with an extended 5mm chuck tip, so you get a great seal with no air leakage, and absolutely no rust.

Surrounded by a rubber cover, it is protected from drops and is easy to grip.

45 degree angled and fully swiveling chuck.
Vondior Heavy Duty Tire Pressure Gauge
Available at an affordable price of $15, this reliable gauge receives raving reviews from some 1,500 car owners on Amazon. It is an analog tire pressure gauge that doesn't require any batteries and provides quick and precise readings.
Features:
2″ dial features easy-to-read 60 PSI single increment scale that glows in the dark.

Provides accurate readings that locks in place until the pressure reset button on the neck is pushed.

Built from premium heavy duty components.

Shielded by a rugged gear-style protective guard.

Equipped with a built-in air bleeder valve to reduce pressure in over-inflated tires.

Handy 360-degree swivel chuck allows for easy access to the tire valve from any angle.
JACO FlowPro Tire Pressure Gauge
The JACO FlowPro Tire Pressure Gauge is also loved by mechanics for its accurate readings and easy handlings. Although you would be paying $36, you get great value for money and would be guaranteed for life.
Features:
Fully equipped with an extra long, heavy duty 21″ reinforced rubber air hose for easy tire valve access.

Features a unique glow-in-the-dark dial display.

Performance tested and certified accurate to ANSI B40.1 International Accuracy Standards (±2-3%).

Ability to measure and inflate with precision up to 100 PSI without relying on batteries.

Durable steel body features built-in air bleeder valve to quickly decrease pressure in overinflated tires and reset readings to zero.

Gauge dial head is guarded by our rugged rubber protective cover.

Connects easily to your current inflation set-up 1/4″ NPT or can be used solely for tire pressure measurement.
TireTek Flexi-Pro Tire Pressure Gauge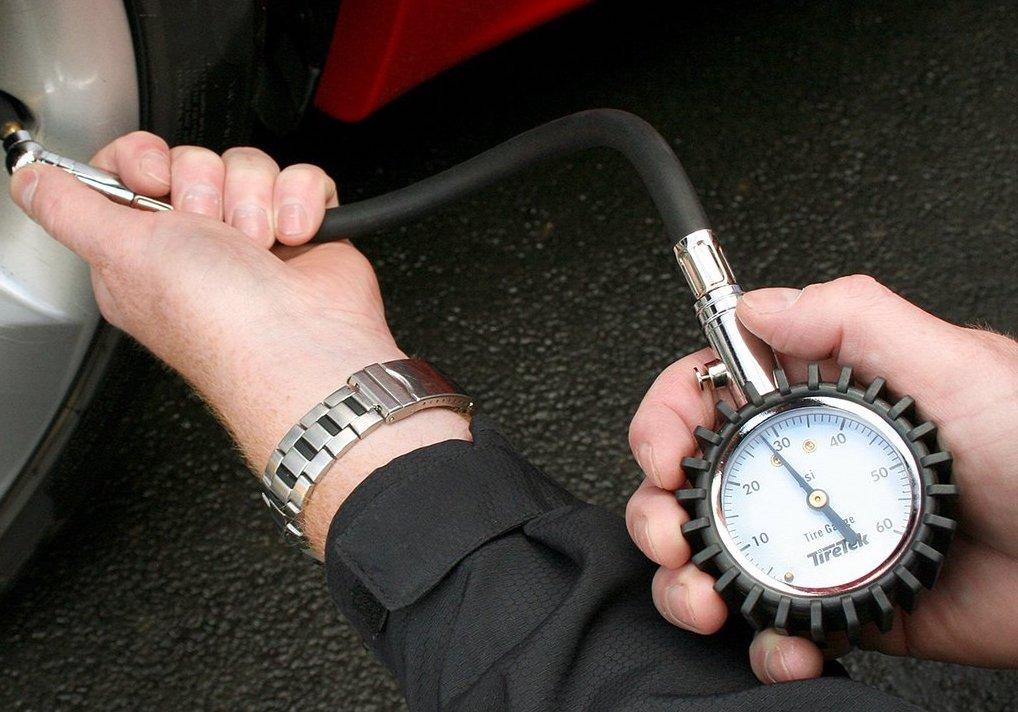 For only $15, you are getting a lot of bang for your buck. This mechanical tire gauge is calibrated to ANSI B40.1 Grade B (±2%) international accuracy standard to perform reliably and accurately for years without batteries. 
In addition, it features an integrated bleed button for precise tire pressure adjustment of over inflated tires.
Features:
2 inch high-contrast dial for a clearer, more accurate display.

Integrated bleed button for precise tire deflation adjustments.

360 degree swivel chuck so the dial can be read easily at any angle.

Reinforced rubber hose means no air leakage.

Free gear-style case boot protects your gauge from drops and knocks.
JACO Deluxe Tire Pressure Gauge
Also for only $15, you can get reliable service from this handy gauge with an overall review of 4.4 stars from some 1,300 buyers on Amazon. 
This JACO gauge is performance tested and calibrated to ANSI B40.1 accuracy standards (2%), ensuring quick and precise tire pressure readings up to 100 PSI without batteries.
Features:
360-Degree Swivel Chuck

Dual-Layer protective cover.

Pressure reset button with built-in air bleeder valve.

0-100 PSI Range.

1.5″ Dial.

Calibrated to ANSI B40.1 Grade B Accuracy Standards.
Bonus: Tire Pressure 101
Air loss
Nearly all tires lose pressure gradually over time, even if the car isn't driven and the tire is only sitting there in storage or is mounted on the car as a spare.
With a tire that is undamaged and properly mounted on the rim, most of the pressure loss comes from air escaping through the rubber sidewall, not through the inflation valve. The valve stem's dust cap is to keep dirt out, not air in.
What affects tire pressure
Tire pressure drops as the weather gets colder, since cold air is more dense. A typical car tire measured at 30 psi during 80-degree temperatures will return a reading of 25 psi when the temperature drops to 30 degrees.
The air pressure within a tire is almost unaffected by the weight of the car. An unmounted tire inflated to 32 psi will still measure nearly the same when it's mounted and bearing the weight of the car.
Tire pressure gauge maintenance
A note on maintenance of your tire pressure gauge is to keep your gauge at room temperature, as very hot or cold temperatures can impact performance. Avoid keeping it in the glove box.
Proper tire pressure
When checking and adding air to your tires, follow the automaker's recommended pressure setting, which is usually found in your owner's manual and also located on a placard or sticker on the driver's-side door or inside the glove compartment or fuel-filler door. 
This recommended pressure provides the best combination of performance, ride comfort, service life, and fuel economy.
Do not go by the "max pressure" number found on the tire sidewall. This is the maximum amount of pressure that the particular tire can withstand without damage and thus is not a safe operational pressure level.
How to Check and Adjust Tire Pressure
Follow this step-by-step guide to check your car's tire pressure in just a few minutes:
First, find out what the recommended pressure setting is for your car. Typical inflation pressures range from 28 to 36 psi. The recommended front- and rear-tire pressure may differ.

For an accurate read, make sure the car has been parked for three or more hours before checking the tire pressure. 

Check each tire by first removing the screw-off cap from each tire's inflation valve. Be careful not to lose the caps, as they protect the valves.

Insert the end of the tire-pressure gauge into the valve and depress it. If you hear air escaping from the valve, push the gauge in further until it stops.

View the pressure reading. If the pressure is correct, simply retighten the valve cap.

Don't forget to check the pressure of the spare tire when the time comes that you need to put it to use. Spares often have high inflation pressures, typically 60 psi.