Absolutely Best Car Wash Soaps in 2022
Last updated
Apr 17, 2022
0 comments
Washing your car is a maintenance job so easy and regular that you can and should do yourself if circumstances allow to save time and money. Stay away from using soaps like dishwashing detergents or hand soap, since those are designed to fight grease, which means they will strip any other protective coating from your car and damage the paint job.  Instead, invest a small amount in the best car wash specially formulated to be used on paint surfaces and clear coat, with added lubrication so dust and grime glide right off when you're washing. 
Don't know which one to opt for among the many choices on the market? We've got you covered. This comprehensive guide on car wash includes a list of the best car wash soaps that clean like a dream without being too abrasive on your car's paint job, plus FAQs, best car wash buying factors, the proper way to wash your car and more.
In addition to each product's highlighted features are its price per ounce for easy comparison, plus average Amazon ratings.
Why You Need The Best Car Wash Soap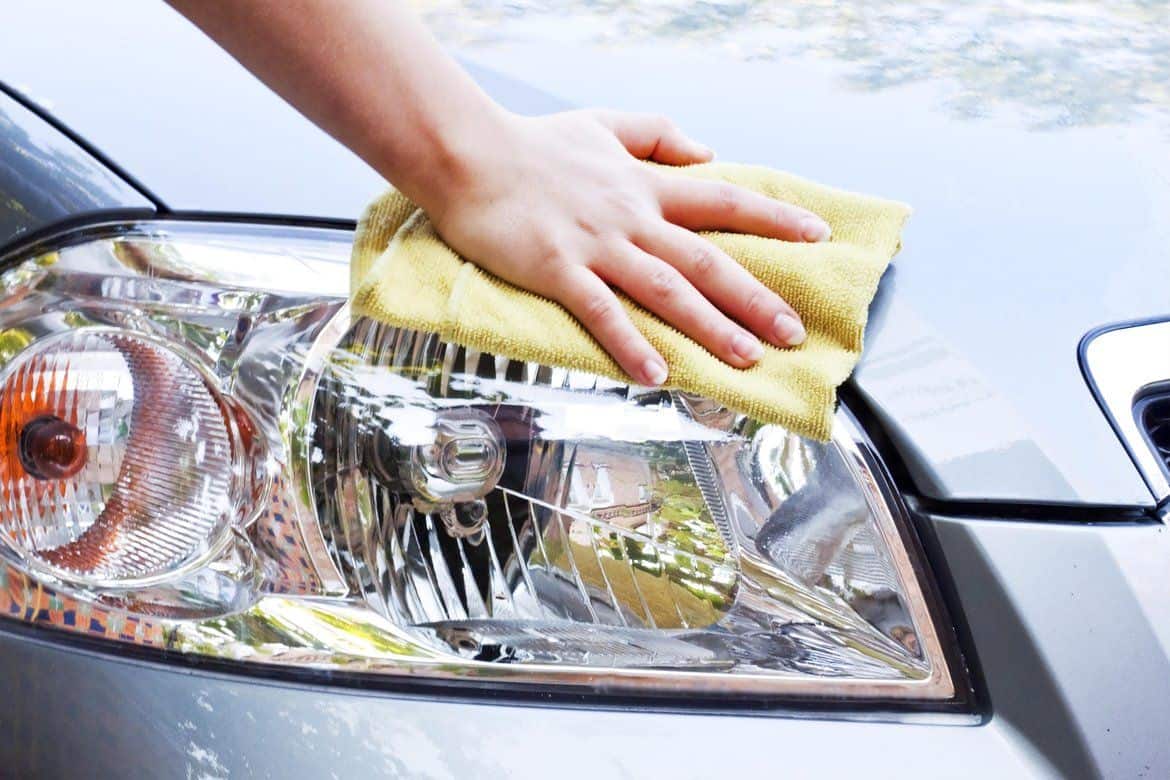 A common question from DIY car owners is "Can I use dish soap or shampoo to wash my car?" The short answer is no. Never use these soaps designed to fight grease: they are too abrasive and will erode and damage the paint job, and remove protective coatings. 
Nowadays, you can find "light duty" or mild dishwashing detergent with a high pH level. These are more gentle on the skin and less abrasive, however they are still not a soap specifically designed for automobiles. 
Do not risk your precious paint job, which will cost you quite a lot of money to fix. Especially when you can grab the best car wash soaps that will last you many washing sessions to come for an affordable price tag.
What makes a good car soap different from a dish soap? A dedicated automobile car soap is available at almost any car part dealer and Amazon. These commercial cleaners are made to clean the paint on a vehicle without causing damage, while remaining lubricated and slick to more effectively break down and wash away dirt and grime.
READ MORE
Best Car Wash Soap Buying Guide
As simple as a car soap may sound, to maintain the paint job on your car at tip top shape any time, there are certain crucial factors that you must consider when shopping for the best car wash: 
Foaming Properties
You need to ensure the car soap you buy is very foamy. In addition, the soap you use should have long-lasting foams that will not flatten in the bucket too quickly. This is generally the same criteria for any kind of cleaning soap. 
A soap that develops a thick and rich lather is more efficient in breaking down and stripping off dirt particles from the surface without excessive scrubbing. It will hold dirt and grime in suspension, while effectively preventing scratching and re-depositing.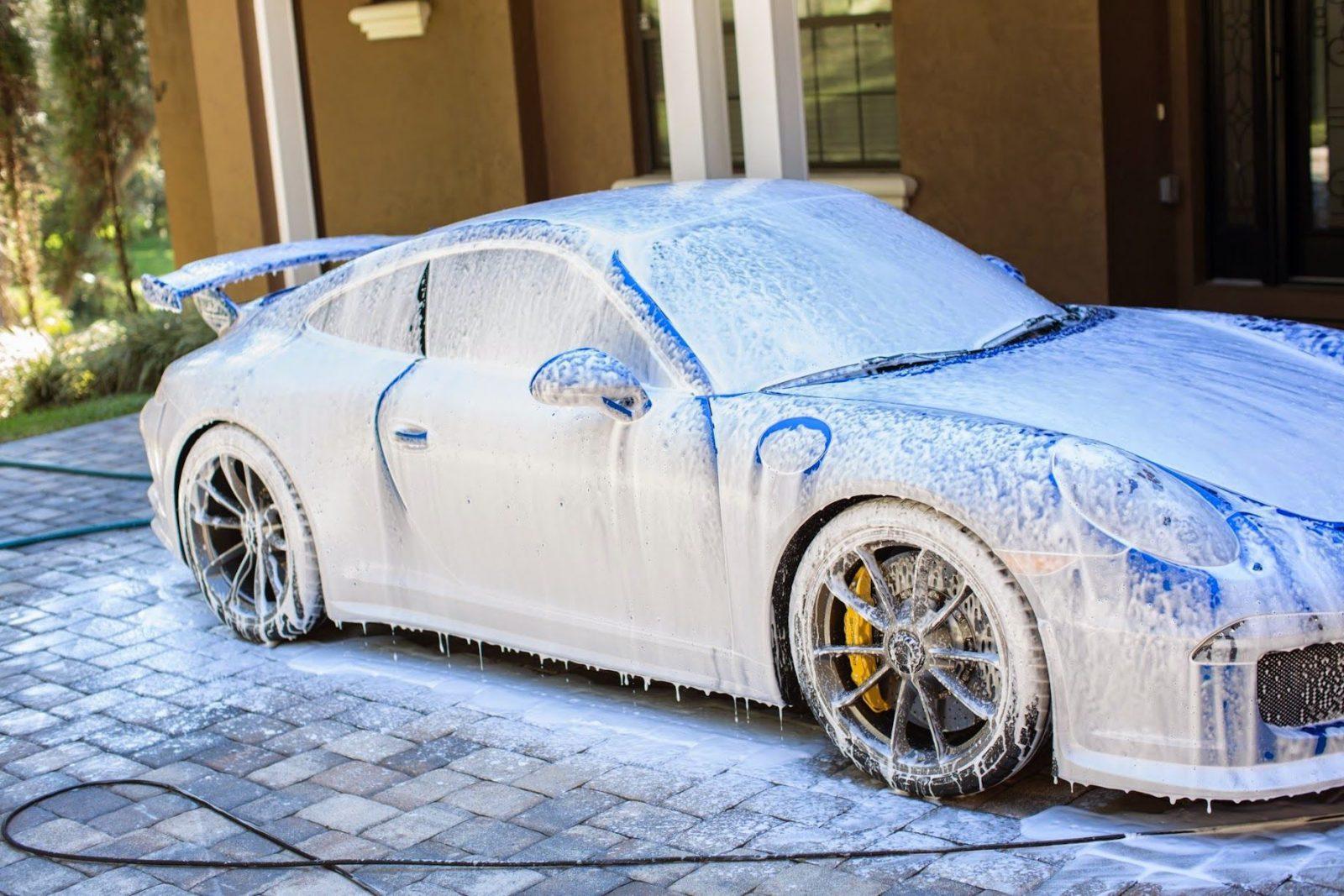 This ensures an easier and less abrasive wash, therefore minimizing damage to your precious vehicle's paint job. 
pH Level
pH level of the formula determines the acidity or alkalinity of the product. Alkaline cleaning products are preferred as they are more effective in breaking up dirt and grime of acidic nature, while being more gentle on your skin if in contact. 
However, a note is either a very high pH level and a very low pH level could corrode your car's paint, wax, and coat. The best car wash soaps would have a neutral formula with a hint of alkalinity.
Water Spot and Streak Resistance
The older generation of car soaps tend to leave behind streaks, swirls, and water spots, leaving the car looking dirty even after the wash. The best car wash would be quick drying while preventing the formation of water spots and streaks for the ultimate gloss and shine that make your vehicle look like new.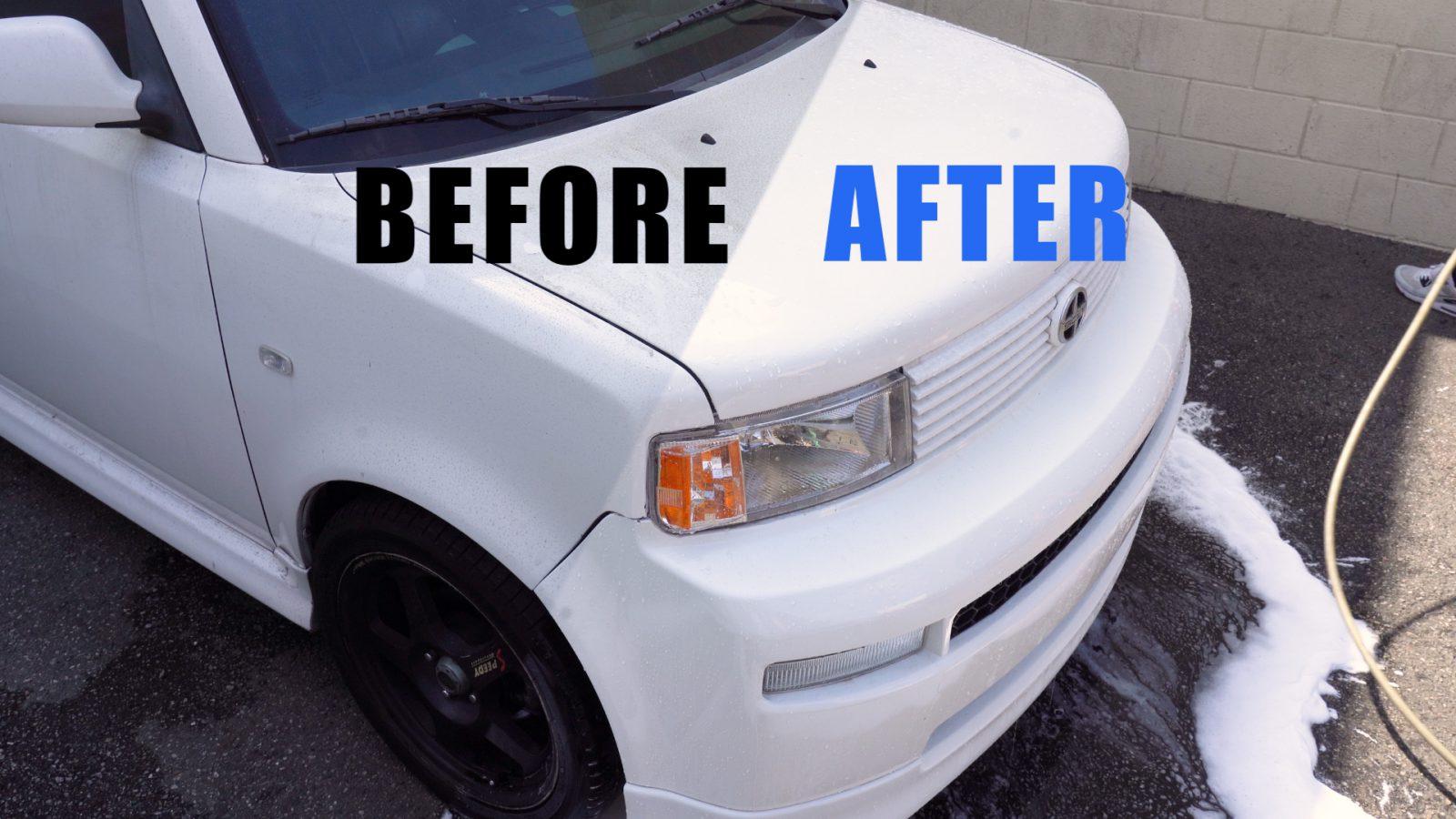 READ MORE
Concentration
The higher the concentration of a car soap, the longer it will last you and thus reduce usage cost. Every time you need to mix the car soap with water for a good wash, you will need less of the product. 
A good soap to water ratio would be 1 ounce of soap for every 1 gallon of water. Some highly concentrated car soaps will instruct a ratio of 2 ounces of soap to 5 gallons of water. Most bottles come in ounces divisible by 8 such as 16, 32, 48 and 64.
Note that over concentration of quality soaps can lead to unwanted streaking, even if the soap itself is streak-resistant.
Volume
The money you pay for your car wash soap should be equivalent to the amount you are getting. We recommend buying the 64-ounce versions as they last up to a year and are much cheaper than the lesser ones.
Scent
Car wash soaps can have very pungent smells and tend to be scorned upon by some buyers. Especially if you have any allergies or suffer from breathing problems. We recommend you buy a scentless one. However, a sweet smelling one like cherry or lemon will be pleasant for most customers.
Eco-Friendly
Not every car owner cares about whether the car soaps they use are friendly to the environment or not, as it does not make a difference to their car. However, in the long run, it can collectively have a huge impact on the environment, considering the number of vehicles in use globally. 
Since there are various eco-friendly car soap options available on the market, why not look for the best car wash soap which is also gentle to our Mother Earth with no extra cost? Look for washing detergents that claim to be "biodegradable".
READ MORE
With the above buying criteria in mind, we have browsed the market and handpicked the best of the best car wash soaps available, which offer a good balance of these factors. Wash away and restore your beloved vehicle to that long lost glossy shine!
Best Car Wash Soaps: 2021 Updated List
Chemical Guys CWS301 Citrus Wash – $27/gallon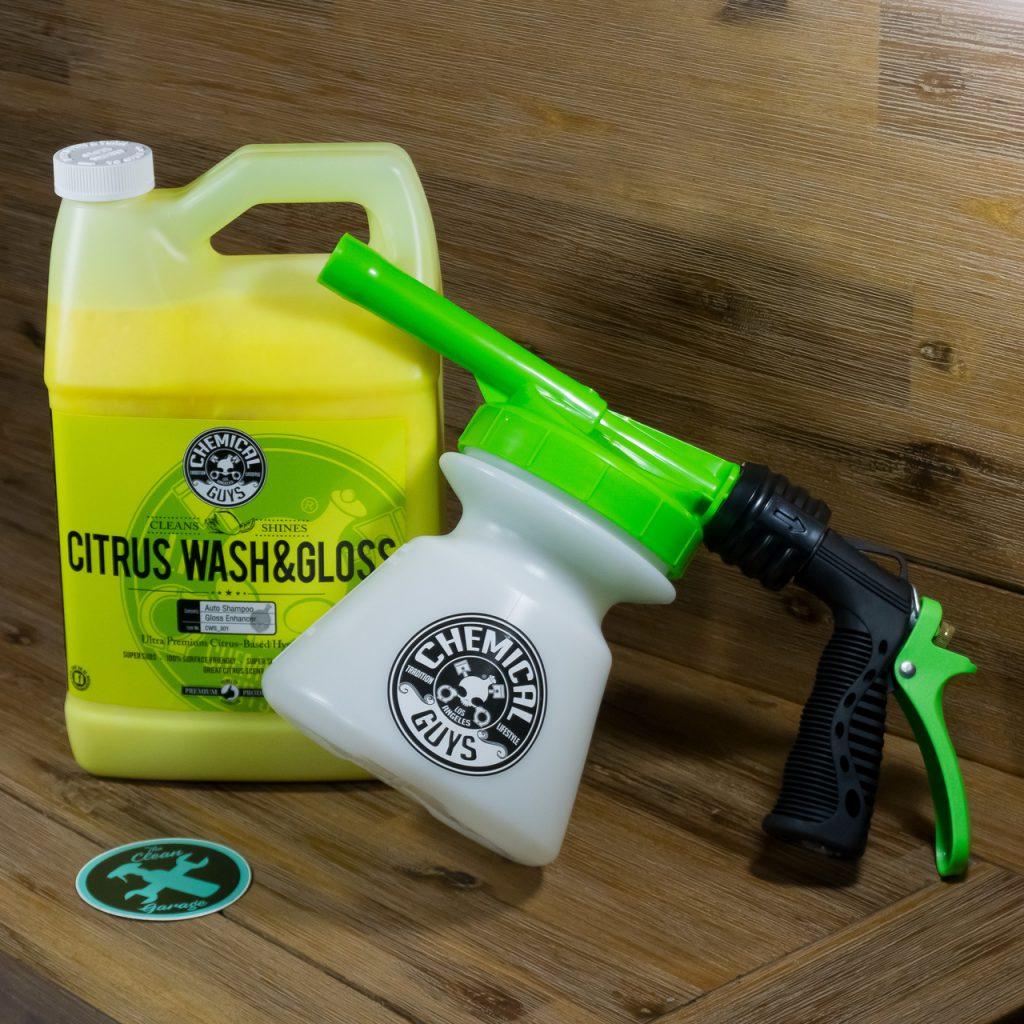 Highlights:
One-gallon bottle, or $0.21/ounce.

Amazon rating: 4.5 stars from almost 1,500 reviews.

Serve as both a soap and a conditioner for a glossy shine without waxing.

Features a citrus-based solvent with high concentration.

Develops a lot of foam.

Biodegradable.

Free of artificial colors and additives.
The Chemical Guys Citrus Wash and Gloss is often rated as one of the absolute best car wash soaps because it contains a citrus base formula without harmful chemicals that can damage your car. 
Not just safe for your car, it is known to be safe upon contact with your skin during a wash. It has no artificial coloring, additives or thickening and has a lemony scent that you will surely love. If you are a big fan of biodegradable car soaps then this is the product you need. 
It also offers great value for money. A cap of this soap can do well in five gallons of water. Available in a gallon bottle, this wash is sure to last up to a year if used on one car. Its high concentration and effectiveness make it one of the best car wash that gives you a lot of bang for your buck.
This product can provide you with tons of suds that will lift and hold all dirt and grime suspension while lubricating your car's surface. This makes it easier to remove even the toughest caked mud, dirt and grime and ensure an effortless, scratch free rinsing.
That's its washing capability. Now let's talk gloss. 
This citrus wash's special feature is that it also serves as the ultimate gloss enhancer, leaving your car with a yummy like-new glossy shine that was long lost on so many miles. 
Chemical Guys Mr. Pink Super Suds Car Wash – $24/gallon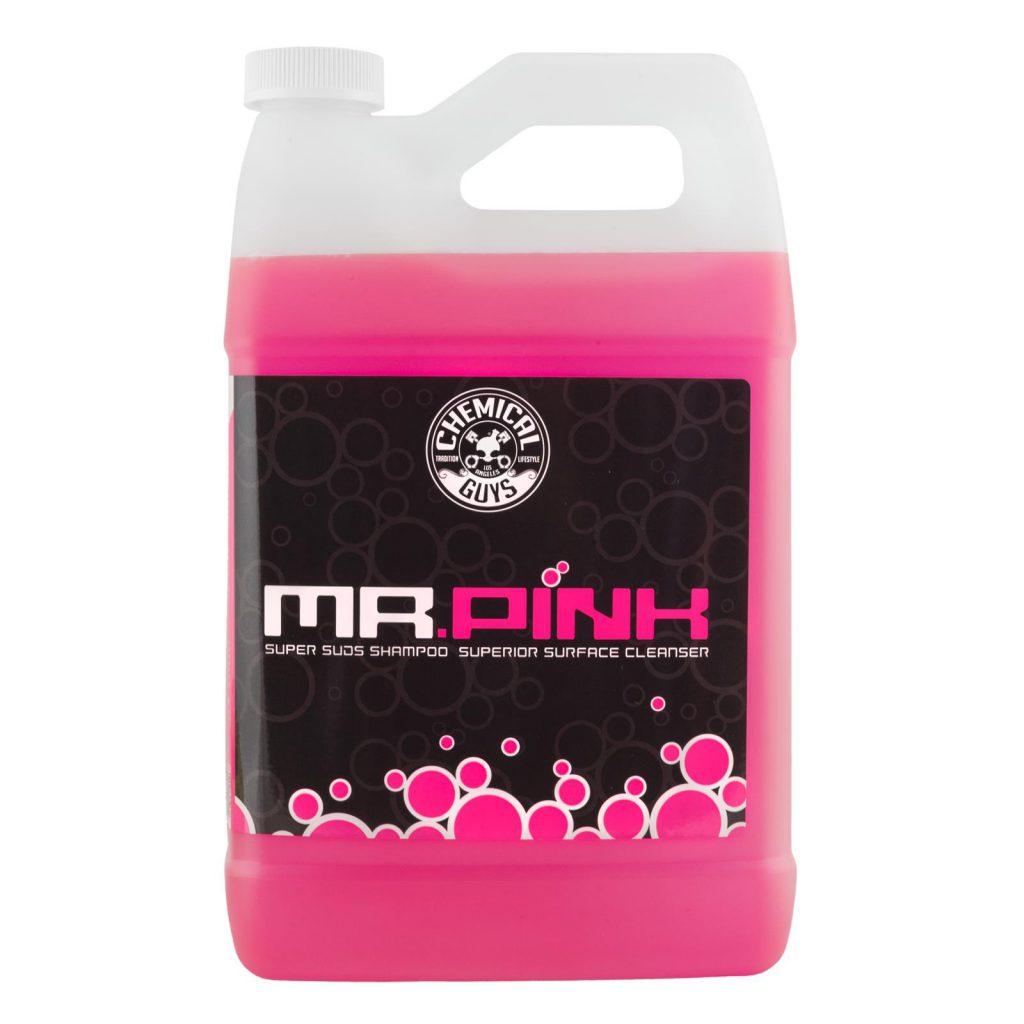 Highlights:
Available in a gallon bottle for $24 ($0.19/oz).

Amazon rating: 4.7 stars from some 3,000 reviews.

Serve as both a soap and a conditioner for a glossy shine.

pH neutral for a gentle wash.

Safe to use on all types of surfaces and finishes.

Extra slick for a scratch free washing experience

Rinses clean with no residue.

Pleasant scent.
Another more premium option comes from Chemical Guys in the form of the Mr. Pink Super Suds Car Wash. Based on the number of raving reviews on Amazon, this superstar product might be the best car wash wash and conditioner on the market, with an overall rating of 4.7 stars from some 3,000 car owners on Amazon.
Designed to be gentle on sealant and wax coatings, this car shampoo is pH balanced and is ideal for weekly use. It is safe to use on a variety of materials, including polished metals, glass, vinyl, rubber, and plastic trim pieces. 
It's a slick formula that easily glides off your car, easily remove tough debris while ensuring no swirl marks and scratches. The soap also rinses clean, leaving behind no residue or water spots.
Like the Chemical Guys Citrus Wash and Gloss, expect the Chemical Guys Mr. Pink Super Suds Car Wash to produce plenty of rich foam when mixed properly. As a bonus, it smells pleasant, as many reviewers said on Amazon.
All in all, this is a truly safe and hassle-free premium car wash, if not the very best car wash shampoo on the market. 
Chemical Guys CWS20764 Extreme Body Wash & Wax Car Wash Soap – $29/gallon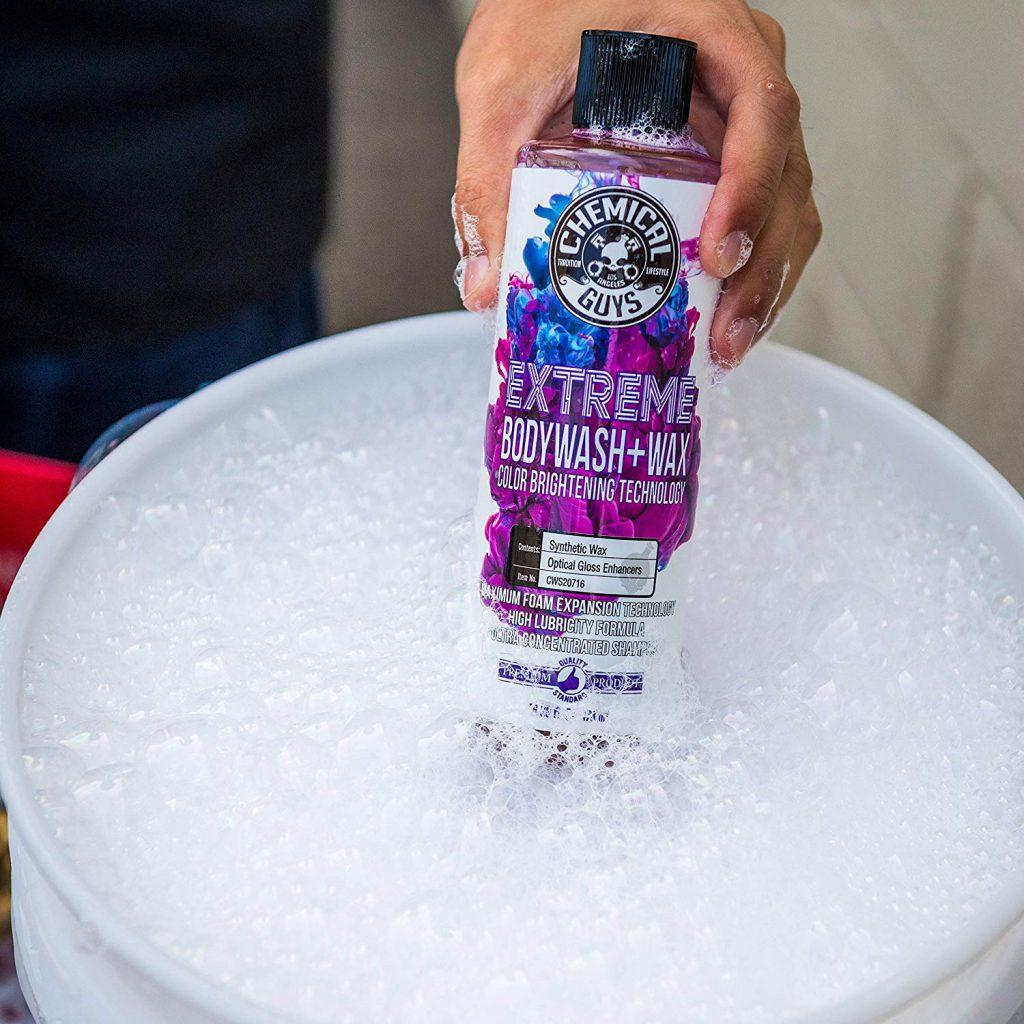 Highlights:
Available in: half gallon for $19 ($0.30/oz) or a gallon for $29 ($0.23/oz).

Amazon rating: 4.6 stars from almost 1,600 reviews.

Does not damage wax.

High lubricity.

Has a nice soda scent.

Delivers a streak-free shine.
As mentioned, you will often see not just one but a few offerings from Chemical Guys in best car wash products reviews.
Although having fewer reviews on Amazon than the previous Chemical Guys soaps, this extreme body wash has a different formulation and does just what its name suggests. It features an advanced color brightening technology that will restore your car to a bright shine and enhance its original coloured paint job. 
Of course, just what you would expect from most car shampoos from Chemical Guys, this product also safely removes grime, dirt, road dust, brake film and even grease without damaging the protective wax.
With high lubricity, this car soap is made for easy and spotless rinse, leaving no streaks or spots behind.
Griot's Garage 10866 Brilliant Finish Car Wash – $17/64oz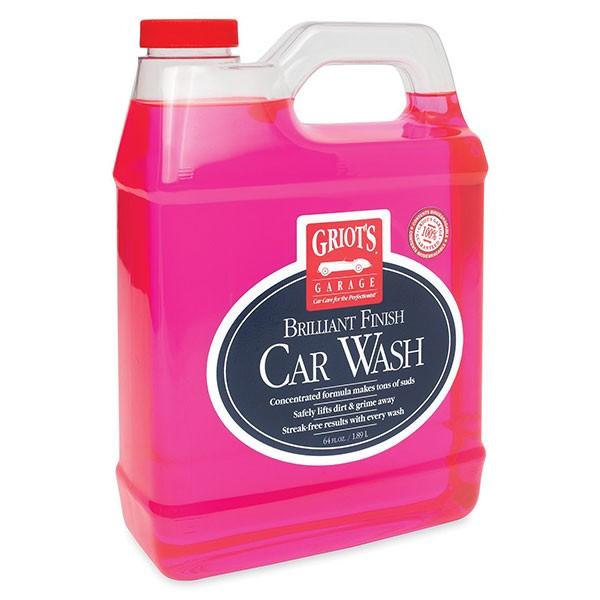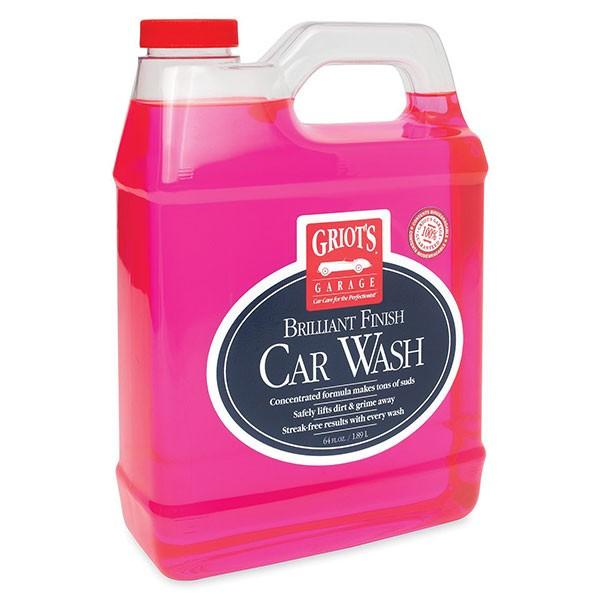 Highlights:
Available in 64-ounce bottles for $17 ($0.27/oz).

Amazon rating: 4.5 stars from over 300 reviews.

Special brighteners intensify and maximize the shine and color of the paint job.

pH neutral formula safe to use on all types of surfaces and finishes.

High viscosity soap that forms lots of foam.

Produces a streak-free shine.
If you wish to restore your beloved vehicle to that like-new colour and shine, then perhaps the Griot's Garage Carwash is the best car wash product. This car wash features special brighteners that heighten and intensify the color and shine of your car.
For this reason, while everything on this best car wash list would clean like magic, this Griot's Garage soap is highly recommended to those with fiery car vinyl, or bold colored cars, as it intensifies the colors and leaves your car looking freshly painted.
Its 4.4 stars rating on Amazon is well deserved. Thanks to the incredible concentrated formula, you need only to add an ounce of product to a gallon of water to ensure a thick, rich lather. This means it will last you a year of weekly washing, saving you a lot of money and effort on car care. 
Featuring a pH neutral formula, this Griot's Garage soap is safe on all types of materials and car finishes. Its thick and rich foam ensures an easy washing experience without the need for hard scrubbing, ensuring that your delicate waxes and sealants are not damaged. 
The premium formula will impart a streak-free shine without fail every single wash that will have heads turning at every corner. This Griot's Garage soap undoubtedly belongs in the list of 2020 best car wash soaps, and is the go-to product for any car owner and hobbyists especially those with car vinyl. 
Adam's Polishes Car Wash Shampoo – $38.24/gallon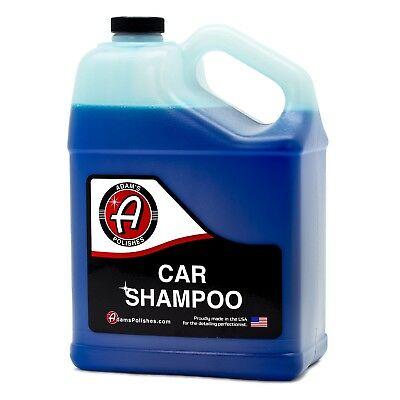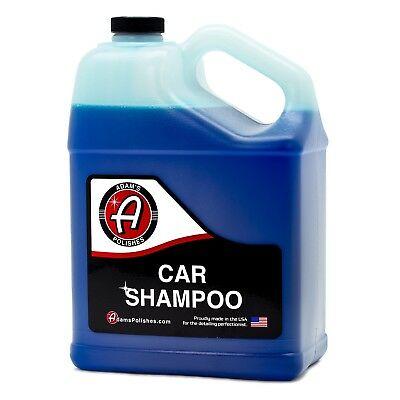 Highlights:
16oz bottle for $12 or one gallon for $38.24 ($0.30/oz).

Amazon rating: 4.7 stars from over 700 reviews.

Long lasting suds that create a thick lather.

pH balanced, gentle on all surfaces.

Uses polymers and advanced cleaners for lubrication.

Biodegradable.
Adam's Polishes have been a top name in the car wash game since the 2000s. Expect no less than perfection with Adam's, as all these years the brand has vigorously tested, researched, and formulated to deliver the very best car wash shampoos.
This Adam's Polishes car wash shampoo is formulated to produce a thick lather for an easy wash. You will have long-lasting suds that never go flat in the bucket. High concentration means a few drops of the solution for a bucket full of water is all you need.
In addition, the formula is pH balanced, thus it cleanses like a dream while being gentle on the wax protection of the paint job. The solution is notably slick as it uses polymers and cleaners for a lubricated feel to lift off dirt and debris without scratching your car's surface, and will give your car a yummy gloss. To have an even better outcome, the company advises users to make use of power polishers so your car comes out as shiny as it can be. 
Not only effective, this car shampoo is biodegradable and environmentally-friendly. A huge perk is that it leaves your car smelling like wild berry candy. 
Although it costs more per ounce than the previous car soaps, Amazon reviews swear on this premium product and testify that it is worth every penny. With something that is so pleasantly scented, safe and easy to use, you will not dread washing your vehicle weekly.
Aero Cosmetics Wet or Waterless Car Wash Wax Kit – $38/144oz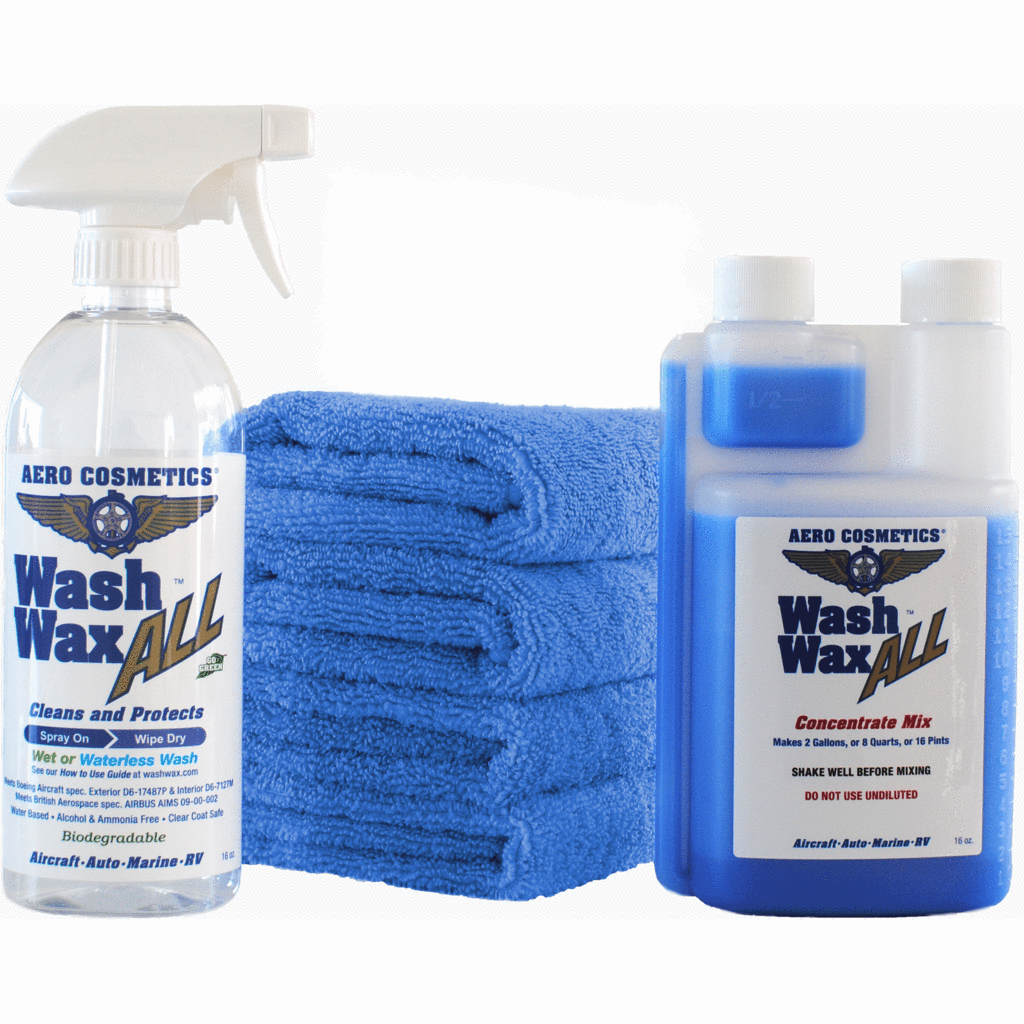 Highlights:
144 Ounce bottle for $38 ($0.26/oz).

Amazon rating: 4.8 stars from 4,000 reviews.

Has a simplified washing formula.

Leaves a shiny finish that lasts for a long time.

Safe on many materials.

Can be used without water.

Biodegradable.
It is rare for a product to receive an overall rating of 4.8 stars on Amazon from 4,000 reviews. What makes it special among so many the best car wash soaps we've reviewed thus far is that it can be used without water involved. 
In addition, the formula is safe to use on a number of materials, including plastic, rubber, aluminum, vinyl, leather and more, making it a truly hassle-free washing detergent.
This is a waterless, aircraft-grade, biodegradable car shampoo that you can simply spray it on and wipe dry to achieve a streak-free shine that will last longer than its competitors. In addition, it also leaves behind a protective coating on your car to keep it protected from harmful ultraviolet rays.
With such great value for money, on top of being environmentally friendly for its safe formula and water-saving benefit, it undoubtedly belongs in every best car wash soaps review. The only downside is that a few reviewers complained about its low dirt repelling property as it attracts dirt only after a few days of washing.
Turtle Wax T-472R ICE Car Wash – $8.46/48oz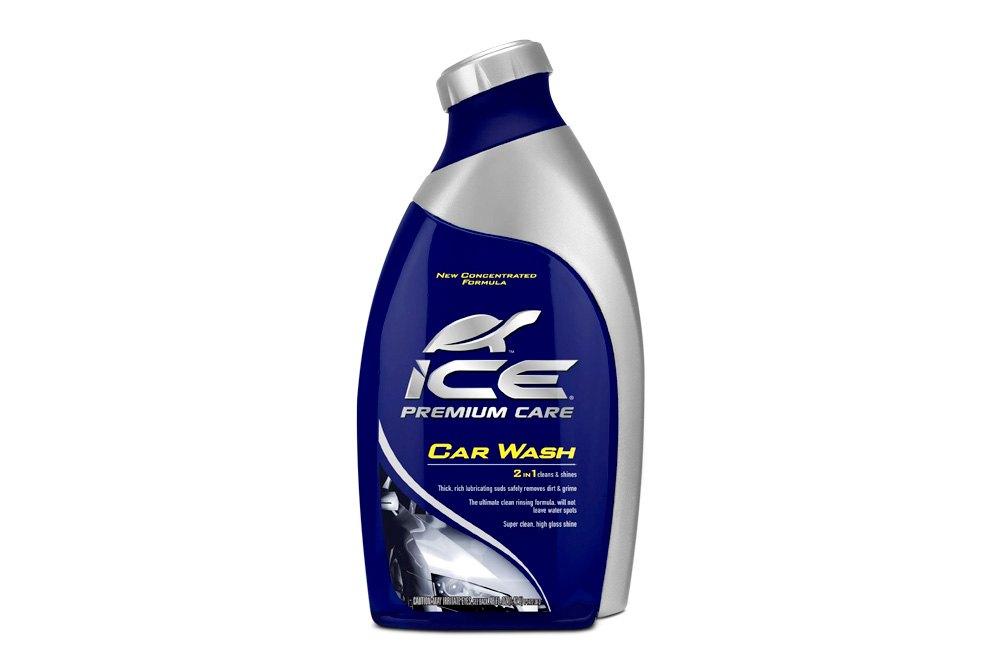 Highlights:
48 ounce bottle for $8.46 ($0.18/oz)

Amazon rating: 4.8 stars from some 400 reviews.

Neutral pH ensures no swirl marks or water spots are left behind

ICE Smart Shield Technology ensures a strong invisible barrier against further dirt accumulation

Special glossing agents intensify the shine and color

Rich lather ensures proper cleaning of the paint.
Turtle Wax is another brand often included in best car wash soaps and waxes reviews. Turtle Wax features a variety of offerings that integrate innovative technology to deliver the best results, trouble-free. 
The Turtle Wax T-472R ICE Car Wash and Wax produces a rich lather that effortlessly suspends dirt and grime. In addition, the neutral pH formula allows you to remove debris easily with a rinse without the need for excessive scrubbing, which often leads to swirl marks and streaks. The gentle formula is safe to use on many car finishes.
Its highlighted feature is the trademarked ICE Smart Shield technology with intensively interlinked polymers that provides an invisible protective barrier against harsh weather elements.
This premium solution contains special glossing agents to intensify the original paint job for more vivid color and a bright shine. We would recommend the product to all professional car cleaners and waxers as it will provide superior cleaning, ultimate shine, and the strongest protection to your cars.
With such unique and advanced technology, you are only paying $0.18 per ounce for effortless car care in your own garage, which is on the lower end of the price spectrum for the best car wash soap.
Turtle Wax T-79 Zip Wax Liquid Car Wash and Wax – $6.37/64oz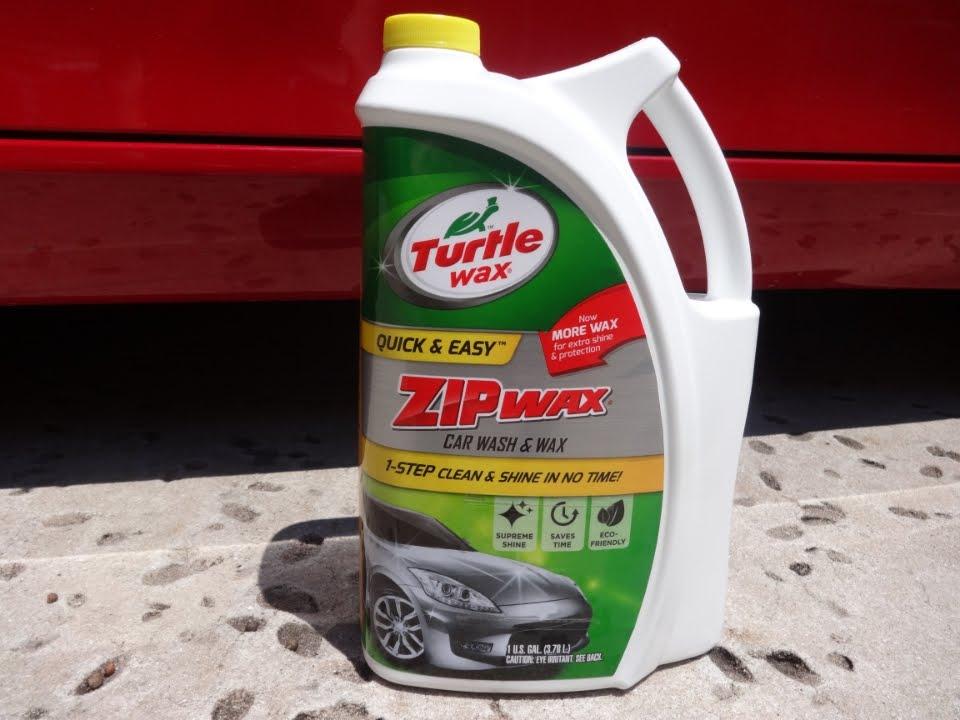 Highlights:
64 ounce bottle for $6.37 ($0.10/oz)

Amazon rating: 4.2 stars from over 150 reviews.

Eco-friendly and biodegradable formula

Formula features Carnauba Wax ensures high shine and gloss

Foaming action ensures rich and thick lather

Can be used for a variety of surfaces and finishes.
Another product by the reliable Turtle Wax brand, this Zip Liquid Car Wash and Wax features an eco-friendly and biodegradable formula that is safe on on a variety of surfaces including exterior paint, metal, glass, plastic, and rubber trim.
With such gentle yet still effective formula, this Zip soap can be used to clean any part of your car. Advanced foaming action ensures rich and thick lather to gently remove any debris without stripping away any wax or sealant from the surface. Never worry about streaks or swirl marks either with this hassle-free wash.
A notable feature that distinguishes this car wash is the carnauba wax. This special ingredient creates a protective barrier that leaves your car extra shiny.
Zip Liquid Wash is easy to use and involves only one-step; simply put a cap of the product into a gallon of water and start lathering it onto the surface, wash it off and let it dry for a truly spotless finish. It is highly recommended for beginners who have little experience in washing cars due to its simple and quick process; it will save you a lot of time and effort.
Meguiar's G7101FFP Gold Class Car Wash – $21.30/gallon
Highlights:
Available in one gallon bottle for $21.30 ($0.17/oz).

Amazon rating: 4.8 stars from almost 1,000 reviews.

Designed to act as a soap and conditioner for extra gloss.

Features an advanced foaming formula 

Biodegradable
Meguiar is a name you will come across often in best car wash reviews. It is a renowned and wildly loved brand when it comes to automotive tools and machines, and it also really delivers with some of the best car wash products on the market. 
The Meguiar's Gold Class Car Wash is specifically designed to act as a car shampoo and conditioner all at once. If you want to achieve that ultimate shine after a hassle-free wash without having to wax your car after it dries, this might be the best car wash product for you. 
The advanced foaming formula develops a super rich and thick later to gently remove and wash away all debris from the surface, without damaging the wax protection on the paint job. The premium formula also prevents the etching swirl patterns on the car and keeps it looking brand new. Simply dunk a washing mitt into the solution and lather away without worry.
The bottle contains one gallon of solution, which will easily last you a year of frequent wash.
Meguiar's G17748 Wash and Wax – $7.29/48oz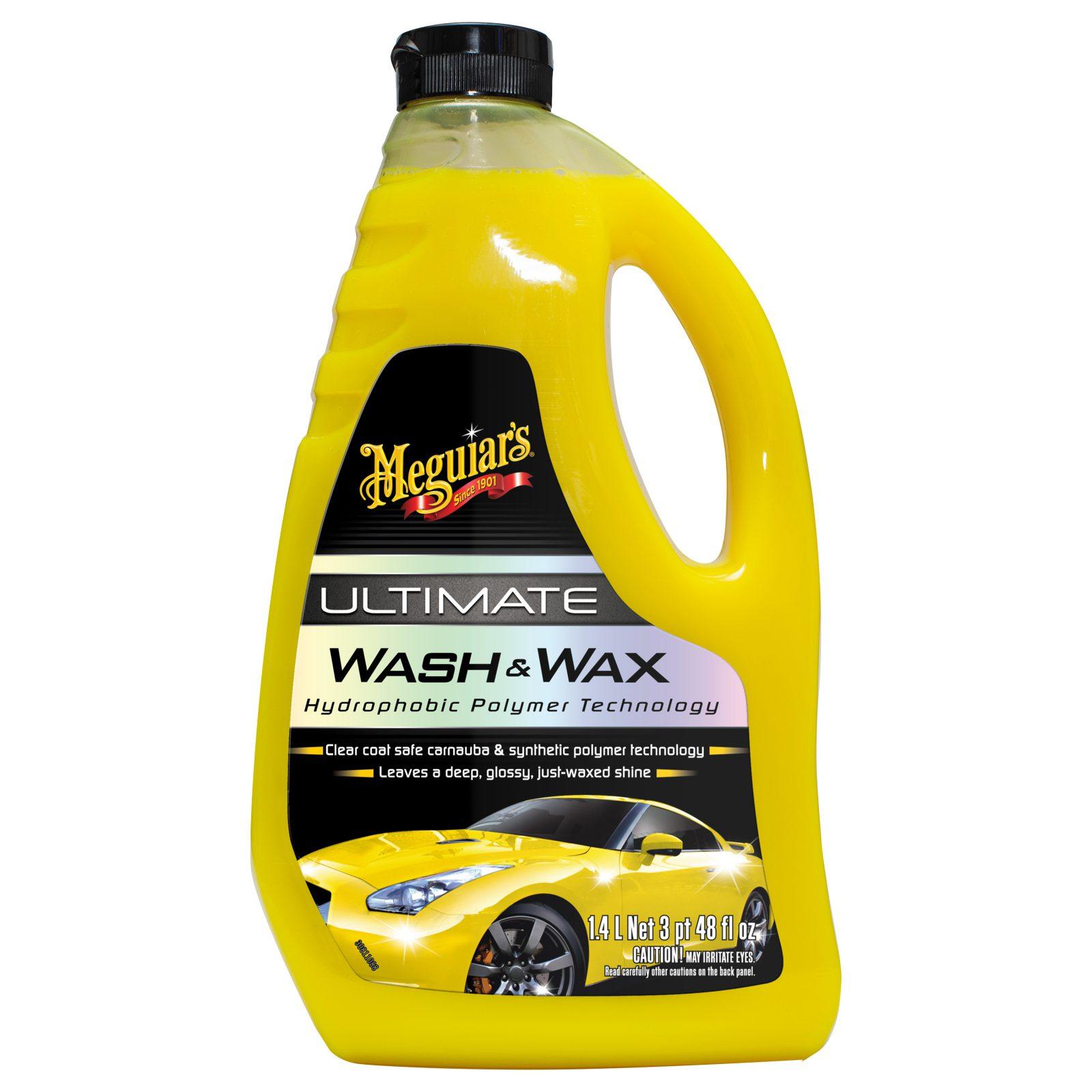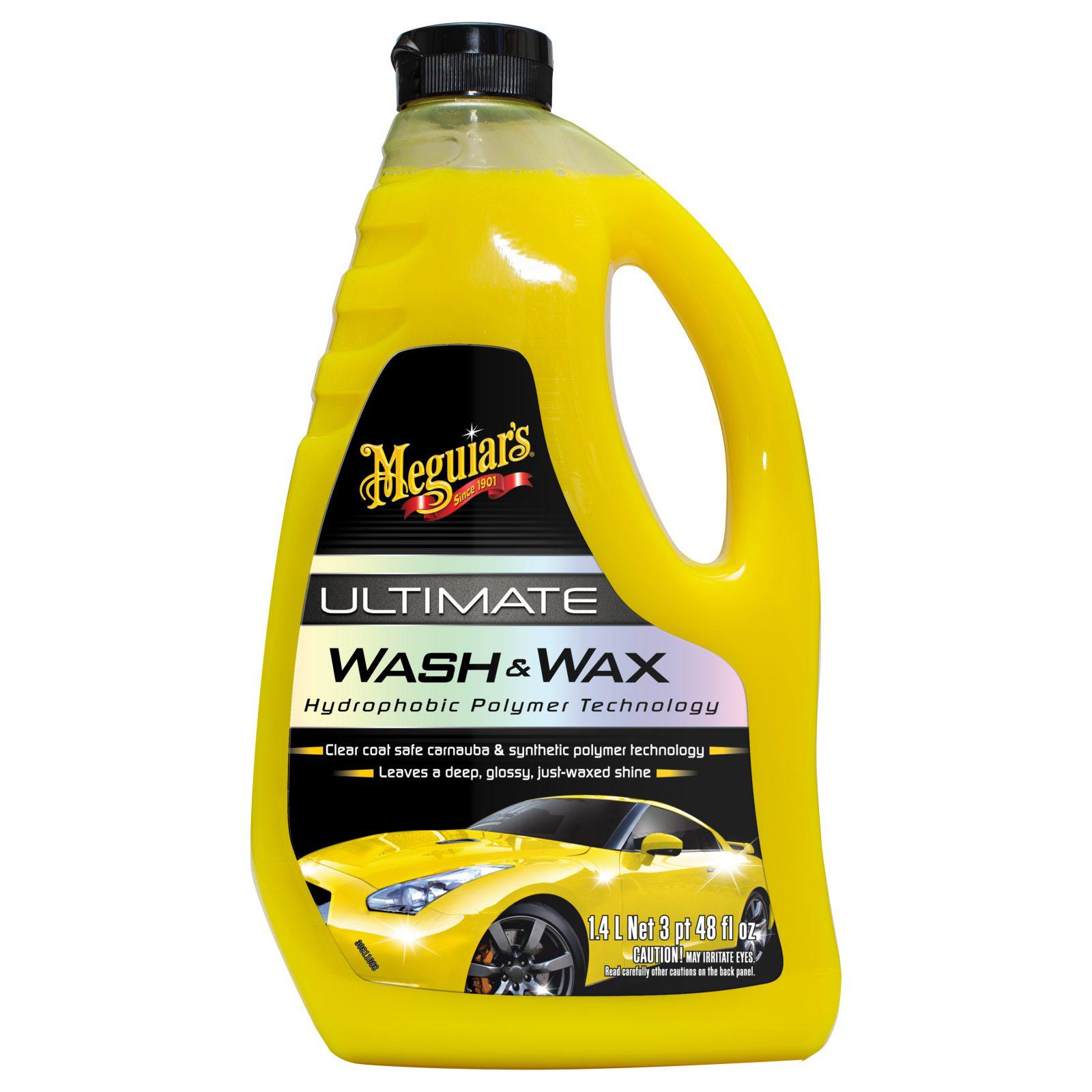 Highlights:
48 ounce bottle for $7.29 ($0.15/oz)

Amazon rating: 4.7 stars from almost 2,000 reviews.

Carnauba wax and synthetic polymer technology ensures a glossy shine and creates a protective layer, no wax needed.

Advanced foaming action for deep cleansing.
And of course, another car wash from Meguiar, the brand to go for if you want quality products for your car. This high quality car wash is rated among the best car wash and wax on the market for its washing power and also affordability. $0.15 per ounce is definitely on the lower price range for such a safe and reliable car wash from such a renowned brand.
It is perfect for adding that extra 'oomph' factor to your car in between regular waxing, and the wash actually enhances and maintains the wax's shine. Not just looks, it is formulated to leave an extra layer of protection to the paint job to better keep dirt and grime from accumulating too quickly and guard against outdoor elements. 
In short, if you don't have time for regular waxing, this will be your absolute best car wash and wax all in one.
The formula is pH neutral, with added Carnauba wax and synthetic polymer for incredible foaming action to ensure deep cleansing without stripping off your wax job.
Mothers 05674 California Gold Carnauba Wash & Wax – $11.30/64oz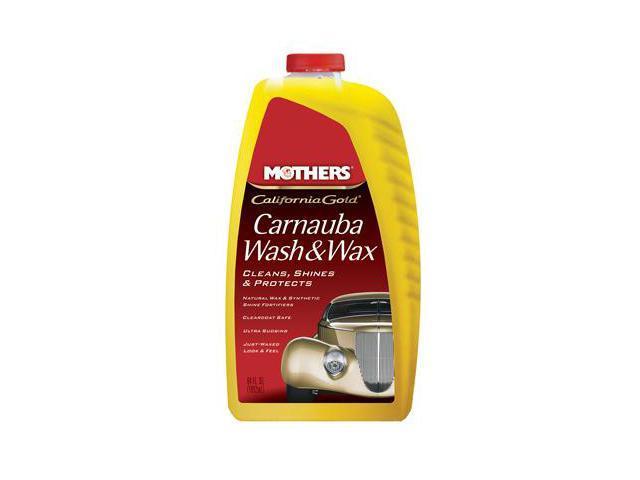 Highlights:
64 ounce bottle for $11.30 ($0.18/oz)

Amazon rating: 4.7 stars from some 500 reviews.

Neutral pH ensures no watermarks or swirls

Carnauba wax ensures a glossy and shiny finish

Imparts a protective layer to the paint job

High concentration

Biodegradable.
Also an affordable car wash and wax, you are only paying $0.18 per ounce for an amazing performance. This car wash and wax's formula is among the most concentrated among the best sellers in this category, so you're getting excellent value for money. 
The special carnauba wax ingredient gives you the same glossy results as any other car wax and there is no need for additional waxing after each wash. The finish will look like a professionally waxed car with ultimate shine and protection from dirt, grime and weather elements.
A note from many reviewers is that while the product might not be too sudsy, it is still effective in removing the toughest buildup on your car without a whole lot of foam.
The neutral pH formula ensures no streaks, watermarks, or swirls left behind, in addition to being biodegradable and safe to use. 
Armor All Car Wash Formula, Cleaning Concentrate – $8.40/24oz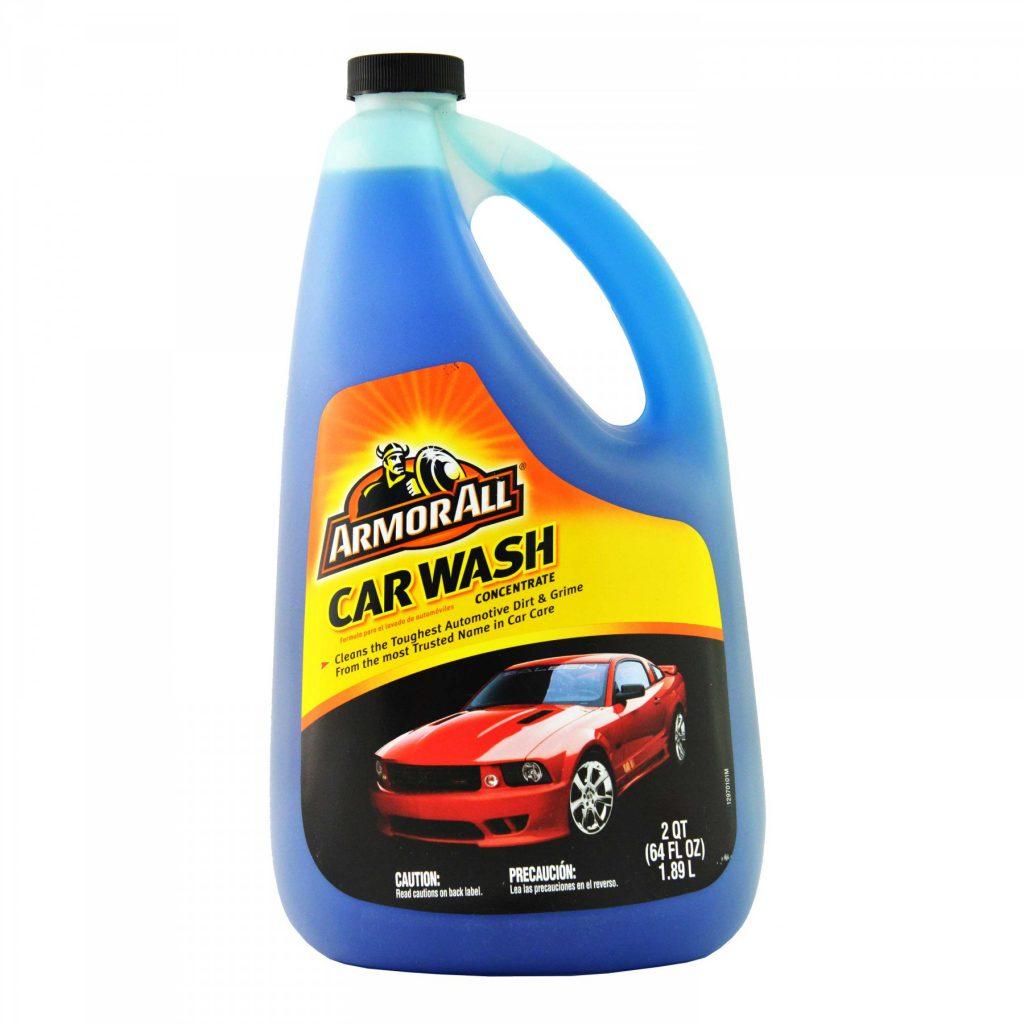 Highlights:
24oz bottle for $8.40 ($0.35/oz)

Amazon rating: 4.5 stars from over 400 review

Excellent foaming action to battle

the toughest dirt and grime,

cat tracks and mud stains.

Safe for all automotive finishes, including clear coats.

Delivers

spot-free, streak-free results.
All Armor might be less popular than the brands we have mentioned thus far, however the brand and its products have rightfully earned a spot among the greats when it comes to the best car wash.
Compared to the excellent products in this list, what makes it stand out, based on the Amazon reviews, is the ability to battle tough debris effortlessly on any car finishes, including clear coats. It is safe even with boats and other machines, as many reviewers have tried.
Another superstar feature is its spot-free, streak-free results, even if the car is washed outdoors in direct sunlight and therefore dries up too quickly. This is something not just any product would dare or dream to claim. So while you have other excellent options to choose from, this All Armor wash might be the best car wash if you live in very hot and sunny weather and can only wash your car outside, which is not ideal to prevent streaks and spots.
Chemical Guys CWS11016 Car Wash Soap and Cleanser – $30/gallon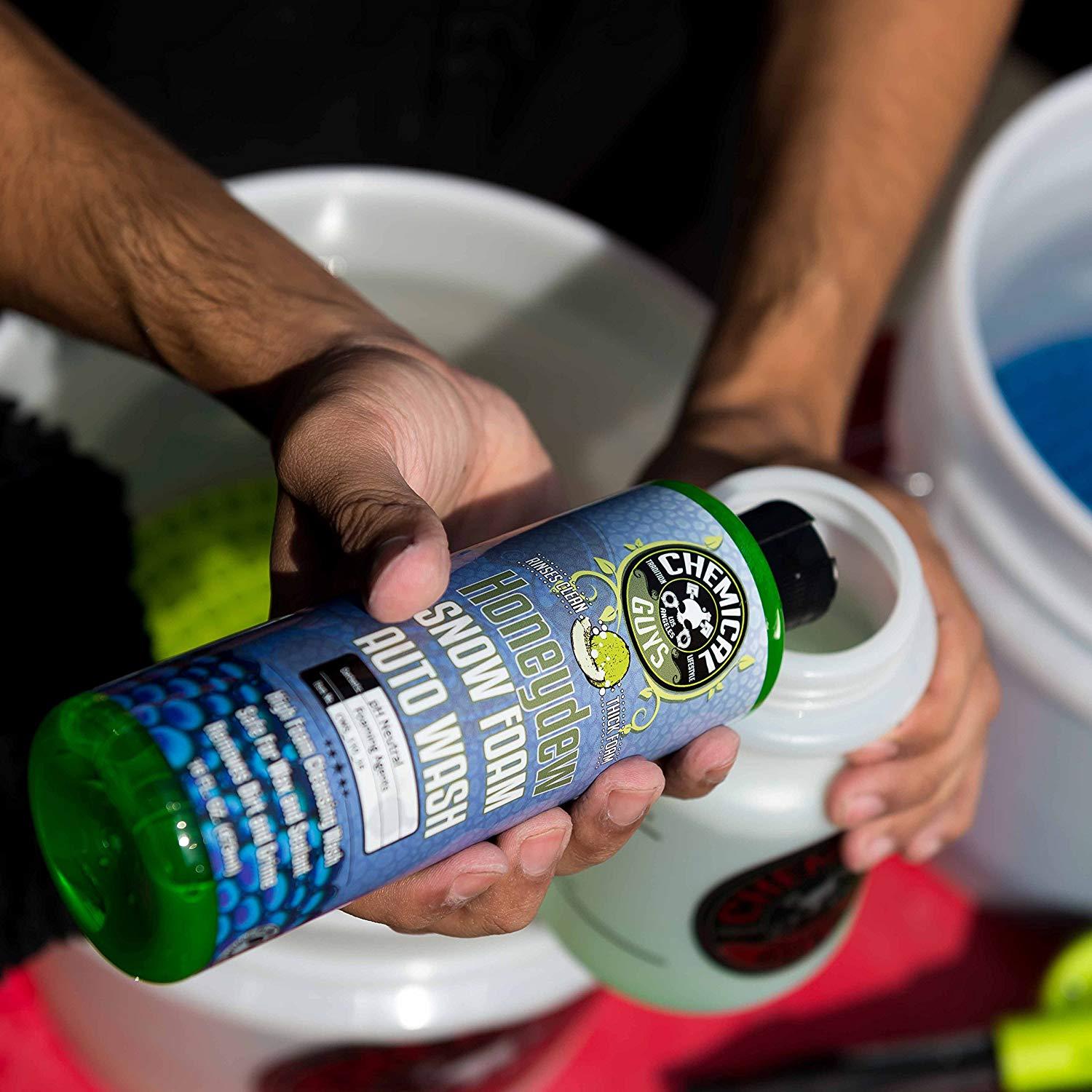 Highlights:
Half gallon bottle for $21 ($0.33/oz) or a gallon for $30 ($0.23/oz)

Amazon rating: 4.6 stars from over 3,500 reviews.

Thick "snow" foam

Pleasant scent

Safe on all vehicle surfaces including paint, rubber, vinyl, glass and plastics.

High concentration: one cap to five gallons of water.

pH neutral formula.
This superstar from Chemical Guys deserves it spot among the best car wash soaps with raving reviews from over 3,500 car owners and professionals on Amazon. Its distinguishing feature is its advanced foaming property that produces tiny bubbles, described as "snow foam", with ease. 
Coupled with a neutral pH formula, washing will be an easy job on any car finish and material. Its high concentration allows you to do a deep cleansing with only one cap of solution to five gallons of water for each wash. 
To make car care even more enjoyable, its natural honeydew smell will leave your car smelling fresh and great.
Chemical Guys Maxi-Suds II Car Wash Soap – $22/gallon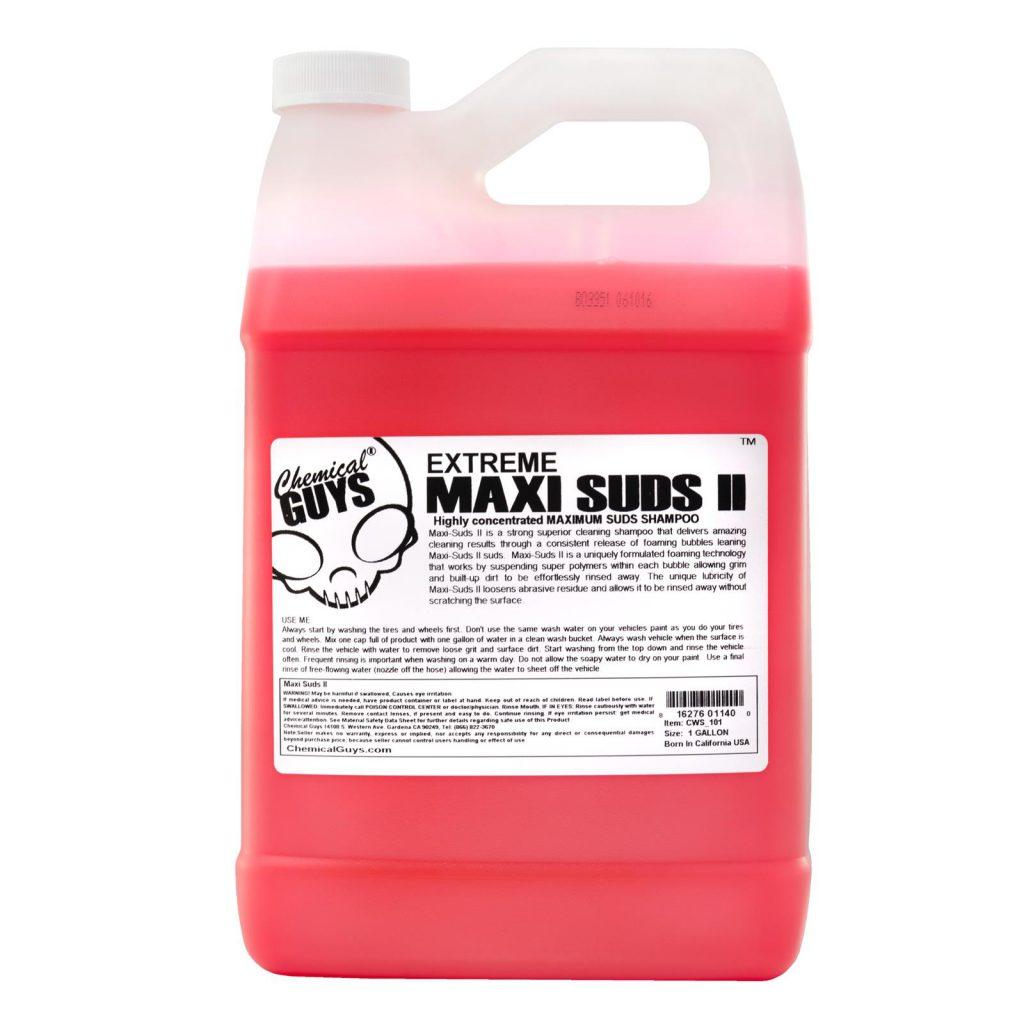 Highlights:
1 gallon bottle for $22 ($0.17/oz).

Amazon rating: 4.6 stars from over 1,700 buyers.

Extreme suds

Formulated with water softeners to prevent streaking and water spots, even in direct sunlight

Fruity scents: grape, strawberry or cherry.

Works great when used alongside a sprayer applicator.
Another product on the affordable spectrum, which is also highly concentrated so you're getting a lot of bang for your buck. Aparts from great value for money, what sets this Maxi-Suds soap from our trusted Chemical Guys apart among our handpicked best car wash soaps is its super foaming agent, thus the name.  
Such extreme suds easily loosen and remove any buildup with ease without being abrasive on your car's paint job, sealant or wax. A rinse is all you need for a streak-free and shiny finish. Your car will not only look like new but will also smell lovely, like grape, cherry or strawberry margarita.
A highlight is this product claims, and as testified by many reviews, to deliver the same excellent results even if you're washing your car in direct sunlight, which will often lead to streaks and water spots due to fast drying.
With this unique feature, as well as the advanced foaming action that very few competitors can boast, and of course its well-rounded performance, this heavy-duty wash rightfully earned a spot in our list, or any other list of best car wash products you need to try in 2020. 
Now that you have pocketed the very best car wash options, let's get down to the actual washing.
Car Wash Tools
Two buckets: The first and foremost thing you need is buckets. Fill one with soapy water and the other with clear water for efficient cleaning.

Hose: A hose is necessary when you want to rinse off the soap from your car.

A Washing Mitt: Do not just use any cloth to lather on the soap. Instead, use a microfiber washing mitt. It fits your hand like a glove, literally, and prevents any abrasion.

Foam Gun: Instead of using your hands to lather on the soap to your car, you can invest in a good quality foam gun. It will spray thick lather directly on to the car quickly and efficiently.

Grit Guard: A grit guard can prevent loose contaminants from accumulating onto the wash mitt each time you rinse.

Drying Cloth: Drying cloth should be used after rinsing as you should never allow the soap to air dry.

A strong brush: for cleaning tires. 

A finish for your wheels & tires.

For how to clean and better maintain your wheels, refer to our guide on

How to clean alloy wheels

.

You might need a bug and tar remover for, particularly bad stains.

Finishing wax or polish: optional for a protective shine.
How To Wash A Car
Start by rinsing off your entire car with clean water from a hose or bucket, make sure you get any dirt out from under things like the wiper blades.

Always wash the wheels first. Your vehicle's wheels and tires will be extremely dirty and require the most scrubbing. 

Refill your buckets with fresh soap and water as needed throughout the process.

Pre-treat any stains (oil, bugs, bird droppings) and apply removal soap directly to the area.

Start washing and periodically use a rag or water to rinse the car and dirt away.

Do not scrub too hard, and make sure you wash in straight even lines. Using a circular motion can create swirl marks that will last and cause spots. 

Rinse off throughout the wash, especially as you move around the vehicle to new areas.

Once you wash all sides and rinse, use a towel and air to dry the car thoroughly to prevent water spots and sunspots from forming. 
FAQs
Can I Air Dry My Car?
If you only air dry your car you will likely leave water and sun spots, which can erode the paint coating over time. Carefully dry your car by using a towel or specialized car towel to dry most of the water. After that, wipe a microfiber towel over the whole car to remove spots. The towel should be flat and moved in straight lines, with no circular motions that will leave marks. 
Is Waxing After Washing Necessary?
If you are using the best car wash soaps that are designed to also serve as a conditioner, your car will get a shiny, glossier look compared to washing with a regular car shampoo.
However, a wax after drying is highly recommended by professionals and seasoned car owners for many reasons.
Benefits of waxing:
Waxing protects that freshly revealed coat.

Done properly, it will act as a protective layer to keep your car looking glossy and new, whatever the vehicle's age.

Ultimately, it can cut down the need or frequency of car polishing altogether.
Types of wax
Spray wax is generally the quickest to apply – but make sure you shake the bottle well first.

Paste wax tends to be harder to apply therefore is more time consuming, however provides longer-lasting results.

Liquid wax sits somewhere in the middle of the effort vs results spectrum. Again, shake before using, in order to mix the ingredients.