Know About Top 10 Toyota Best Selling Car
When it comes to the cars, Toyota is a synonym for many. Starting from the performance, look to comfort, the brand has been able in delivering utmost satisfaction in all aspects. You can say this is the reason that a Toyota best selling car is considered a default option for the best car recommendation. On this context, here we come up with the line-up presenting top 10 best Toyota cars.
Toyota Land Cruiser Prado
Toyota Land Cruiser Prado, one of the most expensive Toyota cars boasts a super powerful engine displacement of 2982 cc with 170.30@3400rpm, generating an excellent 410Nm@1600-2800rpm torque. Running in the cities, it shows the mileage of 7.0 KMpL and shows a mileage of 11.0 KMpL on the highways.
Toyota Land Cruiser
Undoubtedly the best car of Toyota, the Land Cruiser is the most expensive from the brand as well. Powered by a huge 4461 cc engine displacement capacity and 261.49bhp@3400rpm, it generates the torque of 650Nm@1600-2600rpm. Talking about mileage, it shows 8.0 KMpL in the cities and 11.0 KMpL on the highways.
Toyota Etios Liva
Whenever a line-up for Toyota best selling car, the Toyota Etios Liva is evident to find a place, and there is every reason as well. Powered by 1364 cc engine with 67.04 BHP, this Toyota is pretty economical as well with 23.6 KMpL mileage. There remain the upgraded features like power steering, A/C, central lock, etc.
Toyota Innova
It's like impossible to prepare a line-up of top ten Toyota cars missing Toyota Innova. The diesel car with engine displacement capacity of 2494 cc and 100.6bhp@3600rpm bhp, generates torque of 200Nm@1200-3600rpm. It shows city mileage of 9.0 Kmpl, while the highway mileage is 12.99 KMpL.
Etios Cross 1.4L GD (Diesel)
Etios Cross 1.4L GD is undoubtedly one of the best Toyota cars. The diesel car runs through a powerful 1364 cc engine with 67.06bhp@3800rpm and torque of 170Nm@1800-2400rpm. It shows mileage of 18.04 KMpL in the cities and 23.59 KMpL in the highways.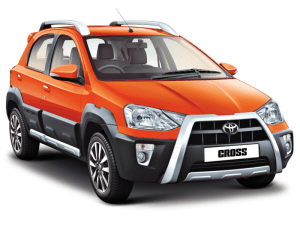 Toyota Innova Crysta
Here comes one of the best Toyota cars in the line-up that can assure greater performance at an affordable budget. Sparked by an incredibly powerful diesel engine with engine displacement of 2393 cc with 147.8 bhp at 3400 rpm, the Innova Crysta generates torque of 343Nm@1400-2800rpm. Coming to the economic side, the vehicle shows a city mileage of 12.0 kmpl, where as the highway mileage is 15.1 kmpl.
Toyota Corolla Altis
When it comes to the best new Toyota cars, the name of Toyota Corolla Altis is visible to be found. More than performance, the car has grabbed accolades for its superior features. Be it about the glossy LED headlamps and grille, the upgraded 16-17 inch alloy wheels, the Corolla Altis has been always one of the bankable editions from Toyota. It comes in dual versions; one of which is a 1.8 liter petrol engine, and the other is a 1.4 liter diesel engine.
Toyota Fortuner
Toyota Fortuner is one of the most favourite segments from brand Toyota. Powered by a diesel engine of 2982 cc with 168.5bhp@3600rpm generates significant torque of 343Nm@1400-3400rpm. The car shows a mileage of 9.25 KMpL in the cities, and 13.0 KMpL in the highways.
Toyota Prius
Toyota Prius can deliver you the full value of your money. This petrol car with 1798 cc engine displacement capacity comes with 97.8bhp@5200rpm and generates the torque of 142Nm@4000rpm. The vehicle runs 20.1 kilometres per one litre in cities, and 23.91 on the highways.
Toyota Camry
Very popular Toyota Camry is dominant with 2494 cc engine displacement capacity and 178.4bhp@6000rpm, generating 233Nm@4100rpm torque. It has the city mileage of 10.2 KMpL, and 12.98 in the highways.