How Do I Get a License to Buy Cars at Auctions?
Last updated
Nov 17, 2022
0 comments
Car auctions are no longer limited to rare and expensive models. More private buyers are turning to car auctions to find reliable rides for cheap. You probably have heard that you need a special license to bid at auctions, and have been asking "how do I get a license to buy cars at auctions?". This is only partially true. You can still buy cars at auctions without any license. 
You might have known that car dealerships make a tidy profit by buying used cars at auctions for relatively little, then repair and resell them for a higher price. Naturally, bypassing those dealer markups and getting your hands on a used car at auction yourselves sounds like the perfect plan. That's the right direction, but before heading off to the nearest auction, you will need to understand the different types of car auctions, the rules and requirements associated with each, including whether a special license is needed and "how do I get a license to buy cars at auctions?", whether auctions are the right place for you, plus important notes to avoid getting tricked into buying a "lemon" or a junk. 
Understanding Types of Car Auctions
When you want to shop for a used car, you can go to a dealership or buy from a private seller, or buy at car auctions. This last option is becoming more and more popular among private buyers, and for a number of good reasons. 
The most important advantage is the price because you can get a much better deal than going to a dealership, where you'll have to pay extra for dealership markups, overhead fees and a host of other expenses. In addition, car auctions offer a greater variety of vehicles than your ordinary car dealership and compared to private sellers, these auctions involve a great number of scrutinizing eyes so the likelihood for scam like odometer rollback and other problem-masking is lower. 
When you can avoid paying a dealership's markup on a car while having a lot more options, why not go for it, right? You'll want to learn the different types of car auctions, and whether you need a special license to buy from one. We'll discuss the process for obtaining such license further below in the next section.
1. Public Car Auctions 
As the name implies, a public car auction is open to almost any shopper with cash or approved financing and does not require a license at all.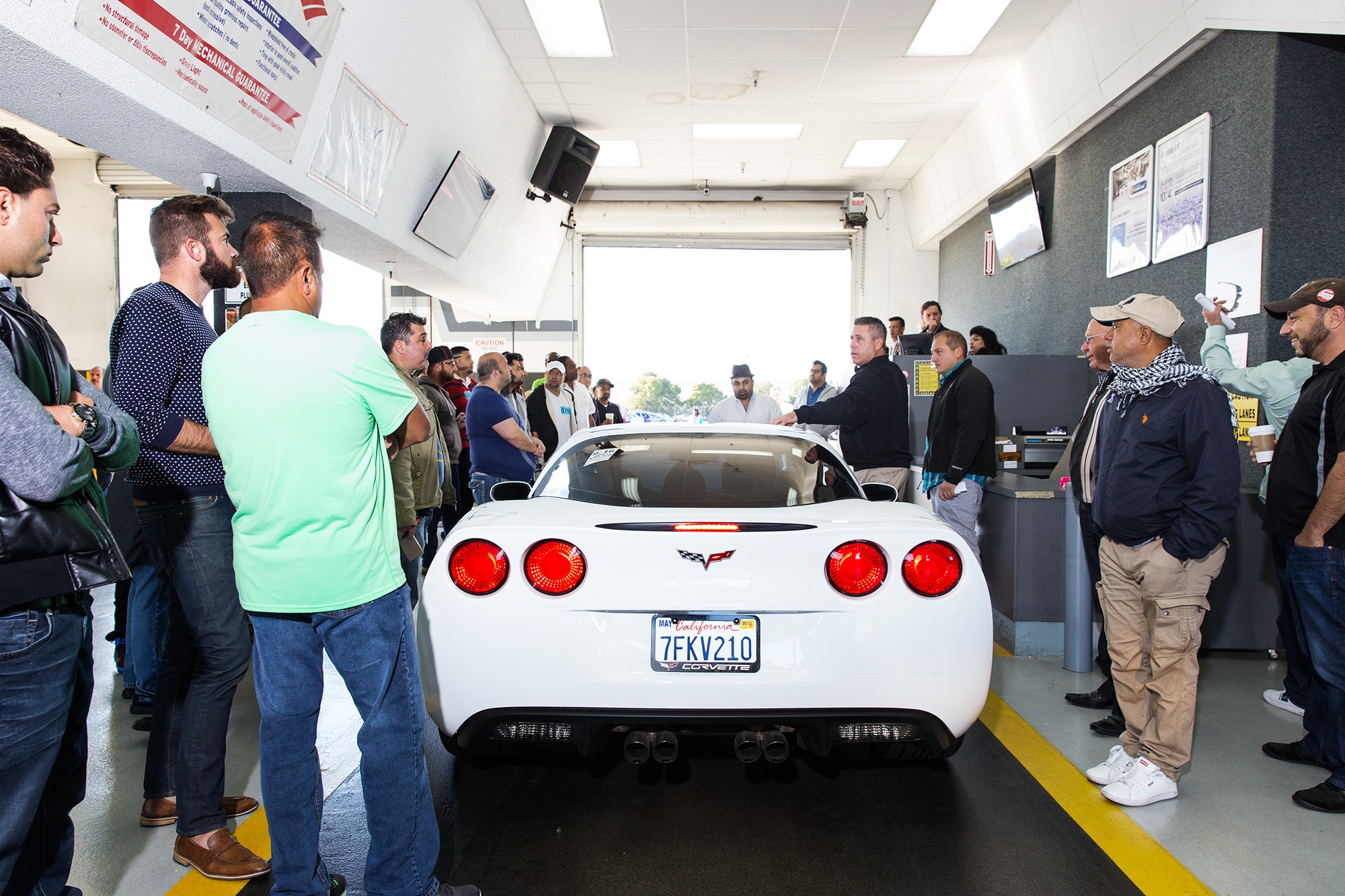 Government Auctions
Government auctions or police auctions include county and city vehicles like old police or service cars, buses, utility trucks and more. These auctions also sell impound cars that have been confiscated because of traffic violations and crime. 
With this type of auctions, the quality of the vehicles tend to be decent. However, you will face fierce competition from car dealing experts who understand the value of the vehicles on the block and also have the mechanical capabilities for inspection and repairs, including exporters, used car dealers, taxi companies, and other private buyers.
Public Auctions
These non-government public auctions include fleet sales from individual dealerships, local municipalities, larger governmental agencies, and those Mecum and Barrett-Jackson events that appear on television. This category also includes online public auctions, that is most of the vehicles offered on websites like eBay. 
More and more private buyers are turning to public car auctions, both online and offline, to hunt for a great deal. And public auctions used to be a safe place with ample reliable rides. Unfortunately, today, for all the deals available at car auctions open to the public, many lemons could be lurking as well. Also, your chances for landing a salvaged car that sustained major damages from accidents (and thus deemed to have lost their whole values) are greater than ever. 
Experts suggest that the only people who should go to public auctions are those with exceptional eyes and mechanical inclination that can really see the true worth of a vehicle and can return it to workable condition. 
One important note is that at public auctions, you're only allowed to visually inspect a car. If you can't detect potential problems or negative signs by eyes and if you can't fix it, a public auction is not the ideal approach. Online auctions like eBay are an entirely different beast, and through the use of independent inspection services, may even be a safer bet. However, if you don't have the expertise, it's probably best for you to visit a dealership. 
That said, with the research, preparation and a discerning eye, and probably an accompanying expert, you could drive home in the best steal of your life. 
READ MORE
2. Dealer Car Auctions
Dealer auctions or private auctions are restricted to licensed car dealers. These auctions are where car dealers get their stock to fix and then resell at a handsome profit. 
The offerings here include low-mileage models from major rental companies, automakers' lease returns, and those cars and trucks that other car dealers couldn't sell quickly (dealer auctions are the dealers' last resort, as they prefer to sell to individual buyers first). While local public auctions only offer a relatively limited number of vehicles at a time, dealer auctions avail buyers to hundreds or thousands of vehicles. 
Due to the level of expertise of the buyers, the quality of the vehicles at dealer auctions is typically much higher, and usually include many new or like-new vehicles. Of course, the offerings are also usually more expensive than at public auctions, but they are still much more affordable than at the dealership. This is why many private buyers are eyeing these private dealer auctions and wondering "how do I get a license to buy cars at auctions". Just keep in mind that cars bought at dealer auction are also subject to extra auction fees and transport costs, so the low hammer price isn't what you're paying.
Strictly speaking, to take part in a dealer auction, you would need a dealer license that proves that you are a registered and authorised car dealer. If you only want to buy yourself a new car, obtaining a license is not easy and also not at all cheap, so it is definitely not worth the troubles to get one. However, if you still want to secure a good deal from a big pool of good offerings, there are lawful ways around this restriction. We'll answer the question "how do I get a license to buy cars at auctions" first, then discuss the way you can go to a dealer auction without a license further below.
READ MORE
How Do I Get a License to Buy Cars at Auctions?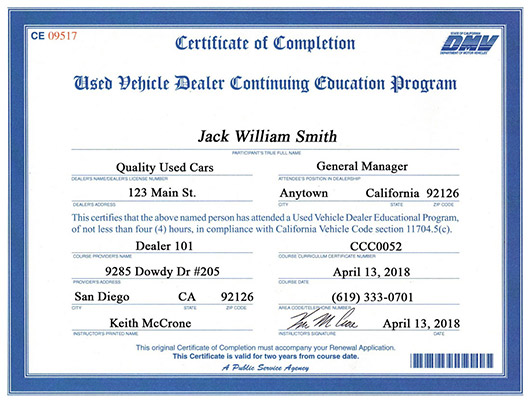 To get a dealer license to buy cars at auction, the first thing to do is to visit your state's Department of Motor Vehicles (DMV) website, where you'll find specific rules and regulations, which vary by state. In general, you'll need to submit an application answering questions about you and your dealership business, and pay an application fee that can range from fifty to a few hundred dollars. 
There are many documents and proof that you must provide, since you are applying for a legal license as a professional. You might need to submit a detailed business plan, a business license, and tax or employer identification numbers necessary to process customer-paid sales tax or employee income taxes. In addition, most states also require a purchase and sale agreement or signed lease for your business's location, proof of insurance for the business, as well as fingerprints to be used for a background check. 
The list doesn't stop there. A state representative may even request an in-person visit to verify that your dealership abides by local zoning laws and meets all requirements for square footage, display space, equipped and operational service bays, and signage. 
You will also need a surety bond. The typical bond value falls into the $25,000-$50,000 range, and often depends on the types and number of vehicles sold. This bond is an insurance policy that protects consumers if your dealership commits fraud or otherwise fails to live up to its financial obligations. You do not need to pay in full at once when applying for the license, but must pay a certain portion of the total bond value before a state considers your application complete.
As above, the regulations vary between states. You may also have to pay for licensing fees (not to be confused with license application fees), and dealer plate (tag) fees. Missouri and Washington D.C require a passing grade from a dealer training course. In California, there's the auto broker and New Motor Vehicle Board fees (in California), while Colorado even requires a minimum net worth and credit score.  
In short, obtaining a dealer license is really a time-consuming and expensive endeavor, so you should only go this route if you wish to develop a profitable business from buying used cars at auctions for resale. If you're only buying a single vehicle for your own use, it's probably best to buy from auctions that are open to the public instead, or check out the lawful ways to buy at auctions without a license below. 
No License? Check Out Online Dealer Auctions
If you're trying to attend an in-person dealer auction, probably the only way to get around the license requirement is to go with your car dealer friend, who will bid on your behalf. 
However, there are online dealer auctions too, and you'd have better opportunities. Online dealer auctions will still require a dealer license, but there's a loophole. On top of that, online car auctions can take care of the paperwork and title transfer, and even arrange transportation for your purchase. 
There are third-party companies like Auto Auction Mall who use their own dealer license to give you access to those dealer auctions. You still can't bid yourself, but instead set your budget and a maximum bid limit. These third parties' in-house experts will give you all the information you need and then bid on your behalf, up to the limit you set for the vehicle of your choice. 
Important Notes for Buying At Car Auctions
"As Is" Condition
Vehicles at auction sell in "as is" condition, which means there are no guarantees, no warranties and no means of legal recourse in case you realize that you're not getting what was advertised. Buying used cars at auctions is quite tricky and requires industry knowledge, discerning eyes and mechanical expertise to make sure you are paying for what you think you're getting.
Check The Car Value Before You Bid
Before you bid, take time to research local prices on Craigslist and in classified listings, and go to online resources such as Edmunds and Kelly Blue Book to get a general idea of the fair market value of the used cars you're eyeing. 
Observe Other Bidders
If you're new to the game, seasoned bidders suggest that you attend a few auctions before actually participating in one yourself just to get yourself familiar and comfortable, and get to know the players. It's important to arrive from the start, take your time and watch the action closely on all the cars up for auction, not just the ones you're interested in. Look for suspicious bidders who seem to be active on every lot, who may be trying to pump up the prices. 
Check the VIN
For any car you're considering, check the VIN from the base of the windshield and other places where the VIN might appear, such as door and trunk lid stickers. The numbers should match exactly. If they don't, the car may have been salvaged and reconstructed, that is it  has been in a major accident where it was totaled in the process and had to be rebuilt. 
These are not reliable rides, since the damages were too great in the first place, and even if the state ruled that it was "fixed" after reconstruction, in most cases, you'll need to spend more on repairs than what you paid for it. 
Visual Inspection
Cars at public auctions sell on visual inspection alone. So you need discerning eyes, and even if you're mechanically skilled yourself, it's always a good idea to get an accompanying expert just to have a second opinion. Look at everything for telltale signs of repairs such as paint overspray, an uneven stance, less than smooth sheet metal, puddles under the vehicle, a musty smell, and scored brake discs. 
That said, don't believe everything you see.  There are cheap ways to cover up blemishes and problems and make the vehicle look like it's worth more than it really is, such as bondo, polish and touchup paint.
There are also all kinds of masks and foils that can make a faulty engine seem functional. If you don't know the tricks that sellers may use to hide performance-related problems that are difficult to see with bare eyes, maybe it's best to stick to used car dealerships. There are no guarantees or warranties at public auctions.
A useful way to detect whether a car has been well-maintained is pulling the dipsticks. When you pull the oil or transmission fluid dipsticks the lubricants should be clear and clean.
Paymnt
You will need cash for payment if your bid wins. There will also be taxes, title and registration fees. In case you pay with a loan secured from your bank, be prepared to pay a deposit and find out in advance which credit cards are accepted. If you're taking out a loan, your creditor will likely require you to cover collision and/or comprehensive insurance. 
Shipping Cost
If you are buying out of state or far from home, remember to factor in additional shipping cost. Driving the vehicle cross-state is not safe, as the vehicle is unproven and might break down somewhere remote, which will cost you expensive repairs.