How Dangerous Are Airbags and Can They Kill You?
Last updated
Aug 04, 2021
0 comments
An airbag can save your life. Together with your seatbelts, they lower the risk of you being ejected from the vehicle, or hitting your head and body against the windshield, the back of the seat in front or the doors, or suffering severe injuries due to flying glass and contact with hard objects inside and outside the vehicle. However, they can often lead to their own kinds of injury, in many cases quite serious, and even deaths. And air bags and young children surely make a dangerous combination.​
This industry knowledge article will provide you with statistics regarding airbag injuries and deaths, and how you can best prevent airbag injuries to yourself, any passenger and young children onboard. Also discover the news laws and innovations in the automotive industry as an effort to minimize injuries and deaths caused by airbag deployments.
Understanding The Many Airbags In Your Car
Neatly hidden, airbags inflate instantly when a crash begins to timely provide crucial cushioning for the driver as well as front- and rear-seat passengers during the crash. Timely deployment is made possible thanks to sensors, which start to measure impact severity the very instant an accident occurs. 
If the crash is judged to be severe enough, the sensors will send a signal to the inflators in a fraction of a second to inflate the airbags with nitrogen gas. The airbag then bursts out of its compartment and a second later, the airbag quickly deflates by a bit through tiny holes so that you can move.
Then how serious does a collision need to be for the airbags to be deployed? For occupants not wearing a seatbelt, a front airbag will deploy when the crash is the equivalent of crashing into a solid brick wall at a speed of 10-12 mph. When the seatbelt is used, most front airbags will typically deploy when the crash is the equivalent of crashing into a wall at a higher speed of about 16 mph, as the seatbelts alone are likely to provide adequate protection up to this speed. 
Meanwhile, the deployment thresholds for side airbags range from 8-mph crashes into an object and 18-mph collision with another vehicle.
Front Airbags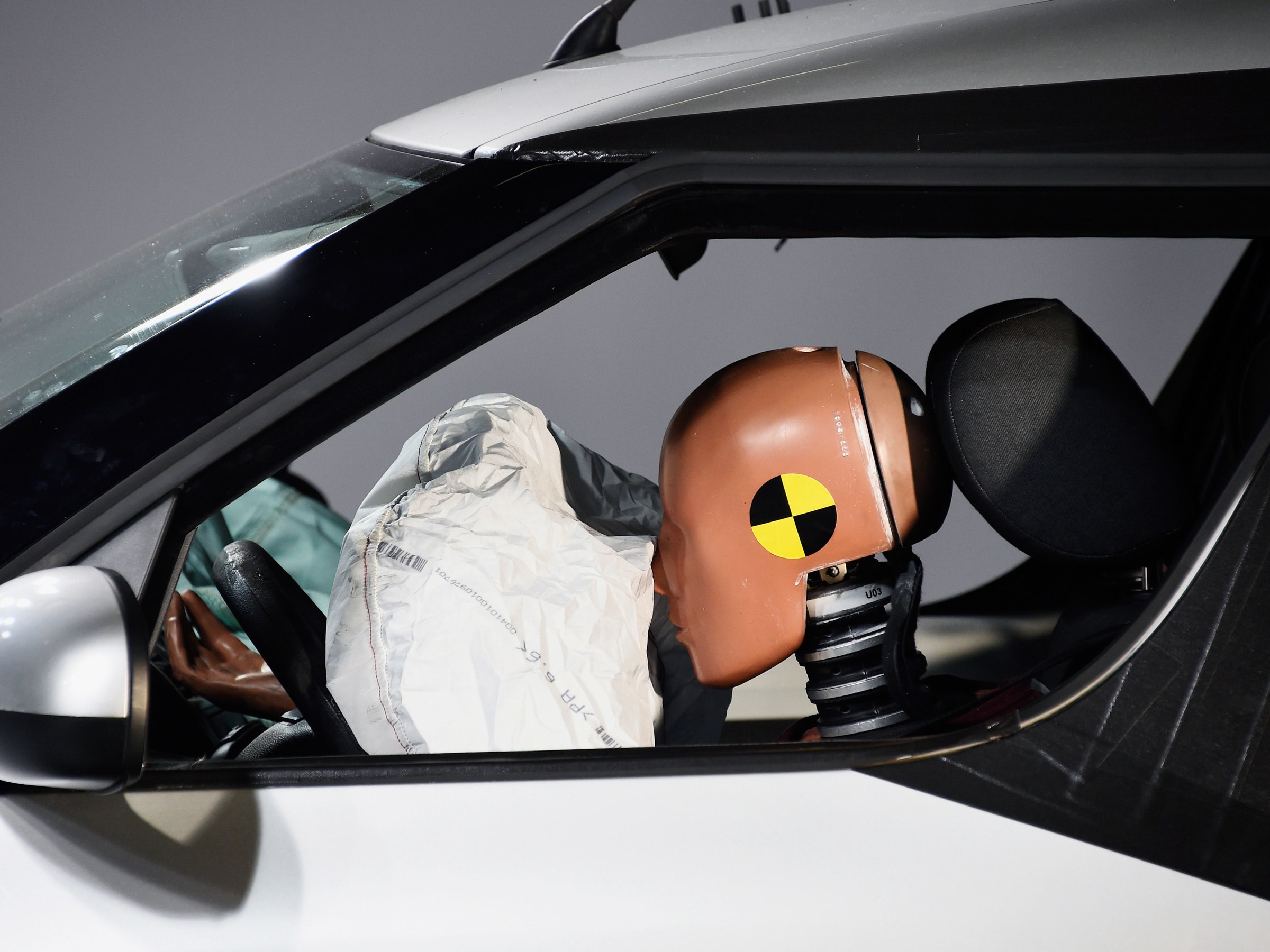 The driver airbag is located in the steering wheel, while the passenger airbag is fitted in the dashboard. Front airbags will activate in moderate to severe frontal crashes to prevent your head and chest from bumping into hard structures in the vehicle, such as the windshield, windows, the roof, and lessen injuries from contact with flying glasses. From the 1999 model year onwards, all passenger vehicles are required by law to have front airbags installed for both the driver and front-seat passengers. 
Side Airbags
The side airbags are important too in the case of a side crash, including collision with a narrow object like a tree or a pole, and more serious vehicle-to-vehicle crashes with more widely distributed side impacts. Side airbags also deploy in certain types of frontal crashes. 
Side airbags act as cushions between your  head and the striking vehicle, protecting you from coming into contact with shattering window glass. Due to the fact that the driver as well as any occupant sit very close to the sides of a vehicle, side airbags must deploy very quickly to provide protection, typically within the first 10 milliseconds or so of a collision. 
Side airbags aren't specifically required by law, but nearly all automakers include them as a standard safety feature in modern-day automobiles in order to meet legal requirements regarding side protection. The United States has passed a federal regulation which requires a certain level of head and torso protection for all occupants in a crash. The regulation doesn't specifically mandate side airbags, but the required level of protection calls for their employment. 
From the 2014 model year onwards, virtually all new passenger vehicles come with side airbags as standard equipment to comply with this new regulation. 
Other Airbags
In addition, there are also air-side airbags to keep the drivers and front-seat passengers from colliding with each other upon impact. For protection in rear-end crashes, the rear-window curtain airbags serve as a cushion for the passengers sitting in the back seats. 
How Safe or Dangerous Are Airbags?
Statistics Shows Airbags Can Save Lives
Government statistics as well as a number of studies have shown that airbags can save lives in serious accidents. Just to present one example, a study by Kahane in 2015 shows that in frontal crashes, front airbags reduce the risk of death for drivers by 29 percent and for front-seat passengers age 13 and older by 32 percent. 
Another study in 2007 by McCartt & Kyrychenko reported that in driver-side crashes, head-protecting side airbags reduce a driver's fatality by 37 percent, while for an SUV driver, the risk of death is reduced by 52 percent. A study of crashes in Australia by D'Elia in 2013 found that in driver-side crashes, head-and-torso protecting side airbags can reduce the driver's injury risk or fatality by 41 percent. 
But They Can Cause Injuries and Deaths
Airbags can save your life, but it doesn't mean you will walk away from an accident intact. There are many instances where airbags are deployed at too fast a speed with too much force that cause injuries to the occupant, particularly those who were sitting too close to the airbag before it deploys. 
Because of the positioning of airbags and the speed at which they're deployed, common injuries include injuries to the face and eye, neck and back, chest, abrasions or burns, and in more serious cases, lacerations to organs, including the liver, spleen, lungs, and heart. Airbag injuries were particularly a source of concern with the first generations of front airbags, which deployed with greater force. They can cause injuries to the muscle and soft tissues as well as fracture facial and body bones in some cases.
To inflate the airbag , the inflation system ignites a solid propellant, which burns extremely rapidly to create a large volume of nitrogen gas in less than a blink of an eye. When deployed, the bag literally bursts out at a speed of up to 200 mph or 322 kph.
Front airbag injuries: In a 2017 report, the United State's National Highway Traffic Safety Administration (NHTSA) estimates that almost 300 deaths were caused by front airbag deployment in low-speed crashes during 1990-2008. 
If this statistic scares you, a deeper reading into the results reveal that most of the deaths were passengers who were not properly restrained by seat belts and/or are young children or infants. Specifically, of the people killed, more than 80 percent were unbelted and over 90 percent were children and infants, most of whom were in rear-facing child safety seats that placed their heads close to the deploying airbag, or were not wearing the seat belt. Nearly 90 percent of the deaths occurred in vehicles manufactured before 1998, which means they did not have to comply with new regulation on crash protection. The report also found that second to children and infants, short and elderly drivers were also vulnerable to injuries from front airbag deployment, since they tend to sit closer to the steering wheel.
Side airbag injuries: Although side airbags are typically smaller and deploy with less force than front airbags, they can deploy with enough force to cause injuries. But studies have found that injuries from side airbag deployment are not common. 
Faulty airbag injuries: Injuries are also caused by faulty airbags, or in vehicles with certain upgrades that impede the proper deployment of airbags. There have been recalls issued by governments for vehicles with faulty airbag systems that can increase the risk of death or injury in an accident. Malfunction can include failure to deploy, incorrect timing or incorrect force. 
A notorious recall in recent memory that people still talk about today is the Takata airbag recall that began in 2015 in the United State. It is one of the largest recalls ever, with an estimated 70 million vehicles to be recalled between 2015 and 2019. 15 confirmed deaths and more than 250 injuries were reported in the U.S alone due to faulty Takata airbags.
You can find information on recalls in the NHTSA database. The database also gives you a list of authorized service centers so that you can have your recalled vehicle repaired for free.
READ MORE
How You Can Prevent Airbag Injuries 
Now we know airbags deployment can be dangerous, but remember from the statistics above that that does not apply to every one. You should practice certain good habits to protect yourself and any passenger onboard, especially if you travel with young children or if you are a short or elder driver. 
For instance, pay attention to where and how drivers and passengers sit inside the cabin:
Front-seat: 
Drivers and front-seat passengers should sit upright in the center of the seat, with feet on the floor and back against the seatback. Try not to lean forward too much. 

Front-seat passengers should always sit as far away from the dashboard as possible. Meanwhile, drivers should sit with their chests at least 10 inches away from the center of the steering wheel. Shorter drivers usually need to position the seat further forward, but you can still ensure this 10-inch limit by slightly reclining the seat back. But of course, drivers need to make adjustments to ensure they can operate the vehicle in the most comfortable and effective manner possible.

In older vehicles made before 1998, the drivers might not be able to sit far enough away from the steering wheel. You might need to use pedal extenders or an airbag on-off switch. The good news is for new vehicles, airbags are increasingly innovative. They can sense the seat position and if an occupant is sitting closer to their airbag, the bag will deploy with less force. 

And remember, always wear your

seatbelt

. The seat belt is the primary safety feature while an airbag is secondary.
READ MORE
Children: 
As front airbags are larger and deploy with more force, all infants and children younger than 13 years should always ride in the back seat. If an older child must ride in the front seat, make sure they are securely buckled in a lap/shoulder belt, and sit upright against the seatback. Try to adjust the seat as far back as it can go and/or reclined, away from the air bag. 
All children should be properly secured in seat belts correct for their size, or in belt-positioning booster seats. Make arrangements to avoid driving with any child not safely restrained in the back seat.

Remind your children not to lean against the doors or nod off with their heads near the doors. This is where the side airbag is stored, in the event of a side crash, they will be at higher risk of injury due to forceful deployment.
If a child exceeds the rear-facing limit for their car seat in either weight or height, seat them in a forward-facing car seat with a harness, up to the weight or height limit allowed by the vehicle manufacturer. Once they have outgrown that as well, use a belt-positioning booster until they can fit the seat belts properly. Children between 8 and 12 years old (or of 4 feet 9 inches in height) generally will fit the seat belts alone, and should always use lap and shoulder seat belts for optimal protection.
Pregnant women: Like other occupants, pregnant drivers or passengers should sit so that their chests are at least 10 inches from the steering wheel or as far away from the dashboard as possible, while avoiding leaning against the doors. The lap belt should be positioned high on the thighs, ideally on pelvic bones.
During airbag deployments: You should never rest your arms and legs against an airbag because the forces plus the hot nitrogen gases exhausted by the airbag may cause injury as well as burns.
Other: 
Once deployed in a crash, an airbag must be replaced by a certified mechanic and original equipment manufacturer (OEM) replacement parts must be used to ensure that the new airbag is legit. Counterfeit airbags may fail to deploy or deploy improperly.

Avoid aftermarket dash or seat covers, which can impede the proper deployment of an airbag and cause higher risk of serious injuries.
READ MORE
Laws and Innovations to Reduce Airbag Injuries
New Laws
Today, thanks to government legal requirements, automakers have employed more innovative and safer airbags, so serious injuries from properly functioning airbags are rare.
From the 1998 model year onward, under new federal regulations, vehicles are made with front airbags that deploy with less force. Later, new rules called for the use of more sophisticated airbags in all passenger vehicles by the 2007 model year to offer more comprehensive protection while reducing the risk of injuries. This new law requires manufacturers to pass a series of crash tests using different-size dummies in different speeds and configurations.
For instance, innovative airbags make use of weight sensors to detect whether the driver or front-seat passenger is small, or sense if they are sitting closer to the front airbags, and reduce the deployment force accordingly. 
Automotive Innovations
Inflatable seat belts:
The inflatable seat belt is intended to distribute crash forces across the torso and chest in a manner that would reduce rear-seat injuries. This was introduced by Ford in 2011.
Rear seat airbag:
Located at the back of the seat, rear seat airbags are only partially inflated and deploy with less force than traditional airbags to provide enhanced head protection for rear passengers. 
Far-side or front-center airbag:
Developed by General Motors, the far-side airbag is designed to keep everyone onboard in position dring far-side or rollover accidents, as well as to prevent the driver and front passenger from colliding with each other during side crashes. 
Seat cushion airbag:
Seat cushion airbags are designed to reduce forces on an occupant's chest and abdomen by controlling movement of the occupant's body. Currently, the Toyota Yaris comes equipped with a seat cushion airbag.
Panoramic sunroof airbag:
Introduced by Hyundai Mobis, the first panoramic roof curtain airbag was designed to prevent occupants from getting ejected through the sunroof during rollovers.
Flexible seating airbag systems:
Airbag suppliers are developing seat-mounted airbag systems that when deployed would look like a cocoon to provide comprehensive protection on all sides.