What Are Cooled Seats and How Do They Work?
Last updated
Aug 30, 2021
0 comments
Sitting in a hot car for hours when the sun is shooting fire is agonizing. Running the air conditioner could be a solution but it comes with a cost — excessive fuel burning. Don't worry. There's a middle ground. Say goodbye to the sweaty backside and bring back the good feeling of a little joyride in the sun with cooled car seats. Cooled or ventilated seats are perfect for those long road trips or a ride in slow traffic during a heatwave.
What Is a Cooled Car Seat?
Cooled car seats have multiple in-built fans to produce air circulation and cool you down. The circulated air through the perforated upholstery reduces the insulating effects of the car seat against your backside.
You can adjust the cooling level of these ventilated car seats, which ensures a comfortable ride no matter how the outside weather is. It is also better than a central air conditioning system because sitting on these seats flows cool air directly on your body. And they consume much less power than running an AC system.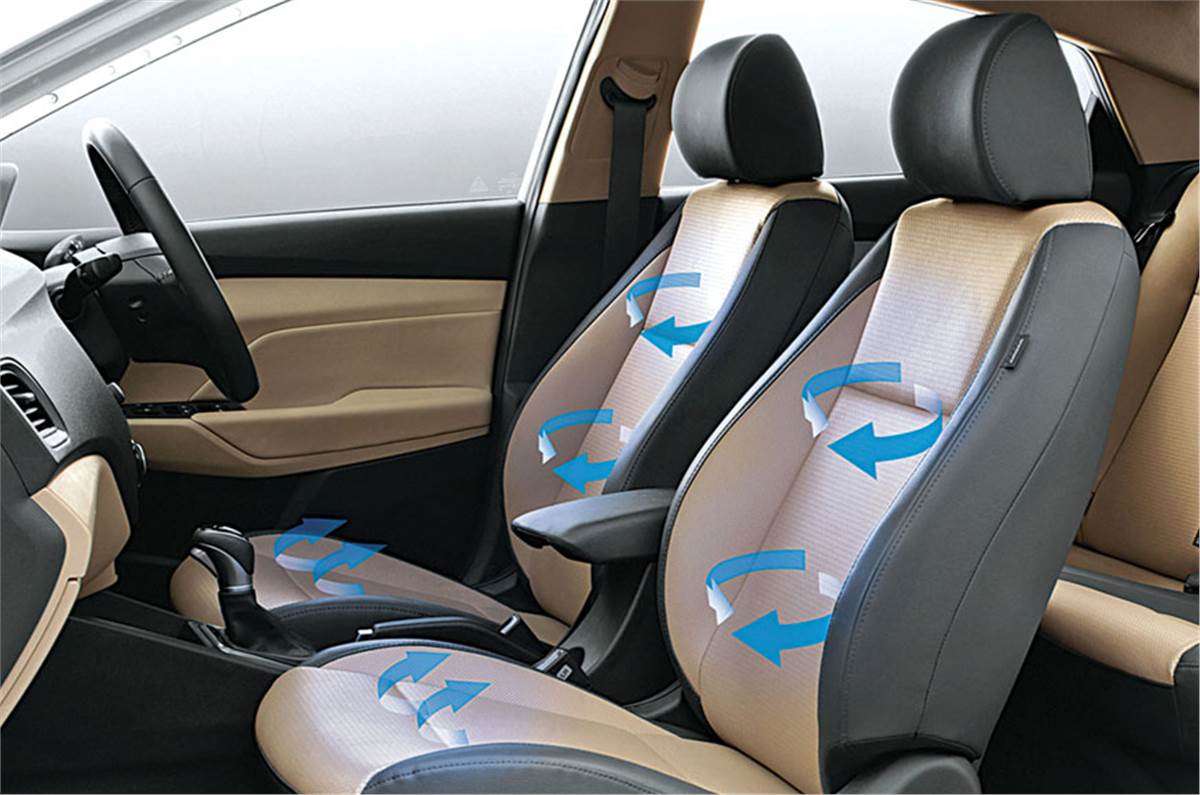 If your car seats have this technology, you don't have to have those embarrassing sweat stains on your pants anymore. Also, these seats keep you feel fresh during those hot summer days and help prevent fatigue from heatstroke or even overheating while driving.
Ventilated car seats were once a premium feature and only found in luxury cars. However, they are now available in budget-friendly commuter cars too.
How Does a Cooled Car Seat Work?
A standard car seat prevents your body heat and moisture from escaping, causing you to feel hot and forming sticky sweat. A ventilated seat keeps you cool by allowing that body heat and sweat to escape. Mesh upholstery and built-in fans help with this process.
The cooling system can work in a sucking or blowing style. It means some seats suck the hot air, moisture, and perspiration away while others blow air towards you.
There are no complicated settings to configure or controls on the seats. In most cases, you activate the fan by using a remote switch in your car's front seat, which is connected wirelessly with the cooled car seats. No more fiddling with knobs during long road trips.
Some cars have a separate small air-conditioning system for these seats. The air-conditioner is either plugged into your car's cigarette lighter or attached to a power outlet. These seats work like any regular HVAC system by compressing and condensing a freezing agent.
Except for the cooling functions, these ventilated seats work like any other regular car seat. You can adjust them to your preference by tilting the seat, changing the armrest height, and even reclining them for a more comfortable drive.
SEE MORE
Which Cars Have Cooled Seats?
Many car brands have their own branded cooled seats. This includes Audi, BMW, and Aston Martin to name a few. Apart from these luxury cars, you can also find them in budget models of Acura, Chevrolet, Ford, Nissan, and many other brands.
Aftermarket ventilated seats are also available that you can install in cars that don't have these seats.
Conclusion
Cooled car seats are a great way to beat the heat. They make long drives bearable, even during those scorching summer days when you want nothing more than being indoors by an air-conditioner.