Top Cars With Panoramic Sunroofs: Coupes, Sedans & Hatchbacks
Last updated
Jul 26, 2021
0 comments
A panoramic roof is a luxurious feature we all dream about. A vehicle with a panoramic roof is similar to a badass convertible in the way that it allows you to wave your hands in the cool breeze as your hair tousles in the summer sun, or for the kids to gaze up at the falling rain or the stars on clear days. On long trips, the big glass roof will make you feel less confined. All in all, it offers such a luxurious and unique driving experience for everyone onboard.
That said, panoramic sunroofs might come with their own downsides, depending on your driving situation and typical local weather. If you're still debating whether to purchase a new vehicle with this luxury feature, this car review guide will detail the pros and cons of driving a car with a panoramic sunroof, and followed by a list of the best models on the market, including both affordable and luxury offerings.
Panoramic Sunroofs: Why You Would Want One
The benefits of a panoramic sunroof 
As the name suggests, a panoramic sunroof is a glass roof that expands almost the entire roof of a vehicle, instead of the small ones you usually see above the driver's seat. Their generous size makes the cabin feel significantly more airy and spacious, and on vehicles with large windows, they can even mimic the open-air driving experience of a convertible. 
This means you and your whole family will feel less claustrophobic and inhibited during long trips. Your kids will less likely get bored and more likely behave, and they might find the falling rain on the roof mesmerizing.
This depends on your typical local weather of course, but if you live somewhere with a mild climate like California, having the panoramic sunroof popped open instead of your  windows in good weather will be more cost-effective than cranking the air conditioning, while producing less wind noise and reducing a bit of aerodynamic drag.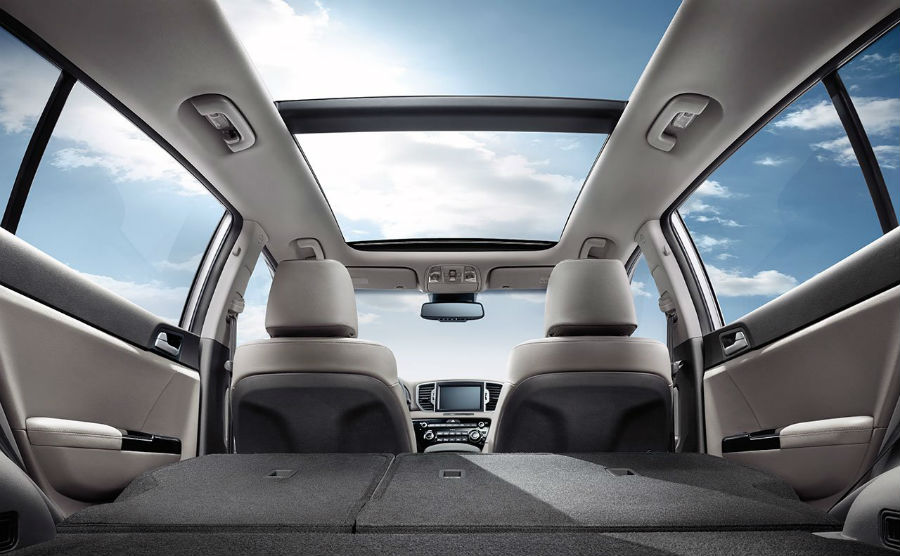 You might be thinking that this sounds comparable to owing a convertible. One advantage of owning a car with a panoramic sunroof is that it offers more protection against Mother nature as well as theft than the easily-accessed soft-top convertibles. Plus, when dedicated drop-tops have to be closed, they might pale in comparison with a sunroof when it comes to aesthetics. 
Another advantage over buying a convertible is that this type of vehicle doesn't come cheap. Convertibles are more prone to theft, thus their insurance payments are very high. Meanwhile, there are several affordable coupes, sedans, hatchbacks and wagons with panoramic sunroofs for you to choose from, in addition to a few more luxury models. Panoramic sunroofs have seen increasing availability on some surprisingly affordable cars.
Below are the best cars with panoramic sunroofs to buy now to keep you tanned and happy, categorized by type of vehicle: first are the affordable models of coupes, sedans, hatchbacks, followed by luxury models. 
READ MORE
Best Cars with Panoramic Sunroofs: Coupes
2016 Scion tC
2-door, 5-seat coupe

MSRP: $19,385 to $23,190

23 MPG City – 31 MPG Highway

Engine:

2.5L, 4-cylinder

Panoramic sunroof: available even in the base model
It's pretty rare to find an affordable coupe that offers a panoramic sunroof with front power tilt/slide even with the base model, at the starting price of $19,385. The 2016 Scion tC offers Base model is powered by a 2.5L, 4-cylinder engine mated to a manual transmission that delivers EPA of 23 MPG in the city and 31 MPG on the highway. 
This 180 horsepower engine coupling with the sunroof would deliver a lot of fun on your favorite back roads on a beautiful spring day. Another plus is the tC earns the highest possible IIHS rating for roof strength, if you're worrying about the structural integrity with all that glass.
This is a model that you'd have to buy used though, since the 2016 Scion tC has been replaced by the Scion FR-S, now Toyota 86. If you like to buy new, you'd enjoy the improvements that the Toyota 86 offers, given that you're willing to pay an extra $7,000 on top of the tC's MSRP.
2016 MINI Cooper Hardtop 2-Door & 4-Door
2-door, 4-seater coupe or 4-door, 5-seat coupe

MSRP: $20,700 to $21,500

MPG: 25  City – 33 MPG Highway – 28 MPG combined City/Highway

Engine: 2.0-L, 4-cylinder

Panoramic sunroof: available with Premium package
The 2016 MINI Cooper Hardtop 2 Door is even shorter than a traditional subcompact car at a nimble 151.1 inches in length. Miraculously though, it still finds a way to fit a power-operated panoramic sunroof on top, which is available in the car's Premium Package. 
The MINI 2 Door coupe's price starts from $20,700, and on top of the glass roof, you also get other handy features like a cargo-management bundle, a Harman/Kardon audio system, and a keyfob-sensing, automatic-unlock function for the tailgate. 
If you want easier access, you can opt for the MINI Cooper Hardtop 4 Door, the bigger 4-door, 5-seat version, as well as the Clubman and the Countryman, all of which offers a panoramic sunroof as an option.
READ MORE
Best Cars with Panoramic Sunroofs: Sedans
2016 Hyundai Sonata
4-door, 5-seat sedan

MSRP: $21,300 to $34,075

MPG: 25 MPG City – 38 MPG Highway

Engine: 2.4L, 4-cylinder 

Panoramic sunroof: available with the Sonata Limited plus the Tech Package
The sticker price for the 2016 Hyundai Sonata's entry model starts at $21,750, the usual price range for an affordable midsize sedan. However, the catch is if you want to add the panoramic sunroof, you'll have to opt for the Sonata Limited priced at $27,350, then add the $3,100 Tech Package on top, totalling $30,450. 
This might be a lot more than a MINI Cooper Hardtop 2 Door, but remember that you're getting a 4-door, 5-seat sedan with a lot more cabin and cargo space, and great value for money overall. You're paying what's well under the average price of a car with a panoramic sunroof to day, and get a great array of cool features like the heated and ventilated front seats as well as heated rear seats, a heated, leather-wrapped steering wheel, an 8-inch infotainment and navigation touchscreen, a 400-watt Infinity sound system and much more to make rides as comfortable as possible.
2016 Kia Optima
4-do

or, 5-seat sedan

MSRP: $22,140 to $36,040

MPG: 24 MPG City – 35 MPG Highway

Engine: base engine 2.4-liter, 4-cylinder or

1.6-liter turbocharged to 2.0-liter turbocharged

Panoramic sunroof: available as option or standard with higher trims 
The 2016 Kia Optima is priced pretty similarly to the 2016 Hyundai Sonata. The entry model's sticker price is only $22,140, but if you long for that super-sized panoramic roof, you'll need to go for the mid-range EX and SX trims and pay extra for the sunroof as a premium option. 
The range-topping turbocharged SX Limited trim offers the sunroof as a standard, but you'll be paying $36,400, an MSRP that's $12,000 more than the Optima entry model. That said, you get a lot of extra up-level content for that extra $12,000, such as Harman/Kardon audio, Kia's full range of driver-assistance technologies, posh quilted Nappa leather seating, something you're more likely to see on a luxury model.
The panoramic sunroof on the 2016 Kia Optima consists of two panes, with the front pane sliding back over the rear one to let the fresh air in. There's also a power sunshade for those warmer summer days. The base 2.4-liter engine delivers 185 horsepower and is available in the EX and LX trims. The mid-level 1.6-liter turbocharged engine delivers 178 horsepower and is available on the LX trim. It delivers 178 horsepower. The SX trim comes with the top-tier 2.0-liter turbocharged engine, which delivers 245 horsepower.
Best Cars with Panoramic Sunroofs: 
2016 Hyundai Veloster
3-door, 4-seat hatchback

MSRP: $18,000 to $23,950

27 MPG City – 35 MPG Highway

Engine: 1.6-liter

, 4-cylinder

turbocharged

Panoramic sunroof: available with upgrade package
Hyundai offers an affordable and sporty entry with a panoramic sunroof in this 3-door, 4-seat hatchback. The 2016 Veloster is pretty similar to the Scion tC regarding the sporty and dramatic styling, as well as the price point. The Hyundai Veloster is slightly more affordable though, even though you'll need to purchase the $2,100 sunroof-containing upgrade package on top of the $18,000 base MSRP. 
In addition to the more spacious cargo area, courtesy of the hatchback body style, the Veloster also overpower the tC with the 1.6-liter, 4-cylinder turbocharged engine mated to an automatic transmission, which can unleash 201 horsepower.
READ MORE
2016 Volkswagen Golf
2-door, 5-seat hatchback

MSRP: $18,495 to $27,425

MPG: 25 MPG City – 37 MPG Highway

Engine: 1.8L, 4-cylinder

Panoramic sunroof: available as standards on higher trims
The 2016 Volkswagen Golf is the most expensive car with a panoramic sunroof in the affordable category. Both the 2016 Volkswagen Golf and the Golf SportWagen have the power-opening versions on higher trims. You can furnish one for a total of $22,625 in the Golf S, or $24,995 to get a sunroof-ed SportWagen Limited that comes with other premium features like heated seats, and VW's Car-Net connectivity technology. 
The Golf hatchback has a full Top Safety Pick+ rating and a "Good" grade for roof strength from the IIHS, except for the Sportwagen which hasn't been tested. You get all those VW's standard safety measures, including autonomous emergency braking, blind-spot monitor and adaptive cruise control. 
Best Cars with Panoramic Sunroofs: Luxury Models
2016 Chrysler 300
4-doo

r, 5-seat sedan

MSRP: $32,260 to $38,095

MPG: 19 MPG City – 31 MPG Highway

Engine:

3.6L, 6-cylinder

Panoramic sunroof: available as standard on higher trims
Now we're moving beyond affordable models with a panoramic sunroof. The 2016 Chrysler 300 is the most affordable luxury sedan in the pack, but it's still a luxury sedan nonetheless. The 300 put its focus on a sophisticated driving experience with the wide-opening sunroof that comes with an express open/close feature, which comes standard on higher trims, as well as a host of other features for performance and comfort. There's the smart all-wheel-drive setup that disconnects from the front axle when maximum traction isn't required for fuel-efficiency purposes, and the standard rear-wheel drive powertrain for premium performance. All these make for a recipe for a lot of fun on the roads.
Audi A3 
4-door, 5-seat sedan

MSRP: $33,300 – $39,500 

MPG: 27 MPG City – 36 MPG Highway

Engine: 2.0 L 4-cylinder

Panoramic sunroof: available as standard
The Audi A3 is Audi's first subcompact sedan, but despite its size that's comparable with other mainstream econoboxes, the A3 still boasts the same kind of standard premium features you'd find in an Audi of any size. The A3 is indeed the brand's smallest sedan, but its luxury content and driving experience wouldn't leave you disappointed. Its styling is also distinctively Audi, starting with that trapezoidal grille. 
The Audi A3 is based on the same platform with rock-solid build quality that underpins the iconic Volkswagen Golf. The engine options deliver from 184 to 228 horsepower with excellent acceleration and spunky handling. Coupled with the oversized glass roof, all these makes for a fun-filled driving experience and enjoyable road trips.
The great news is the A3 offers a panoramic sunroof as standard, and you get quite a lot for the base price of $30,900, including standard Audi driver-assist and safety features, a 12-way power-adjustable driver's seat and heated windshield-washer nozzles. If you opt for the later, more-expensive A4 though, you'll have to pay extra for upgrades to get that super-sized sunroof. 
The Audi A3 is available in a sportback, saloon or cabriolet model. The new A3 saloon model, the JCT600 Limited, features a top-notch build with a saloon-body style that leans more toward a hatchback than a sedan. 
2017 Lincoln MKZ
4-door, 5-seat sedan

MSRP: $35,170 to $49,720

MPG: 21 MPG City – 31 MPG Highway

Engine: 2.0L, 4-cylinder

Panoramic sunroof: available as option
You might not have heard of this brand. Lincoln is actually Ford Motor Company's luxury brand and has begun to gather a following for its reinvention of modern-day luxury vehicles. Recently, the midsize luxury sedan 2017 Lincoln MKZ attracted attention for its fully retractable panoramic sunroof, which boasts the largest opening among any sedans in the market, both affordable and luxury. 
That oversized skylight is only available as an option though, so you will have to pay an additional $2,995, which means a total of almost $40,000. This midsize sedan might be mid-sized but its luxury is nothing mid-level, with real wood cabin trim, leather-trimmed and heated front seats, and a reconfigurable 10.1-inch "virtual" gauge cluster. The MKZ Hybrid delivers even more, and also boasts superb fuel economy with EPA ratings of 41 MPG city, 39 MPG highway  or 40 MPG combined.
2016 BMW 3 Series Sports Wagon
4-door, 5-seat wagon

MSRP: $42,650 to $44,150

MPG: 22 MPG City – 34 MPG Highway

Engine: 2.0 L 4-cylinder turbocharged

Panoramic sunroof: available as standard
The 2016 BMW 3 Series Sports Wagon offers several trims, but all with a panoramic sunroof as a standard. For instance, the 328i xDrive Sports Wagon, available from the base price of $42,650, delivers a good balance of utility, style and performance. In addition to the expansive sunroof, the 328i xDrive also boasts a built-in wind deflector, a power sunshade for the cabin, and power sliding and lift control. 
When you compare these BMW 3 Series wagons to a midsize sedan, a wagon has much more cargo room because you have an entire cargo area, as opposed to a closed trunk. Also, the 328i xDrive's 50.3 cubic feet of total cargo space is easily accessible, since the rear glass can be lifted separately from the tailgate. All in all, the 2016 BMW 3 Series Sports Wagon offers a luxurious, spacious interior with logical and easy-to-use controls, and a good balance between ride quality and sharp maneuvering for a lot of fun.
2018 Lexus ES 350 Base
4-door, 5-seat sedan

MSRP: starts from $38,950

MPG: 21 MPG City – 30 MPG Highway – 24 MPG Combined

Engine: 3.5L 6-cylinder 

Panoramic sunroof: available as standard in the base model
This 4-door, 5-seat sedan from Lexus offers a panoramic sunroof that comes as standard on even the base model. The Lexus ES 350 entry model provides the best features of a luxury car, including the sunroof, keyless entry and ignition, dual-zone automatic climate control, LED headlights, and 17-inch wheels to make long commutes as comfortable and luxurious as possible. Its 3.5-liter 6-cylinder engine delivers an average EPA but a decent 268 horsepower for enjoyable rides. 
For all these benefits, you'll be paying a pretty reasonable price compared to the other luxury sedans with a panoramic sunroof.
2018 Cadillac CTS Luxury
4-door, 5-seat sport sedan

MSRP: $53,190

MPG: 22 MPG City – 30 MPG Highway

Engine: 2.0 L 4-cylinder, 3.6 L V6

Panoramic sunroof: available with the Luxury package
This RWD 4-door, 5-seat luxury sport sedan comes in five trim options. If you want the panoramic sunroof, so with the Luxury package, a level up from the base model which also offers a host of other premium upgrades. This package comes with a 3.6-liter V6 engine with 335 horsepower paired with a 8-speed shiftable automatic transmission, offering a more badass driving experience than the 2.0-liter 4-cylinder engine on the baseline model. 
The Luxury package comes complete with a 13-speaker Bose sound system, a navigation system, adaptive xenon headlights, automatic high beams, and several driver assistance features like Blind Spot And Lane Departure Warnings Accident Avoidance System.
Mercedes-Benz C-Class Coupe
2-door, 4-seat coupe

MSRP: $47,850 to $49,850

MPG: 24 MPG City – 33 MPG Highway

Engine: 2.0 L 4-cylinder

Panoramic sunroof: available with the premium package
This 2-door coupe from Mercedes will have you drooling at the sight of its sleek, sophisticated styling. Being a coupe, it boasts better EPA ratings than the rest of the luxury sedans in this section from the 2.0-liter 4-cylinder engine that puts out 255 horsepower. To get a panoramic sliding sunroof, you must get the C-Class Coupe's premium package, but it offers other premium features like the superb Burmester Sound System and much more. This stunning ride might just convert you into a loyal Mercedes fan.
2018 Genesis G80 3.8
4-door, 5-seat sedan

MSRP: $42,725 

MPG: 19 MPG City – 27 MPG Highway

Engine: 3.8 L V6

Panoramic sunroof: available as an option
This midsize luxury sedan is available in three trim levels, all of which are quite reasonably priced and powerful, and even surpasses the majority of luxury cars in its class. The panoramic sunroof is available as an option to the base model, but you still get a premium ride for a swallowable amount.
As for power, the 2018 Genesis G80 base model comes standard with a 3.8-liter V-6 engine that produces 311 horses and 293 lb-ft of torque. The top-of-the-line engine option is a 5.0-liter V-8 that puts out 420 horses and 383-lb-ft of torque, which hardly any other model in this list can come close to. The new G80 Sport model is also powered by a powerful 3.3-liter twin-turbo V-6 that produces 365 horsepower and 376 lb-ft of torque. The G80's beastly engine is paired with an eight-speed automatic transmission that routes power to an all-wheel drive system or to the rear wheels.
The 2018 Genesis G80 comes standard with adaptive cruise control with Stop/Start driving, dynamic-bending LED headlights, a rearview camera, a multi-view camera, a haptic steering wheel and a host of advanced safety features including Automatic Emergency Braking, Blind Spot Detection, Pedestrian Detection, Lane Keeping Assist, Lane Departure Warning, High Beam Assist, Driver Attention Alert, and Rear Cross-traffic Alert. 
Panoramic Sunroofs: Other Considerations To See If It'd Keep You Tanned and Happy
A hot cabin in the summer
Like with a convertible, whether an open-air driving experience is desirable depends on the climate you live in. On hot days, even a tinted panoramic sunroof can crank up the heat in the cabin, since it's still a large sheet of glass (even a regular closed-roof vehicle parked outside under a blue sky on a midsummer's day would heat up in no time). This means in the warmer months, you might need to turn up the air conditioning to cool down the baked cabin, which would make your engine work harder and eat up more gas.
Less headroom
Although the open space and natural light would make the interior of your vehicle feel more spacious, vehicles with a panoramic sunroof would typically have slightly less headroom. So if you're taller than average, you might want to actually sit in such a vehicle and test drive it to check for fit and comfort.
Less support and protection than a conventional roof
Despite being more heavy-duty and weather-proof than the soft-top convertibles, the giant glass sheet means less support than a conventional closed roof. Panoramic sunroofs are of course typically sealed to prevent rain and moisture from entering the cabin, but since the roof is not entirely closed, there's always the inherent risk of leaks and drainage complications. And compared to a conventional closed roof, having a large sunroof also comes with potential issues with road noise and wind penetration. 
That said, in most cases, if you buy a brand new vehicle with fresh installations, these panoramic roofs seem to perform well without leak and noise problems. But if you buy used, make sure to inspect the panoramic sunroof extra carefully, as an aging and worn one might give you headaches later on.
Extra weight and less than ideal weight distribution
We all know that lighter cars accelerate faster, have shorter braking distance and consume less fuel. Automobiles are designed with special attention to the overall weight of a vehicle and how well that weight is distributed to achieve optimal safety and overall efficiency. For instance, heavier parts are typically set as low as possible to improve stability as well as handling. 
A panoramic glass roof will typically add an extra 200 pounds to your vehicle's weight, and as it's installed on the very top, it further deviates away from the ideal weight distribution. This will impede handling, acceleration and braking performance as well as gas mileage. Having a sunroof would be equivalent to having a chubby passenger onboard at all times.
Risk of shattering glass
Not only heavy, a panoramic sunroof also consists of various mechanical parts, including the panels of heavy glass, electric motors, sunshade rollers, and switches. And more parts means more room for malfunction and failure, as with anything mechanical. In a less extreme scenario, malfunctioning parts might affect operation and create more noise in the cabin. 
In the early days of the panoramic sunroofs, some folks were less fortunate. The panoramic sunroof was first introduced some 20 years ago, and in its early days, the feature came with a few problems, which, to be fair, happens with all new technology. Between 1995 and 2017, Consumer Reports reported 82 shattering sunroofs with the Nissan and Infiniti models, and seemingly for no reason, according to official court filings. Mercedes-Benz was also at the heart of a class-action lawsuit for the same problem, with buyers reporting suddenly exploding sunroofs that resulted in cascading glass throughout the cabin.