Top 10 Large SUVs With The Best Gas Mileage in 2022
Last updated
May 17, 2022
0 comments
2022 is forecasted to be a successful year for the full-size SUV segment with many models worth looking forward to. The large SUV segment continues to grow, meeting the needs of all customers such as having two or three rows of seats, and a large internal combustion capacity in 2022. One great thing that we want to share with you in this article is that not only are SUVs full-size but also have the outstanding fuel economy. The fuel economy is exactly what both car manufacturers and consumers are aiming for at a time when gasoline and oil prices are soaring along with the strong development trend of electric vehicles. 
Of all the brands of SUVs, of course, there will be countless choices for you from the medium to luxury segment. There are a lot of factors that make a driver choose a car. It can be the design, speed, or engine. But if there's one thing that automakers are seriously focusing on right now, it's fuel economy. And the following large SUVs will be an ideal choice for you. Let's explore with Car From Japan about the top 10 large SUVs with the best gas mileage in 2022.
10 Large SUVs With The Best Gas Mileage You Can't Ignore In 2022
This list compiles 10 full-size SUVs with the best gas mileage to suit every driver's needs and with the features such as two or three rows of seats, a powerful engine, outstanding traction, and most important: saving fuel.
Land Rover Range Rover 2022
Let's start the list with a famous car brand from the UK "Land Rover". The fifth generation of the Land Rover Range Rover launched with the 2022 version. Equipped with an elegant and sophisticated interior, although not too picky, it still brings an attractive and luxurious look. Range Rover 2022 is designed to match and overcome rough terrain. The cabin is spacious and comfortable for up to 5 people. The Range Rover's cargo area has plenty of room for luggage, gear, or camping gear. The lightweight aluminum construction helps Range Rover reach better performance, this will make the recycling process easier.
The fuel economy of Range Rover 2022 is impressive partly because of its engine options, but also because of its exceptional fuel-saving features. Energy normally lost when braking is now stored thanks to the regenerative braking system that Range Rover 2022 offers. The plug-in hybrid provides up to 42 MPGe and that makes it the Range Rover with the best MPG rating. The diesel model, with a maximum of 22 mpg in the city and 28 mpg on the highway, is also a very good option.
Take in the Land Rover luxury brand with premium design qualities, a comfortable cabin, advanced utilities, and considered one of the most fuel-efficient large SUVs, this is confirmed to be an unbeatable car.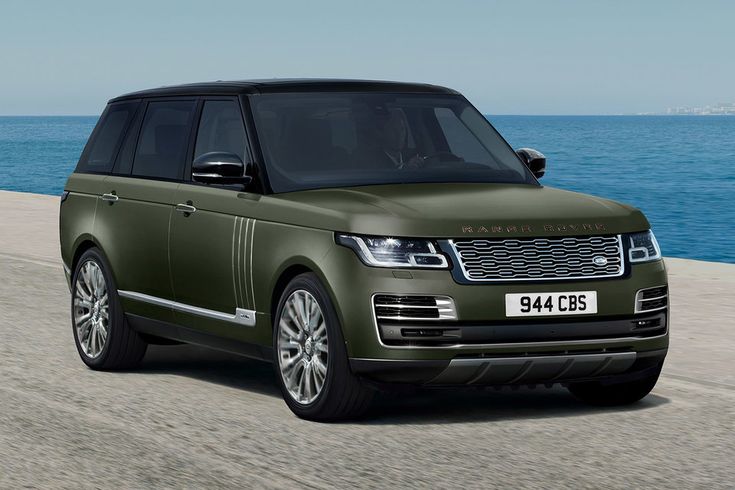 Cadillac XT6 2022
Cadillac XT6 2022 is a luxury full-size SUV from a famous brand in the US. This new generation "boss" model not only attracts the eye with its luxurious appearance and classy interior but also impresses with its smooth operation. XT6 2022 is designed with 7 seats – 3 rows of seats that have a moderate width and distance. The seat system is upholstered in high-quality leather, providing a comfortable when used. The distance between the 3 rows of seats is wide enough for passengers to stretch their legs or adjust their posture accordingly.
Cadillac XT6 2022 has a spacious luggage space. In particular, customers can expand the trunk by adjusting the 2nd and 3rd-row seats to have more storage space.
Technological factors are also one of the key elements that make XT6 special. Blind-spot monitoring and rear cross-traffic alert are added to the XT6's long list of high-tech safety systems standards for 2022.
The new generation Cadillac XT6 2022 is equipped with a 2.0L Turbo 4-cylinder petrol engine that can produce a maximum capacity of up to 237 horsepower. With this engine, the XT6 gets 21 MPG in the city and 27 MPG on the highway, but it demands premium gas. In addition, the two more advanced variants will be powered with a 3.6L DOHC V6 engine, making a maximum capacity of 310 horsepower and maximum torque of 373 Nm. On the level, it's rated at 19 mpg in the city and 26 on the highway with rear-wheel drive. With the above parameters, we believe that Cadillac XT6 2022 deserves to be one of the most fuel-efficient large SUVs.
>> Read more: 15+ SUVs With The Highest Towing Capacity
Hyundai Palisade 2022
The car that is receiving great expectations from consumers, is Hyundai Palisade 2022. The SUV has a completely new appearance and is more comfortable from the outside to the inside. Hyundai Palisade 2022 is one of the top-rated large SUV models. It has plenty of space for people and cargo, a comfortable interior, and a long list of standard features, especially the fuel economy feature. The Hyundai Palisade stands out among three-row SUVs and user-friendly technology. The manufacturer made Palisade 2022 special by offering seats for up to eight people.
The car is equipped with a 3.8-liter V6 engine with 291 horsepower at a speed of 96.5 km/h to provide exemplary performance. Front-wheel drive is standard and all-wheel drive is optional.
When it comes to fuel economy, the Hyundai Palisade 2022 is a typical example. The Palisade is rated by the EPA at 19 MPG city/26 MPG with front-wheel drive and 19/24 with all-wheel drive. Furthermore, the vehicle is equipped with an 18.8-gallon fuel tank.
Nothing beats good performance and comfort when driving an SUV, and when it's the 2022 Hyundai Palisade, the ride will be enjoyable. With its delicate exterior design, the SUV excels in large fuel-efficient SUVs.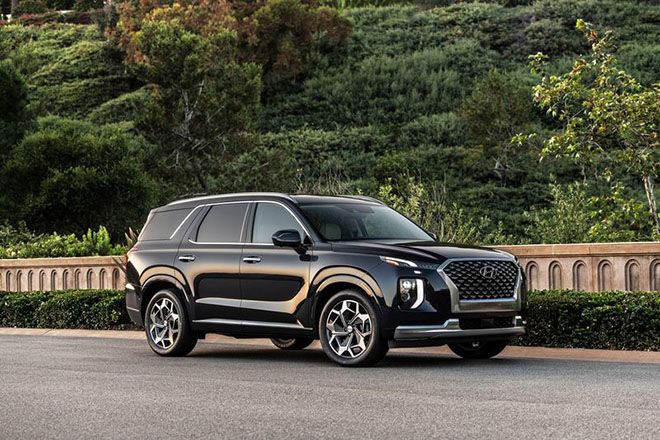 BMW X7 2022
BMW X7 2022 is one of 10 full-size SUVs good on gas that we want to introduce to you in the article. When it talks about traveling for affluent families, there's no better BMW than the X7, the brand's luxury three-row SUV. BMW's largest SUV also adds standard features and new driver-assistance technology. For the first time, BMW will also offer a set of 23-inch wheels. The X7 also benefits from an updated powertrain. The interior is impeccable, with plenty of premium materials and a beautiful design. BMW X7 comes standard with all-wheel drive, a benefit for those living in wet or snowy climates.
X7 was designed with a smooth turbocharged six-cylinder that produced 375 horsepower (up 40) that's both powerful and relatively fuel-efficient – 19 MPG in the city and 24 MPG on the highway may not sound great, but it's impressive when you consider cargo space.
In the large luxury SUV segment, the BMW X7 has been slower than its competitors. But in return is extremely well-designed and has fuel savings. With the most modern comfort and safety technologies available today. Not many competitors have it.
Audi Q7 2022
Audi Q7 is on the list of super-luxury cars expected to launch in 2022. "Legendary Quattro" Audi Q7 first appeared on the market in 2007, making a big impression in the hearts of customers. For 15 years, the Audi Q7 has always been one of the cars that fully converge the elements of a full-size SUV. Put on a completely different look – sportier, more impressive, the Audi Q7 2022 SUV is also reflected in the powerful engine block and effective fuel economy.
Audi makes cars for people who fancy driving, and the Q7 SUV is no exception. Whether you're driving the highway or traveling winding roads, the Q7 is a trusted partner. Audi Q7 2022 is equipped with a lot of top-notch technology. Some typical features such as Audi parking assist system with rear camera, tire pressure warning, Audi safety airbag system…
It has standard all-wheel drive and powerful engine options with a 7-seater. But the third row is cramped and doesn't have much room for cargo. Audi Q7 2022 has the "heart" of a 2.0L, 4-cylinder, in-line turbocharged engine block to make 335 horsepower with direct fuel injection. Combined with MHEV 48 Volts hybrid technology.
Unsurprisingly, the V-6 powertrain comes with poorer fuel economy. The EPA's fuel efficiency ratings are 17 MPG in the city, 21 MPG on the highway, and 18 MPG combined. Which is 2 mpg across the board when compared to the turbocharged four-cylinder model. But we think it's still an impressive number in the full-size SUV segment.
Chevrolet Tahoe 2022
Improved from appearance to the interior, refurbished with many outstanding features along with spacious storage space, Chevrolet Tahoe 2022 fully deserves to become a modern and classy car with an American design that promises to achieve great success in the market. The Tahoe has standard seating for eight, with three-person benches for the second and third rows. In the base model, you can get the first bench to accommodate up to nine seats.
The cargo space of the Chevrolet Tahoe 2022 is almost impossible to refuse. The car has a very large luggage compartment that creates maximum space: 122.9 cubic feet. It can be said that the model is very suitable for drivers who often use it to transport goods.
Chevrolet Tahoe is equipped with a 5.3-liter V8 engine to make 355-horsepower. It's strong and gets you moving without much effort. The standard automatic transmission helps to shift gears intelligently and smoothly.
Currently, Chevrolet has not announced the exact fuel consumption. However, the V8 engine is strong and powerful, but the fuel consumption is still really insignificant, still capable of good fuel economy for drivers. Tahoe 2022 is still highly rated in the top best gas mileage full-size SUVs.
Ford Expedition 2022
The first version of Expedition was in 1990. Car fans around the world love the Expedition because it is a large SUV with a powerful engine and spacious space. With the 2022 version, Ford Expedition had many reforms from the exterior, and interior to the engine. Therefore, Ford Expedition is a big competitor of many large SUVs in the market. In the large SUV segment, Expeditions boasts one of the smoothest rides and the most spacious cabin. Expedition 2022 is a seven-seater with six trim levels but it can accommodate 8 passengers.
Ford Expedition 2022 owns a 3.5L turbocharged V6 EcoBoost engine, making 400 horsepower and maximum torque of 650Nm. In addition, the grip of the car is quite good when driving on slippery or snowy roads.
Ford notify the EcoBoost (twin-turbo V-6) engine is more efficient than the V-8. Expedition 2022 is estimated to deliver 17 MPG in the city and 23 MPG on the highway. Both the Expedition and the Expedition Max deliver 20 MPG on a 75 -mph fuel-economy route.
Lexus LX 2022
Turning to the new generation, the Lexus LX is focused on the maximum fuel. The new generation of the top SUV Lexus LX is highly appreciated by experts. And makes a big echo in the future. Lexus LX earns a score of 9 for the front row, spacious second row, accommodating seven passengers, and 46 cubic feet of cargo space behind the second row.
Not only owns a luxurious and spacious interior space. LX also provides you with a safe driving experience. Every LX 600 comes standard with driver-assist features such as automatic emergency braking with pedestrian and cyclist detection, blind-spot monitors, and automatic high beams. In addition, in exploring the car cockpit, you will be surprised with a pair of 12.3-inch and 7-inch touch screens using the latest Lexus Interface operating system.
The LX600 is equipped with a twin-turbo 3.4-liter V-6 that produces 409 horsepower and 479 pound-feet of torque. A 10-speed automatic transmission and all-wheel drive are standard. LX 600 has an EPA rating of 17 mpg city, 22 highway, and 19 combined. Compared to  Lincoln Navigator LX is 1 mpg better than the similarly powered and 5 mpg or 35% more efficient than its predecessor's.
Nissan Pathfinder 2022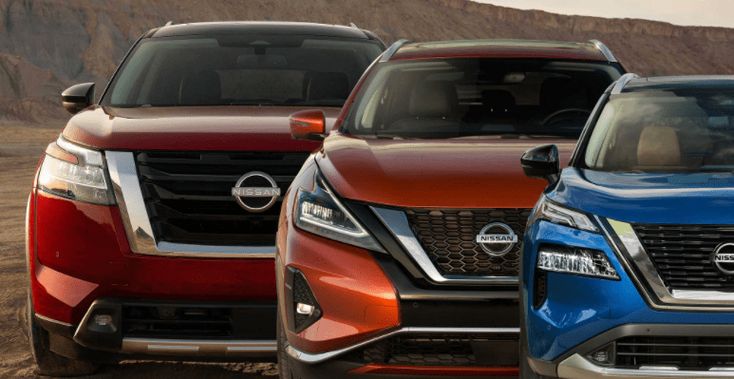 Nissan Pathfinder 2022 is a superb full-size SUV with outstanding fuel economy and range no matter the trim and drivetrain choice. This sport multi-use vehicle combines incredible fuel economy with powerful performance that is sure to save you money and time on refilling the gas tank.
Sometimes bigger is better and in the case of the new fifth-generation Nissan Pathfinder 2022, it's bigger on the inside and better in a number of ways. Like many current three-row SUV models, Pathfinder 2022 aims to replace a minivan, but with a more delicate and luxurious appearance. The new generation Pathfinder can accommodate up to 8 people with many different seat configurations. In addition, Nissan also provides more convenient storage space for the model 2022. For example, the storage compartment right under the dashboard can hold a tablet or a small bag.
Nissan kept the same 3.5-liter V6 making 284 horsepower from the previous generation for the 2022 model year. But it ditched the continuously variable Transmission (CTV) in favor of a nine-speed automatic and front-wheel drive is standard, with all-wheel drive optional.
The MPG of your new Nissan Pathfinder 2022 depends on the trim level and powertrain you choose. For example, S, SV, SL, and Platinum trims in 2WD deliver 21MPG in the city, and 26MPG on the highway, and a combined mileage per gallon of 23. Nissan Pathfinder 2022 with 4WD slightly higher with all-wheel drive (21 mpg city and 27 mpg highway) than front-wheel drive (21/26 mpg city/highway).
Jeep Wagoneer 2022
When it comes to Jeep, people often think of SUVs with impressive off-road capabilities. However, Jeep does not want to stop there but also wants to reach the ambition to penetrate the luxury SUV segment. To do that, Jeep has decided to launch Jeep Wagoneer 2022. 
The "heart" of the Jeep Wagoneer 2022 is a 6.4L V8 engine, producing a maximum capacity of 471 horsepower and maximum torque of 617 Nm. It comes with a standard four-wheel drive and an eight-speed automatic transmission.
Jeep Wagoneer 2022 is a "redundant" model of technology when there are up to 7 screens in the cabin. In addition to a 12.3-inch digital screen and a 12.1-inch central entertainment screen. The car is also equipped with a 10.25-inch entertainment screen. It offers Jeep fans the option of three rows of seats with seating for up to eight passengers in a spacious and comfortable interior. Not only possessing outstanding technologies. But Jeep also proves effective fuel consumption: 15MPG in the city and 20MPG on the highway.
With a series of modern equipment and powerful engines, this return of Wagoneer is very much expected. Promising to bring the American car company new breakthroughs in sales. 
>> Related post: 5 Best Japanese SUVs Of 2022 You Should Take Eyes On This Summer
Wrapping Up
With fuel prices on the rise, these large SUVs 2022 are the best way to save fuel without sacrificing practicality. On the market in 2022, the full-size SUV segment is confident that it can meet the above requirements. Because they are becoming less fuel-efficient with each version. If you're looking for a full-size SUV, consider 10 large SUVs with the best gas mileage in the article.