Top 10 Ideas for Honda Engine Swapping
Last updated
Feb 01, 2021
0 comments
Good performance on the racing circuits requires that the engine produces enough power to deliver a better power-to-weight ratio. Whenever thinking about such tuning of high-end cars, an engine swap is a method to follow. The idea of Honda engine swapping is very popular when the intention is to deliver more speed, fuel efficiency, or both.
What Is Engine Swapping?
For the performance tuning of a factory-made Honda car, an engine swap is a technique of replacing the built-in engine with another high-performance engine. Swapping is the choice of method to re-adjust the vehicle performance. However, it is also the process of replacing an old or damaged engine of a motor vehicle.
Top 10 Honda Engine Swapping Ideas
Here are the best ideas for swapping the engine in several Honda models:
1. Civic Engine Swapping with a G23
G23 swap with Honda Civic chassis is one of the best combinations that balance horsepower and cost. The G23-VTEC engine is essentially a combination of the short block from SOHC-F-series 2.3L and the cylinder head of H22. The clutch master cylinder of the Civic needs an upgrade to match the high-pressure system of the G23 pressure plate.
2. B18-LS Swapping with 1984-2000 Civic
This combination is for a custom-build Honda Civic that has a non-VTEC B-series engine. An LS-VTEC power-plant is the choice over B18C1 or B16 engines because it can deliver a lot of torque. LS-VTEC can use the stock mount that comes with the Civic car. VTEC hardwiring may require a skilled mechanic.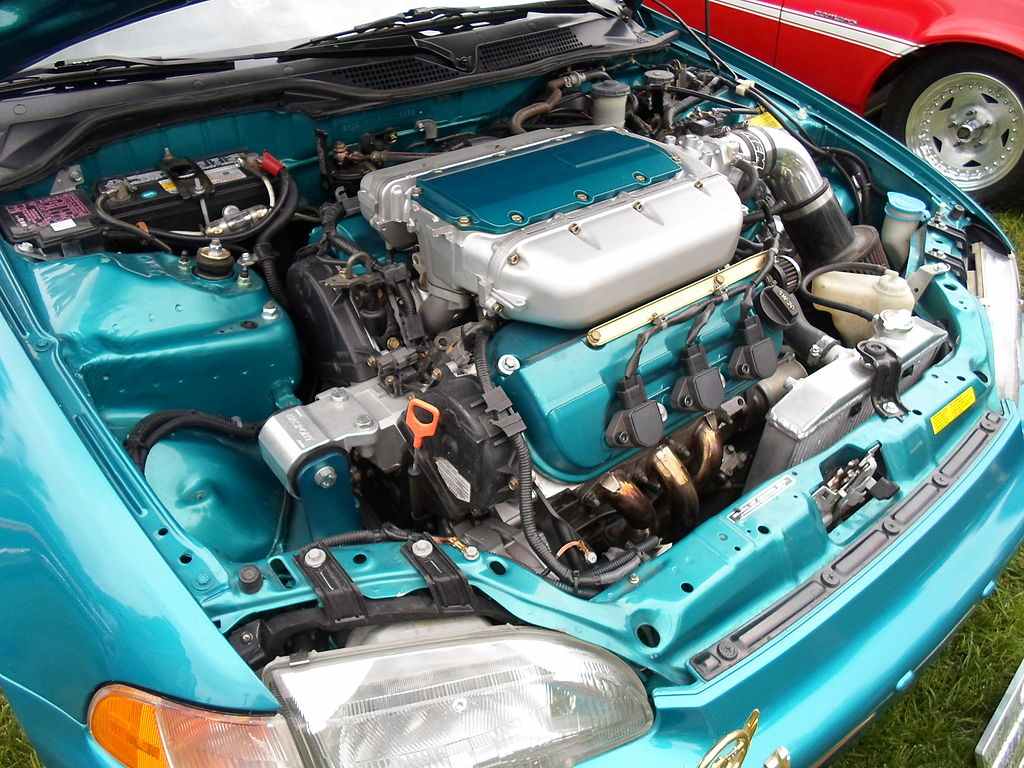 3. B20 Mounting in a 1984-2000 Civic Chassis
B20 is a 2.0-liter native engine of the Honda CR-V car. This engine is cheap and widely available. The engine mounts of CR-V and Civic have a similar design. For this reason, the B20 engine can easily fit into the factory-made chamber of any Civic cars. The power-plant is not VTEC, but it allows easier hardwiring of VTEC through any skilled mechanic. Such a Honda engine swapping could seamlessly get you 200hp for the Civic.
However, a complete overhaul with customized rotating assembly, cylinders, engine management, fuel system, and drivetrain could fetch unbelievable 400hp capacity for a 2000 Honda Civic car.
4. J-Series Engine Swapping with 1994-2001 Integra
A J-series engine can deliver power ranging from 240hp to 310hp. It comes with both VTEC and i-VTEC technology. The 60° J-series power-plant can utilize the 1994-2001 Integra chassis very well. Direct injection throttling is better for this swap model rather than ECU-facilitated throttling.
5. Combination of F-Series (DOHC) with 1992-2000 Civic
F-Series (DOHC) is the most powerful Honda engine which runs on the atmospheric pressure air intake. The 2.4 liter F-series engine delivers a massive 162 lb-ft of torque. The 1992–2000 Civic supports direct bolt-in for F-Series (DOHC) engines and they make a good pair.
6. Coupling of 1990-1997 Accord Chassis with K-Series Engine
This combination of 2.4 liter 4-cylinder K-Series engine swapping will make a 1997 Accord deliver a massive 222 horsepower. The orientation and shifting layout of this engine are different. Hence, an Accord chassis will need replacement parts and fittings which are not available from Honda.
7. B16 Swap in 1986-2001 Integra
The VTEC-B16 engine comes in both a 1.6-liter (B16A) and 1.8-liter (B17A1) configuration. While the B16A variant can go up to the 160hp capacity mark, the B17A1 delivers a whopping 200hp capacity.
Such a massive performance-tuning of any 1986-2001 Integra will come at a cheaper rate. The B16A or B17A1 will require aftermarket parts, such as cylinders, fuel system, engine management, transmission assembly, and rotating assembly to get past the 400hp threshold.
8. F20 or F22 Swapping into 1994-2001 Integra
An S2000 is the prominent source for F20C1 (2.0 liter) and F22C1 (2.2-liter) engines. Both can deliver up to 240hp capacity, while the larger one delivers a massive torque of 162 lb-ft.
The F20C1 or F22C1 comes with a rear-wheel-drive layout. Hence, swapping will convert the 1994-2001 Integra into a rear-wheel-drive car. As F20C1 or F22C1 is a high revving power-plants, the 1994-2001 Integra gets a lot of racing potential in a track.
SEE MORE
9. Swapping K20A with Civic Type R
It is an i-VTEC combination swapping that yields 212hp to 227hp engine power for the Civic Type R vehicle. The engine comes with a 6-speed transmission system, and the mileage is lower than other swaps. Due to matching i-VTEC technology, bolt-in swapping is possible.
10. Swapping D16 or D17 with Civic
This swapping pair can deliver power up to 130hp with a torque of 103 ft-lb. D16 and D17 are non-VTEC engines. You will need hardwiring if the Civic is VTEC to swap with D-series engines. The engine mount of the source D series engine is different from the Civic engine, and hence bolt-in mounting may not be possible.
Conclusion
Engine swapping is a popular technique for upgrading the speed of factory-tuned cars on the track. Check out the best Honda engine swapping ideas for better performance.