Dually Truck: Definition and Uses of a DRW
Last updated
Mar 26, 2021
0 comments
A dually truck or dual rear-wheel (DRW) has dual or two rear wheels on either side. These trucks are often one-ton pickups that are good for pulling and towing heavy cargo. Because of having a high weight hauling capacity, you can attach to their beds a camper or trailer, weighing more than 20,000 pounds.
What Is a Dually Truck?
Designed for heavy-duty performance, a dually truck usually has a highly durable structure, featuring a robust stance and sturdy fenders. Because of having dual rear wheels on both sides, this vehicle makes more road contact, resulting in superior traction and balance.
For better grip and braking performance, a DRW vehicle comes with upgraded shocks, heavy-duty springs, and an advanced braking system. It also has a muscular rear axle. Because of this feature, its capacity for hauling and towing is more than a single rear-wheel truck (SRW).
For example, a 2020 Chevrolet Silverado 3500HD truck has both DRW and SRW versions. However, the DRW model can tow and haul 5,000 and 2,215 more pounds, respectively, than its SRW counterpart. If you add a gooseneck hitch to the bed of both trucks, the DRW model will show a significantly better towing capacity.
Some popular models of dually trucks are:
Ram 3500 HD Dually (The turbo-diesel engine version can tow 32,500 pounds)
Ford F-350 Super Duty (Max payload and towing capacities are 7,300 and 26,500 pounds)
Chevrolet Silverado 3500HD (The diesel engine model can tow 23,100 pounds)
Ford F-450 Super Duty XLT (Max standard and gooseneck towing capacities are 21,000 and 35,000 pounds)
SEE MORE
The Uses of Dually Trucks
With such monstrous towing and payload capacity, it's common sense that dually trucks are good for hauling cargo and towing other vehicles.
Heavy Industries
Dually trucks are great for transporting heavy equipment and machinery. For this reason, they are widely used in heavy industries — from construction to steel production, mining, and agriculture.
These trucks are made for hauling large and heavy products. In addition, their wheels have excellent grip on all kinds of adverse road conditions, such as dirt and mud. You don't need to be concerned about stability and control when driving on rough or hilly roads. Driving in windy conditions too will never be a safety issue because of their sway control ability.
Being equipped with these features, it sounds logical to use these trucks for commercial operations, such as home builders, material suppliers, and similar businesses.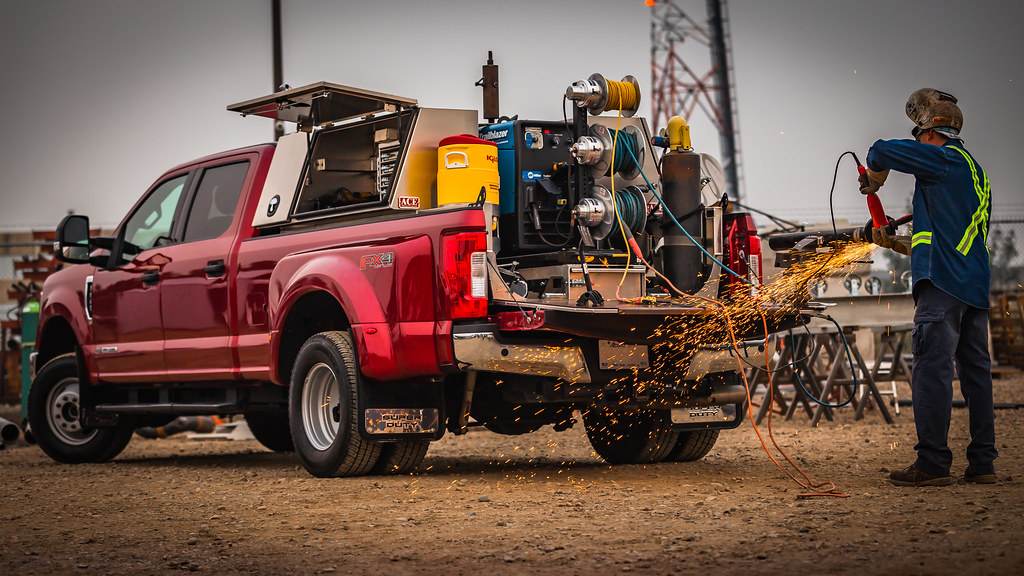 Towing Recreational Vehicles
Because of their beastly power, these trucks are also widely used for towing other vehicles, which are mostly RVs. Such a truck can easily tow a trailer or camper weighing over 20,000 pounds.
If you love camping or hanging in the outdoors, buying a dually truck will be a good idea. A standard pickup will never have the towing capacity of a DRW. It can haul everything from motorcycles, bikes, and jet skis to larger items like a large 5th wheel trailer.