Window Tint Cost: Breaking Down The Ultimate Outlay For Your Reference
Last updated
Apr 15, 2022
0 comments
To avoid confronting inconveniences caused by heat while driving, many have turned to window tinting as an effective all-in-one solution but still economical. If you are curious about the basics of window tinting and window tint cost, follow along with Car From Japan with the information below.
The Car Tint Basics
Comfort and privacy are two of the top concerns of drivers when traveling on the road. Things like polluted air or dirty substances, if you want to avoid them, your automobile is already more than enough acting as a helpful roadie assistant.
However, if you don't take any action for problems like high heat or over-exposed sun lights, you will never feel comfortable when being on the road in the summer, at any time. The ray of the sun hurts your eyes, reduces your car life, and the gazes of passersby in your private space can cause unpleasant experiences. At this moment, the tinted window is the savior.
As the name suggests, car tint is the insulated tinting layers sticking to the car's glass. The purpose of car tinting is to reduce the sunlight shining towards the cabin and help darken the car's glass. Outsiders can't see inside, which creates maximum privacy and absolute comfort. These are the common advantages that gradually turn the window tint to the people's ultimate choices.
The Ultimates To Consider Your Tinting Right Today
The average cost to tint car windows is around $90 – $500 and depends on several factors. These not-so-fixed costs may increase or decrease according to user needs.
The first factor influencing the tinting overall cost is the type of car. If you own an old car with a unique structure and bodywork, the price will be even more. Because the mechanic will have to customize standard tint pieces to match them with your one-and-only car windows.
Second, if your vehicle has a prior tint layer left on it, a removing tint, shaping, and cleaning fee will be included in the final pay. Third, the window tint cost will depend on the type of window tint and its brand.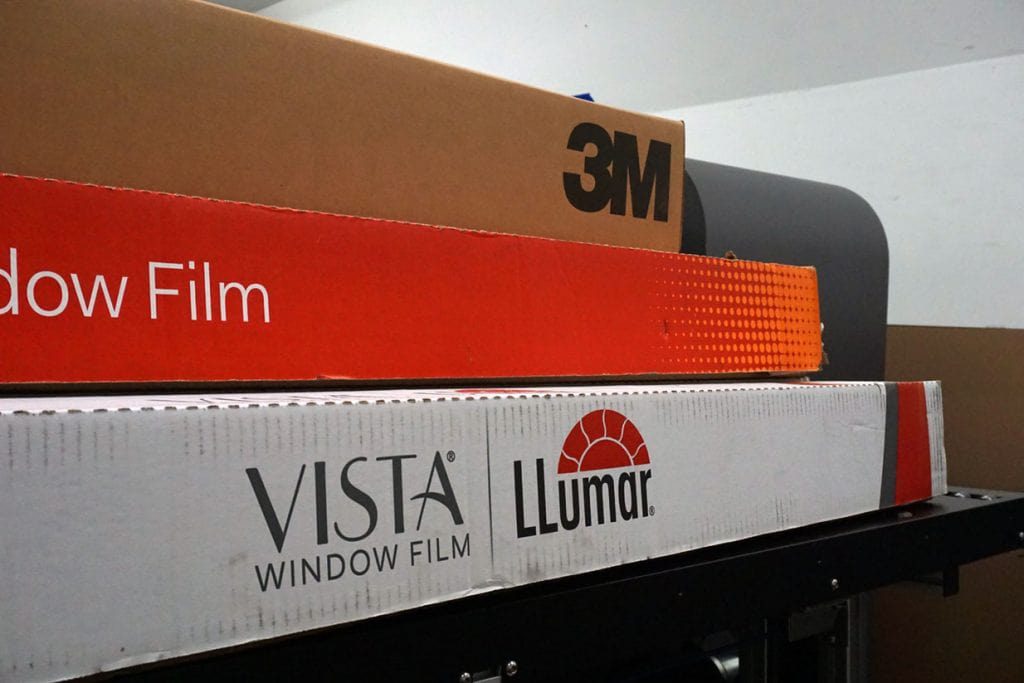 Another factor that influences the cost of car window tint is the experience of the person who does the tinting project. This process always requires the installer to be meticulous, and not everyone can do it in a limited period at a fast speed.
We will now show you a list covering the car tint costs for different vehicle types on the market. Hopefully, this piece of information will give you a better idea of ​​how much you have to spend to protect your car from the direct impact of sunlight and the surrounding environment. Afterward, you will not have to wonder how much does it cost to tint windows on a sedan or an SUV anymore. Because the details will be listed fully below.
Note that these just reference costs. You may be charged lower or higher depending on the car shop's reputation, the price of the extra services, and the type of window tint that fits your standard.
Price list for reference: Average price for window tint (Unit:$)
Coupe
Sedan
SUV
Van
Truck
Standard Cab
Crew Cab
Extended Cab
Sides and Rear Window

200 – 600

300 – 600

300 – 800

300 – 850

170 – 500

210 – 600

190 – 600

Two Front Windows

100 – 300

100 – 300

100 – 300

100 – 300

100 – 300

100 – 300

100 – 300

Back Window

80 -300

80 -300

80 – 300

80 – 300

80 -300

80 -300

80 -300

Windshield

130 – 300

130 – 300

130 – 350

130 – 350

130 – 300

130 – 300

130 – 300

Sunroof

60 – 160

60 – 160

60 – 160

60 – 160

60 – 160

60 – 160

60 – 160

Panoramic Sunroof

120 – 300

120 – 300

120 – 300

120 – 300

120 – 300

120 – 300

120 – 300

Single Window

60 – 150

60 – 150

60 – 150 

60 -150

60 – 150

60 – 150

60 – 150
In today's age of technology, some speed lovers may use electric vehicles like Tesla. Below is the cost of a tinted-window service if you own an electric Tesla vehicle. However, some of the services below may not be performed by many local shops because of the process complexity and scarcity of an experienced tinting installer.
Price list for reference: Tesla window tinting (Unit: $)
| | | | | |
| --- | --- | --- | --- | --- |
| | Tesla Model S | Tesla Model X | Tesla Model Y | Tesla Model 3 |
| Sides and Rear Window | 400 – 600 | 450 – 750 | 450 – 750 | ~ 850 |
| Two Front Windows | 180 – 300 | 180 – 300 | 180 – 300 | 180 – 300 |
| Back Window | 150 – 300 | 150 – 300 | 150 – 300 | 150 – 300 |
| Single Window | 80 – 130 | 80 – 130 | 80 – 130 | 80 – 130 |
| Windshield | 200 – 300 | ~ 730 | 200 – 300 | 200 – 300 |
| Sunroof | 90 – 160 | 90 – 160 | 90 – 160 | 90 – 160 |
| Panoramic Sunroof | 200 – 300 | 200 – 300 | ~ 730 | 200 – 300 |
You can find more detailed lists sorted by type of tints such as dyed tint, metalized tint, or ceramic window tint cost on reputable sites majored in this field. 
The right to choose the final tint candidate for your car is up to you. Contact the nearest store in the area for professional advice and inquire about the exact pricing.
Window Tinting: The Car Tint Benefits
In general, car glass is a part directly exposed to the sun and absorbs a lot of heat and solar radiation. Car glass occupies some fairly large areas and has a high degree of light transmission, heat transfer, and radiation absorption. Especially on hot sunny days, you probably will never want to touch it for a second.
Though it is uncomfortable, it is not recommended to use heat-blocking materials such as rubber or plastic to cover car glass in daily driving in summer. Because these materials will prevent light transmission, making the space inside the car extremely dark. And more importantly, the front glass, rear glass, and two front-seat window glass must always be clear to ensure the driver's observation.
Another method for drivers to shade the window glass is to use fabric sunshades or plastic nets. But this is just a temporary way to help reduce the light, and these items don't have the effect of anti-heat with much insulation. Because overall, it is impossible to prevent the glass from absorbing burning heat and radiation in peak summer. The introduction of the automotive window tint method has helped solve this cumbersome problem a lot.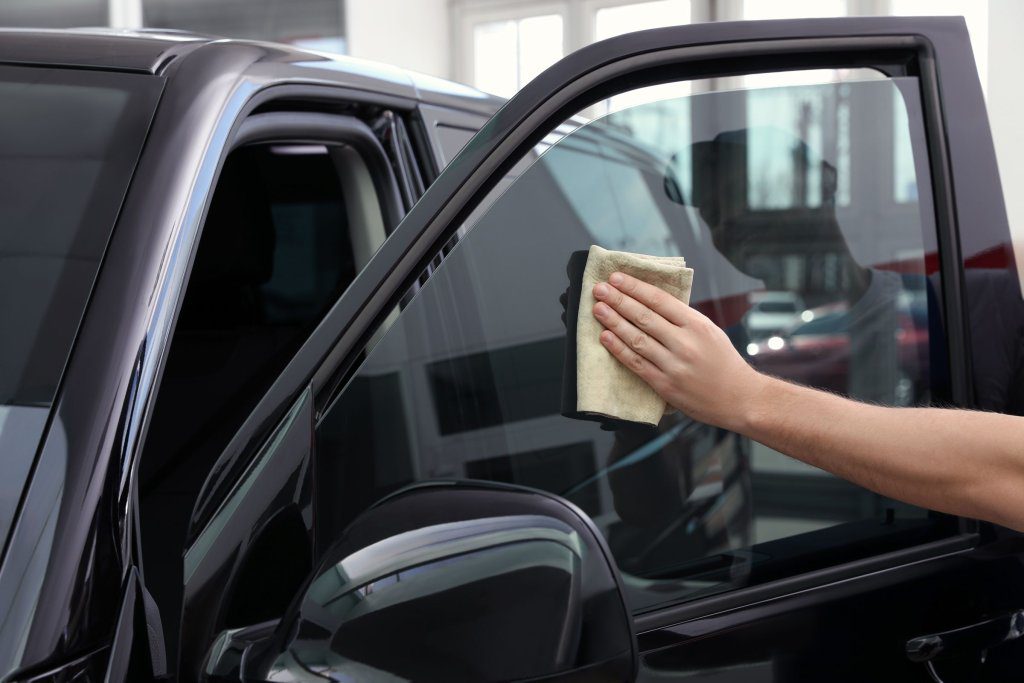 Car window tint can reduce up to 50-60% of the solar heat absorbed by car glass. Thereby, it helps to stabilize and balance the temperature in the car. With the protection of high-quality tint layers, even in mid-summer, the car will not be burned out under the heat. In the case where it is imperative to park your tinted car under the sun, but when you get back, it will also give you a less hot and sultry feeling.
Moreover, when the temperature in the car reaches an alarming height due to sun-and-road heat, some interior details will emit benzene, a dangerous toxin when subjected to high temperatures. Benzene can cause cancer, affect bones, cause anemia, or white blood cell diseases. And car window tint can prevent all these fatal ended results in just one go. It also helps minimize the circumstances of car glass cracking due to severe rain, wind, and extreme outer impacts to ensure the safety of both the vehicle and the occupants.
The quality tint layer will ensure visibility. Any visible restrictions, without a doubt, will never show up when installing a layer of dark window tint that ensures your absolute safety. In addition, car window tinting is a great solution to protect the drivers' eyes and skin from ultraviolet rays, UV rays, and infrared rays from the sun. With the capability to prevent harmful natural rays from entering the car up to 98%, car tinted glass will help protect your eyes, skin, and the interior of your vehicle in the long term.
With these benefits and effects, you may already know if you should have your car window tinted in no time. After breaking down the issue of how much does it cost to get windows tinted for the best and most memorable driving ventures and some details about car tint traits, let's head to some tinting tips for life.
>> See more: How to Protect Car from Sun: Interior and Exterior Care
Cost To Tint Car Windows: Notes For Effective Window Tinting Process
Each type of car window tint will have different specifications. Here are some tint specifications you can consider to get a suitable one for your car:
+ Visible Light Transmission: The ability to let light through. The higher the light transmission rate, the more light enters the vehicle and vice versa. 
 + Visible Light Reflection: The ability to reflect the opposite image. The higher the ratio, the harder it is for outsiders to see into the car's cabin.
 + UVR (Ultraviolet Rejection): The ability to block UV rays.
 + IRR: The capability to block infrared rays (the heat you feel when sitting inside your car)
 + Glare Reduction: The ability to reduce the intensity of light beams.
Currently, there are many manufacturers of automotive window tints. If you are confused between several types to get the best deal on window tint cost, you can compare their specifications to find the best fit and set standards to follow. According to car experts, you should prioritize one that meets the below criteria:
 + The UVR rate should be as high as possible, aiming at 99.9%.
 + The IRR should also be as high as possible, from 80% or more.
 + The higher the Glare Reduction rate, the better.
Location of Tinted Glass
It is rare for professionals to use only one type of window tint for all car glass positions. To achieve the highest tinting efficiency, they will have each piece of glass installed with a suitable window tint type that fits the characteristics of glass in that area. Consequently, the window tint cost they charge you will change and not be fixed for any vehicle.
Windshield Tint
The big glass area in front of you plays a vital role in navigating the safest driving process. Because it does not simply act as a windshield but also directly affects the drivers' vision. The windshield tint layer needs to have high insulation capacity as this is the area absorbing the most heat and radiation. At the same time, it has to ensure a high light-transmission rate so that the driver can have the clearest sight.
As experts state, the light transmission rate of the windshield tint should be 60% or more. To get the best driving vision, we recommend choosing a ceramic tinted car windshield with a light transmission rate of 65% – 70%.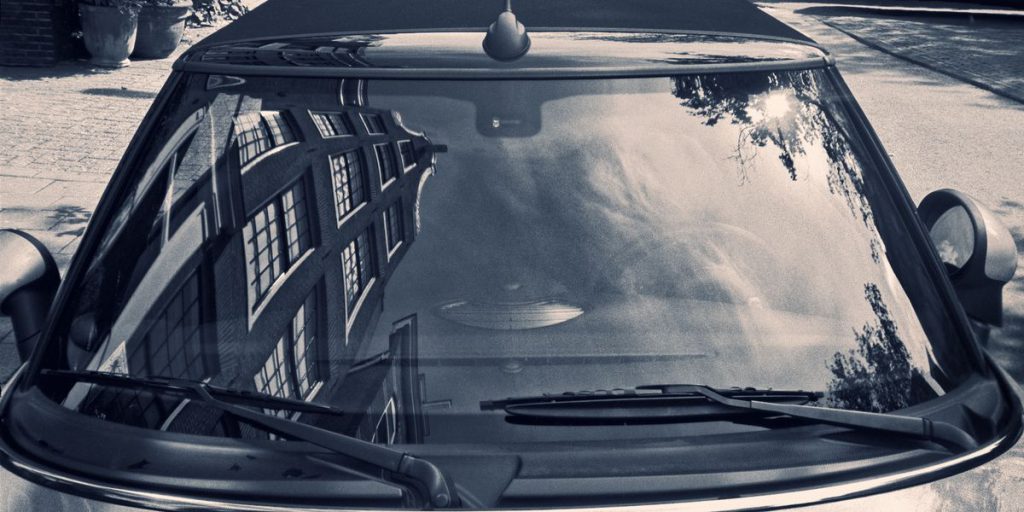 In addition to the light transmission rate, you should pay close attention to glare reduction. The higher the glare reduction ratio, the lessen uncomfortable glare and dazzle you will face, especially when you have no choice but to drive against a strong light source. The standardized glare reduction should be in the ideal range of 20% – 40%.
The Side and Back Window Tint
Similar to the windshields, the two side windows in the front seats require a high light transmission rate to enable the driver to observe the rearview mirrors and the outside spaces. The higher the transmission rate, the lower the heat resistance and vice versa. Generally, for side and back glass, you should choose a window tint with a low light transmission rate in the range of 15% – 40%. And this rate will also affect the lightness of the glass.
If car owners prefer dark car windows, they can choose low light transmission rated window tint, as low as 3% – 9%. Conversely, if car owners like bright car windows with a lot of light entering the car, they can choose high-rated light transmission tint layers, ranging from 35% to 40%.
Furthermore, if you care about the level of privacy and full safety when commuting, you should consider the window tint's rate of visible light reflection. The higher it is, the better the person outside sees his self-reflection on the car glass, instead of glancing straight through the cabin.
Avoid Applying Cheap Tint Film
Aside from good-quality tint films, the market now offers so many poor-quality, unbranded, and unknown originating window films or tinting kits. They are available on the store shelves at a significantly low price. And has attracted many negligent people considering their new car tint deal as a one-in-a-car-life-time bargain.
Cheap and poor window tint are mostly dyed ones. The darker the dyed tint, the more fake "cooler to the eye" feeling you can get due to the low light transmission rate. In particular, this type of tint film can only block light. Very few can prevent harmful UV and infrared rays, which are the most harmful heat sources entering the car. Therefore, be conscious and do not be fooled, as several cheap and under-qualified window tint projects will only bring you a "virtual cool" feeling.
Remember do not use colored nylon paper to apply to the window glass because your vision will be covered or limited. You should always fill your car's glass with reputed tint film. It is best to choose a product with a high reflective rate to ensure visibility and better insulation from reliable brands such as 3M, Vkool, and Classis. When using the services there, you will be assured to get genuine car window tint imported from abroad, a standard process carried out by experienced technicians, and a good warranty and after-sales services.
Wrapping Up
With the above article, we hope that you all can comprehend the window tint cost and tips to make up your mind to get the right types for your car window.
Window tint is one of the shields with the effective ability to protect you and your loved ones inside a vehicle on hot summer days. So, actively learn more and do not ignore any benefits of car tinting. It may help you a lot during times on busy roads with a level of heat absorption that can cause skin burns.
For more helpful maintenance tips and estimated car services costs, visit Car From Japan today.