Tricks to Polish Your Vehicle Professionally
When it comes to maintaining the looks of our vehicles, especially our old cars, we trust only the professionals. Don't we? But did you know that you can polish a car professionally all by yourself? We're very sure that at least once in your lifetime you must have wondered if it is so difficult to polish your car using a machine. Well, it isn't, only if you know the tricks to do it. Yes, you can fix dents and scratches in your car. In this blog post right here, we tell you the tips and tricks that come in very handy to polish your vehicles like a pro.
Tricks to Polish a Car Professionally
Always remember that such tricks work the best if the damage to the paint is not massive. Whether it is big buses or small hatchbacks, you can do this kind of polishing very well. At the microscopic level, it doesn't change the paint film build. If you follow these tips, the results can be totally professional.
Do a Test Patch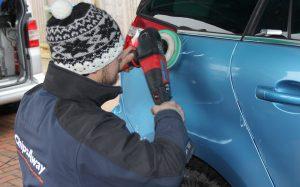 Experts recommend that before you head on to do a full throttle polish procedure, always do a patch test. Recommendation is that you do the test on the worst area with the product and the machine setting of the lowest intensity. If you feel that you need more aggressive product and settings, please go ahead. Then, go on and use the rest of the products to complete the procedure.
SEE MORE:
>>Got Water in the Gas Tank? Here's How to Tackle It
>>Keep Your Car Paint New with These Amazing Tips
Make Adjustments According to the Test Result
If the results meet your expectations, it's a great idea to proceed. If you think that the result is not what you had expected, you should probably go in for a review. You could also see if changing a product, or the machine, or the setting delivers better results. Once convinced with the output, only then go ahead to polish the entire body.
If you aren't convinced, it is better to leave it to experts to polish a car professionally.
Follow These Tips for a Professional Finish
Here are the tips that will help you achieve the best results:
a. Work only on a small area at a time. About 2ft X 2ft is ideal, because then you can focus and finish well.
b. Keep it slow and steady/ moving the polisher too fast will not give it enough time to do its work.
c. Use overlapping motions at a slow pace. Move to all the sides – vertical and horizontal.
d. Keep your attention on the pad. Make sure it's level. It is natural for amateurs to lose focus on the pad and shift it to the paint.
e. Dry buffing is a big NO. You will need to keep working the polish to do some good work. So, when the paint stops, you should stop too.
f. Make sure that the cord does not touch the surface that you are polishing. It will end up scratching the surface.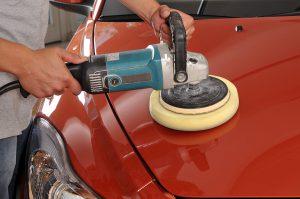 g. You may want to use very little pressure when working on defects. Too much pressure however, can interrupt the speed of the machine and give inconsistent results.
h. While the paint is turned on, DO NOT lift the polisher off it.
i. Make sure that you do your research about the polish, the pad and the intensity. All these three are used in certain combinations. Ensure some basic knowledge about it.
Don't Forget to Protect
Once you have followed these tips to polish a car professionally, you will also need to add protective layer.
Make sure you apply a wax or a protective sealant to improve and maintain the gloss.
So, shine on!