10 Best Spray Paint For Rims To Buy Right Now!
Last updated
Feb 22, 2021
0 comments
Over time, after being exposed repeatedly to unforgiving outdoor elements, fluctuating temperatures and so on, the rims of your car shall look pretty worn out. Needless to say, the aesthetic value of vehicles with beat-up rims tends to be quite low in most cases.
Fortunately, with the right paint, it's possible for you to restore the radiant look of the rims and give your ride a fresh appearance. That being said, with numerous products available for purchase, finding the best spray paint for rims would be far from a walk in the park. 
Best-Selling Sprays Paint For Rims
Painting the wheel rims with spray paint will give an all-new look. The spray can work on steel, aluminum, and all the alloys. Spray painting on rims is not that complex as it may sound. It also safeguards the wheel from rust and dust at the same time.
You might require appropriate equipment to complete the task swiftly. Opting for a professional to the job will also work greatly. There are numerous spray paints for rims easily accessible in the market.
Well, in case you have no idea which spray paint is of good quality, this article should prove handy. We've compiled a list of 10 top-rated spray paint that works best for your car wheel with detailed reviews. Check it right now:
1. VHT SP187 – Best of The Best 
Features:
Best used with primers

Heat and chemical resistance

For steel and aluminum wheels
Why This Is The Best 
Capable of delivering comprehensive protection to rims of vehicles, VHT SP187 is the best spray paint for rims in terms of all-around performance nowadays. Harmful elements such as sand, brake dust, high temperatures and alike would never give the VHT paint too much troubles. As a well-formulated product, the paint will look pretty much like new for years without issues like cracks, fades,… The paint is available in 2 styles and 8 colors so all you have to do it to pick one that suits the rims of your ride. 
About the application, the pain from VHT should dry to the touch in just half an hour after being applied. At that point, you have 2 options: 1/ heat cure the paint and 2/leave it cure overnight. To get the most out of the paint, it's strongly recommended that you heat-cure the paint, preferably around 250 degrees  Fahrenheit (120 degrees Celsius), in order to optimize its longevity. In addition to that, the manufacturer advises that you use VHT primer and clear coat to get the best value.     
For drawbacks, it seems that the nozzle of VHT SP187 receive a few complaints about it being clogged mid-use. The paint itself sometimes arrives in a cakey state which tends to complicate the application. There seem to be inconsistencies here and there between products.   
Pros:
High endurance

Available in multiple variants 

The price is reasonable
Cons:
Less than ideal quality control 

The nozzle must be improved 
2. Rust-Oleum 248927 – Editor's Choice 
Features:
Fast-dry, oil-based formula 

Prevents corrosion and rust

Suitable for metal wheels
Why It's An Editor's Choice
So you are uncertain about what paint to use on alloy wheels of your car? Then you definitely have to give Rust-Oleum 248927 a look. Made specifically for metal wheels, the paint from Rust-Oleum is a solid choice for people that want to keep rusts away from their rims. Besides rust, the paint also performs rather well against weather and elements that might degrade the quality of the rims. The manufacturer offers the paint 5 colors, a bit fewer than other products on the market.    
For application, the coverage of the Rust-Oleum paint is good: one can is sufficient to cover the entire rim including front and back sides. Moreover, you don't have to prime the surfaces of the rims before applying the paint as the adhesive capability of the paint is superb. For most of the time, the paint stays on for quite some time without requiring the use of paint primers. That means if you pick the paint for your rims, you could save a lot of money, time and energy.  
Like its competitors, Rust-Oleum 248927 carries its own set of faults: flimsy nozzle, lumping paints,… Considering the entry-level price of the paint, such issues are only to be expected. Last but not least, the actual longevity of the paint varies from case to case.    
Pros:
Weather-resistant 

Elegant and smooth finish 

Good for metal wheels and plastic hubcaps
Cons:
Chips and flakes 

Barely acceptable lifespan 
3. Dupli-Color BNS0601 – Editor's Choice 
Features:
Ez touch 360-degree nozzle

Wide spray pattern 

Formulated to match factory coating 
Why It's An Editor's Choice
Considered by many experts to be a premium grade automotive paint, Dupli-Color BNS0601 is the best spray paint for rims due to its adaptability. Compared to other products for rims these kinds of days, the Dupli-Color paint possesses a distinctive advantage: it's compatible with all OEM surfaces. In fact, the paint is available in a range of exact-match colors for late model import and domestic vehicles. That is why the paint is a great investment if you intend to give your worn-out car a touch-up after years in use. 
In order to facilitate application, the paint from Dupli-Color employs an Ez touch 360-degree nozzle that allows people to spray paint seamlessly and effortlessly. As a result, you could casually paint the rims in whatever manner you see fit. In addition, the fast dry nature of the paint guarantees that you don't have to wait more than half an hour for it to dry. Once the paint dries, it should cure within the next hour and ready for handling. For most of the time, you would be able to paint 4 rims using just 3 cans. 
On the downside, Dupli-Color BNS0601 clogs up easily so it's essential that you keep the tip wiped off. Furthermore, it's hard to use the last ounces of paint in a can because of the lack of pressure.  
Pros:
Dry/cure quickly  

Commendable variety 

Versatile and flexible 
Cons:
Slightly dull 

Some products arrive damaged 
4. Plasti Dip Rim Kit
Features: 
4 cans of paint

2 cans of glossifier

1 can gun
Why We Love It 
Packing everything you need to paint the rims, Plasti Dip Rim Kit is the best spray paint for rims in term of cost-effectiveness nowadays. The paint from Plasti Dip is able to resist moisture, abrasion, slip and so on which result in admirable longevity. About its temperature tolerance, the paint works well between -30 and 200 degrees Fahrenheit (- 34 to 93 degrees Celsius). All and all, the paint shall hold itself together for a long time in unforgiving outdoor conditions without experiencing cracks.  
Due to the fact that the Plasti Dip paint happens to be a rubber-based product, its application is straightforward. In case you mess up somewhere, all you have to do is to peel off the paint, a major plus if you don't know much about spraying paint. After covering the rims in paint, the last thing to do is to apply the glossifier on top of the paint for an elegant finish. With the can gun, you could get everything done in a blink of an eye.  
In terms of shortcomings, the quality control of Plasti Dip Rim Kit needs some improvements.  A couple of spray paint cans as well as the can gun come in damaged. Additionally, the black shade of the paint is rather light so look elsewhere is you need dark black wheel paint. 
Pros:
Fairly rugged 

Resist elements well

Come in a package 
Cons:
The can capacity is hardly adequate 

Several customers receive broken cans and damaged gun
5. VHT ESP734000
Features:
Withstand high temperatures 

Designed for custom detailing 

Drum and rotor chemical resistant 
Why We Love It
Engineered to deal with heat around the caliper that often gives other paint troubles, VHT ESP734000 receive numerous praises from automotive owners around the globe. Thanks to extremely high manufacturing standard, the VHT paint is capable of taking on virtually every challenge on the road. With up to 10 color options and 3 styles available for purchase, the paint should be able to match the characteristics of a wide range of vehicles. Assuming that you apply the paint properly, it's going to look like an OE paint job from the outside.   
In most cases, the application of the paint from VHT is quite undemanding: the paint dries to the touch within half an hour and cures overnight. If you like to heat cure the coat, you have to raise the temperature to 200 degrees Fahrenheit (93 degrees Celsius). The coverage of the paint is rather nice as a single can could process 2 calipers. That means you only need 2 cans on average in order to give the calipers of your ride a new look. Overall, the paint truly offers respectable values for its price. 
As with other paints, VHT ESP734000 receives its fair share of complaints over the years. People notice that the shade of the paint gets kind of milky which requires extra coating for a proper finish. In addition to that, the color of the paint is different from the color advertised. 
Pros:
All-around resistance

Come in various variants 

Fit multiple configurations 
Cons:
Mediocre quality control 

Somewhat inconsistent color  
6. PlastiKote 618
Features:
Untarnishable finish

Specially formulated automotive paint

Resists scratches, nicks, rust and alike
Why We Love It
Designed to remain untarnished after being subjected to harsh elements in the outdoors, PlastiKote 618 is the best spray paint for rims in terms of aesthetic. Automotive owners give the PlastiKote paint a lot of compliments because of the absence of scratches, nicks and so on. In addition, as the pain is applicable to motorcycles, bikes, …, you would be able to conduct various painting projects without having to get more paint. About the variants, the paint currently comes in 3 colors: charcoal gray, steel and silver agents.  
For application, thanks to its quick-dry formulation, the paint from PlastiKote dries in just a blink of an eye. But in order to ensure that the paint cures properly, it's of utmost importance that you leave it overnight. The heavy coating nature of the paint should reduce the amount of work required on individual rims so the painting process is far from tedious. Once you manage to apply the paint on the rims correctly, issues like chips and flakes shall never trouble you. 
Regarding drawbacks, some people think that PlastiKote 618 is a less than ideal match for OEM wheels these kinds of days. Also, the spraying properties of the paint vary quite a bit from can to can. 
Pros:
Hold up well 

Generous can capacity 

Offer great value for the price
Cons:
Fairly limited color options  

Sub-par choice for OEM wheels
7. Dupli-Color HWP104
Features:
Quick dry 

Highly reflective finish

Resists cracks, flakes and peels 
Why We Love It 
Known as highly reflective paint that could stay intact for a long time without fail, Dupli-Color HWP104 is a great product for harsh conditions. For people that care about cost-effectiveness, the paint from Dupli-Color is indeed the best spray paint for rims. Capable of resisting natural elements as well as man-made chemicals, the paint make sure that the rim of your vehicle looks shiny for years. With a wide range of variants, it's a breeze for you to find a shade that matches your taste. 
Considering the fact that the Dupli-Color paint dries to the touch within half an hour and ready to handle in the next hour, the application process is quite straightforward. The user-friendly nozzle of the can let you spray the paint as you want. For maximum effect, it's widely advised that you use primer as well as clear coat in order to give your car a fresh appearance. When properly applied, the paint would have a rather glossy coat that resembles OEM work. 
Similar to most of its competitors on the market, Dupli-Color HWP104 still have faults that need to be addressed. The most notable one is that the paint is slightly runny which might ruin leave unsightly runs on the rims unless you apply it horizontally.
Pros:
Long-lasting 

Weather-resistant 

Short drying time 
Cons:
Somewhat thin 

May produce drops 
8. Performix 11287
Features:
Resist cracks 

For Plasti Dip items 

High temperature tolerance 
Why We Love It:
Really like the Plasti Dip paint on your rims and want to optimize its longevity? If that is the case, Performix 11287 is what you need. Produced to protect paints that come from the brand, the Plasti Dip paint is the best spray paint for wheels in the protective coating category. Regardless of what condition it faces on the road, the paint is going to remain in one piece and preserve the aesthetic of your rims. Therefore, with the paint carefully applied, the rims of your vehicle should pretty much like new for quite some time. 
Boasting superb coverage, a single can of paint from Plasti Dip is more than enough to cover up to 3 rims. For most of the time, you need to apply from 2 to 3 coats to maintain the fresh appearance of your rims. The can employs ergonomic grip as well as straightforward nozzle so you could spray the paint as you see fit. Beside rims, the paint is useful in many DIY painting projects that require protective coatings.  The acquisition costs of both variants of the paint prove fairly reasonable which let you save money for other uses. 
In terms of downsides, a couple of automotive owners think Performix 11287 to be too shiny. Furthermore, the paint seems to react negatively to Plasti Dip Glossifier so keep that in mind during the application process. 
Pros:
Thick protective coating

Comfortable to the hand 

Handle heat, shock, vibration,… well 
Cons
Mediocre quality control 

Some products come in damaged 
9. Dupli-Color SHD1000
Features:
Clear topcoat 

Match factory finish 

Restore scratches and chips 
Why We Love It:
Being an adaptable product that suits various settings and accessories, Dupli-Color SHD1000 is the product for people that wish to paint their rims professionally. The paint from Dupli-Color actually comes in a set of 2 separate cans: one for basecoat and one for topcoat. Using translucent black-out paint, the basecoat creates an elegant dark tint over your rims. On the other hand, the topcoat delivers boosts to the gloss of the paint and its resistance against outdoor elements. All and all, the cans give the rims of your ride a finish that lasts. 
The application of the Dupli-Color paint is plain: overall, you need to wipe clean the surfaces of the rims, apply the basecoat, wait till everything is dry and proceed to apply the top coat. Assuming that the application passes smoothly, the paint would settle in without much difficulty.  In most of the cases, chips, flakes and alike shall be absent from well-applied paint for a long time. Because of its thin properties, the application time of the paint is slightly longer than other products on the market. 
About its fault, Dupli-Color SHD1000 is vulnerable to chemicals, a few drops of gasoline is more than enough to remove it from the rims. The tendency to run of the paint also makes it tricky to apply uniform finishes. 
Pros:
Highly affordable 

Nice gloss and depth 

Simple to manipulate 
Cons:
Vulnerable to chemical spills

Require considerable time and effort  
10. VHT SP102
Features:
Silicone-based

For high heat surfaces

Best used with primer and clear coat
Why We Love It:
Produced to withstand extreme temperatures, VHT SP102 is able to extend the lifespan of every surface regularly subjected to heat. Featuring an impressive temperature tolerance of 2.000 degrees Fahrenheit (around 1.100 degrees Celsius), the VHT paint coating would let you get the most out of your paint. Being a blend of ceramic and silicone, the paint is compatible with a variety of automotive components and vehicle setups. In order to achieve optimal performance, it's a good idea to use the paint alongside primer and clear coat.  
To simplify application, after it dries, the paint from VHT could be cured in 2 methods: on vehicle and off vehicle.  In the first method, you have to periodically alternate between running the vehicle on idle and turning off the engine. On the other hand, in the second method, you would need to repeatedly heat up the paint on the rims and let it cool down. Regardless of what method you use for curing, it's essential to follow the temperature recommendations stated on the label. 
For disadvantages, a few users of VHT SP102 experience peeling issues after applying the paint. In addition to that, some cans arrive in a defective state. 
Pros:
Aesthetically pleasing 

Superb heat tolerance 

Responsive customer service 
Cons:
Slightly lengthy application 

Inconsistent performance/adhesion  
How to Find The Right Spray Paint For Your Car Rims
Generally speaking, different people have different thoughts about the best spray paint for rims available for purchase on the market. That being said, if you want to get the most out of your money, you should consider these issues carefully. 
1. Ease Of Use
In order to ensure that you could apply the paint as you like, it's strongly recommended that you check the quality of the nozzle. Prioritize cans that come along EZ touch nozzle as they have the ability to keep the paint coming out seamlessly. In addition to that, the paint itself must adhere to the surfaces evenly without creating globs, residues and so on. Last but not least, you need to think about the thickness of the paint: if it's too thick, it may clog the can. If it's too thin, it's hard to control. 
2. Drying Time 
As with most painting projects, it's necessary to let one layer dry completely before adding another while painting rims. That makes the drying time one of the key features of paints for rim nowadays. A couple of products would only require a few hours to dry but others might need more than a day. Because the drying time affects the length of the project, it's strongly recommended that you use fast-drying paints. Read customer feedback to get the general idea about the drying time of particular paints. 
3. Can Capacity 
Measured in ounce, can capacity tells you how much paint the can contains which let you calculate the number of cans you need to paint the rims all the way. It's worth noting that the amount of pain you need depends on a wide range of factors: wheel size, color preferences, level of damage,… Because of that, you must be careful to ensure that the cans you have could last through the entire project. Overall, it's indeed nice to get high-capacity can but buying cans in bundles is also a great choice.  
4. Acquisition Cost 
Most spray paints for rims cost dozens of dollars a can these kinds of days so everyone would be able to buy them without difficulty. Still, you have to keep in mind the rule of thumb about the price: "you get what you pay for." That means don't bother expecting top-of-the-line value from dirt-cheap products. You want to get the best spray paint for rims? Then it's necessary that you prepare to spend money in order to ensure quality. Of course, you don't need to get the most expensive paint on the shelves unless you have specific requirements. 
5. Brand 
On the market of sprays paints for rims nowadays, you could run into a lot of manufacturers with variable reputation. To be on the safe side, it's widely advised that you stick to well-known names such as Rust-Oleum, Dupli-Color, PlastiKote, VHT, Plasti Dip and so on. Obviously, if you know for certain that a particular paint is good for your car, feel free to use it without caring about its origin. That being said, buying from famous manufacturers is safer from investing in products from lesser-known brands in most cases. 
Frequently Asked Questions About Spray Paint For Rims
Is it necessary to use specific paints for specific rims? 
As different rims tend to employ different construction materials, it's indeed essential to get suitable paints for your rims.  The best spray paint for rims made from aluminum might perform less than ideal on rims made from both aluminum and steel so be thorough. If you pick the wrong pain, you not only waste money but you also hurt the properties of the rims. Wonder what kind of paint to use on car rims? Look around the market for paints labeled as "for automotive". 
Do I need to wear a mask while painting the rims? 
People classify spray paints as dangerous goods for many reasons, one of them is that the paints contain caustic chemicals. To make sure that you don't inhale the chemicals by mistake while painting the rims, put on a facemask. Keep the mask from the beginning till the very end even if the project takes place in the outdoors. When it comes to dangerous chemicals that may give you serious health issues, it's impossible to be too careful. If the manufacturer provides further safety instructions, strictly obey them. 
How could I protect the tires from spillovers spray paints? 
Ideally, you should remove the tires from rims beforehand in order to minimize spillovers. That being said, in the case you feel lazy, tire gels, silicone glosses and similar ones would be excellent protections.  The solutions stop the paint from adhering to the tires so you only have to wipe clean the rubber later. Needless to say, don't buy randomly as certain solutions have chemicals that degrade the rubber compound of the tires. In addition to that, sticking pieces of cardboard boxes right in between the tires and the wheels also work wonders. 
My rims have plenty of grooves as well as crevices. What is the best way to apply paint on them? 
For rims with complex layouts, it's a good idea to tackle tight spaces first by spraying directly into them. Once you manage to cover such spaces, wait for the paint to dry properly before moving on to other areas. The trick is to be patient: Don't rush forward as you may miss a few spots here and there. Instead, meticulously paint every nook and cranny of the rims. That method shall allow you to apply paint all across the surfaces of the rims. For optimal results, you should prime the rims to facilitate the adherence of the paint.  
How much money do I need to spend to hire someone to paint my rims?  
Depending on the rims, choice of spray paints and so on, a professional paint job at detailing joints often cost from a few hundred to more than one thousand dollars.  That is a huge cost for a project that you could do all by yourself. All and all, you only have to spend around one hundred dollars for the paint and other materials to paint the rims of your ride. So it's best that you just save your hard-earned money and handle the painting without renting outside services. 
Applying/Removing Spray Paint On Rims
Technically, particular paints would have unique application as well as removal requirements in most cases. That being said, all products available for purchase these kinds of days share some characteristics.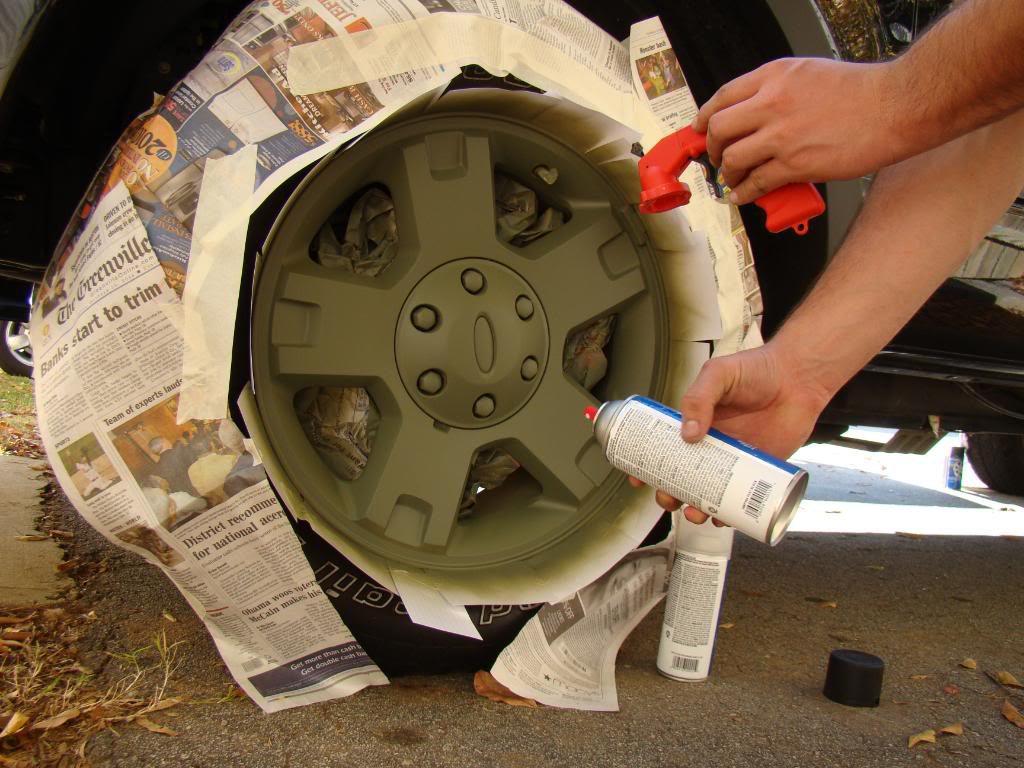 Applying Paint To The Rims

: You have to prepare all the materials well in advance. The last thing you want to experience is to realize that you forget something in the middle of the application. Furthermore, it's essential that you clean the rims thoroughly to create convenient surfaces for painting materials to adhere properly. For safety reasons, it's necessary to apply the spray paint in a well-ventilated area such as the outdoors.  

Removing Paint From The Rims

: Depending on the paint properties, you must find a suitable paint remover on the market. Afterward, proceed to remove the wheel, cover the rims in the paint remover and blast everything with high-pressure washers. That should be enough to get rid of most of the paint from the rims. Repeat the add paint remover – blast pressure water process if you ever find leftover paint.