Top 5 Portable Jump Starter In the Market
Last updated
Jan 25, 2021
0 comments
Discharging of the battery is a common issue when cars are left unused for a while. Due to this fact, the vehicle couldn't crank the engine, as it requires an initial electrical voltage to do so. A portable jump starter is a kind of equipment that can deliver the energy externally to start the engine. The car's engine will charge the internal battery during its usual operation.
Top 5 Portable Jump Starter in the Market
Here are some portable and efficient jump starters that you can use for the vehicle.
1. Clore Automotive JNC660 1700 Peak Amp 12 Volt Jump Starter
When it comes to sturdy and durable jump starters, Clore Automotive Jump-N-Carry is a popular choice. It contains a lead-acid battery that helps it to achieve the peak amps of 1700. As a result, you can even jump-start vehicles like pickup trucks and SUVs using this portable starter.
It has a dedicated outlet for charging electronics. There is also a cord that you can use in the wall outlet for device recharge.
2. Gooloo 1200A Peak 18000mAh Jump Starter
A lithium battery powers this Gooloo car jump starter. Therefore, you get this small-sized starter at only $70. It comes with a USB to Type-C charger, car charger, wall charger, a jumper cable, and a carry bag. It is feasible to recharge this using any USB port, and one charge will go for three months. The starter is suitable for all types of vehicles.
SEE MORE
3. Arteck 800a Peak Portable Car Jump Starter
Arteck, one of the most sought after portable car jump starters, comes in a small and compact size. This starter can also charge the electronic gadgets. Remember that the car jumper might not deliver the power at a high volume, unlike many of its competitors. But, you can use it even 20 times before recharging it. One additional feature of this jump starter is a LED flashlight that is in-built.
4. Schumacher PSJ-2212 Jump Starter
This premium-grade car starter comes from the house of Schumacher. It offers a peak power of 2,200 Amps, which is high. Since it does not come with any engine capacity restrictions, it is possible to use it on any car.
The best thing about it is its cranking capacity, which is 330 Amps. Also, the starter has a power pack of 22-Ah. The replaceable heavy-duty copper jaws are an added advantage as you can replace them easily without having to throw the whole starter.
5. Audew 2000A Jump Starter
This jump starter model of Audew has some versatile features to offer. Its peak power is 2000A, and its battery capacity is 20000mAh.
Do not be surprised to know that this portable starter has USB-C compatibility. As it can start any gasoline engine regardless of the size, you do not have to worry about the car compatibility while choosing this jump starter. For diesel engines, it supports up to 8.5 liters.
Things to Consider While Buying Portable Jump Starters
The jump starters are readily available in all online stores and retail shops. However, you can consider some buying parameters before making the ultimate choice. The considerations could be as below:
Choose the product as per the requirement as some jump starters provide several services like an AC inverter of which can run a small TV when the power is out. Though, additional service flexibility will always come at a premium price.
The amperage (AMPs) delivery of jump starters varies across products. The manufacturers rate their jump starters for motorcycles, 4-cylinder low HP cars, a big V8 diesel engine, etc.
Ampere hour or Ah (1Ah=1000mAh) is the unit of battery energy storage capacity. This parameter is also vital while going for the best jump starter as they range up to 22 Ah capacity. The higher the unit capacity, the better performance the starter will offer in versatile usage.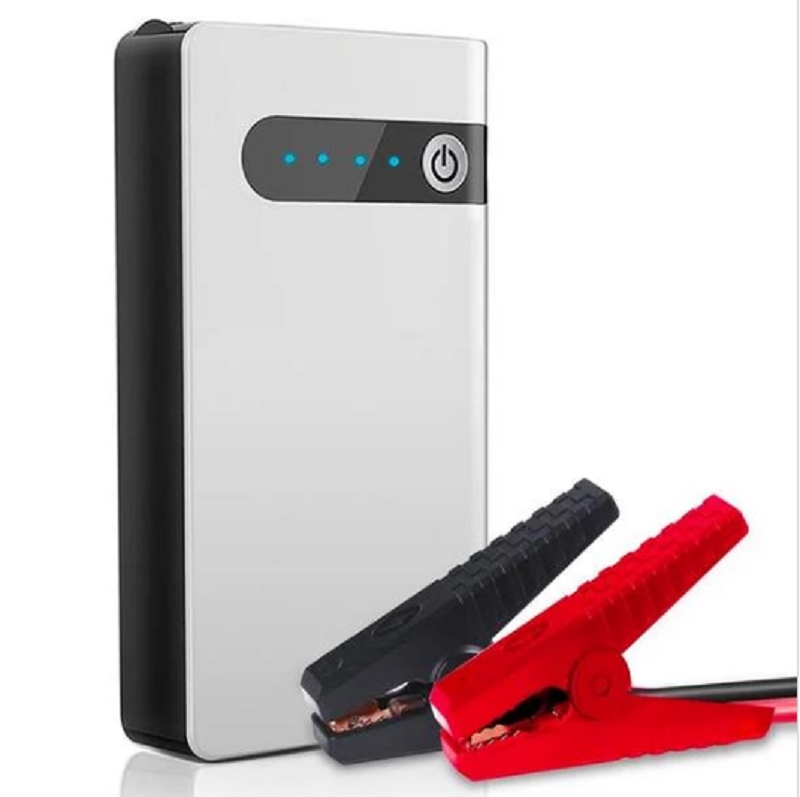 A portable jump starter could include any one of the following battery types: sealed lead-acid battery, absorbent glass mat (AGM) battery, lithium-ion battery or supercapacitor battery, etc. The battery part defines what size and weight the portable equipment will offer. Hence, AGM, lithium-ion, and supercapacitor battery built jump starters is the preferable choice for small glove boxes.
Some portable jumpers also come with a modular design. Here you can separate several parts from the actual device to turn the jumper into more space-efficient equipment.
Conclusion
You will not want to be in a position when the car battery does not crank up the engine in a deserted area or in the middle of the night. You can keep jumper cables to connect the vehicle battery with another car's battery to start the engine, but it could be difficult to find another car. Carrying a portable jump starter will help tackle the above scenarios besides serving as a power source to watch TV or charge mobile during a blackout.