What Is The Best Car Wash Type For Every Season?
Last updated
Jan 03, 2023
0 comments
If your car needs a thorough car wash right now, you may already have thought about the way to treat it like a king in the washing center or with your own good hands. This king-treated auto washing is available in many forms, no different than taking care of a newborn or fresh-look baby animal. Some like one way, and some fit another. Overall, the best car wash type exists in each driver's dictionary with different ideas.
But whatever the method applied, if you treat them with love, they can all be healthy and provide high performance with a proper and distinct care type. And giving no hard feelings toward any car wash approach, Car From Japan will present you with each type's benefits and drawbacks for your quick reference.
Automated Car Wash
Not sure the automated wash is the best way to wash a car, but it is undoubtedly one of the most mentioned and preferred methods among busy drivers with limited time during any due auto washing period.
In general, automatic car washing is always on the top scale customers put on when choosing a car wash and care station. Within this technology era, the demand for using means of transportation has increased. And without exception, the increase in transport leads to the growing car wash and care industry.
Before the introduction of the automatic car wash system, the average manual washing time for a car usually is between 25-30 minutes. And in the peak season, it is hard to let customers wait too long or refuse the wash during busy times. But there is no choice. Prolonging this overload issue for a while will not bring good results for the reputation and sales of the brand's stores or repair centers. Therefore, the automatic washing method has been developed to overcome maximum cases that can affect the whole industry and meet the customers' needs in the fast and furious digital age.
Structure and cleaning process of the automatic car wash
The automatic car wash system is a series of specialized equipment installed to serve the comprehensive car cleaning process, including frames, sprinklers, and sprayers. These are closely linked, and the cleaning steps are all pre-programmed for automation. This washing process only requires one or two employees to observe, control and operate the machine. The structure of a system includes:
Specialized brushes of many sizes.
High-pressure nozzle systems work to clean long-term stains.
Automatic snow foam injection system.
Modern drying systems help to remove excess water after cleaning.
Dedicated underbody cleaning system
To help you understand the process and visualize how your car is going to be cleaned, here are its 6 main steps:
Step 1: Before cleaning, place the vehicle in the machining center. At this time, the underbody cleaning system starts.
Step 2: The high-pressure pump and car wash spray are activated, water will evenly spray over the car body and roof to remove dirt and soften stubborn stains.
Step 3: The automatic snow foam sprayer will spray over the entire vehicle. Chemicals will penetrate and soften the stains.
Step 4: The high-pressure nozzle is activated to wash away the snow foam and dirt on the car, ensuring the entire exterior is clean.
Step 5: Use an air compressor to dry the car. This function will evaporate water, limiting liquid penetration to affect the engine and components.
Step 6: The cleaning process only takes about 5-7 minutes. When completing, staff will drive the car out of the cleaning area and return it to you.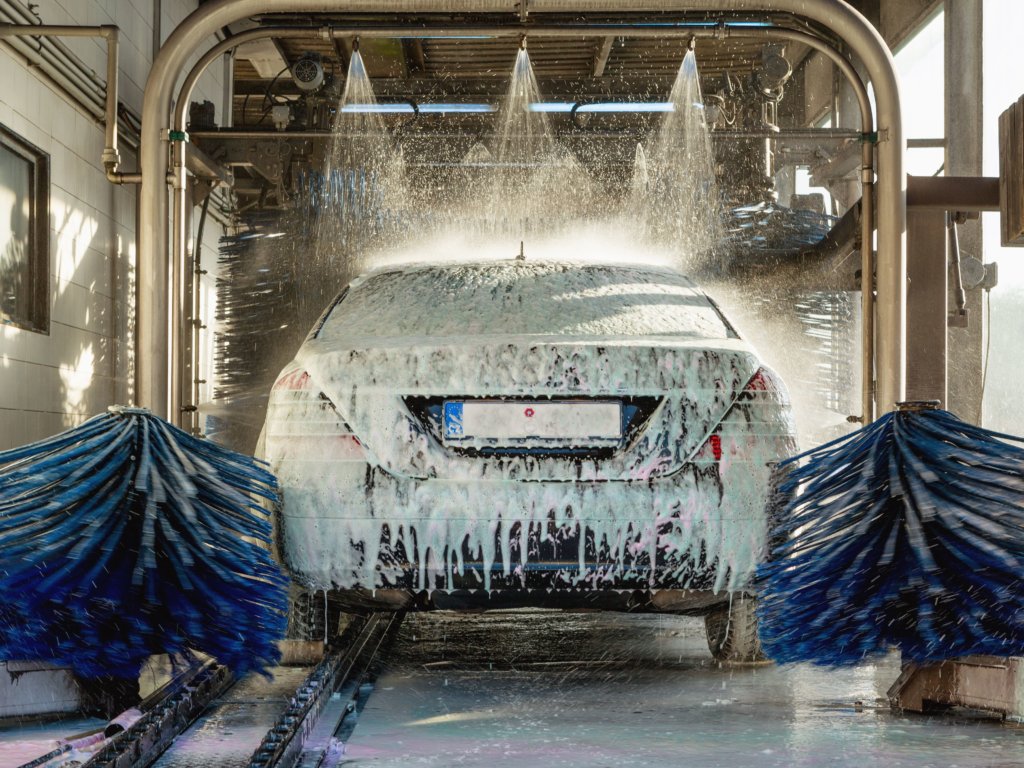 Currently, there are two automatic car wash types:
Semi-automatic machine: This is a form of combining 50% of machines and 50% of human power into the car cleaning process. In particular, the spraying will be automatic, and the cleaning stage will be manual.
Fully automatic machine: The car wash system will be fully equipped with modern equipment and machines to provide good cleaning ability, saving cleaning time. Accordingly, people do not need to put too much effort into the process but only participate in the role of supervision and management.
You can bring your car to an automated car wash and enjoy the outstanding benefits it offers:
High working efficiency. The traditional car wash often takes 20-30 minutes to complete. Meanwhile, an automatic car wash will help shorten the time by about three-quarters. As work efficiency increases, the number of vehicles cleaned will also increase.
Outstanding cleaning effect. Automatic car washes are appreciated for their cleaning ability. The system equipped with specialized equipment can evenly clean all surfaces, nooks, and crannies on the vehicle, especially the undercarriage and hard-to-clean locations.
It can wash many types of cars. The automatic machine is suitable for many vehicle types, including cars and motorbikes, and some systems can even meet the demand of washing the whole truck.
Save time. Conventional automatic car wash systems only take about a quarter of the time compared to other manual cleaning methods.
Reduce the number of employees. Labor is always a concern for car care and maintenance facilities. However, when equipped with an automatic cleaning system, the store will not need too much labor, helping the business unit save significant money.
While automatic car washing is quick, convenient, and relatively effective, it's not always cheap and certainly not always safe for your car paint in the long term. This model also brings some drawbacks that can make some drivers uncomfortable:
Big, heavy, and automatic brushes and high-pressure nozzle systems can cause heavy scratches.
Harsh chemicals may damage the car finish.
The system sometimes can not remove heavy contamination or hard-to-reach dirty spots.
The automatic car wash system possesses many outstanding advantages in terms of cleaning ability, convenience, and time savings. In return, the investment and installation costs are considerably high. Therefore, the price of using this service also has a difference compared to the traditional method. Usually, the cost of washing a car with an automatic machine will range from $8 to $30, depending on the form.
Car Hand Wash
Opposite to the fully automatic method above, with this kind of home car wash, you can freely get yourself soapy and messy to directly wash and take care of your vehicle on its stinky days in your favored style.
If you are still wondering which car wash option is best among dozens, this may be one of the most practical and safe ways to wash a car, even according to experts and car detailing specialists. But yes, this somewhat top-knot compliment only applies to car owners having lots of time and ready to give out multiple counts of effort to wait for a one-and-only process subtracting every workload that the machine is assumed to do faster.
This expert-recommended method follows the traditional thoughts of living: the key to happiness is in your hands, in both literal and figurative meaning. With that said, you are the one who has the full right to choose the right and favorite car wash method to make yourself feel satisfied. And with the thorough and skillful washing lines from the hands of the people or maybe your own, you will also feel more secure and refreshed when thinking about the prospect of sitting in the scented cockpit of the shiny car on the road.
In short, if not comparing and detailing too much with other types in some aspects, car hand washing is undoubtedly always the first choice for drivers because of its reliability and the high clean level outcomes.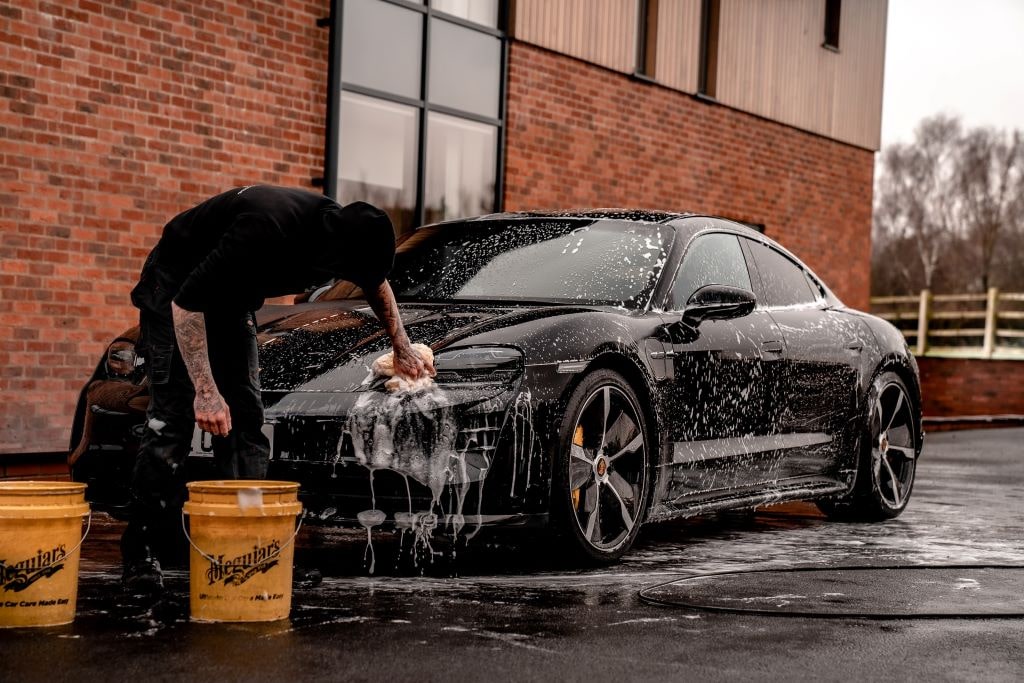 The method can be a classic couple-bucket to high-tech, using a pressurized foam nozzle. However, in every way you choose, they will all have the staff or even you mixing up the water with specialized soap and cleansing the vehicle with a soft glove on both hands.
Washing a car by hand requires the operator to pay attention to detail and understand how to achieve an optimally clean-n-clear finish with quite a bit of work as follows:
Spray water to pre-cleanse the whole car
Clean under the car
Car body cleaning
Dry the car and polish the tires
Clean car interior
Overall, even with the shortest and most flowery route heading to the crown of best car wash type, hand wash still has ups and downs like others. Because in the end, compared to several modern washing types in the market right now, it is only a senior in a traditional form.
Pros:
Easily remove heavy contamination or dense and thick dirty spot
Minimizes scratching
Can work carefully and clean the car throughout to your wished level
Cons:
Taking more time than other types
Considerably expensive, even costlier than the automatic method
Requires a lot of water
Requires lots of traditional and high-tech equipment
Can not do in a small or limited space
It is hard to execute in low temperatures or cold weather
This car wash type requires a potential free period and a load of existing equipment and tools from low to high tech. And in case you are getting it done by an experienced detailer, an extra cost is needed. But considering how delicate this wash type acts on your car finish while getting off its stubborn contamination on the next level, it is and will still be among the most promising wash your car desires.
Touchless Car Wash
It is true that washing a car by hand or having some tools affecting its surface with force will enhance the glossy finish and remove contamination throughout. However, there is still another way to cleanse your car requiring no-touch, only tools. Sounds like an impractical cleaning method?
As the name implies, the touchless car wash means that when washing your car, you don't need to touch any part or surface, but in the end, your car will still be clean. Compared to the traditional car wash method, which uses cleaning chemicals mixed with water, and when combined with other tools such as gloves, hand sponges, and soft towels to effectively clean, the touchless washing method may also not be too different.
Listed as the best way to wash a car without scratching, touchless car wash is a method that uses a non-touch car wash solution mixed with water in a specific ratio, poured into a snow foam tank, and sprayed on the car. Afterward, all will combine with a water nozzle to wash up dirt, grease, and oil clinging to the car's bodywork and engine compartment.
Without touching the vehicle and using a towel or brush during the cleaning process, this technique requires you or the car wash centers to use high-pressure spraying squirts to ensure the water pressure and foam level of the solution after dilution. It also goes with a hand-held snow foam bottle to support a quicker and more comprehensive workflow.
>> See More: The Dos and Don'ts of Car Pressure Washing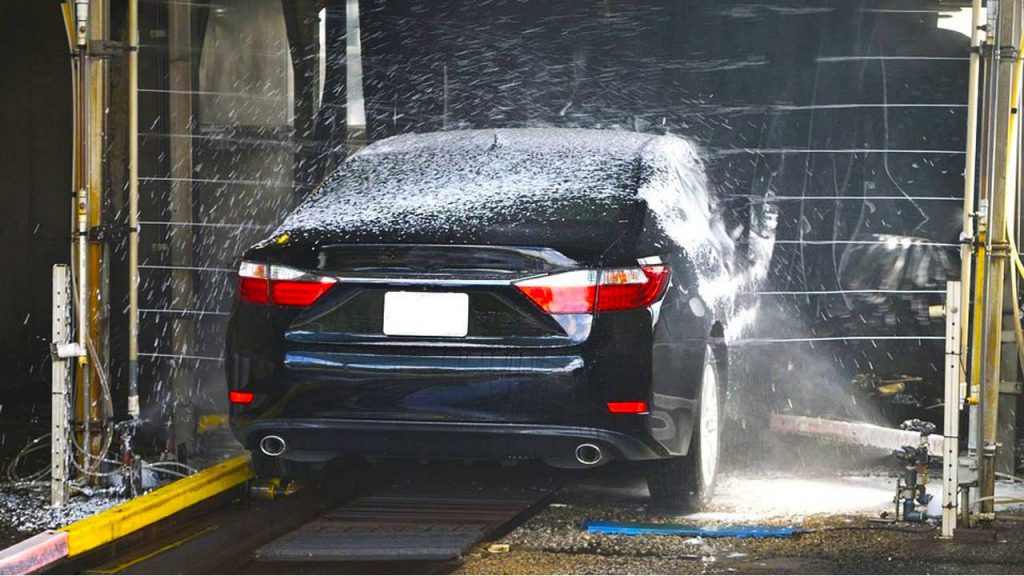 And besides the high-quality high-pressure nozzle and foaming snow tank, the prerequisite for this car wash method to make its mark on the best car wash without scratching line-up is a touchless car wash solution.
The touchless solution, also known as a cleaning solution without wiping, is a car wash chemical pre-mixed in extremely convenient cans and can be diluted further for more economical use. Users can spray this solution on the car, wait a few minutes, then use a high-pressure sprayer to clean all the chemical foam. Not only in theory but through practical testing of washing cars using the non-touch solution, the dirt or light grease on the car surface, the steering wheel, or the rearview mirrors are always nearly clean to the bone.
With such seemingly optimal cleaning power, you may be worried about whether the chemicals in the solution will affect your skin and overall health. In general, any simple washing solution such as laundry soap or shampoo will contain more or less detergent because otherwise, it cannot clean the stain effectively. However, when they are only at acceptable levels, there will be no effect on human health.
As some actual testing on human skin also shows that the touchless car solution does not have any unpleasant chemical smell and does not dry the skin of the hands, you can safely use it without worrying too much. And remember to wear extra gloves if you want optimal protection for your hands.
Here are some visible pros and cons of having your car an un-touch washed with the specialized cleaning fluid:
Pros
With a specialized solution, the car wash process is much faster. Because several steps such as wetting the car, scrubbing, and cleaning each part are all skipped. It not only shortens the cleaning time but also saves the labor cost.
By doing this cleaning form, you do not have to rub the brush on the car's surface. So it will limit the sand and dust sticking to the wipe from one position to another, causing scratches to the paint.
Because there is no need to spray repeatedly or spray water to soften stains on the car first, the washing also helps save more water than traditional car wash methods.
As the car wash time is shortened, you or detailing centers can wash more cars at a time, reducing electricity, water, and labor costs to improve revenue and profit for the store.
Cons
Touchless car wash only reacts strongly with dirty soil. Therefore, for the oil-soaked areas, the user still has to wipe them again with a towel.
The cost of a car wash using touchless technology or chemicals is higher than that of a conventional snow foam car wash.
The washing store needs to be equipped with a high-pressure washing device to bring high cleaning efficiency.
Although it is an advanced technology, customers may still prefer the traditional style. Because seeing their car not being scrubbed, they will not feel clean.
Unreputable car wash centers often use touchless car wash solutions from China, which have not been tested. And their quality is lower than those of European origin, affecting the car paint severely in the long-term.
Once you understand the benefits and drawbacks of one seemingly unfamiliar car wash, if you don't want to get a touchless automatic car wash, you can experience this project with a few basic tools and the right kind of solution. Note before washing your car with a touchless washing fluid, you should carefully read the instructions on how to dilute the solution with water on the label or ask the seller directly for advice. The mixing percentage will vary from brand to brand or whether you are using a hand-held or dedicated snow foam bottle.
You can follow a few simple steps without too much technical act to get this thing done in no time:
Directly spray the mixed non-touch car wash solution on the whole car and wait about a minute to soften dirt, mud, or brake grease bonds.
Use a high-pressure car wash to spray again, starting from the bottom, and do not start from the top.
Once you finish rinsing, spray dry.
Waterless Car Wash
A waterless car wash, also known as an "American car wash", is the washing method of using only a specialized car wash product (solution) and several microfiber cleaning cloths to rinse off the car. The principle operation of the solution is to create a polymer layer on the car paint surface to remove dust particles, then use a specialized towel to wipe away the dirty things that have softened. In addition to cleaning, this polymer layer protects the paint from scratches when dusting, but this polymer coating will lose over time.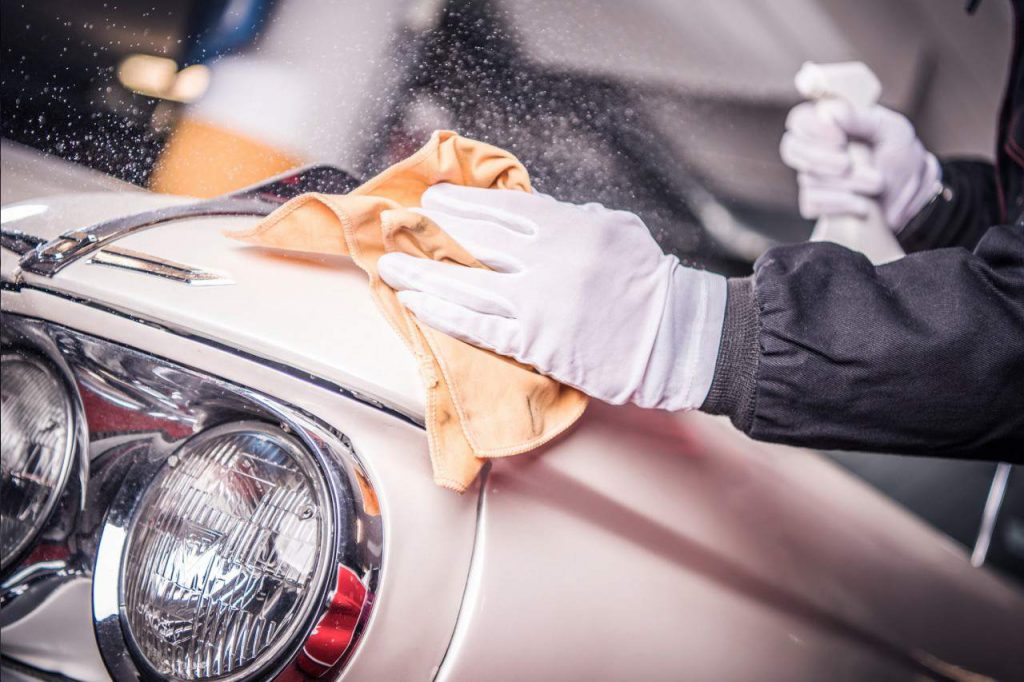 Step 1. Use a microfiber car care towel, which is soft and highly absorbent. Then fold the towel times in half to get eight faces.
Step 2. Spray the solution on a folded towel/cloth, and at the same time, spray it on the car's position to be cleaned. Gently wipe in one direction, do not use much pressure, and do not circularly wipe the car.
Notice when one side of the towel is too dirty, flip it over to use the other sides, or replace if necessary. Clean all the spots or parts on the car, from the roof, glass, hood, side doors, rear, and wheels.
It indeed sounds like a fast-paced method in theory. In reality, if you are still confused, here are the pros and cons of waterless car wash technology:
Pros
The solution protects the car paint polish, avoiding the effects of harsh environmental factors (the effects are advertised to secure and maintain for up to 1.5 months). Overall, this way of washing cars without water will better protect the paint layer compared to a high-pressure car wash.
Applying modern and novel processes stimulates consumers to experience.
Leave you with no fuss because there is no need to prepare utensils for car washes, such as a bucket, water, or water nozzle. The convenience is high as you quickly wash the car and do it anywhere.
Save more time for your washing project.
Waterless car wash technology is widely applied in car wash models in detailed centers or showrooms. You can request the staff there clean your car interior or the tires with special chemicals in no time.
Cons:
It is not possible to thoroughly clean every car position.
As we do not have to use water to clean the car, we can save a significant amount of water. However, although the method saves water, the amount of specialized cleaning solution used will be quite large, while the price of importing this solution is not as low as some have thought. So you can not always consider that this method is economical.
The washing process is not as simple as you think. If you accidentally move your hand across a place not covered with chemicals, it will cause the car paint to be scratched.
It can not remove heavy contamination or deep dirt spots.
The price of car wash technology without water is considerably high, going up to 8 dollars while washing a car with a car wash and water as usual only costs about 3 to 5 dollars.
Some note at the end, if you choose the right quality and original waterless car wash solution, you can rest assured that it will never harm the finish. But if handling the task alone, you should be careful because you can accidentally scratch the car with your hand if there is no solution. So if you still want your car to experience this washing technology, find a reputable shop.
You can linger washing a car without water is like eating a pack of instant noodles. This technology is only applied quickly to vehicles with light soiling and a considerably clean body. Though the method sounds effortless and suitable for less-dirty vehicles, it's always a good idea not to wash the car yourself applying a particular solution when you are not fully aware and understand it from the beginning. Take time to note and figure out more, then you can do it with more confidence and guarantee.
Rinseless Car Wash
The rinseless car wash is another potential candidate for our list of best car wash types today as it can bring up surprises and save tons of water. For you to imagine easier, it is like a mixture of characteristics between traditional car hand washing and waterless washing. With a rinseless car wash, drivers can easily clean and wipe off the specialized washing solution after applying it instead of rinsing the foam and car soap with water. Moreover, rinseless products are heavily lubricated and can effectively remove light dirt and grime on your car's exterior.
Note that just small dirt spots are suitable with this kind of wash and you can only safely wash passenger cars, trucks, and SUVs with not-that-heavy dirt accumulation. Dirtier vehicles, especially if they are not regularly washed or if there is visible mud caked on their paint, should have the dirt removed using a pressure washer or a strong spray of water in another way.
Overall, even a top-rated car wash can experience several problems that affect its perfection and comprehensiveness, and this method is no exception. Here are a few pros and cons of the rinseless car wash we'd like to break down. We hope you will find some helpful insights on whether to practice regularly and consider this as the love of your driving life.
Pros:
Take less time to execute than washing your car by hand
Requires less water than a car hand wash
Take fewer tools than a handwash
You can do it within any small or limited area
Less likely to scratch than a waterless wash
Cons:
More likely to scratch
Can't remove heavy contamination
Requires more equipment than a waterless wash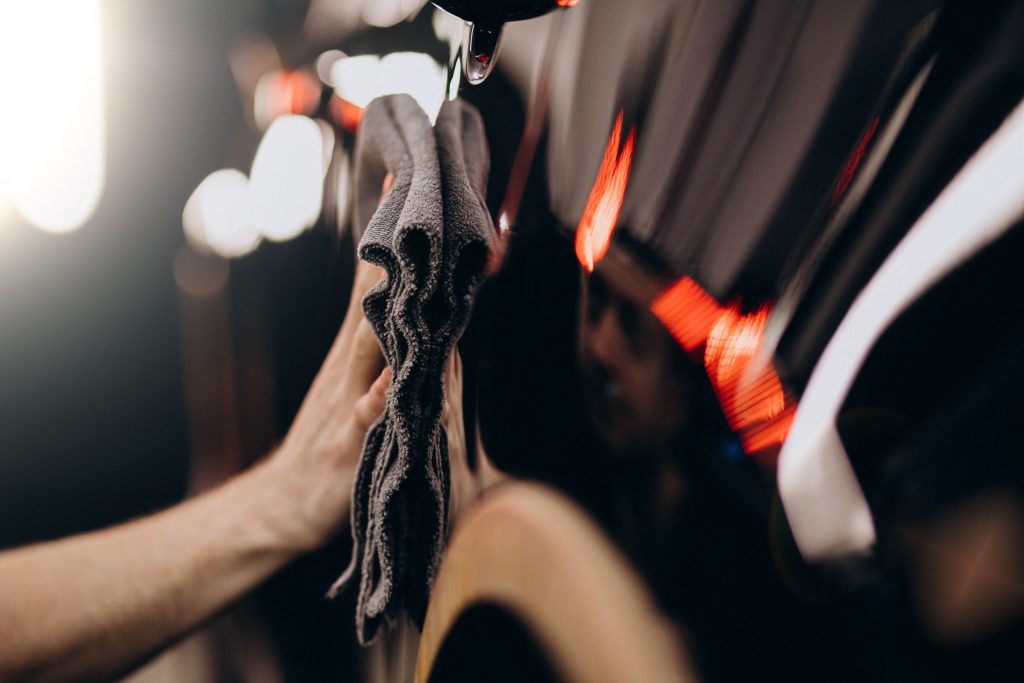 The self-implementation of a rinseless car wash project can be done through a few basic steps and notes below. But before getting started, you should keep an eye on the rinseless solution and mix them well. Depending on the type of vehicle, the level of dirt that the solution you use must have appropriate response parameters. You can apply the method of using 2 buckets to improve project efficiency. One bucket contains your rinseless solution, while the other has clean water and a grit guard to capture any dirt and road grime removed from the car at the bottom.
1. Start washing from the car top and gradually going down
The idea behind using a rinseless wash is to wash and dry one area at a time. If you start washing and drying a lower area before the roof, you are likely to let the cleaning solution run down and re-wet an already clean-and-dry panel, making it dirty again. Two factors determine how large of an area or section you should tackle at one time.
Size of the panel
If you have a small panel, it should be small enough for you to wash and dry the entire surface before the cleaning solution dries. However, if you are dealing with a bigger one, you might find it easier to split the hood in half and wash and dry one half at a time. The idea is to moisten the part, then wipe or blot it dry to remove any dirt or road grime.
Temperature and airflow in workplace
On warm or hot days, or in areas with a strong air current or wind, the lower temperatures and no wind environments or airflow can cause your cleaning solution to dry faster. Consider this when deciding how large of a sludgy surface or section to clean at one time to avoid the solution drying too fast on its own. But no matter how dirty or what type of vehicle you want to clean, dividing it into small sections can make your process much easier, especially when your project is a DIY. Below is a suggestion for slashing the car into pieces when washing it rinseless.
Car roof
The side glass
Horizontal part as hoods and trunk lid
Vertical parts such as front bumpers and grills
Rear bumpers and rear vertical panels
Lower vertical panels, the dirtiest sections.
The wheels and tires
2. Apply gentle touches with soft washing gloves.
When using a rinseless car wash, move your towel or glove over the surface softly enough to remove the hold of dirt or road grime on the paint, then stop. So having a specific wash glove for this purpose only is a good idea. You can choose any high-quality soft microfiber mitt or glove designed exclusively for use with rinseless washes to remove dirt from the car paint safely. Don't let bad weather, water limitations, or a lack of microfiber towels stop you from having the cleanest finish possible.
It's common to see people cleaning their cars without thinking about what they are doing and forcing their brush or glove over and over the same paint section with dozens of forces and strokes. In reality, one or two swipes are already sufficient.
3. Put the microfiber glove in the rinse bucket.
Toss your washing mitt or towel in your rinse bucket of water when the area is dry to avoid splashing solution over the places.
4. Dry the paint
The first thing you should do after washing a panel or section is to wipe everything dry. Wiping is good when working on a daily driver or getting ready to rub off the paint. Or if you want a maintenance wash on a car with a shiny finish, you can try the blotting approach followed by a gentle wipe.
5. Clean your soft mitt and re-gather the fresh rinseless washing solution.
After wiping one part dry and ready to wash another, you should clean your washing soft glove or sponge by swabbing it against the grit guard insert. This act will extract dirt and grime particles off your mitt or towels. You can then squeeze out the extra water before collecting a fresh cleaning washing solution.
6. Repeat the same method until covering all parts of the car.
Instead of taking the high-quality cleaning gloves, brushes, or sponges while scrubbing wheels and tires with this car wash type, you can try using microfiber or cotton towels. Leave your delicate cleaning towels ready for the paint.
>> Check Out: The Best Time to Wash Car And Other Pro Tips
Best Car Wash Type: The Verdict
Our opinion on the best car wash type below may or may not match your opinion. However, depending on your knowledge, time, and priority, you can always choose the most suitable car wash among dozens of types.  In case you are not confident and are confused about how to mix the solution or scrub the stain properly on the car surface, you should bring your car to the shop to observe and learn for the next potential wash at home.
Here is our order on which car wash option is best for your reference:
Car hand wash
Touchless car wash
Rinseless car wash
Waterless car wash
Automated car wash
For more Car maintenance tips, follow Car From Japan today.