Sedan Vs Hatchback: Which One Has The Upper Hand?
Last updated
Feb 17, 2021
0 comments
In the popularity contest between sedan vs hatchback, the first one is a clear winner, especially in the United States. Hatchbacks also have admirers outside the U.S. and they are slowly gaining the approval of the Americans too.
Sedan or hatchback – the dilemma gets people when they are looking for buying a compact car. Shall you go for the traditional sedan or settle for the less common hatchback? Let's discuss the differences between them and which one you should choose.
Difference Between Hatchback And Sedan
Most people mistake all small cars for hatchbacks. But, they have this name due to some specific features. The most striking differences between these models are:
Hatchbacks have a rear hatch door but the sedans do not.
You can divide the interior of sedans into three distinct sections – passenger cabin, luggage space, and engine. Hatchbacks have a more flexible arrangement where you can fold the seats to get more cargo space.
Some models have a hatch but are taller and have more storage space than a hatchback. These are called station wagons.

>> Find a second-hand car from Japan at best deal here <<
Sedan Vs Hatchback: What Should Be Your Pick?
In the sedan vs hatchback battle, most Americans will pick the first option. But, the hatchbacks have some serious arguments in their favor.
Points For Styling
All sedans have uncanny similarity due to their 3-box structure. The hatchbacks will get a plus point in this aspect due to their distinct but stylish look. Despite having the same hatch style, they don't have the boring appearance of station wagons. They have a shorter rear and a sleeker structure.
The Unmatched Flexibility
Flexibility is the factor that keeps hatchbacks miles ahead of sedans. The split-folding rear seatbacks come standard in these small cars. The feature allows you to set the interior up according to your convenience. It can accommodate any mix of people and cargo. When the hatchbacks can transform into a cargo hauler at any time, sedans don't have this privilege. They have a fixed cargo space that cannot be increased by rearranging the back seats.
For example, comparing Mazda 3 sedan vs hatchback for cargo space shows that the sedan version has only 11.8 cu ft of trunk space while its hatchback counterpart has 17 cu ft with back seats up and a whopping 43 cu ft with seats down.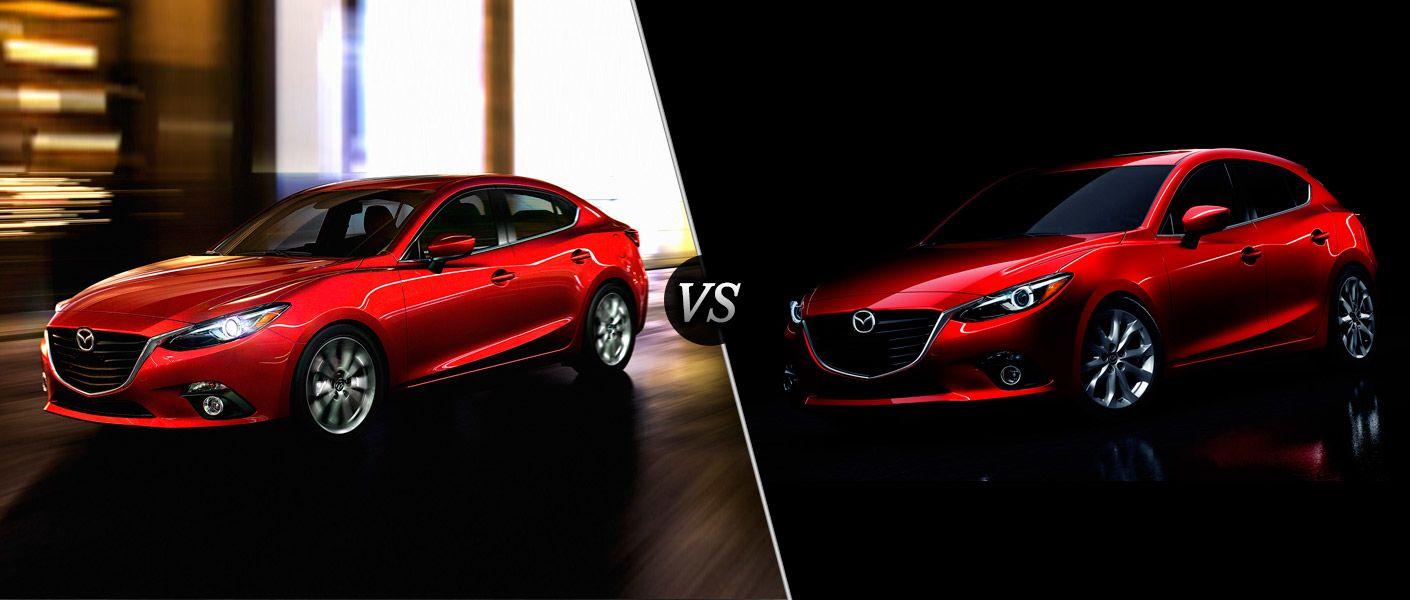 SEE MORE :
Interior
The interior layout of hatchbacks is smarter than sedans. They feature an expansive interior without having a larger footprint. The compact body is a relief in the city area where parking space is at a premium. They have a higher roofline and more glass area for better outdoor views.
Resale Value
Hatchbacks are again the winner when it comes to selling your used cars. Some of the popular hatchback models including the Toyota Prius C, MazdaSPeed3, Subaru Impreza, and a few more retain 58% of their original value even after three years of use.
While hatchbacks are the clear winner in this sedan vs hatchback debate, many drivers still prefer the sedans. The reasons for not choosing hatchbacks is their compact size and the window in the cargo area. Ultimately, it is down to a matter of personal choice.