Land Cruiser vs Range Rover: The Battle of the SUVs
Last updated
Feb 03, 2021
0 comments
The options are never limited when it comes to SUVs, and the market is ever expanding. However, when it comes to the most popular and ultimate choice of these vehicles, the Land Cruiser vs Range Rover takes the front seat.
Both vehicles have come from the factory of renowned automakers (Range Rover from Land Rover and Land Cruiser from Toyota) and they have already proven their worth on and off-road. They have a strong fan base amid competitions like BMW X, Mercedes-Benz GL550, Lexus LX 5700, and Porsche Cayenne S.
Land Cruiser vs Range Rover: The Ultimate Comparison
We know that both are good-performing cars but which one stands out when you are looking for a combination of performance and good value for money? Let's delve into various factors to find out the winner in this Land Cruiser vs Range Rover battle.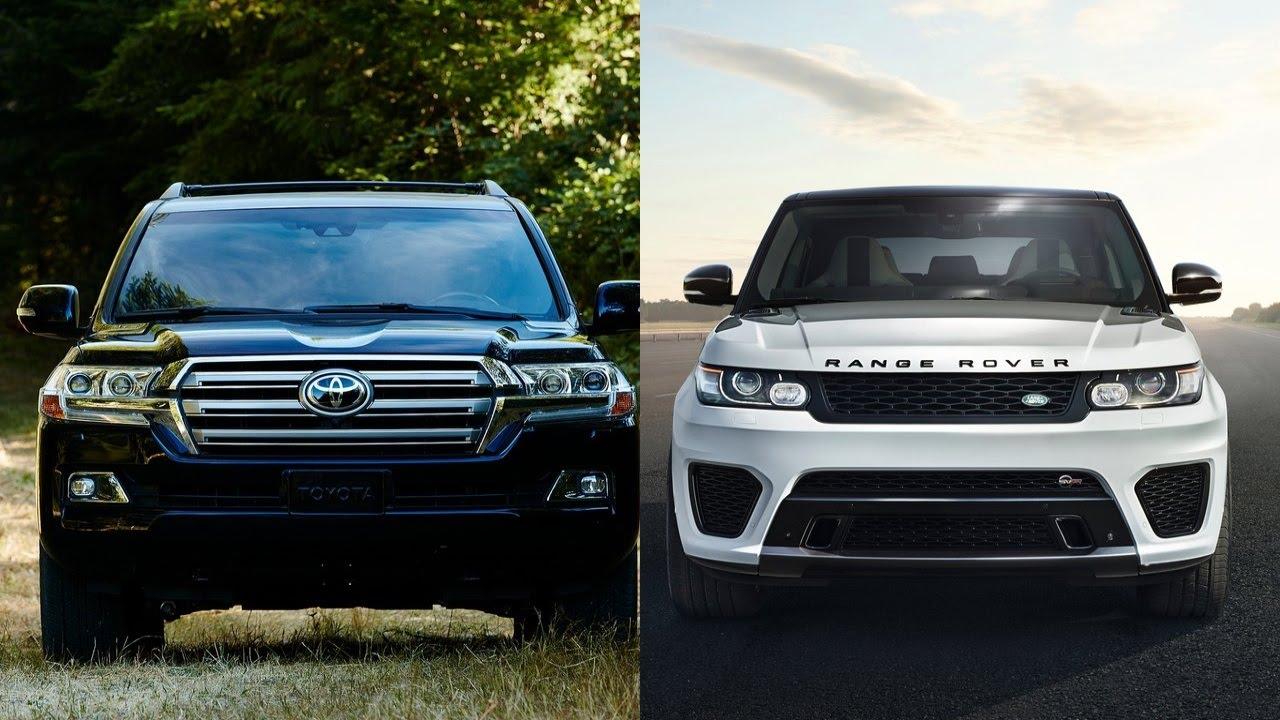 1. Engine Performance
The Land Cruiser wins this segment as its 5.7 DOHC V8 engine is more powerful than the 3.0 supercharged V6 of the Range Rover Sport version. It generates 381 hp and 401 lbs-ft of torque compared to the Rover's 340 hp and 332 lbs-ft of torque. Rover's HSE Dynamic also has the same engine but it is a bit more powerful with 380 hp and 332 lbs-ft of torque.
2. Handling
Land Cruiser's standard brake rotors are larger than those of the Range Rover. Also, its braking components are more responsive, so it will be more reliable on tricky roads and tight corners. Cruiser's turning circle is tighter than that of the Rover, offering easier and better handling.
Also, the Cruiser's tires are larger than the largest size available for the Rover Sport. The bigger tires, with their lower 60 series profile, have a strong sidewall and offer better traction on rugged tracks.
          SEE MORE
3. Passenger Space & Cargo Capacity
The Cruiser again wins this section between Land Cruiser vs Range Rover confrontation. It can accommodate 8 passengers with slightly more legroom and front and rear shoulder room while the Rover has space for 7 people. You can recline its middle- and third-row seats for extra comfort during long trips. But, the Rover has the facility of reclining only the middle row.
Besides, the Cruiser's cargo area offers more volume than that of the Rover. It also has a quick loading option as you can open its rear cargo window without opening the tailgate door. However, it's only suitable for loading small packages.

>> Finding cheap used cars from reliable Japanese sellers? Click here <<
4. Fuel Economy and Range
The Land Cruiser requires regular gasoline against the premium-quality fuel for the Range Rover Sport. So, the Cruiser will keep the cost lower as you will have to spend 20 to 55 cents more per gallon for filling up a Rover. The Cruiser offers slightly more fuel economy than the Rover's diesel version although the Rover patrol edition is the winner in this section. It runs 14km on per liter fuel.
The Verdict
Based on the comparison, the Toyota Land Cruiser seems to be the obvious choice. However, it is still a matter of personal preference since there is no glaring difference in their performance and other features.