Camry Hybrid Vs Accord Hybrid- A Detailed Comparison
Last updated
Jan 11, 2021
0 comments
Honda and Toyota are the world-famous automakers around this globe. The magnificently made Toyota Camry and Honda Accord are the best selling cars of theirs. These are also the best selling automobiles in the sedan category. Not only the first version but the Hybrid version of these cars took the market by storm. Both the sedans have some amazing features. Be it the performance, handling, appearance, or power. And one cannot easily ignore the fuel efficiency feature when comparing Camry hybrid vs Accord hybrid.
Let us now have a side-by-side comparison of both these cars below.
Camry Hybrid Vs Accord Hybrid – The Top Differences
Toyota Camry and Honda Accord come in variants with different features. One might experience a slight change in specifications and figures as well. Tech and safety features are more in modern models. Both these automakers never hesitate to provide world-class features in all their vehicles.
However some of the features in these cars are pretty similar to each other. The combustion & piston engine, motors, and tech features are somehow similar.
The modern version of these vehicles is the 2019 Camry Hybrid and Honda Accord 2019.
Let us differentiate the features of both vehicles to gain some more knowledge.
1. Engine Specs
When going for Camry hybrid vs Accord hybrid, understanding everything about the engine becomes necessary. Both these vehicles have superb engine and power.
The latest model Toyota Camry comes with approximately 2500 cc engine (2494 cc). And with powerful displacement the engine has 208 hp of max power as well. The automobile comes with an automatic gearbox system or Electronic Continuously Variable Transmission or ECVT system.
Honda Accord's modern version has approximately 2000 cc engine (1993 cc) with 212 hp of maximum power. It has an automatic gearbox system with Continuously Variable Transmission or CVT system.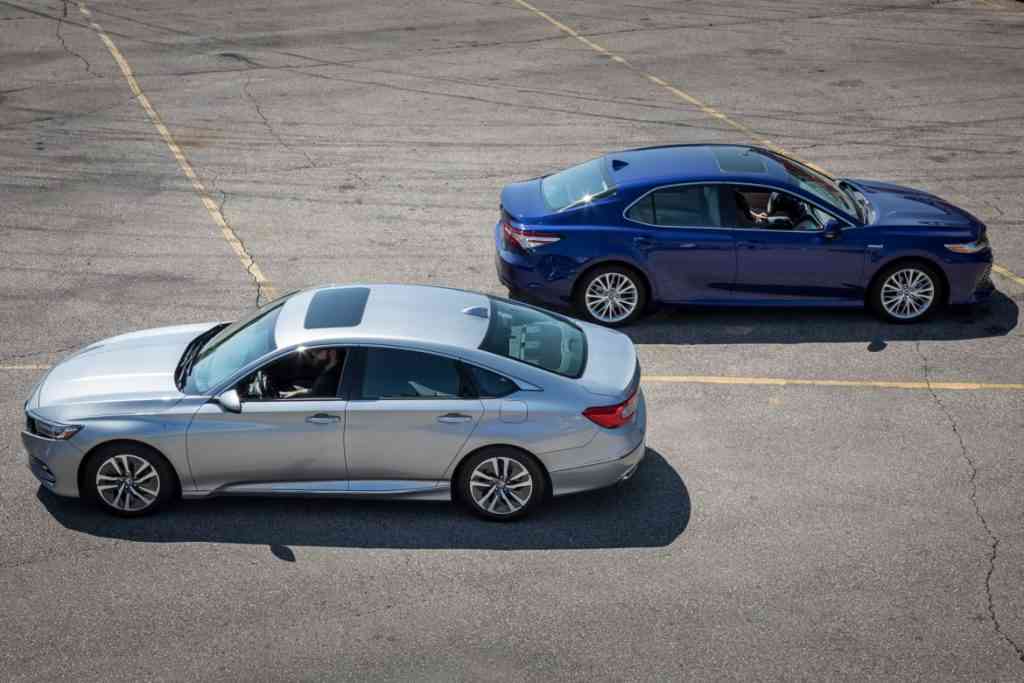 SEE MORE:
2. Fuel Efficiency
Another great factor that differentiates Camry hybrid vs Accord hybrid is the mileage. And it is important to discuss fuel consumption point when need to save some bucks on fuel. According to the expert car comparison there is a slight difference in the mileage part. But a little difference matters when talking about fuel efficiency.      
Camry Hybrid has a 6-speed transmission system with a 2.5 litre engine. It offers mileage around 22-23 kmpl.
Honda Accord comes with 2.0 litre and four cylinder engine. The powerful engine offers mileage above 23 kmpl.
3. Price
Honda Accord is a little expensive when comparing with the Toyota Camry. The 2019 version of Accord comes with additional tech features. That can be the reason behind an increase in pricing.
Toyota Camry is low-priced than Accord. Both these automobiles are available in single variants 2019 model.
4. Interiors
The cabin of Camry is more comfy and spacious than Accord. Even the interior quality of the Toyota Camry Hybrid is better. No doubt the tech features in both these vehicles are somewhat similar.
The Bottom Line
There you have it! That is all one needs to know when going for Camry hybrid vs Accord hybrid comparison. Hope you now understand the differences to make the vital buying decision.