Easy Ways to Unlock Your Car without Key during an Emergency!
Last updated
Jul 28, 2023
0 comments
Knowing how to unlock your car without key will be super vital in any situation. Let's find out with Car From Japan!
Locking yourself out of the car with the keys inside is not a rare incident. If it's not an emergency, you might have taken time to find your spare keys or waited for the help of a tow truck service or roadside assistance. 
But, what if it is an emergency and you have no key to open your car? You may have to attend an important meeting or your kid is locked in the vehicle on a hot day. 
To avoid any accident, you have to know how to unlock your car without key.
7 Easy Ways To Unlock Your Car Without Key
You can use the following methods to unlock door without key. However, almost all of them will set the car alarm off, so don't use them for breaking into a car illegally.
Besides, if it's an emergency and you have the opportunity to call the police or fire department, do that.
Pick the Manual Lock with a Locksmith Wedge
There are several types of simple wedges such as plastic, vinyl, and metal. You have to use it to pull the door and create enough space to insert a long, thin metal rod to pull the locked door pin. 
You can also make use of a clothes hanger to use its hook to grab the locking pin and pull it. Be careful not to damage the door's weather stripping while inserting the tool.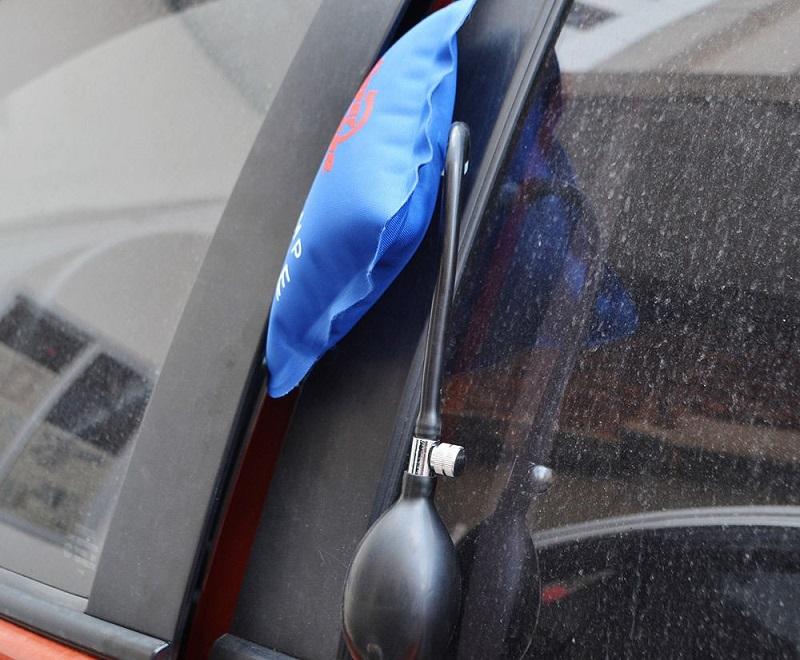 Unlocking an Automatic Lock
This is an effective way to unlock your car without key when you have an automatic lock. Use a wedge tool to create a space between the car's body and the door. 
If the auto lock is located on the armrest of the driver's side, you can activate it by just pressing it with a thin metal rod. If the button is on the central console, attach a hook at the end of the tool or use a clothes hanger to reach the lock.
Use Slim Jim To Unlock Car 
A Slim Jim is a thin metal strip used for unlocking cars. It needs some practice to open a locked door with this tool to open locked car door. Also, it is more likely to tear the door's weather stripping and the wires inside. 
Insert the tool into the passenger-side door because the driver's door has more wires. Push the Slim Jim through the weather stripping and use its hook-like end to clasp the inside of the locking mechanism (which is underneath the locking pin). Once the hook firmly grips the lock, pull it up to disengage the lock.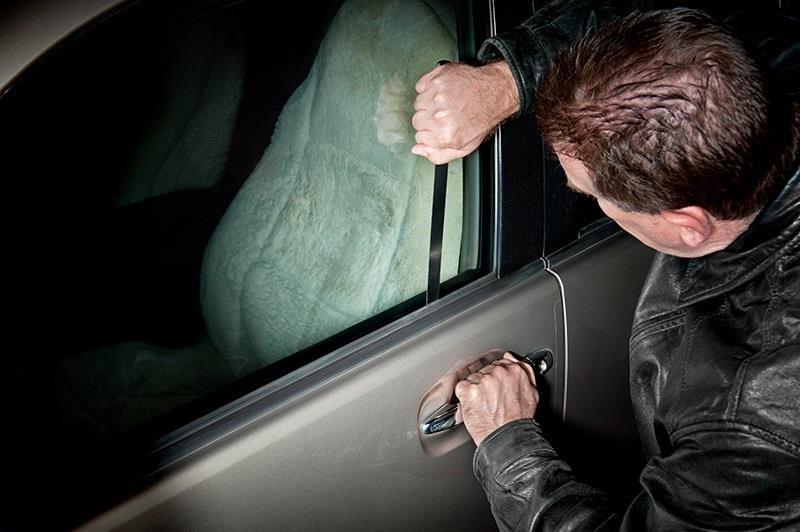 SEE MORE:
Enter Through the Trunk
So how to get into a locked car through the trunk? Things can go like this. If the car has a manual lock, there's a chance that the trunk is open despite the doors being locked. In that case, you can get inside this way. 
Open up the trunk and push the rear seats forward until there is an opening spacious enough for you to crawl inside. Then, you can manually open the car's door.
Remember that you are using a tool to unlock your car without key, you may need to try a couple of times. Be careful not to damage the vehicle by stripping or scraping the window glass along the way.
Use Shoes Laces
There is another way to answer your question of how to unlock my car door without a key, using shoe laces. It may appear to be an impossible effort, but you can unlock your car door in seconds using only one of your shoelaces. 
Remove a shoelace (or another form of string) from one of your shoes, then tie a slipknot in the middle that you may tighten by tugging on the string's ends.
Holding one end of the rope in each hand, slip it through the corner of the car door and down far enough so that the knot can slide over the doorknob. Pull on the string to tighten it and pull up to free it once it's in place.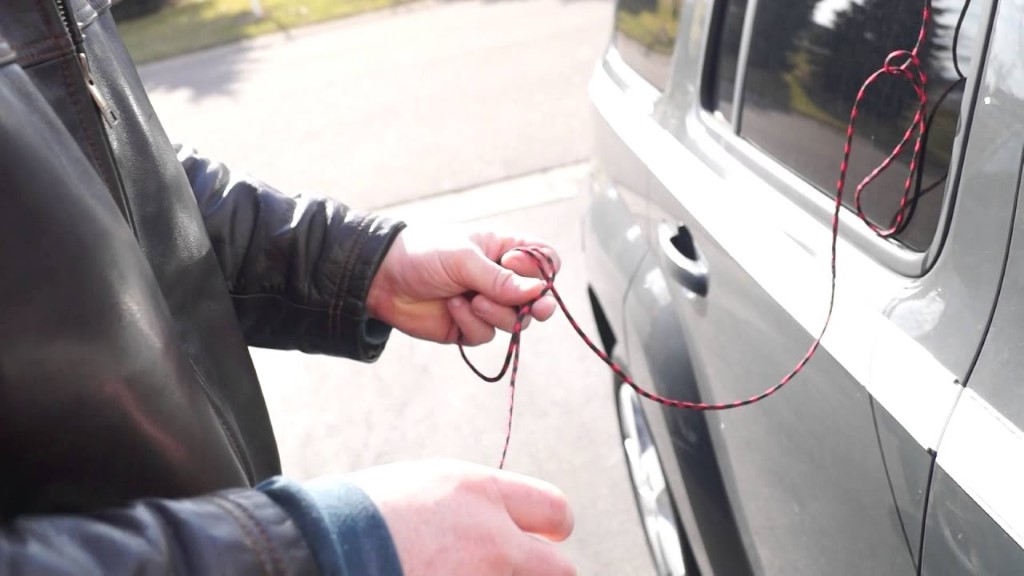 This approach will not work for automobiles with locking mechanisms on the side of the door, but if your door has a knob at the top (as seen in the pictures above), you have a good chance of getting it to work.
Use Sturdy Plastic or a Plastic Strip
Getting to know how to unlock door without key by using an inflatable pump wedge. This may be a good way. If the locking mechanism is on top rather than on the side, a strip of plastic may be easier than some methods above.
Check out this video from Donnie Smith to learn more about methods to unlock car door using a plastic strap when locked out:
Call AAA center or a Locksmith
When your shoestring, wire hanger, or wedges aren't working, call a locksmith. 
Service companies such as AAA are also viable possibilities; they provide lockout tool kits designed specifically for this purpose. The disadvantage is that you will have to pay someone to unlock your automobile.
What Can You Do To Avoid Being Locked Out Of The Car?
You can opt for these tips to avoid being locked out of your car in any situations. It's best for you to be well-prepared rather than just being 
Get a spare key 
You may not be aware of how to get your car unlocked with the keys inside until that dreadful moment reaches you. 
When purchasing a new vehicle, you should prepare yourself a set of new keys (if you use a hand one). You may think that it is a bit abundant at first, but in emergency situations, a set of spare keys may be the savior. 
Put it in your pocket, your purse, your mystery box around the car or somewhere near the wheels. 
The only downside of this method is that someone may find it and duplicate your keys. So always be aware of the place you put those keys to ensure safety for your property at all times. 
Connect your car to an app
New vehicles can be remotely opened using your automaker's mobile app. You must sign up and link the car to your account prior to the lockout. However doing so at the time of purchase will avoid future lockouts.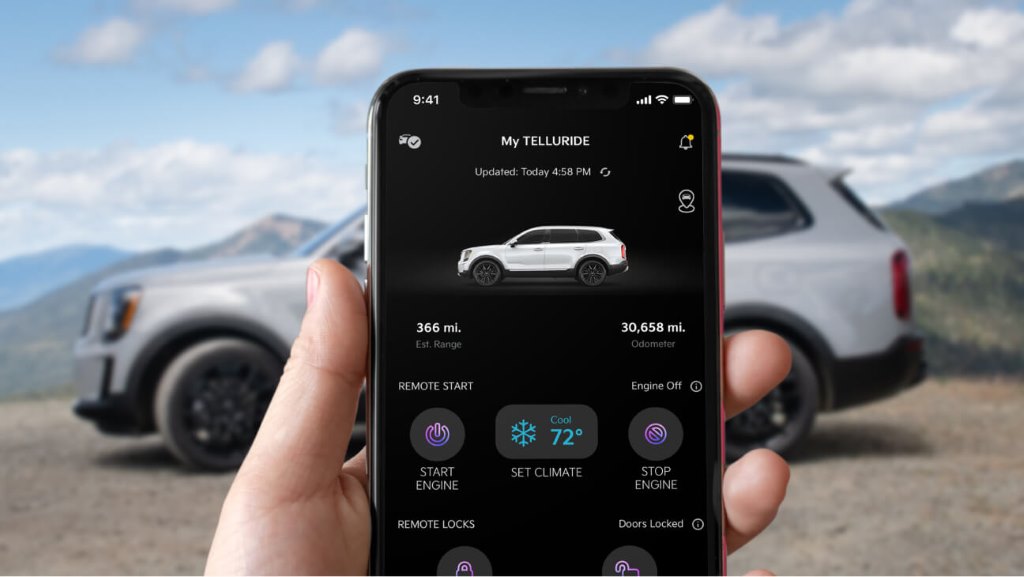 Here's a quick rundown of popular vehicle lockout apps:
Toyota App – This app allows you to lock and unlock your doors, locate your Toyota, receive recall notifications, and access maintenance information.

NissanConnect – Services include lock/unlock, Vehicle Health Reports, Maintenance Alerts, and Alexa and Google Assistant integration.

MySubaru – The MySubaru app, accessible via STARLINK, locks and unlocks your vehicle, remotely starts and stops it, and even immobilizes it if it is stolen.

Hyundai Blue Link – Allows you to unlock, lock, start, stop, and activate your Hyundai's headlights and horn.

myChevrolet – Serves as a remote key fob for your GM car, allowing you to lock or unlock it, start or stop the engine, sound the horn, and even locate it.
Use a FOB to lock car door
Some people have the tendency of pressing the lock button to lock their vehicle as they exit, which may easily result in their keys becoming stuck in their car if the door latches closed before they can grab their keys. 
Use the key FOB as often as possible to get into the habit of locking the doors using the key FOB rather than the button. This ensures that the vehicle will not lock unless the key FOB is present.
Check and change the FOB's battery occasionally
Even using the key FOB will not always lock or unlock your vehicle, therefore check the battery on your key to ensure it is not dead. 
If so, you can get a key replacement from an auto shop. In addition to changing the batteries in the keys, you may need to check the battery in your car. If your car battery dies, you may need to open the door by inserting the key.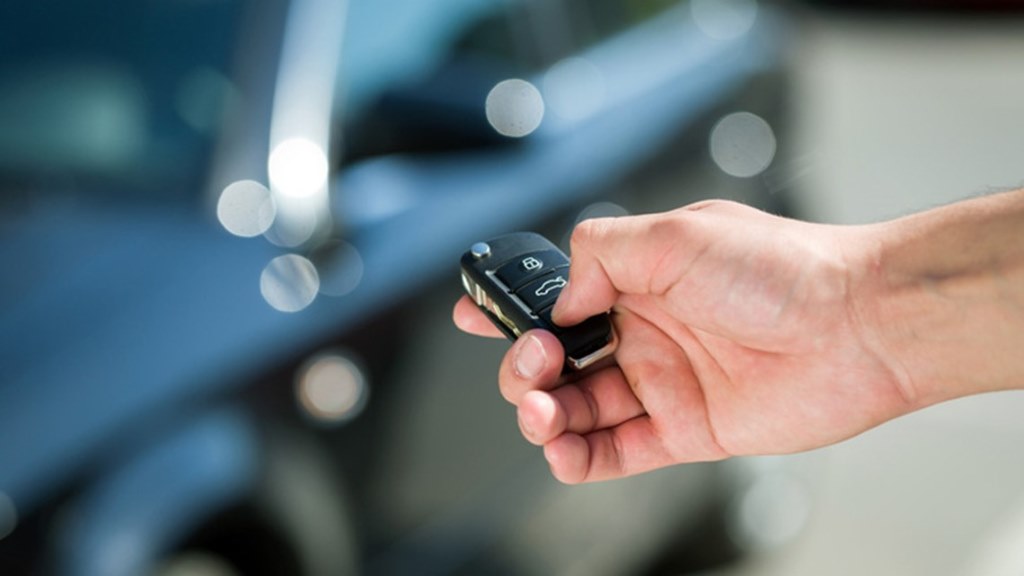 Use a carabiner or lanyard
When carrying too many things at once, it is easy to forget to grab your keys. When you use a lanyard, your keys come out of the ignition and go directly around your neck, freeing up your hands to carry all of your goods. 
A carabiner is an oblong metal ring with a spring-hinged side that may be used to clip keys to a handbag strap or a belt loop. You and your keys will stay together if you make it a practice to wear your keys on a belt loop or around your neck.
Conclusion
We have just scrolled through a wide range of methods, from easy to complicated ones to unlock your car without key. 
Hope now you understand and know exactly how to unlock a door without a key, you can apply these notices on any locking situations that are unfortunate but need solutions as soon as possible.
For more car maintenance tips, follow Car From Japan today!