The 5 Best Car Apps For Smartphones: Easy Installations For Optimized Driving Experiences
Last updated
Feb 09, 2022
0 comments
We'll now dig deeper into a list of some best car apps gathered from the most reputable application downloading sites. You will not be disappointed.
Best Car Apps For Smartphones: Top 5 Most-Trusted Apps To Clear Your Driving Mind
The modern digital age has already changed our lives in many spectacular ways. With just one click or one screen touch, you can access tons of magical utilities that make your life easier. The way we communicate, interact, learn, work and even drive has now become faster and more convenient with the help of technology.
Nowadays, mobile applications connected to the car are integrated with many convenient and modern features. A good driving experience always combines the road experiences, the driving emotions, and the free-state-of mind while traveling.
By installing the helpful and user-friendly automotive apps below, it's no longer impossible for you to reach the ultimate level of in-car confidence.
1. Waze (Free – iOS & Android)
People always remind you to keep your eyes on the road and your hands on the wheel when commuting. But, understandably, sometimes, you need to communicate with others and let them know where you are at that moment. Not only that, in some cases, you are late for work and realize that the route you usually take is severely congested, and you have to find a new one in a sec. In such distracting and confusing situations and more surprising ones to come, Waze is there as a savior.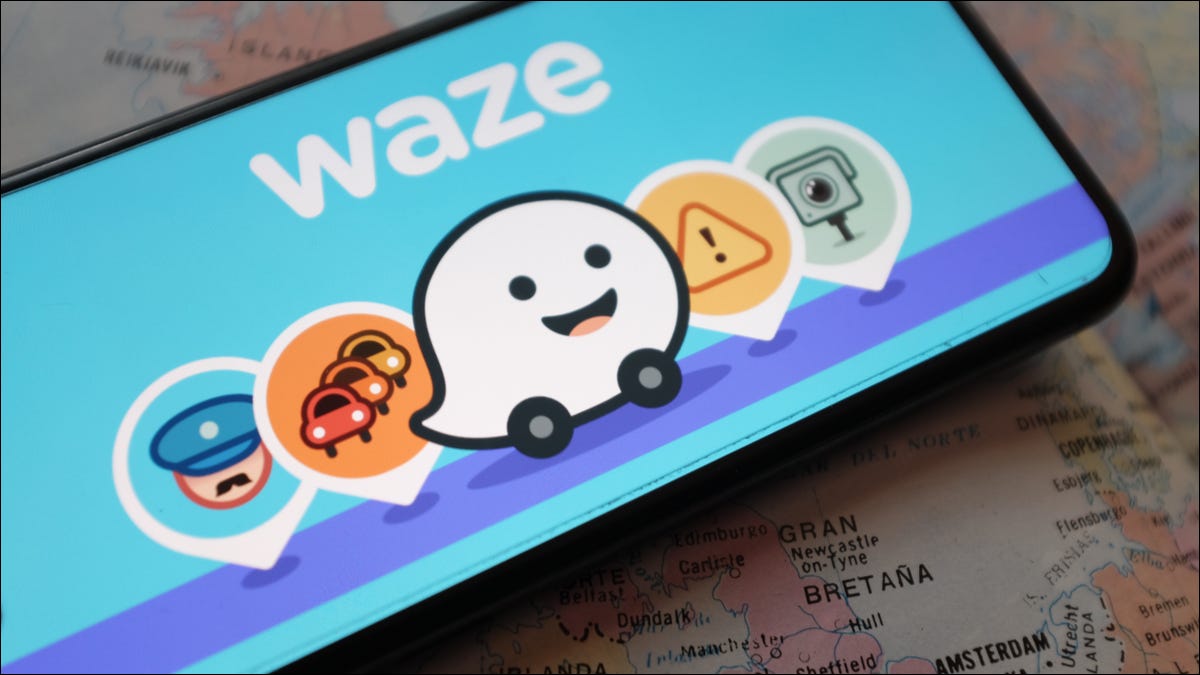 You can easily self-edit online maps, update roads, landmarks, house numbers,… right on Waze. Based on the information gathered, Waze can then provide you with real-time traffic updates. Waze will tell you, in advance, about the points where traffic jams are happening so you can avoid that route. It also comes with useful new features such as measuring vehicle speed and locating parking lots.
Moreover, Waze's most outstanding feature is to develop a user community, turning a locator app into an automotive social network. It allows users to add friends to their app community. Groups of friends can follow each other on a trip or facilitate a meetup when a Waze user appears near the quiz area.
The Waze app allows users to connect to Facebook and Google Calendar to find locations and generate directions for events. In addition, this billion-dollar car app can determine the cheapest gas station nearby for your convenience.
>> Check out: How To Change Japanese Car Navigation To English?
2. Apple CarPlay & Android Auto (Free – iOS & Android)
Android Auto and Apple Carplay are application systems where you can use the features on the phone while interacting with the interface that appears on the car screen. They are considered two of the best car apps for iPhone and Android and certified by hundreds of millions of users around the globe.
With them, you can easily control smartphone applications on the screen and connect Google Assistant or Siri to your car's display. Moreover, you will not need to take your hands off the wheel and still can answer phone calls, listen and reply to messages with pure ease.
Here are some advantages of using Apple CarPlay and Android Auto for your quick references:
Safety: These apps allow drivers to use smartphone features without looking at the screen, which can help them focus more on driving to ensure safety.
Convenience: Apps connected to Apple CarPlay and Android Auto will automatically update via the Internet on car interfaces.
Improve bad driving habits: The two apps help drivers stop staring at or noticing too much on their phones while driving.
Voice control: This activated feature allow the driver to control the navigation system without looking at the phone.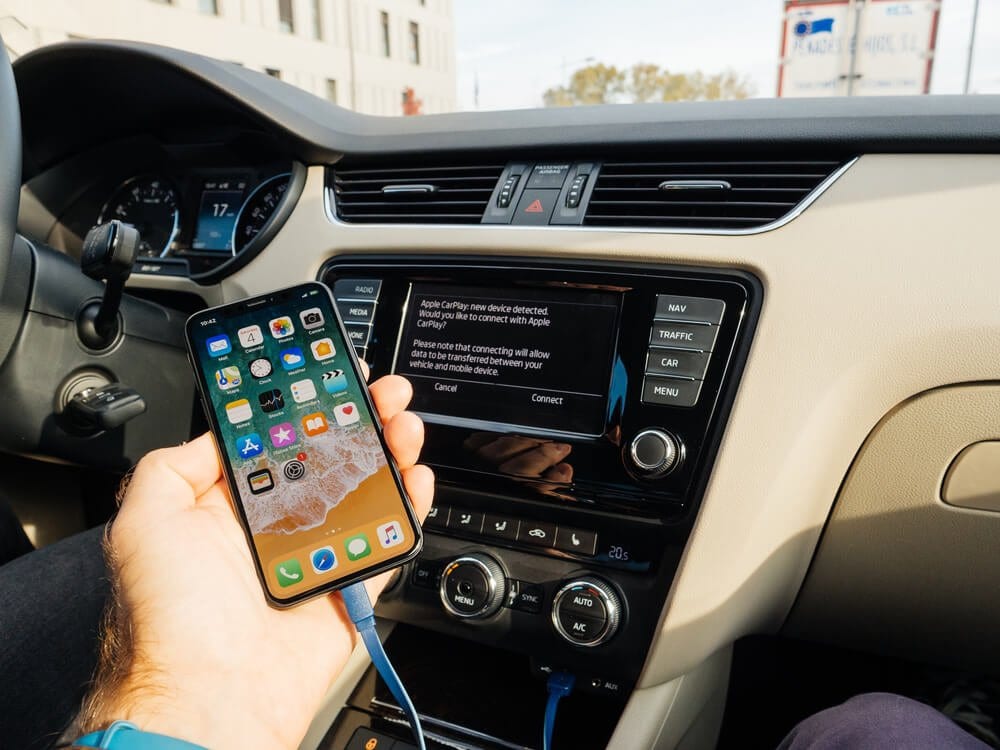 >> See more: What Are The Basics of Apple CarPlay: A Quick Guide
3. Speed ​​Tracker (Free – iOS & Android)
Speed ​​Tracker is well-known as a mobile app for car that connects phones with cars systems to measure car speed. It has a variety of features that will help you collect all of the worth-noted driving information. Get the app to begin recording your car speed, time, distance, direction, and many more:
Head-Up-Display (HUD): The Speed Tracker has a fantastic feature called the Head-Up Display. Turn on the HUD and you will then see your car's most precise speed on iPhone/iPad. The data is used by the phone's GPS to locate and measure the speed of a moving car.
Make a map plan for journeys: You will never get lost thanks to the built-in GPS tracker. You may always switch to navigation mode and examine your present location on the map, as well as the path you traveled.
Trip Log: With only one click, you may view your trip route on the map and see its average speed, peak speed, and total speed charts.
Dashboard layout: It provides all of the crucial travel information at a glance on a single screen. There's also a full-screen GPS Navigation Map mode.
Automatic Stop Detection: This feature determines whether you are moving or standing to compute your car's average speed and create a trip report that includes both travel and stopping time.
4. Drivvo (iOS & Android)
Drivvo is another name listed on our best car apps and may be considered as one best car maintenance app available in the store today. This application will manage all expenses of your cars quickly and easily. You can also regularly track refueling status, maintenance services, and set reminders for important events right on your vehicle.
With Drivvo, you will experience the following utilities completely free of charge:
Control all car expenses by day, month, and year: For easy control and management, Drivvo will help you record and save all those expenses such as car maintenance, fuel, taxes, tolls fees categorized by day, month, or year.
Manage multiple vehicles at the same time: You will not be limited to the number of cars connected to Drivvo and can create profiles for as many cars as you like. The app allows you to choose a variety of vehicles such as motorcycles, cars, trucks, buses. It is very suitable for personal use, including the management of small and medium businesses.
Intuitive expense report: You can view expenses reports by month, year or customize the period you want to see. These shown-in-detail reported graphs will help you manage individual fees or the total cost of all services monthly.
Create additional expenses: In Drivvo, there are a variety of available-set fees. But if you want to add a new one, Drivvo will always allow you to create as many names as possible without restrictions.
Create reminders for scheduling of gas refills, oil changes, repair services: Drivvo supports reminders for petrol, oil change, repair, payment of monthly car fees. You can set the kilometers for maintenance periods. Every reminder will be auto-saved to your upcoming route.
See the nearest gas station and the gas price: You can use filters to classify fuel types such as gasoline, intermediate gasoline, oil, or electricity at the nearby gas station.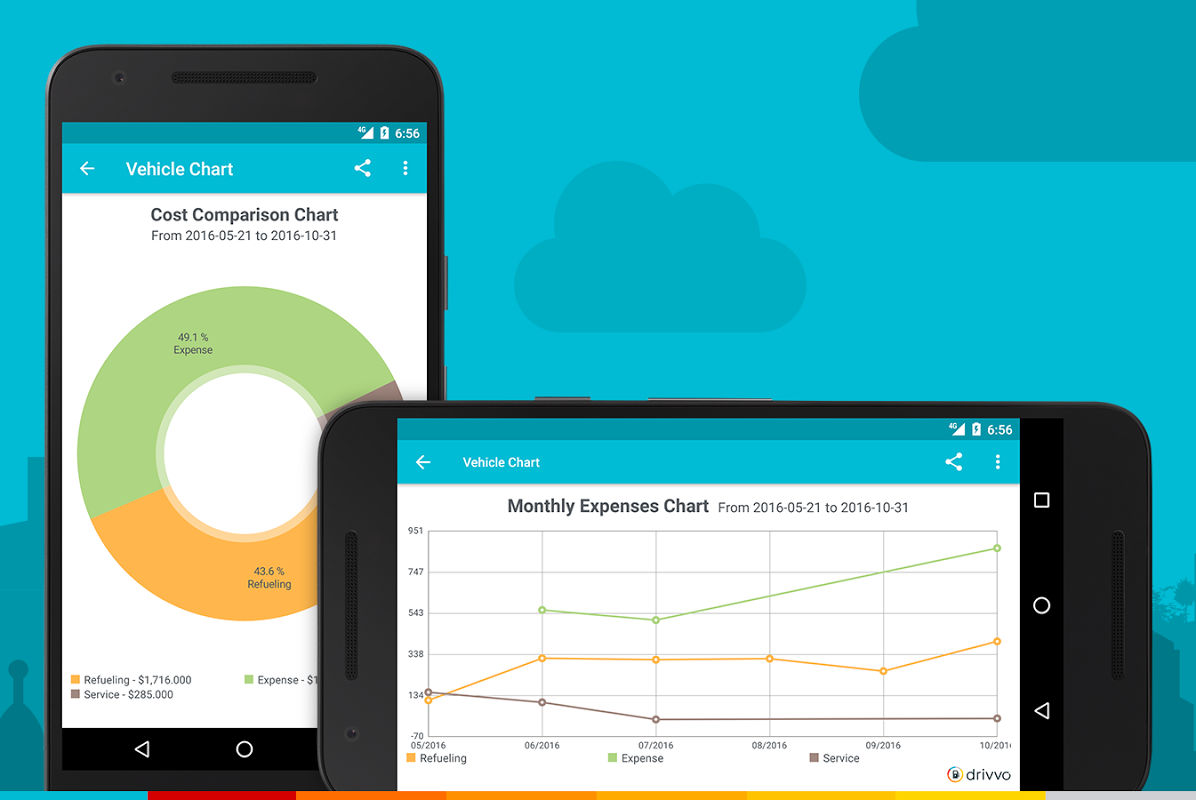 5. Radarbot (iOS & Android)
Radarbot is a free and entirely legal in-car app acting as a speed camera detection and speedometer that will help you keep track of what's going on with real-time reports at any given time on the road.
The driver will be alerted about all types of cameras in nearby areas as the tunnel, fixed speed, traffic signal cameras, and mobile cameras.
You can avoid the unexpected on the road effectively since there are more than 2 million people who will routinely post updated status on their location and the traffic.
In short, the real-time reporting of your current and maximum speeds, the notifications when you exceed a defined speed restriction, and a route-saving function are just a few of the app's unique features that you may find useful along the road.
>> Check out: What Are Some Invaluable Features to Include in Your Next Car?
The Ultimate 2022 Best Car Apps: Wrapping Up
Above are the five best car apps for smartphones that we'd like to introduce you based mostly on their user's reviews. Try them out and choose the ones that suit you and your driving experience best.
You can also get other useful and convenient applications thanks to references from people who have used and experienced them. All for your convenience and comfort on the road with your beloved vehicle.
For more car news and maintenance tips, check out Car From Japan today.