How Much Does It Cost To Ship A Motorcycle?
Last updated
Jul 14, 2022
0 comments
Moving to a new place can be incredibly challenging, whether you're crossing a few hundred or thousand miles. Part of the stress has to do with transporting all of your belongings to your new home, especially the complex logistics of doing so for your larger possessions, such as your motorcycle. 
Transporting a motorcycle may seem simple conceptually, but it could be more complicated than you assume. Driving it yourself may seem to be the simplest solution. Still, it's not always the most practical, especially if you are moving several thousand miles or to an entirely different country.
Hiring a transport company may be in your best interests if you don't want to spend days and weeks worrying about bringing your motorcycle from one place to another. 
Factors Affecting Motorcycle Transport Costs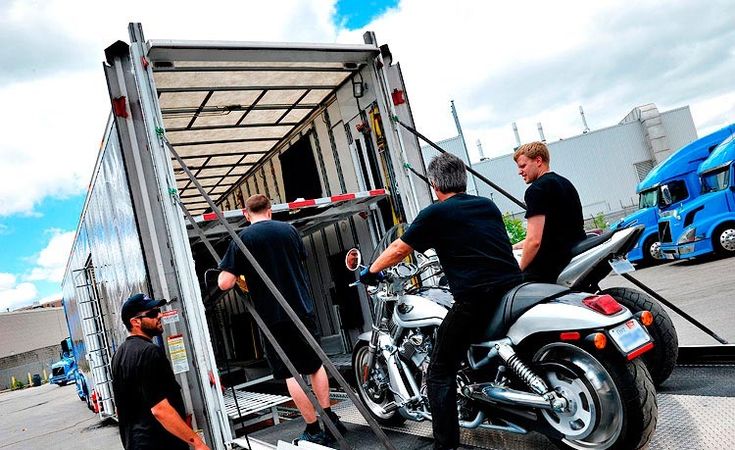 If you're thinking about hiring a professional shipper or a freight company, these factors will affect how much you need to pay to transport your motorcycle: 
Distance
Long-distance trips cost more than deliveries over short distances.
Delivery Type
If you want your motorcycle to be delivered door-to-door, be prepared to pay more than the terminal-to-terminal option. If you're on a limited budget, picking up your motorcycle from a central location near the final destination will save you quite a bit of money. 
Season
There are certain seasons when demand for shipping services is high, which means rates increase accordingly. To keep costs low, schedule your motorcycle transport during the spring or fall and avoid the flurry of vehicle transport during summer and winter. 
Once you know how these factors will affect the cost of shipping your motorcycle, you can choose which option is best for your budget and needs. 
>> Read more: 4 Facts Professional Drivers Need to Know About Overseas Vehicle Transport
Options for Moving Your Motorcycle
The best choice for transporting your motorcycle depends on your specific needs, so review all of these options before settling: 
Transporting It On Your Own
Transporting your motorcycle on your own may seem like the most straightforward answer, but there are several points you should consider. 
Advantages
You save money when you drive your motorcycle yourself.

You are in control, and you can decide when you want to drive it, where, and how long the trip will take.
Disadvantages
It's easy to assume that you will be saving money, but you must also think about the time, energy, and resources needed to drive or ship your motorcycle yourself.

Spending hours on a bike

will take a toll on your body. You will need to take breaks every few hours to rest. 

If you have a large vehicle or truck to transport your motorcycle along with your other belongings, there is a considerable risk of damage as you drive it to your destination.

It is not a good option if you are moving to a new country. 
Hire a Freight Company 
Hiring a freight company could be the best option if you have many other details to take care of during your move. These companies specialize in transporting goods, equipment, and vehicles of all sizes all over the country and even abroad. 
Advantages
These companies provide reliability and speed—shipping a motorcycle will only take three to seven days within the United States. It might take longer if you want to ship it to another country, but it depends on other factors such as customs duties, paperwork, and vehicle registration.  
Disadvantages
The cost may be higher than you expect. This is mainly due to the crating and storing requirements for a motorcycle, which is charged to the owner. A custom crate must be made of wood or steel to ensure the motorcycle's safety throughout the journey. 

Preparation for transport can take a long time. You can streamline the process by getting the freight company to crate the motorcycle or buy a pre-built crate. Both options will incur extra costs.
Hire a Professional Motorcycle Shipper 
Hiring a professional motorcycle or automobile transport service can be the best option if you want the assurance of highly experienced personnel and top-notch equipment for vehicle transport. 
Advantages
Professional shippers have years of experience safely transporting motorcycles across long distances. 

These companies have equipment designed to store and move your motorcycle to any destination. 

Motorcycle shippers often do not require crates to transport your vehicle, which makes the process much easier. 
Disadvantage
Rates offered by professional motorcycle shippers may be higher because of the specialized equipment they use for transport and the expertise of their personnel. 
How Much Does It Cost to Ship a Motorcycle?
It's clear that transporting your motorcycle requires spending money, but exactly how much does it cost to ship a motorcycle? 
The shipping estimate for professional motorcycle movers depends on several factors, such as the vehicle model, distance, the final destination, door-to-door or terminal-to-terminal delivery, and whether you choose enclosed or open transport. 
A 1,500-mile journey for a motorcycle can cost about $1,140—this is a good starting point if you are unsure of the other elements that could affect the final shipping rate. The average rate can be as low as $890, but there are other expenses to think about, such as service fees and insurance charges. 
Here are the average costs if you plan to transport your vehicle via a professional motorcycle shipper:
Open motorcycle transport: $535 to $1,295

Closed motorcycle transport: $385 to $1,895

Intra-state shipping: $385 to $1,295 (limit: 520 miles)

Inter-state shipping: $605 to $11,895 (limit: 1,660 miles)
>> Related Post: The Best Car Shipping Company in the USA
Move Your Motorcycle Your Way
If you want to move your motorcycle safely and conveniently, you have to accept the expenses that will accompany it. Closely consider the factors that will affect the shipping estimate, along with your personal requirements. 
Consult with well-regarded transport companies and professional motorcycle shippers to discuss the logistics and corresponding expenses to ship your motorcycle to your final destination. Once you have all the details, you can choose the best option for you.